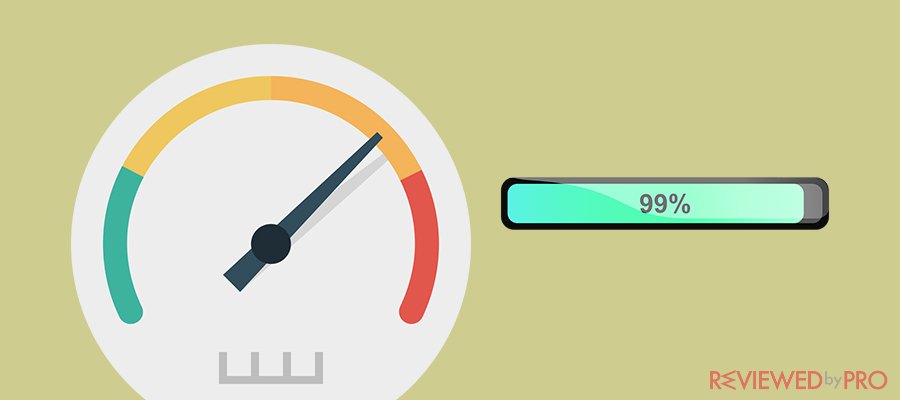 This article will explain you what are the fastest VPN in 2020 according to the real tests, so let's start. Today, everybody wants the best, the fastest and the cheapest services. Also, the same situation is in the VPN[1] market.
If you came to read this article, you might already know that VPN is needed to secure our privacy, hide our activity, protect from malware and hackers, but despite this, the connection speed is also very important thing.
Nobody wants to wait for ten hours to download an HD movie, right. We want to watch it for one hour. Every VPN service provider is positioning itself as the fastest and safest VPN provider. But, is it true?
We have tested many VPN service providers and we can say, that it is not true. Many VPN service providers are lying about the words "We are the fastest VPN service, the provider". Accomplished tests show that every VPN service provider has a different connection speed and we have listed them by order from the best to the worst.
However, you still need to understand, that your internet connection always will drop down if you are using a VPN service.
It happens because you are connecting to the different server and loading files via it. This is the price of your privacy and security. A quality VPN service provider speed is reducing very slightly, but you need to know that there are tons of law quality VPN service providers which impacts internet connection speed more than a half. Read this article and you will know what the fastest VPN service provider is for real. We have tested more than thirty VPN service providers and made a list of the TOP10 fastest VPNs for 2020. If you don't have time to read all the article, below is the table, where you can see the results. From all the ten VPN service providers, we have picked TOP 3 VPNs as the most fastest and secure:
1. ExpressVPN – has shown the best speed results overall in 2020
Rating
Available applications
Money-back guarantee
30-days
Price from
$6.67 (-49% deal)
Oder VPN with a discount
More information
ExpressVPN review
I think that many of you might already hear about ExpressVPN and its legendary service. This service was started in 2009th and gained the trust of millions of users around the world. During ten years of the company's activity, there were no data breaches or leaks. The company is registered in the British Virgin Islands, and it is not depended on the "Five Eyes" alliance. For that reason, it can freely provide the no-log (zero-logging) VPN services. Despite the strict zero-logging policy, this VPN also provides the fastest VPN service on the market. The network of ExpressVPN consists of more than 3000 servers, located in 94 countries.
So you can imagine how wide it is. Due to good network infrastructure, the VPN server might be found almost in any country. If the server is close to you, it will have the fastest impossible connection because of a short distance. The shorter the length to the VPN server, the quicker response comes from the server. It is because of reduced ping and network latency time. During the period of ExpressVPN testing, we captured the maximum speed of 101 Mbps. It is quite impressive knowing that the connection goes via a VPN.
Of course, we were using fiber optic internet connection. It is fast not only because of an extensive network and also that ExpressVPN spends a lot of money investing in the servers renewals. Logically, the new and powerful servers can faster to process requests to it and give back the information. Also, it is worth to mention that ExpressVPN uses 256-BIT AES encryption algorithms and OpenVPN, TCP, UDP, L2TP, IPSec, PPTP protocols.
It is considered of being one of the fastest and safest data encryption algorithms for today. Many years it is still a hard candy for cybercriminals and Internet service providers. So you can be sure that you will have not only a fast but also very secure and private internet connection with this VPN. It seems that everything was said, but there is something more that is worth to mention. ExpressVPN can be compatible with five different devices at the time. It is very comfortable for family use or small business companies. Some people share it with friends or classmates to reduce the cost of VPN, which is not so high. We will talk about it later. Also, ExpressVPN is available for cross-platform and can be used with Windows, macOS, Android, iOS, Linux, and other operating systems.
Moreover, it becomes beloved and for avid gamers, because it can be paired with Xbox and PlayStation 4 consoles. Before ending this review, we would like to add that ExpressVPN also provides professional 24/7 customer support. There are a live chat, ticketing system, video tutorials, instructions, and other ways how it can to help you. Finally, we came to the price. Unfortunately, ExpressVPN is not the cheapest VPN in a field, but we think it is reasonable to pay some extra money for the fastest and top-notch services. There are three plans offered by this service provider.
$12.95 per month;
$9.99 per month for the 6-month plan;
$8.32 per month for a yearly plan.
So if you want to own the fastest VPN on the market, ExpressVPN is a great choice. It is perfect for everyday use, browsing, and streaming videos. It can easily unblock US Netflix, BBC iPlayer, HBO GO, Amazon Prime Video, and many more. The service is worth every dollar.
| | |
| --- | --- |
| PROS | CONS |
| Compatible with many devices and platforms | High price |
| High level of security | Configuration limits |
| 24/7 customer service | No ad blocker |
It is also important to mention that you have the choice of 30-day money-back guarantee, so there are literally no risks to the user – you can get your money back if something goes wrong.
Read about ExpressVPN
2. NordVPN – the second fastest VPN service according to the test results
Rating
Available applications
Money-back guarantee
30-days
Price from
$3.49 (-70% deal)

Oder VPN with a discount
More information
NordVPN review
Meet the second-fastest VPN we brought to the light. This VPN service came to our view of an angle just in the last year. Since then, we were testing and using it for ourselves purposes a long time. We can say many positive things about it, and it is also worth to be nominated as the fastest VPN in the market. So let's start with a little bit of history.
NordVPN was established in 2012th in Panama. It was founded by four friends who had an idea to make the internet a more liberal place. Since that, NordVPN came a long way and became one of the most trustworthy VPN in the market. Because of the company's headquarters locations, it also is not affected by the mass citizen mass surveillance alliances.
So it is logical that NordVPN is not gathering users' data, browsing history and won't expose it. Due to the strict company's no-log policy, many people around the world started to trust this company and their services. With the users' trust came and more income to the company's funds. It was cleverly reinvested in the upgrades of an IT infrastructure and marketing. Every year, NordVPN were expanding their server network around the world, and now it owns almost 6000 servers in 62 countries.
Maybe it is a little bit less than ExpressVPN can offer, but it does not impact the speed too much. The strongest side of NordVPN is data encryption algorithms and security. It can offer NGE, IKeV2/IPSec, AES-256-GCM, PFS, and 3072-bit Diffie Hellmann keys data encryption methods. We can say that NordVPN is one of the leaders in this rankings, as well.
Despite double VPN encryptions, it also shows an excellent speed ratio. It is among the fastest VPN service in the world that's a considerable achievement. The maximum download speed with NordVPN we did capture was 92 Mbps, and the maximum upload speed was captured up to 68 Mbps. The average rate of NordVPN was calculated by gathering all the results and counted the average.
Download 65.98 Mbps and Upload 30.82 Mbps. In our opinion, it is impressive results for a VPN service. So we already have reviewed Server coverage, speed, the encryption, now it is time to consider how flexible it is with multi-user support and cross-platform functionality. In this field, NordVPN also has what to offer. You can use up to six devices with NordVPN at the same time. The application can run with all known operating systems, including Windows, macOS Android, Linux, Ios.
Also, it can offer extensions for Google Chrome and Firefox. So to our opinion, is it enough to cover up all your devices with a fast VPN. As usual, for top class VPN service, they offer excellent customer support. You can contact them by all standard methods: emails, phone, and live chat. Also, they have an extensive data knowledge base where you can find the answers to all your technical questions. The price of NordVPN could be much lower than ExpressVPN if you will subscribe to a long term service plan. You can see the prices below.
$11.95 per month
$6.99 per month for a yearly plan
$4.99 per month for a two-year plan
$3.49 for a three-year plan
To sum up the things, we can say that NordVPN is an excellent VPN for those who love torrenting, streaming online videos (etc.: Netflix, Hulu, HBO), gaming, and browse the internet anonymously. It is a high-speed VPN that will not disappoint even the most skeptical user.
| | |
| --- | --- |
| PROS | CONS |
| Wide geographical reaches | Performance hits and drop connections |
| Double VPN for twice the encryption | A monthly plan might seem expensive |
| User-friendly and pleasant interface | Not clear ownership |
3. CyberGhostVPN – third fastest VPN in 2020
Rating
Available applications
Money-back guarantee
45-days
Price from
$2.75 (-80% deal)

Oder VPN with a discount
More information

CyberGhost review
CyberGhostVPN, as other before mentioned opponents are a fast and secure VPN. This product came from far Romania and have something to say to their competitors. According to our speed tests, it showed very nice results and became one of our top-ranked VPN.
In the beginning, we were skeptical about this VPN because we did know nothing about it, but when we started to analyze it more in-depth, our opinion has changed upside-down.
Right, so this one also has a large number of servers all over the world as it said on the website of the vendor, they do own almost 6000 servers in over 90 countries. Sounds really impressive.
The speed of the connection is stunning. Our measurements have captured top download speed at 97 Mbps and upload speed up to 55 Mbps. To sum up, all the tests that were performed from various continents sustains the following numbers: Download speed 65.80 Mbps and Upload speed 29.57 Mbps. It is more than enough to stream online videos from Netflix, BBO, or another provider. Also, it suits perfectly for Torrenting and online gaming.
CyberGhostVPN is also a very flexible application that can be used with Mac, Windows, Linux, Android, and iOS. Moreover, you can set up seven devices with this application. This number is the highest comparing to NordVPN (6-devices) and ExpressVPN (5-devices). Due to its flexibility, the number of supported devices can be shared with friends, family members, or roommates.
Also, it can offer data encryption with the highest privacy and security standards. IPSec, L2TP/IPSec, OpenVPN, UDP, TCP, and PPTP. Every user can choose the encryption protocol for specific needs. The higher the encryption level, the slower the connection speed. For example, if you want to stream videos online, you don't need a very high encryption level. But if you're going to use it in public wi-fi hotspots for banking, so it is better to use 256-BIT AES protocol.
Also, we did test their customer support, and we also were left very pleased. We reached out live chat support and were imitating the problem with US Netflix. Experienced and well-trained staff explained how to behave and what to do. Of course, there were no problems, and we were just playing, but overall, those guys did their job well.
The price is surprisingly low for such high-quality services. Of course, there is no point to order a VPN for one month, because it is a little bit pricy, but if you look at three years plan, you can obtain it for $2.50 per month. According to our experience, it is a meager price. Take a look at the other plans:
$13 per month.
$5.99 per month for an annual subscription.
$3.69 per month for two years of subscription.
$2.50 per month for a three-year plan.
In the end, we could say that it is a valuable service with all the requiring features. Extensive server selection list, fast internet speeds, robust data encryption, friendly user interface, what else is necessary?
The methodology of finding the fastest VPN service
This time we did a local test from Europe, Canada and the United States with the most popular VPN service providers. By the way, let us inform you, that our local internet speed was 200mb/s. All the VPN were connected to the same locations during the tests (Australia, China, Europe, Africa, Asia, South America and the United States). We have configured all the VPN's apps on our Windows 10 operating system to use OpenVPN[2] via UDP protocol[3].
After summarizing the results of the collected data, we prepared a table with mean values of the results. Please check.Download and upload speed test results:
VPN service
providers

Download / Upload
speed Mbps

Visit website
65.99 Mbps
31.22 Mbps


ExpressVPN review
65.98 Mbps
30.82 Mbps


NordVPN review
65.80 Mbps
29.57 Mbps




CyberGhost review

65.76 Mbps
29.44 Mbps


IvacyVPN review
65.55 Mbps
28.95 Mbps


IPVanishVPN review
65.42 Mbps
28.90 Mbps


TorGuardVPN review
65.29 Mbps
28.41 Mbps


VyprVPN review
65.19 Mbps
28.01 Mbps


VPNunlimited review
65.05 Mbps
25.05 Mbps

64.95 Mbps
24.01 Mbps


HmaVPN review
Ping test results
This parameter is affected by the amount of traffic on the network but also looks similar to the proximity. In other words, the Ping[4] parameter measures the time while the data package was sent and came back from the VPN server. This parameter is measured in milliseconds.
VPN service
providers

Ping ms.

Visit website
220 ms.

ExpressVPN review
185 ms.

NordVPN review
320 ms.



CyberGhost review

250 ms.

IvacyVPN review
175 ms.

IPVanishVPN review
239 ms.

TorGuardVPN review
230 ms.

VyprVPN review
180 ms.

VPNunlimited review
320 ms.

PureVPN review
280 ms.

HmaVPN review
From all the test we did, we could say something interesting. It is very difficult to measure the speed of a VPN. It depends on many variables. For example, some of the VPN services were running very fast while playing Final Fantasy, while the others were terrible on streaming UHD[5] movies online.
Of course, if we were using a VPN with the shared IP address, it also depends on the time of the day. In the evening many American servers were overloaded, while in Australia (night time) the speed of VPN has increased dramatically.
So what we are trying to say, that the speed depends on how many users are connected to that server per one time. The more users are connected, the lower the speed of the VPN is. So this our tests shows the average results of our tests, it is not accurate 100%.
The selection of the fastest VPN service
Proximity – If you want to use the fastest VPN, you should pick up the VPN service provider that is closer to your location. The server location is very important when you are watching online HD movie and it is not so important for simple web browsing.
Also, VPN can suffer from performance issues, depending on proximity[6].
It means that the VPN is using a local client to create a connection to the VPN server. Sometimes, the lack of local CPU and memory can cause slow connections. If you are connected to a recommended server via the auto-connect functionality, it will choose an optimized server according to its load and geographical proximity.
In other words, the shorter way to the optimized VPN server, the better is connection speed. We have noticed a huge increase in the download and upload speed while playing with "auto" and "manual" proximity functionality on VPN apps.
Ping time (Latency) – The fewer milliseconds the faster is a connection. It is very important for online gaming because all the VPNs adds some latency. It means that your connection goes via VPN server and will be routed to the gaming server. This action can add some millisecond and for example, if you are playing an online shooter game, you might be already killed by another player by that time.
Server load – This parameter shows the amount of total server bandwidth[7] is currently being used by you. The server load is correlated to the number of users sharing the server resource at the same time.
Server resources / Number of users = Average bandwidth
In other words, it sounds like this: The fastest VPN speed will be then when fewer people will connect to the server and share the available bandwidth from the server. VPN server divides available bandwidth to connected users and the more users, the lower the speed.
VPN protocol – The speed of the VPN has a matter on what protocol[8] your service is running. The most popular protocol is OpenVPN, because of speed and security ratio.
• OpenVPN – nowadays it is the most popular VPN protocol. Also, it is worth to mention, that it is an open source protocol. OpenVPN protects data using AES-256[9] bit key encryption[10] with 2048-bit RSA authentication[11], and a 160-bit SHA1 hash algorithm[12]. This combination makes it unbreakable and incredibly fast.
• L2TP/IPSec – this protocol has very strong data encryption (256 Bit), but lower speed connection. L2TP[13] does not provide strong encryption or authentication by itself, because it goes together with IPsec[14] protocol. Used together, L2TP and IPsec are much more secure than PPTP[15] (Point-to-Point Tunneling Protocol) and are used for anonymization but not for security.
• SSTP (Secure Socket Tunneling Protocol) – uses 2048-bit SSL/TLS certificates for authentication and 256-bit SSL keys for encryption, that makes it very secure. SSTP[16] has native support for Windows, it means that it can be used with Winlogon, or for increased security, a smart chip. Also, it is supported by Linux, Android, macOS
• IKEv2 (Internet Key Exchange version 2[17]) – This protocol is developed by Microsoft and Cisco and it provides tunneling protocol[18] with a secure key exchange. This protocol is very popular on mobile phones. This protocol tends to reconnect during internet loss or switching to Wi-Fi connections. At the moment it is more secure than L2TP/IPsec and slower than OpenVPN.
• PPTP – this protocol has very good speed but weak security. Data is encrypted in 128 bits. It is used for low-security operations: unblock Netflix, Hulu, watch online movies and similar. Hackers have cracked it a long time ago it is becoming less popular every day.
Final thoughts
So, as you see from our honest reviews of the fastest VPN service, there are three top-ranked VPNs. All of them are almost equal and worth every dollar.
To sum up all the results, maybe we would say that the best and fastest VPN would be NordVPN. Perhaps it is not as fast as ExpressVPN, but it has a little bit more features that we like.
If you don't need too many security and privacy features and looking for a VPN for streaming online videos, then ExpressVPN should be a perfect choice.
Those who are searching for the cheapest and fastest VPN should choose CyberGhostVPN. An excellent option for VPN beginners and suits entirely for gaming and torrenting.
| | | | |
| --- | --- | --- | --- |
|   | | | |
| Download Speed | 65.76 Mbps | 65.29 Mbps | 65.99 Mbps |
| Upload Speed | 29.44 Mbps | 28.41 Mbps | 31.22 Mbps |
| Server locations | 160 | 59 | 62 |
| Encryption protocols | OpenVPN, SSTP, IPSec, L2TP | OpenVPN, SSTP, IPSec, L2TP | OpenVPN, SSTP, IPSec, L2TP |
| No-log policy | ✔ | ✔ | ✔ |
| Multi-devices | 5 | 6 | 7 |
| Customer support | 10 | 9 | 8 |
| Price from | $6.67 | $3.49 | $2.75 |
| Visit website | | | |
About the author
References