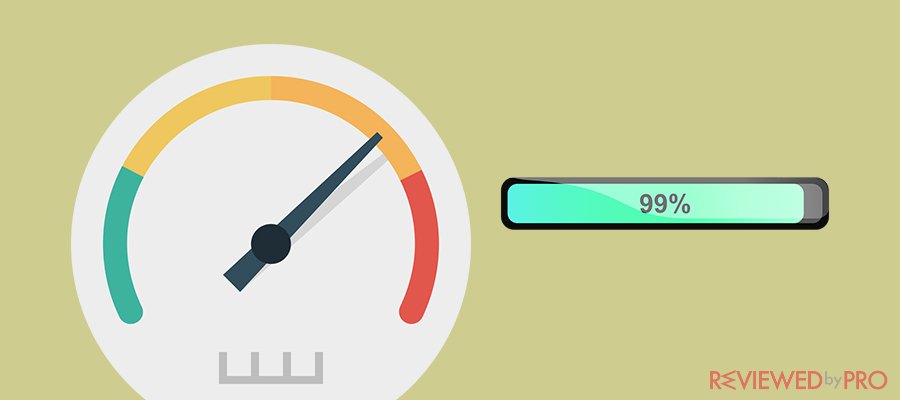 Today, everybody wants the best, the fastest and the cheapest services. Also, the same situation is in the VPN[1] market.
If you came to read this article, you might already know that VPN is needed to secure our privacy, hide our activity, protect from malware and hackers, but despite this, the connection speed is also very important thing.
Nobody wants to wait for ten hours to download an HD movie, right. We want to watch it for one hour. Every VPN service provider is positioning itself as the fastest and safest VPN provider. But, is it true?
We have tested many VPN service providers and we can say, that it is not true. Many VPN service providers are lying about the words "We are the fastest VPN service, the provider". Accomplished tests show that every VPN service provider has a different connection speed and we have listed them by order from the best to the worst.
However, you still need to understand, that your internet connection always will drop down if you are using a VPN service.
It happens because you are connecting to the different server and loading files via it. This is the price of your privacy and security.
A quality VPN service provider speed is reducing very slightly, but you need to know that there are tons of law quality VPN service providers which impacts internet connection speed more than a half.
Read this article and you will know what the fastest VPN service provider is for real.
We have tested more than thirty VPN service providers and made a list of the TOP10 fastest VPNs for 2019. If you don't have time to read all the article, below is the table, where you can see the results.
How we tested VPN?
This time we did a local test from Europe with all VPN service providers. By the way, let us inform you, that our local internet speed here is 200mb/s. All the VPN were connected to the same locations during the tests (Australia, China, and the United States). We have configured all the VPN's apps on our Windows 10 operating system to use OpenVPN[2] via UDP protocol[3].
We have prepared the table with the results of our tests below. Please check it.
Download and upload speed test results:
VPN service
providers
Download speed
Mbps

Upload speed
Mbps

Ping ms.
Visit website
65.99 Mbps

31.22 Mbps
220 ms.
65.98 Mbps
30.82 Mbps
320 ms.
65.80 Mbps
29.57 Mbps
185 ms.
65.76 Mbps
29.44 Mbps
230 ms.
65.55 Mbps
28.95 Mbps

175 ms.


65.42 Mbps
28.90 Mbps
239 ms.
65.29 Mbps
28.41 Mbps
180 ms.
65.19 Mbps
28.01 Mbps
250 ms.
65.05 Mbps
25.05 Mbps
280 ms.
64.95 Mbps
24.01 Mbps
320 ms.
From all the test we did, we could say something interesting. It is very difficult to measure the speed of a VPN. It depends on many variables. For example, some of the VPN services were running very fast while playing Final Fantasy, while the others were terrible on streaming UHD[4] movies online.
Of course, if we were using a VPN with the shared IP address, it also depends on the time of the day. In the evening many American servers were overloaded, while in Australia (night time) the speed of VPN has increased dramatically.
So what we are trying to say, that the speed depends on how many users are connected to that server per one time. The more users are connected, the lower the speed of the VPN is. So this our tests shows the average results of our tests, it is not accurate 100%.
The best ways to choose the fastest VPN
Proximity
If you want to use the fastest VPN, you should pick up the VPN service provider that is closer to your location. The server location is very important when you are watching online HD movie and it is not so important for simple web browsing.
Also, VPN can suffer from performance issues, depending on proximity[5].
It means that the VPN is using a local client to create a connection to the VPN server. Sometimes, the lack of local CPU and memory can cause slow connections. If you are connected to a recommended server via the auto-connect functionality, it will choose an optimized server according to its load and geographical proximity.
In other words, the shorter way to the optimized VPN server, the better is connection speed. We have noticed a huge increase in the download and upload speed while playing with "auto" and "manual" proximity functionality on VPN apps.
Ping time (Latency)
This parameter is affected by the amount of traffic on the network but also looks similar to the proximity. In other words, the Ping[6] parameter measures the time while the data package was sent and came back from the VPN server. This parameter is measured in milliseconds.
The fewer milliseconds the faster is a connection. It is very important for online gaming because all the VPNs adds some latency. It means that your connection goes via VPN server and will be routed to the gaming server. This action can add some millisecond and for example, if you are playing an online shooter game, you might be already killed by another player by that time.
Server load
This parameter shows the amount of total server bandwidth[7] is currently being used by you. The server load is correlated to the number of users sharing the server resource at the same time.
Server resources / Number of users = Average bandwidth
In other words, it sounds like this: The fastest VPN speed will be then when fewer people will connect to the server and share the available bandwidth from the server. VPN server divides available bandwidth to connected users and the more users, the lower the speed.
VPN protocol
The speed of the VPN has a matter on what protocol[8] your service is running. The most popular protocol is OpenVPN, because of speed and security ratio.
• OpenVPN – nowadays it is the most popular VPN protocol. Also, it is worth to mention, that it is an open source protocol. OpenVPN protects data using AES-256[9] bit key encryption[10] with 2048-bit RSA authentication[11], and a 160-bit SHA1 hash algorithm[12]. This combination makes it unbreakable and incredibly fast.
• L2TP/IPSec – this protocol has very strong data encryption (256 Bit), but lower speed connection. L2TP[13] does not provide strong encryption or authentication by itself, because it goes together with IPsec[14] protocol. Used together, L2TP and IPsec are much more secure than PPTP[15] (Point-to-Point Tunneling Protocol) and are used for anonymization but not for security.
• SSTP (Secure Socket Tunneling Protocol) – uses 2048-bit SSL/TLS certificates for authentication and 256-bit SSL keys for encryption, that makes it very secure. SSTP[16] has native support for Windows, it means that it can be used with Winlogon, or for increased security, a smart chip. Also, it is supported by Linux, Android, macOS
• IKEv2 (Internet Key Exchange version 2[17]) – This protocol is developed by Microsoft and Cisco and it provides tunneling protocol[18] with a secure key exchange. This protocol is very popular on mobile phones. This protocol tends to reconnect during internet loss or switching to Wi-Fi connections. At the moment it is more secure than L2TP/IPsec and slower than OpenVPN.
• PPTP – this protocol has very good speed but weak security. Data is encrypted in 128 bits. It is used for low-security operations: unblock Netflix, Hulu, watch online movies and similar. Hackers have cracked it a long time ago it is becoming less popular every day.
The fastest 3 VPNs
From all the ten VPN service providers, we have picked TOP 3 VPNs as the most fastest and secure:
ExpressVPN for small business

ExpressVPN is regarded as one of the better VPNs at the moment. Basically, this tool is suitable for both beginners and professionals alike as it is quite easy to use but also has a lot of extra features (similarly to NordVPN). Being among the better choices on the market, ExpressVPN offers a wide range of perks and features.
| | |
| --- | --- |
| PROS | CONS |
| Compatible with many devices and platforms | High price |
| High level of security | Configuration limits |
| 24/7 customer service | No ad blocker |
It is also important to mention that you have the choice of 30-day money-back guarantee, so there are literally no risks to the user – you can get your money back if something goes wrong.
Read about ExpressVPN
NordVPN for small business
NordVPN is a very simple and reliable VPN service, which covers a wide geographical range of 62 countries and has more than 5000 servers.

| | |
| --- | --- |
| PROS | CONS |
| Wide geographical reaches | Performance hits and drop connections |
| Double VPN for twice the encryption | A monthly plan might seem expensive |
| User-friendly and pleasant interface | Not clear ownership |
Nord Virtual Private Network is a great choice for those who want to visit sites that are unavailable in their own country.
NordVPN was initially released in 2012 and today has more than 1 million customers worldwide.
Read about NordVPN
PureVPN for small business

PureVPN is a commercial virtual private network on VPN service users based in Hong Kong. Pure VPN was first released in 2006 and today is used by more than three million Internet users all around the world.
| | |
| --- | --- |
| PROS | CONS |
| Offering one of the widest geographical reaches | Performance hits and slowdowns |
| A very informative user interface | Previous instances of DNS, IPv4 and IPv6 leaks |
| User-friendly interface | Rough reviews by third-parties |
The company also provides easy-to-use apps for various devices across the most popular operating systems, such as Windows, Mac, iOS, Android, Linux, Amazon Fire TV Stick, Kodi, and Android TV.
Final thoughts
If you want to use a fastest VPN in 2019 safely, here is the table with the most trusted VPN service providers. VPN will hide all your activities on the internet and protect your devices from internet viruses without loosing internet speed connection.
About the author
References