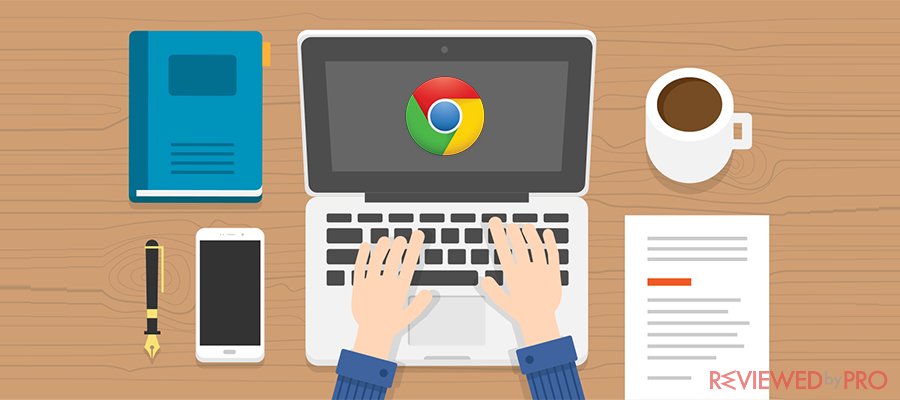 best-vpn-for-google-chrome
Google Chrome[1] appears to be one of the most popular browsers in the market. The browser is rich of great features, performance and lightweight interface. At this moment, Google Chrome takes around 70% of the market[2] and has more than 2 billion users around the world. Browser is updating itself twice per month and tends to be one of the greatest web browsers of all times.
Google Chrome has one of the biggest add-ons[3] store and you can download many plugins further enhance it. There are thousands of various add-ons from calendars to SEO plugins.
If you are the fan of Google Chrome browser, you should know that this browser was named as one of the most secure web browsers. Anyway, there is no 100% secure browser and you should know something more about internet security.
There is much malware[4] that can spread over the browsers on the internet, so it is always to be sure that you have done everything that your PC would be secure.
In this article, we are going to provide you information about the best VPN[5] for the Google Chrome browser. We have tested many VPN services and picked for you most trustful and secure ones.
The evaluation of VPN for Google chrome was done by performing tests on security, privacy, connection speed, and other options. Read more and you will get all the answers on the golden plate.
Best VPNs for Google Chrome in 2020
We understand that time is of the essence, which is why we have laid out a summary for you regarding the best VPNs that a family can use with a complete sense of security:
ExpressVPN – Offer extension for Google Chrome and allows you to connect 5 devices in one time and choose one of its 3000+ servers;
NordVPN – You can download the extension for Chrome from the web-store and use the VPN by connecting 6 devices at the same time by picking any one of Nord's 5500+ servers;
CyberGhostVPN – Its chrome extension can open any site in the world when you use it in one of the 7 devices you concurrently use after selecting through the 5600+ servers;
IvacyVPN – It allows connection with 5 devices simultaneously with 1000+ servers at your disposal to open anything;
TorGuardVPN – The best thing about Torguard is that you can use the service on 8 devices at once with its 3000+ servers, and it doesn't matter which device or extension you are using;
Before getting a VPN, you should base your research and taste on the following things:
Server Coverage;
Internet Speed and unlimited bandwidth;
Cross-platform support;
Must-have security features like Kill switch and no-logs rule;
Your budget;
There is no browser more accessible and handy than the Google Chrome browser, despite the numerous data-storing allegations on Google. It is worth something to know how you can use a VPN to maintain the integrity of your privacy while using the browser and which VPN to use while doing it?
The good news is that after testing countless providers, we now know the 5 standout VPNs that have an extension for the Chrome browser and ensure that you keep yourself anonymous throughout the way.
1. ExpressVPN can be installed on Google Chrome for better security and privacy
Official website
www.expressvpn.com
Rating
  (Excellent – 4.8/5)
Available applications
 
Money-back guarantee
30-days
Price from
$6.67 (-49% deal)
Visit website
More information
ExpressVPN review
ExpressVPN works well in providing you with the essential cover against online spying and data theft while giving you all the means of entertainment along the way. No matter you use it in a native app or through a Chrome extension,
ExpressVPN can instantly bypass geo-blocking to the gates of sites like Netflix, Hulu, Torrents, Amazon, and so much more.
Servers – All of ExpressVPN's 3000 servers provide stable connection speed with limitless download across all 90+ countries. The speed goes way above the 100mbps mark, which is enough to activate 4K resolution while streaming videos on different platforms and smooth gaming experience when you plan games like Fortnite or PUBG.
Cross-Platform & Device Coverage – While the fact needs no further explanation that ExpressVPN is compatible with the Chrome browser as well as Mozilla Firefox. Still, it is vital to know that it supports other notable platforms and devices as well, including every Apple device, all Android enables phones, tablets, and TV, Windows, and Linux. You can share your account on 5 different devices all at once, no matter the distance between them.
Security & Privacy – Express' security arrangements make sure that your internet endeavors remain private from the eyes of your ISP, government, and Google's servers, as long as you do not sync your google account with the Chrome browser. Along with that, due to the foundation of ExpressVPN's whole operation in the British Virgin Islands, it keeps a strong policy on no-logs and does share it with anyone. Here are some other measures that ExpressVPN offers to keep you and your data safe:
Military-Level AES encryption(256-bit);
An instant kill switch with protection against DNS leakage;
Split tunneling to check which apps to use the VPN on;
Anonymous browsing with random IP addresses;
Pricing – The fact that you can share your account on five different devices allows you to share the pricing plan among different individuals as well. If you follow the previously mentioned route, then ExpressVPN can be quite affordable for you. Here are the pricing plans of the VPN that come with a full refund within the first 30-days of usage:
$6.67 each month for a full year with 3 added free months;
$9.99 each month for every 6 months;
$12.95 each month. You would have to pay each month separately;
| | |
| --- | --- |
| PROS | CONS |
| Compatible with many devices and platforms | High price |
| High level of security | Configuration limits |
| 24/7 customer service | No ad blocker |
2. NordVPN – unblock various websites and stream Netflix with excellent add-on
Official website
www.nordvpn.com
Our Rating
(Excellent – 4.9/5)
Available applications
 
Money-back guarantee
30-days
Price from
$3.49/month (-70% deal)

Visit website
More information
NordVPN review
Among a very few VPNs that offer coverage across several platforms, Nord has a powerful Chrome extension that gives you full privacy over your data. NordVPN's extension can bypass geo-restrictions and unblock your passageway to impenetrable streaming sites, including Netflix and Disney+ while keeping the integrity of the connection speed your internet intact with no limit on data usage.
Servers – We only require a handful of vital servers to open the things we wish to use, but sometimes they might not work in our favor. It is why it is crucial to have backup servers to tackle such a kind of issue. Nord offers you to choose more than 5500 of its servers in 62 countries, covering each region.
Cross-Platform & Device Support – As discussed earlier, Nord offers so much more than a mere extension for the Chrome browser. You can use it across every possible operating system there is, and you can access the VPN on not one but devices at once, no matter how far the devices are from each other. The OS that Nord supports with its desirable interface is Windows, Linux, macOS, iOS, Android(phones and TVs alike).
Security & Privacy Coverage – Protection from administrative surveillance and cyber thieves is the most critical feature of NordVPN, and it is a fact why Nord goes out of its way to offer you the CyberSec utility to disintegrate any attempt of data-stealing at your device. Following are the methods that you can use through Nord's app to keep yourself protected:
Military-Grade encryption;
An instant kill switch to keep you protected 24/7;
Split tunneling along with DNS leak protection;
Double VPN with double the security;
Pricing – It is safe to say that Nord has one of the cheapest price plans for the attention of a potential customer. Here are the plans that you can pick and start using Nord's service:
$3.49 each month for 36-months with a 30-day refund;
$4.99 each month for 24-months with a 30-day refund;
$6.99 each month for 12-months with a 30-day refund;
If you wish to keep your payment info quiet and private, then Nord supports payment in Bitcoin to accommodate your wish.
| | |
| --- | --- |
| PROS | CONS |
| Wide geographical reaches | Performance hits and drop connections |
| Double VPN for twice the encryption | A monthly plan might seem expensive |
| User-friendly and pleasant interface | Not clear ownership |
 3. CyberGhostVPN offers a lightweight and fast working Chrome extension for multi-purpose use
Official website
www.cyberghostvpn.com
Rating
  (Great – 4.5/5)
Available applications
 
Money-back guarantee
45-days
Price from
$2.75 (-80% deal)

Visit website
More information
CyberGhost review
CyberGhost is among the limited VPNs that offer Chrome add-on for the convenience of the user. You just need to open your chrome browser and open anything with the activated VPN.

Servers – You can pick any of the 5600+ servers in 90 countries with the Chrome extension that are capable of opening any banned site in the world.

Cross-Platform & Device Support – You can use CyberGhostVPN on 7 devices altogether with or without the chrome extension on platforms such as Windows, macOS, iOS, Android, Linux, and Amazon FireOS.

Security & Privacy Coverage – CyberGhost has all of its basis covered by keeping a no-log, which is protected by the privacy-protection policies of the country of Romania. You can go through the different safety measures of CyberGhost, which are in the list below:

256-bit encryption;

DNS leak prevention;

Kill switch;

Split-Tunneling

OpenVPN;

Pricing – CyberGhost has a fantastic 45-day refund policy that gives you the proper time to assess the VPN to its full capacity and your requirements, and if you are still not content with the service, then you have the full right to get your money back. Here are the price plans that go with the money-back guarantee:

$3.69 each month for full 24 months;

$5.99 each month for full 12 months;

$12.99 each month separately;

| | |
| --- | --- |
| PROS | CONS |
| Offering one of the widest geographical reaches | Performance hits and slowdowns |
| A very informative user interface | Not many personalized options |
| Easy setup and quick to start | Rough reviews by third-parties |
4. IvacyVPN – the cheapest VPN service on the market that also can be installed on your Chrome browser
Rating
   (Great – 4.4/5)
Available applications
 
Money-back guarantee
30-Days Money Back Guarantee
Price from
$1.33/month
More information
IvacyVPN review
Despite operating from the small country of Singapore, which a part of the fourteen-eyes coalition, Ivacy does well in presenting a user-friendly interface for its users that also includes the browser extension for Google Chrome. The extension can offer the same features that a standard app of Ivacy does, which we are going to discuss in this section.
Servers – You can use 1000 fast servers across 100 locations with the Singaporean VPN Ivacy without any fear of data running out while you watch your favorite show on Netflix USA.
Cross-Platform & Device Support – With Ivacy, you can connect 5 different devices at once, and it doesn't matter if you use it alone or share your account amongst family and friends, who are living far away abroad. IvacyVPN not only provides support on the Chrome browser, but it also has an add-on for the Firefox and apps for the platforms/devices such as Windows, macOS, Linux, Android, and iOS.
Security & Privacy Coverage – IvacyVPN does keep its no-log rule despite coming from Singapore, where it has to share the user-log upon the request of the government. Still, if you do not care for such things, then you would be happy to know that Ivacy offers Foolproof 256-bit encryption that goes with an automatic kill switch, DNS leak prevention, split tunneling, along with randomized IPs to keep you anonymous at all times.
Pricing – IvacyVPN offers three plans for the user to choose from, and all of them provide Google Chrome coverage with a complete return policy within 30 days of usage. Here are the pricing plans of the VPN:
$2.25 each month for a complete set of 24 months;
$3.33 each month for a full 12 months;
$9.95 each month;
 5. TorGuardVPN – solid and secure VPN service with Google Chrome support
Rating
   (Average – 2.9/5)
Available applications
 
Money-back guarantee
30-days
Price from

$9.99/month
More information
Torguard review
Probably the best VPN for users who want to use torrent sites and manipulate their web traffic, Torguard operates from Nevis, an island located near the Carribean sea. It has a highly efficient extension for the Chrome browser that keeps your online activities anonymous and secure.
Servers – Torguard has an extensive range of 3000+ servers in over 50 countries, that can open sites like Netflix, Hulu, HBO GO with just one click. Not only that, it offers unlimited speeds + bandwidth for all its premium users.
Cross-Platform & Device Support – You can download the native app for every known operating system and devices, including Windows, Android, macOS, Linux, iOS, SmartTVs, Chromebooks, and other similar electronics. Torguard goes above and beyond by providing the option to connect as much as 8 devices simultaneously with no interruptions and high efficiency.
Security & Privacy Coverage – Torguard's anonymous VPN is able to give its users SSL encryption along with the following security fail-safes:
Stealth VPN that bypasses DPI;
OpenVPN with WireGuard/L2TP/IPSec/SSTP;
Adblock/malware blocking;
Secure NAT firewall;
Protection against leakage of all kinds;
Pricing – TorguardVPN has four different pricing plans distributed in the form of yearly, quarterly, semi, and monthly subscriptions. Here are the prices of all of them:
Monthly package at $9.99/month;
Quarterly package at $19.99/month;
Semi-annual package at $29.99/month;
Annual package at $59.99/month;
VPN extension on Google Chrome can help you to increase internet privacy
For those, who still don't know what VPN is, we will explain it briefly. VPN can be named as Virtual private network. It encrypts your connection, secures your computer, hides your activity on the internet, and lets you bypass various internet content restrictions and geoblock[6]. It means that nobody can see what websites you are visiting and what data you are typing. Users are able to connect to the internet via another server and bypass hacker attacks.

If you will install a VP to Google Chrome, you will not forget to Connect to a VPN server for the secure connection. Every time you launch a Google Chrome it connects to a VPN service automatically and you can enjoy secured connections. For that reason, Google Chrome has add-ons for different VPN service providers. We have tested them all and did an evaluation of the best VPN for Google Chrome.
Free VPN add-ons on Google Chrome Browser can lead to scams and financial loss
There are numerous VPN services of the lesser kind that have placed their extension on the Google Chrome app store. It is not surprising at all as these extensions tend to carry adware and other advertisement shoving short cuts to confuse the average computer user.
They also impact the speed of the internet on a severe level, which is why you are not able to see good quality images or videos while using the free extension. It is also worth mentioning that these extensions offer no security whatsoever and have no authority or facility to bypass geo-blocking and opening Netflix or other sites.
So, in the end, you should get the services of a real VPN and add its add-on in your Chrome browser.
| | | |
| --- | --- | --- |
| Options | free VPN | paid VPN |
| Changes your IP | ✔ | ✔ |
| Unlimited bandwidth | ✗ | ✔ |
| Fast internet connection | ✗ | ✔ |
| No-logs, no tracking | ✗ | ✔ |
| No annoying ads | ✗ | ✔ |
| Millitary-grade encryption | ✗ | ✔ |
| Wide range of server selection | ✗ | ✔ |
| Customer support | ✗ | ✔ |
Chrome VPN Extension can be useful in many ways
There a lot to offer with a browser extension, as it can open any restricted site in your region. It also opens up the opportunity to access torrent sites and allow you to download or seed torrent files.
Additionally, if you wish to access online shopping sites like Amazon or eBay, then you can purchase any item you like at much-discounted prices, that is not cheap in your country.
A simple way to install a VPN Extension on the Chrome Browser
Installing a Google Chrome extension is a little different than launching an app on the computer, but it is all the more straightforward. Here are the steps to add a VPN extension on the Chrome browser:
Open the Google Chrome browser and click on the web-store tab.
On the search bar, type the name of the subscribed extension of the VPN.
Click on the "Add to Chrome" tab and wait for the browser to download and install the VPN instantly.
Click on the extension's icon and enter your username and password from the pop-up box.
Select any server you wish to use and enter the "Connect" button to start using the browser with a complete sense of security.
Final thoughts
As you can see from the comparison table, there are three leaders: ExpressVPN, NordVPN, and CyberGhostVPN. The most quality extension for Google Chrome has ExpressVPN. Despite the higher price, this extension works very nice on Google Chrome, so we have ranked it first place. Other two VPN service providers are very valuable too, but as you see the price is different, so decide by yourself what to choose.
Recommended VPNs
Options
Location
B.V.I. Islands
Panama
Romania
Servers
3000+
5000+
3500+
Countries
160
60
60
Supported devices
5
6
7
Torrenting

✔

✔

✔

U.S.Netflix

✔

✔

✔

Encryption and protocols
AES-256

✔

✔

✔

OpenVPN

✔

✔

✔

PPTP

✔

✔

✔

L2TP

✔

✔

✔

SSTP

✔

✔

✔

IPsec

✔

✗

✔

Internet connection speed

Download speed
83.15
72.33
71.10
Upload speed
35.18
48.18
36.45
Security features
SSL

✔

✔

✔

No-Log

✔

✔

✔

Kill Switch

✔

✔

✔

Ad-Blocking

✔

✔

✔

Double encryption

✗

✔

✗

IP Leak protection

✔

✔

✔

Operating systems
Windows

✔

✔

✔

Mac

✔

✔

✔

Android

✔

✔

✔

Linux

✔

✔

✔

iOS

✔

✔

✔

XBox

✔

✔

✔

PS4

✔

✔

✔

Browser extension
Chrome

✔

✔

✔

Firefox

✔

✔

✔

Other features
Router support

✔

✔

✔

Free version

✗

✗

✗

Accepts Bitcoins

✔

✔

✔

Money back guarantee
30 days
30 days
45 days
Read a review
review
review
review
Paid version from
$6.67/month
$3.49/month
$2.75/month
Try
About the author
References