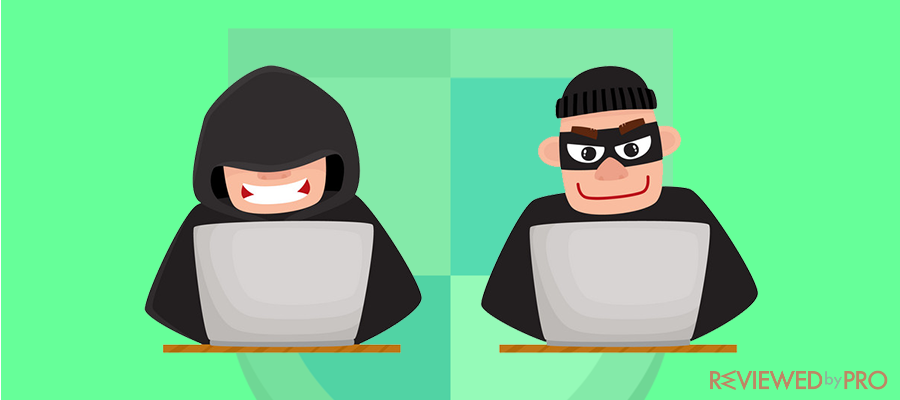 This article is dedicated to the group of people who needs much more privacy than the simple users. This time we have prepared an article about the best VPN for hackers. Sounds maybe strange, because many people are using VPN to avoid hackers' attacks and protect their privacy and security.
Hackers also want to protect their privacy, because the normal hacker will not break in the bank system from his home IP address. Of course, it could be an ethical hacking, but still, it is worth using VPN imitating real attacks from the internet.
If you don't have to read all article there is the summary of the best VPN for hacking:
ExpressVPN – one of the best VPN on the market, very good connections speed, very strong encryption and no log policy.
NordVPN – great VPN for any user, unblocks Netflix from many countries, great user interface, a wide range of server selection around the globe, great support and no log policy.
CyberGhostVPN – Works fine with Netflix from many countries, good connection speed, strong encryption, protection, and no log policy.
How to choose the best VPN for hacking?
To our opinion, the most important factors for choosing a VPN for hacking are these:
No log policy,
Encryption level,
Connection speed,
Price.
What no-log policy means?
It means, that your actions will not be logged on the VPN server. As a rule, those kind of VPN service providers are keeping their companies out of the countries like the United States, Europe, Canada or Australia. The VPN which can offer a service with a no-log policy is established in offshore countries like the Cayman Islands, British Virgin Islands, Bahamas and so on.
Many countries are joined to the cybersecurity alliances which is called "Five Eyes". It consists of the United States, United Kingdom, Canada, Australia, and New Zealand. The purpose of this alliance is to control terrorism, cyber crimes, protect author rights and so on. In order to achieve those goals, special agencies are monitoring users' online activity and sharing it between the countries. Later one five eyes alliance was extended by adding more countries to it.
Today it consists of 14 countries and is called "Fourteen Eyes" alliance:
Five Eyes alliance – US, UK, Canada, Australia, New Zealand
Nine Eyes alliance – US, UK, Canada, Australia, New Zealand, Denmark, France, Holland, Norway
Fourteen Eyes alliance – US, UK, Canada, Australia, New Zealand, Denmark, France, Holland, Norway Germany, Belgium, Italy, Sweden, Spain
If you will choose a VPN service provider which is situated in a country from the "Fourteen Eyes" alliance, you will be risking a lot. In the case of the cybercrime, the government agencies will ask a VPN service provider to give the logged data of the certain user. So it means, that your real IP address, name, surname, an address will be exposed with all the action log to the cybersecurity agencies.
This information can be gathered and transmitted to government agencies:
Visited websites – every sing website you were visiting is tracked on the log files.
Time spent on the visited websites – every second on the certain website is counted and written down on the log file.
Your IP address – your home or office IP addresses from where was made a connection to the VPN.
Apps installed on your devices – no matter what app you downloaded or cracked, it will be logged on the log file.
Symbols you type into the fields – usernames, passwords, chats, emails, bank account numbers, and credit card numbers also are logged in the file. How do you like that?
Downloaded/Uploaded data count – all the gigabytes and megabytes are counted and logged to the log file, also.
Payment details – name, last name, address and so on.
There were many cases when the police have arrested hackers who were using a VPN. It happened because of the activity log file which was transmitted to the cybersecurity agency. The arrested hackers were using a VPN from the countries mentioned before.
We have prepared the list of the most popular VPN service providers you should avoid if you are planning some hacking activities.
| | | | |
| --- | --- | --- | --- |
| VPN Provider | Collects Browsing History | Data and Bandwidth Count | Collects IP Address |
| Hola VPN | Yes | Yes | Yes |
| Safe Connect VPN | Yes | Yes | Yes |
| Hotspot VPN | Yes | Yes | Yes |
| AVG VPN | Yes | Yes | Yes |
| Seed 4 Me | Yes | Yes | Yes |
| Psiphon | Yes | Yes | Yes |
| Hoxx VPN | Yes | Yes | Yes |
| PureVPN | Yes | Yes | Yes |
| Unlocator | Yes | Yes | Yes |
As you see from the table, these VPNs are no suitabale for hacking at all. Beware!
VPN Encryption levels
We already know about the importance of no log policy, let's talk about the encryption types of the VPN and the differences between them.
The encryption is a process when a VPN is coding and encoding information which travels on their server. In other words, it hides and encodes your data that nobody could read it from the outside. VPN vendors are using different techniques of encryption. So for the hackers, it is important to understand which encryption level fits best? There are five most popular encryption protocols used on the VPN. Keep on reading and you will see the difference.
OpenVPN
OpenVPN is an open-source software application developed by James Yonan and published under the GNU General Public License (GPL). VPN providers are using this software to create secure point-to-point or site-to-site connections in routed or bridged configurations and remote access facilities. It is considered to be the most secure VPN protocol providing many mixed and complex security protocol functions.
OpenVPN has up to 256-bit encryption and runs a custom security protocol based on SSL and TLS rather than support IKE, IPsec, L2TP or PPTP. That makes it one of the fastest software on the market.
SSTP – Secure Socket Tunneling Protocol
It was developed also by Microsoft in 2002. It offers a decent encryption level, similar as OpenVPN (SSL 3.0 + 256-bit encryption). Moreover, high security comes with high connection speed. It works only with Windows and Linux operating systems. It is stronger than PPTP and L2TP/IPsec, but not so good as OpenVPN.
IPSec – Internet Protocol Security
IPSec is also a very popular protocol used by VPN vendors. Site-to-site VPNs are using it, to ensure data encryption on IP and Internet networks. IPSec secures data between routers, firewalls, desktops in many ways directional ways. It runs by Encapsulated Security Payload protocol (ESP) and Authentication Header (AH).
L2TP – (Layer 2 Tunneling Protocol)
L2TP was developed by Cisco and Microsoft in 1999. It is also a very popular protocol used by many VPN service providers. It works as a tunneling protocol mixed with IPSec for building the highest security VPN connection. This protocol is also supported by S2S (site-to-site) VPN but rather used by router access.
An interesting fact is that this protocol does not encrypt data by its own. It works together with PPTP as an improvement. It would be not the smartest way for hackers to use it alone while doing some activities. For this reason, L2TP is paired with IPsec very often. Paired L2TP and IPsec becomes safe VPN, but don't forget to choose a VPN provider with no-log.
PPTP – (Point to Point Tunneling Protocol)
It as was developed in 1995 by Microsoft and today it is considered as an old and not very safe protocol for private and secure browsing. Due to its low level of encryption, it is a very fast VPN. It could be more used for streaming video online (Netflix, Hulu), but not suitable for hacking. Beware of this encryption type.
VPN connection speed
The connection speed for online activities, including and hacking, is the key for the best VPN. Who wants slow internet connection speed? We have selected only the fastest VPN service providers which are not keeping logs (no-log), ensures high encryption level and offers a product for the reasonable price. We have tested more than 50 various VPN service providers and seen many cases when internet connection speed is very unstable or do not meet declared speeds.
VPN service
providers
Download speed (Mbps)
Upload speed (Mbps)

Visit website
65.99 Mbps
31.22 Mbps

65.76 Mbps
29.44 Mbps

65.29 Mbps
28.41 Mbps

TOP 3 VPNs for hacking

You might already know, that ExpressVPN is a very popular service around the globe and trusted by thousands of users. Maybe this VPN is not the cheapest, but we can admit that the price is worth quality. With this VPN you can be sure that the connection speed will be perfect from any point of the world.
You don't need to worry about privacy and security. The encryption level is amazing and it does not affect the connection speed at all. You can browse adult websites, unblock Netflix, Netflix, Amazon Prime, do banking tasks without the fear.
Express VPN supports multi-device function and can work on various operating systems and devices: Windows, iOS, Mac, Android, Linux, open-source routers, BlackBerrys, Kindle Fire, Chromebooks, Barnes & Noble Nook tablets, Apple TV, Fire TV, PlayStation, Android TV box and others.
Moreover, there are available add-ons for Chrome, Firefox, and Safari for even better browsing experience.
Also, you don't need to worry about the bandwidth, which is unlimited. No additional fee for every single option.
So this VPN we would consider as one of the best VPN for online streaming (Netflix, Netflix).
| | |
| --- | --- |
| PROS | CONS |
| Compatible with many devices and platforms | High price |
| High level of security | Configuration limits |
| 24/7 customer service | No ad blocker |
It is also important to mention that you have the choice of 30-day money-back guarantee, so there are literally no risks to the user – you can get your money back if something goes wrong. Read more about ExpressVPN

Everybody likes NordVPN for a very friendly and modern user interface. It offers a wide range of server locations around the world. NordVPN servers are located in 62 different countries and contain more than 5000 servers.
Nord Virtual Private Network is a great choice for those who want to visit sites that are unavailable in their own country (for example porn websites) and to stream video (Netflix, Netflix).
We are have picked NordVPN as the second best VPN for streaming video online.
The main features of NordVPN:
NordVPN secures user internet activity from hackers and malicious software, including Ad Blocker. In order to have the highest possible level of security, this VPN uses double data encryption. In other words, the data that goes between your device and the server is encrypted twice using Double VPN technology. The features include Military-grade Encryption, CyberSec, and Double VPN.
Privacy protection features ensure that no one can track users' online activity. The features include a Strict no logs policy, Automatic Kill Switch, DNS leak protection, and Onion Over VPN.
NordVPN allows users to bypass geographical restrictions and censorship. It offers more than 5000 servers worldwide, Streaming, SmartPlay, P2P and speed features.
The VPN also offers apps across all the major platforms and multiple devices, as well as extensions for Chrome and Firefox browsers.
NordVPN is compatible with Android, Windows, macOS, iOS, Android TV, Linux. It has browser add-ons for Google Chrome and Firefox. The VPN service also supports Windows Phone, open-source and branded routers.
| | |
| --- | --- |
| PROS | CONS |
| Wide geographical reaches | Performance hits and drop connections |
| Double VPN for twice the encryption | A monthly plan might seem expensive |
| User-friendly and pleasant interface | Not clear ownership |

CuberGhost is another great VPN service which suits perfectly for streaming online video and browsing adult websites. We like CyberGhost for its reasonable price and great quality. It is not worse than ExpressVPN or NordVPN. The main difference is fewer server locations and servers.
Also, we should admit, that the interface of CyberGhost is just great and might be one of the best in the market.
CyberghostVPN has multi-level encryption and you can choose the best for your needs: PPTP, L2TP/IPSec, OpenVPN, and IKEv2/IPSec.
| | |
| --- | --- |
| PROS | CONS |
| Offering one of the widest geographical reaches | Performance hits and slowdowns |
| A very informative user interface | Not many personalized options |
| Easy setup and quick to start | Rough reviews by third-parties |
Final thoughts
So if you are the hacker or ethical hacker, you should protect your privacy at the highest level. Choose a VPN with strict no log policy only and avoid those VPN companies which are located in "Fourteen Eyes" alliance. Another, thing where you should pay attention is encryption. A VPN with OpenVPN protocol will ensure your highest privacy and security. Also, the connection speed is the key for quality VPN service, so look only those providers which offer the highest speed. The last, but not the most important thing for the respectable hacker is the price. Sometimes it is worth to pay an extra dollar for the highest quality services. Be careful and good luck on your hacking session.
| | | | |
| --- | --- | --- | --- |
| VPN service providers | | | |
| No log policy | Yes | Yes | Yes |
| Download speed | 65.76 Mbps | 65.29 Mbps | 65.99 Mbps |
| Upload speed | 29.44 Mbps | 28.41 Mbps | 31.22 Mbps |
| Price / month | $8.33 | $6.99 | $2.75 |
| Visit website | | | |
About the author