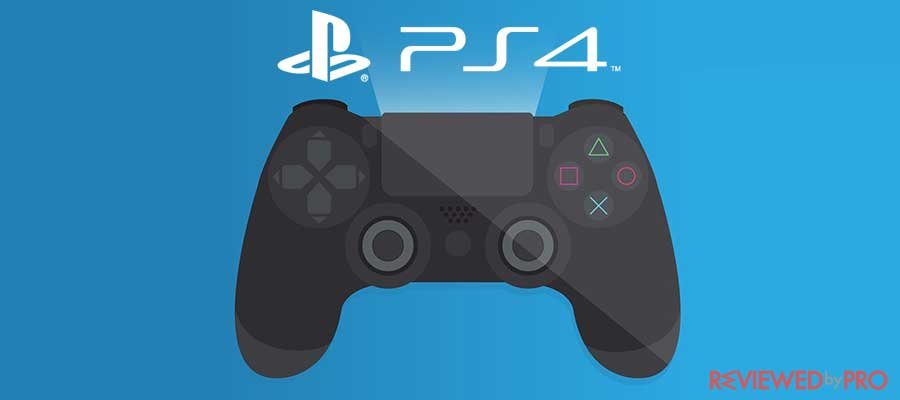 best vpn for ps4
In this article we are going to talk about the best VPNs for PlayStation4 (PS4) and introduce you interesting factors how to choose the best one. As you know, Sony's Playstation brand changed the landscape of the gaming industry by giving birth to a unique global gaming phenomenon that no one ever witnessed before. Sony launched PS4 in 2013 as an eighth-generation gaming console with an 8-core AMD Jaguar C.P.U, storage space of 1TB, and 8GB of GDDR5 RAM, which quickly became the company's best-selling product. Other than providing the medium to play high-quality games with other users online, PS4 expanded its horizons by introducing the option to stream content from platforms like Netflix, Amazon Prime Video, and Hulu.
Unfortunately, not everything is unicorns and rainbows as many consumers aren't able to avail such an incredible feature due to unambiguous geographical restrictions. Moreover, in some regions, geo-blocking prevents gamers from interacting with fellow players online, ruining the purpose of PS4 and PS5 altogether.
But thanks to modern-day encryption technology, there is a safe and private way that allows all the PS4 gamers to play online games and stream videos with ease.
Brief Summary: If you don't have enough time to read the entire guide, here is a summary of the 5 best VPNs for gaming/streaming on PS4:
ExpressVPN: It offers High-speed internet with Bitcoin as a payment option and a 30-day money-back guarantee. Its extensive and ultra-fast servers make it perfect for availing features on the PlayStation 4.
NordVPN: It is arguably one of the best VPN on the market. High internet connection speed and double data encryption, but its PC app is not friendly.
CyberGhostVPN: an excellent user interface and simple navigation, makes this VPN one of the best VPN for beginners. Fits great for streaming videos online, playing games, and torrenting.
ProtonVPN: makers of Proton Mail, high Swiss quality and security, high speeds, cross-platform, and multi-user support, but it is costly and provides limited servers.
VyprVPN: high-speed internet and excellent customer support but a tad bit expensive.
The best VPNs for PS4:
With our extensive research, we have compiled a list of the best and most affordable VPNs that will not only offer you high-speed internet but also provide complete security and privacy. It doesn't matter whether you're using public Wi-Fi or playing games on the PS4 in your home.
1. ExpressVPN – perfect tool for PS4 when you need to change your IP's location
Official website
www.expressvpn.com
Rating
  (Excellent – 4.8/5)
Available applications
 
Money-back guarantee
30-days
Price from
$6.67 (-49% deal)
Visit website
More information
ExpressVPN review
ExpressVPN provides the best service by protecting your gaming connection and improving the entire PS4 experience. It has over 3000 online servers in 94 countries worldwide. Such range allows you to avoid any geo-blocking and play in region-specific gaming tournaments, and purchase items online through your PS4.
Moreover, ExpressVPN offers 256-bit military-grade encryption to solidify its privacy/security commitment. It also protects your payment info by providing the means to purchase the subscription in Bitcoin.
We all know that you can not install a VPN inside the PlayStation's framework. So to tackle the situation, ExpressVPN not only provides internet router compatibility but offers a custom-made application for several routers. It is available on every platform such as Windows, Linux, macOS, Android, and iOS. It provides you to share it across 5 different devices under one account.
If you intend to stream content on PS4 from services like Netflix, Hulu, Amazon, and others, you are in luck. ExpressVPN not only allows you to watch the videos, but you can access any restricted region you desire, such as Netflix USA, UK.
As you know, PS4 provides video streaming in resolution as high as 4K and online gameplay, which requires fast speed internet. You should not be worried as ExpressVPN is capable of handling such speeds with no zero latency issues and bandwidth restrictions.
Other than providing amazing features, ExpressVPN has a 30-day money-back guarantee plan and an excellent customer support facility, which is available 24/7 to tend to your needs. You can purchase it for a price starting from $6.67/month.
2. NordVPN – fast and secure service that expands your ability to play games online
Official website
www.nordvpn.com
Our Rating
(Excellent – 4.9/5)
Available applications
 
Money-back guarantee
30-days
Price from
$3.49/month (-70% deal)

Visit website
More information
NordVPN review
Probably one of the most popular VPNs in the market, NordVPN is an extremely reliable companion to access and unblock restricted content on your PS4. Its 5200 servers are available across 60+ countries in the world, which is more than enough to cover every significant gaming server you intend to play your games.
However, NordVPN doesn't have a built-in application for PS4 like every other software. Still, it compensates for the shortcoming by providing wide-ranging router support to enable the service for the PS4 and to make your gaming session much more secure. More than that, you can connect the PS4 with the internet of your cell device or computers, which already has a native NordVPN app to protect the PS4. You can use NordVPN in 6 different devices simultaneously with a single user account.
If you want to access various streaming services and their 4K resolution feature with no bandwidth restrictions. NordVPN's reliable fast-speed internet enables the opportunity for you to watch the content without any hassle.
And to add the cherry to the topping, NordVPN's military-grade encryption offers state of the art privacy protection for every device you use the VPN. NordVPN is exceptionally reliable and secure to use the software. And, if you ever require any assistance whatsoever, it has a 24/7 chat service and email support facility to assist you in times of need.
NordVPN is available across multiple platforms at a price starting from $3.49/month with a 30-day money-back guarantee offer. Here is a short-term list of the pros and cons of the VPN for you to analyze.
3. CyberGhostVPN – cheap and reliable VPN that fits great for ps4 owners
Official website
www.cyberghostvpn.com
Rating
  (Great – 4.5/5)
Available applications
 
Money-back guarantee
45-days
Price from
$2.75 (-80% deal)

Visit website
More information

CyberGhost review
The Romania-based company, CyberGhost, is a handy VPN to have. Its strict encryption policies and exceptional privacy protection provide plenty for you to ponder and consider it as an option.
CyberGhost has a small number of global server outreach as compared to its competitors. However, it still covers more than 3700 servers in 59 countries across the globe. These countries involve all the primary gaming servers and the streaming regions that you intend to use on your PlayStation 4. It also supports pre-configured routers and has native apps for almost every mobile and computer device, which allows configuring the VPN for the PS4.
CyberGhost's super-fast internet speed and no data cap enables HD and 4K resolution in the PS4 for you to watch the quality streaming content as much as you like.
As far as security is concerned, CyberGhost ensures safety by keeping no logs of your internet activity and protects your data with its military-grade encryption. Moreover, you can connect 7 devices simultaneously with one account's credentials.
As far as customer support is concerned, CyberGhost has an around the clock 24/7 service, extensive support library for its customers to help them in their time of need.
With a 45-day money-back guarantee, you can achieve complete anonymity by subscribing to the VPN's plans via Bitcoin at a lowly price of $2.75/month. Here are some of CyberGhost VPN's pros and cons:
4. VyprVPN – buy ps4 games freely by changing your IP with this VPN service
Rating
(Good – 3.9/5)
Available applications
Money-back guarantee
30-Days Money Back Guarantee
Price from
$ 5.00
More information
VyprVPN review
With one of the fastest internet download speeds, VyprVPN provides a secure option for all kinds of gamers and streamers. Its state of the art security protocols and self-owned servers prevents your information from going into the wrong hands and makes it extremely reliable.
You can only run the app on just 5 devices with one account, which makes it less desirable. It also doesn't provide the option to purchase its package with Bitcoin, which is not helpful.
However, all is not bad as you can access the app across all notable platforms and watch movies with 4K resolution through its fantastic internet speed and unlimited bandwidth. Its servers are available across 70 countries worldwide.
You can purchase VypyVPN at the cost of $6.67/month with a 30-day money-back guarantee. You can view VyprVPN's pros and cons to assess your requirements thoroughly.
5. ProtonVPN – fast and secure service that is usefull not only for ps4 gamers
Rating
   (Good – 4.3/5)
Available applications
 
Money-back guarantee
45-days
Price from
$4.00

More information
ProtonVPN review
ProtonVPN comes from the makers of the world's securest email service, ProtonMail. It is one of the lesser-known VPNs out there, but it most certainly is a trustworthy option. Its anonymous VPN servers provide a surveillance-free service that does not log any user activity or share data with anyone.
ProtonVPN sends the user's internet traffic from the PS4 to the server through an encrypted channel that keeps the user-data safe.
It offers coverage across 30 countries with only 340+ online servers to control the traffic, and it does not grant access or unblock content in countries Turkey, Russia, and Cuba. You can only access the VPN across 2 devices simultaneously under one username for $4/month and 5 devices at $8/month with additional features and a 30-day money-back guarantee.
Final Thoughts
Purchasing a viable VPN is advisable if you want to use PS4 and keep your information safe and secure with added privacy. Other than providing the underlying security features, a VPN allows you to go through any geo-blocking, stream content from different regions and the opportunity to participate in PS4 gaming tournaments that are not accessible in your area.
Now you know every aspect of the suggested VPNs so that you can choose the best VPN for yourself.
Recommended VPNs
Options
Location
B.V.I. Islands
Panama
Romania
Servers
3000+
5000+
3500+
Countries
160
60
60
Supported devices
5
6
7
Torrenting

✔

✔

✔

U.S.Netflix

✔

✔

✔

Encryption and protocols
AES-256

✔

✔

✔

OpenVPN

✔

✔

✔

PPTP

✔

✔

✔

L2TP

✔

✔

✔

SSTP

✔

✔

✔

IPsec

✔

✗

✔

Internet connection speed

Download speed
83.15
72.33
71.10
Upload speed
35.18
48.18
36.45
Security features
SSL

✔

✔

✔

No-Log

✔

✔

✔

Kill Switch

✔

✔

✔

Ad-Blocking

✔

✔

✔

Double encryption

✗

✔

✗

IP Leak protection

✔

✔

✔

Operating systems
Windows

✔

✔

✔

Mac

✔

✔

✔

Android

✔

✔

✔

Linux

✔

✔

✔

iOS

✔

✔

✔

XBox

✔

✔

✔

PS4

✔

✔

✔

Browser extension
Chrome

✔

✔

✔

Firefox

✔

✔

✔

Other features
Router support

✔

✔

✔

Free version

✗

✗

✗

Accepts Bitcoins

✔

✔

✔

Money back guarantee
30 days
30 days
45 days
Read a review
review
review
review
Paid version from
$6.67/month
$3.49/month
$2.75/month
Try
The PlayStation's network is restricted by rules and permissions that don't allow you to buy games, play online, or chat with friends.
PS4 is a multitasking machine, which gives you the chance to purchase games, participate in gaming tournaments, chat with fellow gamers, and stream content from services like Netflix. But due to some company policies, government laws, and geo-restrictions, not everyone can get a hold of such amazing features.
For example, in PS4 users can stream movies and shows from services like Netflix, Hulu, and Amazon Prime. It is a known fact that Netflix USA has the most extensive library of digital content, which is not available for customers outside the country and other regions' Netflix alike. Furthermore, Hulu has no international outreach, and Amazon Prime Video is only accessible in a handful of developed countries.
Other than that, if you belong to a specific region, then there is a slight chance that you may not be able to purchase your favorite game from the store. And sometimes, game developers launch their product in beta mode with limited features, with full features only available for a few regions. It is due to unfair circumstances like various copyrights and regional piracy laws, which prevents access to users globally.
Besides, if you're opening yourself and your info on the internet, you are more likely to get hacked, which puts everything you hold dear to risk.
To avail extra features, security, bypass "streaming-restrictions and geoblocking" on the PS4, you'll need to have a subscription to a VPN.
VPN can help you to bypass the restrictions and open all the PS4 possibilities
If you have a PS4 and love to play Internet-savvy games, then you should consider purchasing a VPN for that purpose.
A Virtual Private Network is a revolutionary and a must-have technology, which heightens your online security and privacy by encrypting data through the provider's servers. When you select the services of a high-quality VPN, it connects you to a server via an encrypted connection. The connection scrambles your data so that no one else can read it. When you are traveling or using a public internet connection, VPN saves you from meddling eyes and hacking tools like "Wi-Fi packet sniffer."
If you are a PS4 gamer, then this technology can come in handy when you are trying to play games in those regions where facilities are in abundance. VPN is also able to reduce the latency issue, which occurs when you try to play in alien servers with your local IP address. Online gamers are prone to malicious attacks from hackers who can steal your valuable digital information, thus ruining the gaming experience.
So, it is essential to have a VPN, which gives security to your data and keeps it private. However, connecting a PS4 to a VPN can get technical, but you can use it through the PC or router. In the next section, you can find out the different pros and cons of our selected best VPNs, and you can compare them with your requirements.
The key aspects that need to pay attention while choosing the best VPN for PS4
Before buying any software, nevertheless, a VPN, you are required to align your PS4 needs with the features of the VPN, and the task is certainly not an easy one. It usually comes down to the server coverage where you intend to play your game or stream movies. And lastly, your budget, as purchasing a VPN requires some monetary commitment. Below are a few of the factors that you can assess before deciding on which VPN to get.
Server Locations and Gaming Region Coverage: Assessing a VPN's server location is one of the most important things for a console gamer. If you are living in South Asia, Africa, Eastern Europe, and the Middle East, the chances are that your favorite game doesn't provide server coverage in your region. Such an issue causes latency problems along with a lack of built-in gaming resources. Before spending any money on the software, make sure to check whether the VPN covers the desired region and can bypass your country's strict censorship and government monitoring.
Internet Connection Speed: Internet Gaming is hugely dependent on fast and low ping internet. Without a useful internet, you might as well stop playing altogether. It is a known fact that VPN lessens the speed of the internet to some degree, causing interruptions in the game and latency. However, some VPNs are aware of the problem and provide the best facility possible to make your experience worthwhile.
Supported Devices and Platforms: With the growing competition between existing tech companies, it is hard to know which platform is the best and compatible. Due to this fact, consumers often own multiple devices with different operating systems. So before getting a VPN for whatever necessary purpose, you should check whether it is available on the platforms that you own, such as Windows, macOS, Android, and iOS.
Accessible Customer Support: Not everyone possesses the technical skill to handle a software or a computer. A reliable customer support service is a must to help you out of any technical issue related to a VPN or any other software. When you compare the best VPNs for your playing console, it is essential to check the type of support service the company provides.
Security and Privacy Choices: A VPN' s quality of service is wholeheartedly dependent on the kind of privacy and security the provider offers to its customers. You should also know which type of Open VPN encryption the provider is using and what sort of data/file encryption technique is it using. If a VPN fails to deliver on that aspect, then it is of no use at all.
OpenVPN: "The OpenVPN protocol handles all the VPN provider's encryption and authentication, which handles client-server communications and assists in establishing a secure path between the VPN client and the VPN server."
Budget: Everything comes down on how much is your budget, and how much are you willing to spend on a VPN?
After checking every VPN's features and network coverage, it is wise to compare your budget with the software's pricing plan. Moreover, you should check out the VPN's yearly package, as that plan offers a significant discount as compared to any monthly or weekly package plan.
FREE VPN is not the best solution for your PS4?
Using a free VPN on any device, nevertheless, a PS4 is not a good idea. Other than masking your IP address to some extent, a free VPN does not offer the necessary privacy protection or security against online attacks. You require a super-fast internet to access 4K resolution videos and play online games without any latency/high-ping problem, which is not accessible with a free VPN.
On the other hand, free VPN providers need to pay their bills somehow, so there is always a possibility that they might sell your activity log and personal information to third parties.
So to wrap up the discussion, you should not use a free VPN for your PS4.
Setting-up a VPN for PS4 is a tricky thing
You can connect your PS4 with a pre-configured router and use the VPN directly, or you can change the Network and Sharing Center settings on your Windows PC or Mac computer. In this section, we will discuss the process of setting up a new VPN for your PS4.
PS4 VPN Setup with Windows:
Here are the steps to set-up a new VPN for a PS4 with Windows:
Install your selected VPN on the PC.
Connect your PC and the PS4 with an Ethernet cable.
Open Control Panel from the Start menu and click on "Network and Sharing Center."
Click on Change Adaptor Settings on the left-hand side of the display window.
Right-click on your internet connection's icon and select Properties.
Hit the Sharing tab and check the option "Allow other network users to connect through this computer's internet connection."
Select the Home Networking Connection and choose your internet connection from the drop-down menu to allow internet access with the PS4.
Click on Settings from your PS4 and select Network Settings.
Press "Set Up Internet Connection" and select "Use a LAN Cable."
Select the Easy connection method to allow automatic detection of the Ethernet connection.
Select "Do Not Use a Proxy Server."
Test your internet connection to verify whether it has a VPN or not.
PS4 VPN Setup with macOS:
Here are the steps to set-up a new VPN for a PS4 with macOS, which is nearly identical to Windows' procedure:
Install your favorite VPN software on the Mac device.
Connect both the PS4 and Mac computer with an Ethernet cable to initiate the internet connection.
Go to System Preferences and click on the icon of "Sharing and select Internet Sharing."
Select your Wi-Fi from the drop-down menu.
Make sure to select the "Ethernet" option.
Check the option of "Internet Sharing" to enable the sharing feature of your Mac's internet connection with the PS4
Open your VPN software and enter your login information.
Connect to a reasonable server compatible with your gaming server.
From the PS4, go to Settings and click on Network Settings.
Click on "Set Up Internet Connection" and select "Use a LAN Cable."
Pick the "Easy connection method" to enable an automatic scan of the Ethernet connection. Furthermore, please select "Do Not Use a Proxy Server" when asked.
You are free to use the VPN enable PS4, which you can check by accessing the blocked gaming servers of other content.
Set up PS4 VPN via a Wi-Fi router:
There is another method to establish a VPN connection for a PS4, which is to purchase a pre-configured router. It can get a bit expensive, but it can save you the hassle of creating and entering a VPN connection between your computer and PS4. You can create a VPN connection by manually putting the VPN details into the Wi-Fi router settings and regularly connecting the PS4 with the internet.
PS4 users can use a VPN in many ways
A VPN's primary job is to provide you the necessary privacy and security against any outside threat. However, it can do so much more, such as unblocking every type of web content, which is mainly not available in countries like China and Russia.
Not everyone can afford to pay for expensive movies and streaming services. Torrenting offers you a way out of by providing a free path to watch movies/TV shows, download software, and other things. Still, it is considered illegal across various countries.
Other than using torrents and unblocking restricted websites, you can do online shopping without getting your payment info leaked. VPN protects your information and through its server coverage, provides the chance to purchase items from different locations at a lower price.
In the end, it all hinges on your creativity as a user and how you can use your VPN, as its features are virtually limitless.
About the author