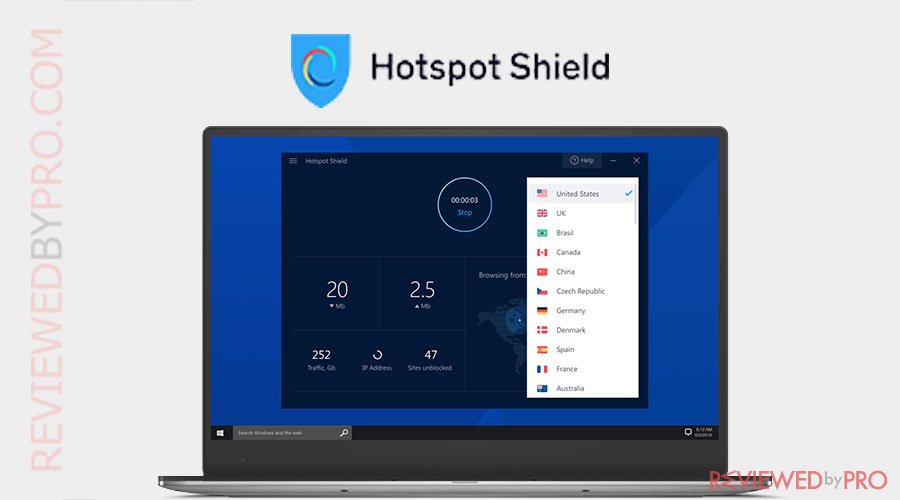 Hotspot Shield VPN[1] is one of the most popular VPN services in the market used by over 650 million users worldwide.  A VPN service is essential for frequent travelers who often connect public Wi-Fi networks, as well as those who care about their privacy and want to stop their internet service providers from tracking, while others just want to bypass geo-restrictions and access websites forbidden in other countries.
PROS
CONS
VERDICT
Offering free data
Expensive Premium version
Hotspot Shield VPN is a reliable and full-featured VPN service offering advanced protection and performance rates.
Web protections against malicious websites
Proprietary VPN protocol
Servers in China and Russia
Based in the USA
A decent VPN service is developed to help users to avoid censorship and bypass geo-restrictions. It hides the IP address and physical location, as well as encrypts data between the device and the VPN service. IT is worth to mention that the VPN does not log users' browsing activity and allows them to across popular streaming services, such as Netflix and Youtube from other countries.
Hotspot Shield provides secure and private access to a free and open internet. Enabling access to social networks, sports, audio and video streaming, news, dating, gaming wherever you are.
Hotspot Shield VPN has more than 2,500 servers in 24 countries, including China and Russia. The VPN uses a proprietary VPN protocol which has not been widely investigated yet.[2] The VPN is compatible across all the major operating systems including iOS, Android,[3] macOS, Windows, and the Google Chrome browser. Linux is not supported.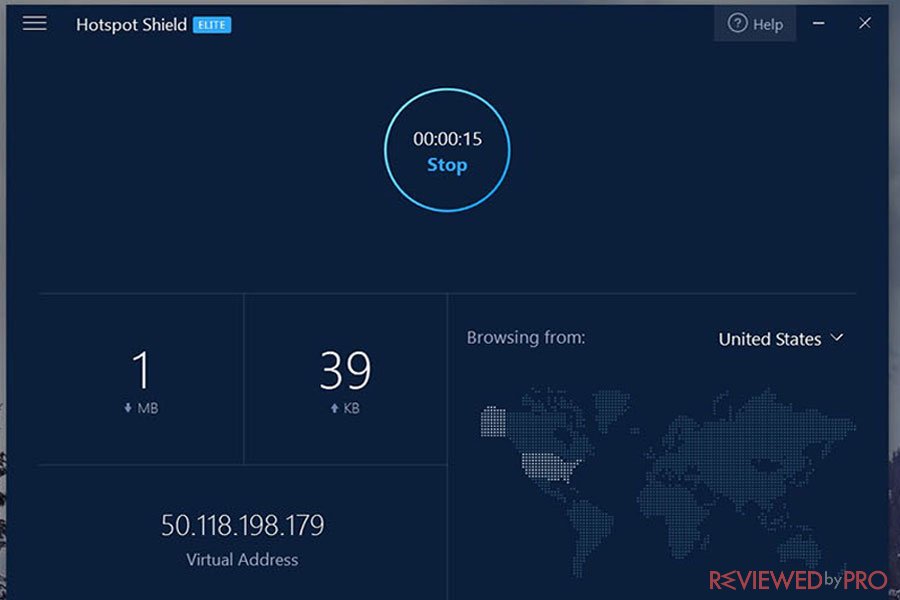 Short and stright review of HotspotShield VPN
All in one it took for us about five minutes to download, install and connect to the Hotspot Shield VPN. The service is very easy to set up.
One of the most expensive VPN on the market
Hotspot Shield VPN also offers a free version of its service but gives users only 500 MB of free data per day. The free service allows users to connect only to the US servers. The Premium version allows users to connect servers in 25 countries and run simultaneous sessions on up to five devices. The VPN is one of the most expensive out there and starts at $13 per month. Hotspot Shield also offers users a six-month subscription, annual subscription and a subscription for three years which costs $120.[4] What we did not like about Hotspot Shield VPN is that you cannot pay in bitcoin. Users can use credit or debit cards. PayPal, GiroPay, WebMoney, Yandex and other payment methods. If you want to pay for a paid subscription, the email address is required too. The service provides a hassle-free 45-day money-back guarantee.
HotspotshieldVPN provides many functions to choose from
As it was mentioned before, Hotspot Shield VPN is compatible with iOS, Android, macOS, Windows devices and the Chrome browser. The VPN service provides users with the following:
The one-click connection that allows launching the service within a single click.
The automatic kill switch that prevents the IP address and network traffic from exposure if the VPN service drops.
Users are also allowed to choose the location to over 2,500 servers in 25 countries.
Connect up to 5 devices under a single Hotspot Shield account.
Military-grade encryption that keeps your network activity away from hackers and other prying eyes.
Catapult Hydra VPN technology that optimizes multiple server connections for better long-distance performance.
Live tech support helps users with any VPN-related issue.
The VPN service also blocks malicious websites. As you can see Hotspot Shield is a full-featured VPN service.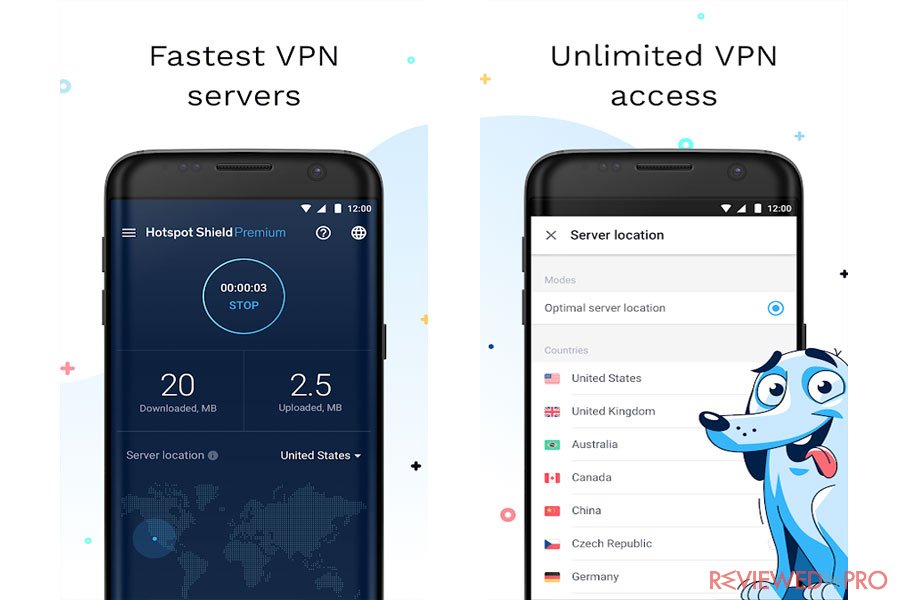 Your data privacy could be encrypted with unussual protocol
Hotspot Shield does not apply popular VPN tunneling protocols PPTP, LT2P/IPSec or Open VPN, instead it uses a proprietary protocol named Catapult Hydra. The protocol applies SSL/TLS underpinnings and is designed to optimize long-distance online connections. The protocol has not been widely analyzed and the VPN is based in the USA, which can put off some customers. The service has over 2,500 servers in 25 counties, however, in comparison with other VPN services the country range is only average since other full-featured VPN offers servers locations in about 60 countries. It is worth to mention that in 2017 the Hotspot VPN service was alleged for violated users' privacy.
On the speed test Hotsposhield did show an average results
Hotspot Shield VPN is a reliable VPN service with mediocre performance speeds. According to our test results, the speeds are somewhere in the middle. The connection time of the service is about 9 seconds, and the network latency increased to approximately about 100 milliseconds compared to the one without a VPN connection. The average download speed had a performance hit of 28%. In addition, Hotspot Shield VPN has some issues sustaining a 12-hour connection and required 2 reconnects.
Everything is ok with the customer support of this VPN service provider
Hotspot Shield VPN offers users a reliable customer support via chat service for VPN-related issues and informative support website, including FAQs, release notes and places to get the latest software. In addition, the desktop version provides users with the links that allow them to connect to support technicians via the company's Facebook page.
The white and light-weight user interface makes this app easy to navigate
Hotspot Shield has a dark blue desktop interface which cannot be resized but can be moved around. The VPN takes about one-third of the screen. To start the program users have to click the Windows taskbar icon or Mac menu-bar. The interface displays a connection button in the front, a map of the world and indicators of current upload and download amounts. It also shows the current IP address. The mobile versions are similar to each other and add a malware scan button at the bottom.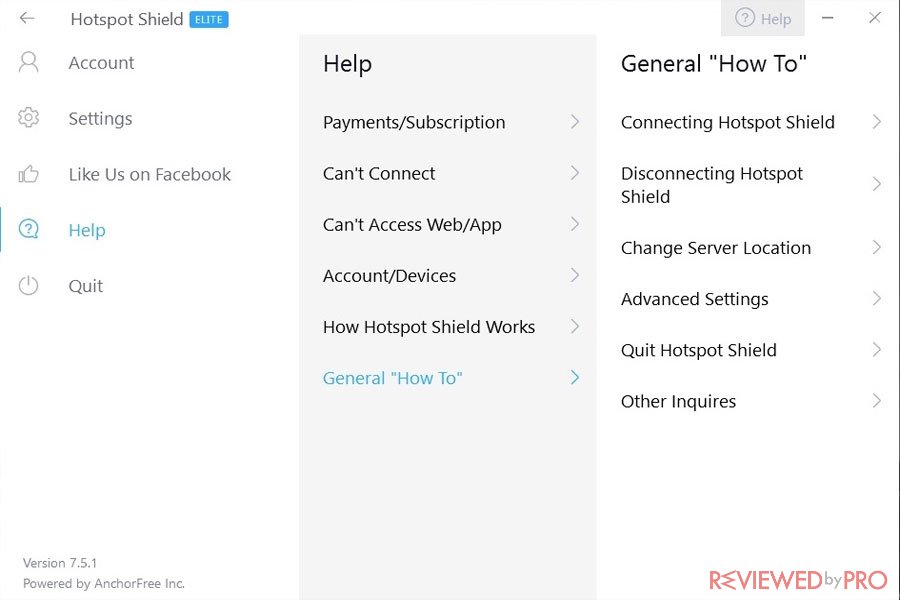 Our verdict: The price is to high for an average VPN service and intermediate connection speed
Hotspot Shield is a reliable VPN service with 2,500 servers in 25 countries. In general, the performance and protections are reliable and good. In addition, it offers relatively decent free service with web protections that block malicious websites. In addition, Hotspot offers one of the most decent customer support and allows up to five simultaneous sessions. However, Hotspot Shield VPN is located in the USA and is using an unknown VPN protocol which can put off some users.
Supported platforms: Windows, macOS, Android, iOS, Chrome, Firefox.
Does not Allow 3rd-party connections.
Simultaneous connections: Up to 5
User data required: valid email address
Supported protocols: Catapult Hydra VPN
About the author
References