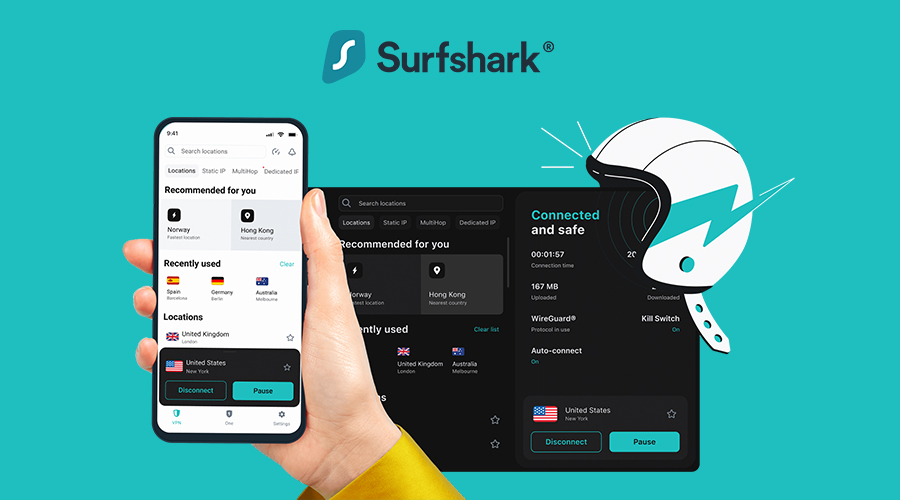 Rarely have we seen a VPN service that offers such a vast library of features at such a low subscription fee than SurfShark. We found the software to tick all the boxes that are necessary for a quality VPN. From offering the user to access VOD platforms across a high number of regions to giving them the mandatory privacy to keep their identity hidden, Surfshark has it all.
In this article, we will discuss in more detail the key aspects and functions of the Surfshark VPN. We will also show you why it is one of those VPN services that you should have to ensure your privacy and data protection on the internet. Also we will discus what does vpn stand for.
So what is VPN?
VPN stands for Virtual Private Network. A VPN is a technology that allows you to create a secure and encrypted connection over a public network, typically the internet. It is used to protect your online privacy and security by masking your IP address and encrypting your internet traffic, making it difficult for third parties, such as hackers or government agencies, to monitor your online activities.
VPNs are commonly used for various purposes, including accessing geo-restricted content, ensuring anonymity while browsing the web, and enhancing security when connecting to public Wi-Fi networks.
We have gathered up the necessary information from all the categories listed throughout our review. It will allow our more advanced readers to find the answers they need to decide whether Surfshark is the right choice for them or not.
| | |
| --- | --- |
| The Base of Operations | Surfshark maintains a firm policy of not storing any log (no-log vpn) of its client's information and browsing activities. The fact that it operates from the British Virgin Islands, a place with excellent privacy protection laws, makes it even better. |
| Server Coverage Countries(9/10) | Surfshark VPN has more than 3200 servers at its disposal across 100+ countries and 110 locations that are capable of defeating geo-restriction and internet throttling. |
| Internet Connection Speed(9/10) | We tested the VPN across every region and found the results to be brilliant. Surfshark was able to maintain internet connection stability across the board. |
| Security Features(10/10) | The service had all the necessary features for user privacy and protection like none other. It deserved full marks from us. |
| Platform Compatibility(9/10) | You will be able to access an unlimited number of devices across various platforms with just a single Surfshark VPN account. |
| Encryption protocols(10/10) | From 256-bit encryption to tunneling protocols like Open VPN, Surfshark has what it takes to keep its client safe from hackers. |
| App intuitiveness(9/10) | Updated app interface of Surfshark VPN looks awesome and we believe that the app for Windows and macOS are restructured very well. |
| Media support(10/10) | Very few VPNs available on the internet are capable of opening Netflix for different regions, and Surfshark is one of them. |
| The Customer Support Service(9/10) | From Live chat to FAQs and even informative guides to using a VPN, the support section of Surfshark VPN has got it all. |
| Pricing(10/10) | There can not be a more cost-effective VPN than Surfshare as the cheapest plan was available for a mere price of 1.99 per month. |
| Overall Rating | 9.6/10 |
We base everything on our digital devices. The significant changes and advancement in the technology of the internet added in recent times have allowed every one of us to share our data and other things much faster, in a more convenient fashion. However, there is a dark side to such conveniences. It is because our over-reliance on the internet and other forms have technology have also made our information and data more exposed to outside threats like never before.
Nevertheless, there is always light at the end of the tunnel as there are several handy programs adept at avoiding such risks. A VPN is one of such tools as it can make the data of its client along with the internet safe and hidden from the grasp of cybercriminals.
Rating
   (Good – 4.1/5)
Available applications
 
Money-back guarantee
30-days
Price from
from $2.39/month
More information
Surfshark review
Get SurfShark

Among such VPNs, Surfshark VPN is a ray of shining light that doesn't put any burden on the user's budget, all the while giving them the best service imaginable. We will show you the key features of the VPN, along with its app-interface, customer service proficiency, server coverage, and much more. So please keep on reading this review if you want to learn about the complete ins and outs of Surfshark VPN.
Surfshark VPN – Information on its Headquarters and Data Logging policy
There couldn't be a more ideal place from which a VPN could head its operations from than the British Virgin Islands. Surfshark has based its entire business within the jurisdictions of the small island nation, which enables it to uphold and follow a strict no-log policy.
Though the head of the state of the British Virgin Islands is Queen Elizabeth, the Caribbean country has no other affiliation with the United Kingdom. The nation follows its own rules and protects the privacy of its citizens like none other.
It is also not a member of any intelligence-sharing coalition like the Five-Eyes or the Nine-Eyes Alliance. This lack of association with countries like the UK and the US allows businesses such as Surfshark VPN to follow their no-log policy fully and ensure complete anonymity of its user's browsing activity.
Upon collecting the necessary information regarding the solemnity of Surfshark on keeping the identity of its clients hidden, we felt pretty satisfied. Our team learned that Surfshark VPN passed a security audit from one of the prominent German cybersecurity firms. Our team of experts also found out that Surfshark has spread out its no-log rule across specific things that are as follows:
Not keeping a record of user's IP address and bandwidth usage;
Not noting the browsing history of the client;
The Pricing Plan of Surfshark VPN – It does not get any cheaper than this
The pricing plans of any software should be in line with the needs and limitations of the average consumers. The majority of the population belong to the lower or middle class, and there are the most who suffer from online hacking attacks. It is challenging for such people to purchase software services to achieve protection on the internet if the service is expensive and puts a strain on their budget.
Surfshark understands the dilemma and concerns of the everyday consumer, much like some of the top VPN services available on the market. The most prevalent two-year package of Surfshark VPN is available for the lowest possible price of $2.39 per month. Moreover, you will get three extra months for free. Each of the three subscription plans of Surfshark allows the user to test the VPN for 30 days and get their money back if they do not like the service. Not only that, but you will also be able to purchase any plan of the VPN through the convenience of Bitcoin, which will permit you to protect your financial information.
The subscription packages of SurfsharkVPN are as follows:
The Plan


The Monthly Package

12 month Package

The Two-year Package

Prices

$15.49/month

$3.99/month

$2.39/month

Money-Back guarantee


30-days


30-days

30-days

Devices per Account

Unlimited

Unlimited

Unlimited

Accepts Bitcoin

Yes

Yes

Yes

Overall Rating

10/10
The Server Count of Surfshark VPN
If you want to judge a VPN's quality on your own, then there is a straightforward method to find that out. You only need to learn the number of servers that the VPN is offering to its premium customers. If the headcount is more than 3200+, then it directly implies that the VPN is of the highest quality. It also points to the fact that it will not matter how strict is the geo-blocking protocol implemented by any entity. The supreme coverage servers of the VPN will find a way to unblock user access to such platforms in no time.
Surfshark checks all the boxes in that regard as you will be able to connect to any of the service's 3200+ servers across more than 100 countries to bypass geo-restrictions. It is far more than several notable VPN on the market has to offer. You will find servers across all six inhabitable continents, which gives a good look at how far-reaching Surfshark is for the user of every region.
Here is the list of servers in countries that Surfshark has carefully placed for the convenience of its customers all over the world:
Continent
Countries
Africa
Algeria, Angola, Egypt, Ethiopia, Ghana, Kenya, Morocco, Nigeria, South Africa, Tunisia, Uganda
Asia
Bangladesh, Cambodia, China, Hong Kong, India, Indonesia, Japan, Malaysia, Pakistan, Singapore, South Korea, Sri Lanka, Taiwan, Thailand, Vietnam
Europe
Albania, Andorra, Austria, Belarus,

Belgium, Bosnia and Herzegovina, Bulgaria, Croatia, Cyprus, Czech Republic,

Denmark, Estonia, Finland, France, Germany, Greece, Hungary, Iceland, Ireland,

Italy, Kosovo, Latvia, Liechtenstein, Lithuania, Luxembourg, Malta, Monaco,

Montenegro, Netherlands, North Macedonia, Norway, Poland, Portugal, Romania,

Russia, San Marino, Serbia, Slovakia, Slovenia, Spain, Sweden, Switzerland,

Ukraine
North America
Canada, Mexico, United States
Oceania
Australia, New Zealand
South America
Argentina, Brazil, Chile, Colombia, Ecuador, Peru, Uruguay
Antarctica
No servers
Though the server count of 1040 is not in any way close to what more prominent VPNs like Nord and Express have to offer, Surfshark still deserves all the applause. The VPN service covers every continent and allows the user from more populous regions like Africa and Asia to ensure their privacy online. It is the reason why our team decided to give it a handsome rating of 9 out of 10. You can check out the table below to learn quickly about the server coverage of Surfshark:
| | |
| --- | --- |
| Number of Servers | 3200+ |
| Number of Countries | 100+ |
| Specific Cities Selection and Switching | Yes |
| Overall Rating | 9/10 |
Internet connection speed of Surfshark VPN
It is an ancient fact about the VPN that they tend to make the connection speed of the internet highly unstable and slow, making it unbearable to browse or stream. This fact is accurate for some VPNs, but it is not right in the case of the Surfshark VPN. Like most premium VPN services, Surfshark thrives on offering the best quality internet connection speed. The data we collected across different servers of Surfshark pointed to the fact that you will be able to stream videos, play online video games with complete stability.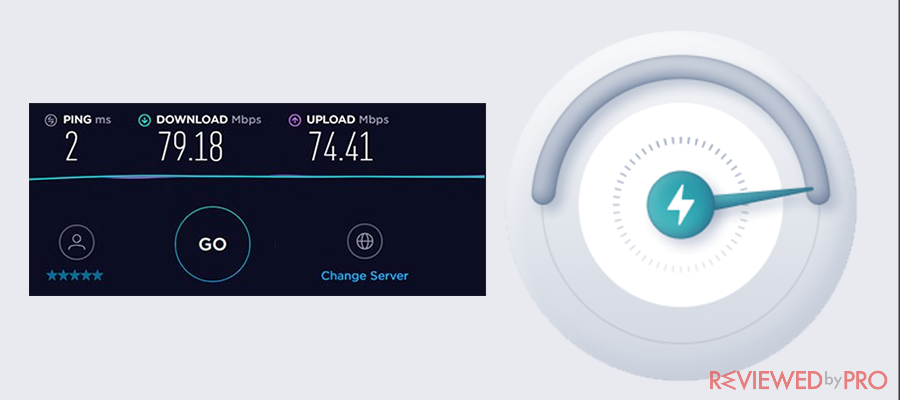 We ran tests across different servers across a variety of regions with our 100Mbps internet connection. We have stated the findings in the table below:
| Continent | Download speed (Mbps) | Upload speed (Mbps) | Ping (ms) |
| --- | --- | --- | --- |
| Africa | 185 | 100 | 100 |
| Asia | 225 | 150 | 60 |
| Europe | 275 | 175 | 50 |
| North America | 300 | 200 | 40 |
| Oceania | 250 | 150 | 70 |
| South America | 200 | 125 | 80 |
The fact that Surfshark was available across every region was enough for our team to give it a rating of 9 out of 10. However, the speed test results gathered through the platform of "Speedtest.net" sweetened the deal to the greatest extent. Though we got into some technical glitch while testing the South American server of Brazil, everything else went smoothly.
The Security Features of Surfshark VPN
The security features of a VPN is its bread and butter. If the functions to give the clients much-needed privacy online are not top-notch, then there is no point in enabling a VPN connection on the device. The features have to be of the highest working quality to tackle the ever-evolving threats of adware, DDoS attacks, hacking attempts, and others.
In this part of the review, we will look into all the security and privacy enabling functions of Surfshark VPN to check whether they are capable of walking the walk. Here are the high-functioning and essential security features of the Surfshark VPN:
| eature | Description |
| --- | --- |
| Military-grade encryption | Surfshark uses AES-256 encryption, which is considered to be unbreakable. This means that your data is protected from prying eyes, even if it is intercepted by a third party. |
| No-logs policy | Surfshark does not collect any logs of your activity, including your IP address, browsing history, or download history. This means that your privacy is protected, even if the authorities come knocking. |
| RAM-only servers | Surfshark's servers use RAM-only storage, which means that your data is never written to disk. This makes it even more difficult for anyone to access your data, even if they were able to gain physical access to a Surfshark server. |
| Kill switch | The kill switch is a feature that will disconnect your internet connection if the VPN connection drops. This prevents your real IP address from being exposed. |
| Split tunneling | Split tunneling allows you to choose which apps and websites use the VPN and which ones use your regular internet connection. This is useful for things like streaming video or playing online games, where you may want to bypass the VPN for better performance. |
| Double VPN | Double VPN is a feature that encrypts your traffic twice, routing it through two different VPN servers. This provides an extra layer of security and anonymity. |
| Whitelister | The whitelister is a feature that allows you to specify certain websites and apps that you want to bypass the VPN for. This is useful for things like banking websites or streaming services that may not work properly with a VPN. |
| Ad blocker | Surfshark's ad blocker blocks ads, trackers, and malware from loading in your browser. This can improve your browsing experience and protect your privacy. |
| Multihop | Multihop is a feature that allows you to route your traffic through multiple VPN servers in different countries. This can be useful for bypassing censorship or getting around geo-restrictions. |
| Camouflage mode | Camouflage mode hides the fact that you are using a VPN, making it more difficult for your ISP or government to track your online activity. |
| Private DNS | Private DNS encrypts your DNS queries, preventing your ISP or anyone else from seeing which websites you are visiting. |
| VPN on demand | VPN on demand allows you to automatically connect to the VPN when you connect to a public Wi-Fi network. This helps to protect your privacy when you are using public Wi-Fi. |
| CleanWeb | CleanWeb is a feature that blocks ads, trackers, and malware from loading in your browser. This can improve your browsing experience and protect your privacy. |
| Multi-user support | Surfshark allows you to connect unlimited devices to the VPN at the same time. This is great for families or anyone who wants to use the VPN on multiple devices. |
| 24/7 customer support | Surfshark offers 24/7 customer support via live chat or email. This is great if you ever have any problems with the VPN. |
From keeping no traces of user log to offering them enhanced protection through the Double VPN features, Surfshark VPN is a complete package. Hacking or phishing attempts on your device will become a thing of the past once you start connecting your internet connection and system with one of Surfshark's servers.
The Hacklock function of the VPN will instantly alert you if your information(passwords and accounts) ever get into a position of getting hacked. Furthermore, the VPN will not let any malware through a malicious website from entering the premises of your computer or smartphone.
The whole around coverage to keep the user hidden and their data completely secure online allowed us to give the security features of SurfsharkVPN a perfect rating of 10.
The Cross-Platform Support
Ever since the inception of the 4G technology, the competition between tech companies to get a firm hold of the market share has also increased. It is the reason why we now see more operating systems, brands, and devices on the market that offer more convenience than the other. It is also the fact that the majority of the users all over the world own more than one cross-platform device. Such a practice allows the consumer to send and receive information everywhere by connecting their devices through the internet.

SurfSharkVPN available applications
For that purpose, software providers such as VPN offer app coverage across every platform there is. It helps their client to remain protected anywhere they go, no matter if they use their home network or public Wi-Fi. It is also necessary for the VPN to offer coverage across more than one device at the same time.
Surfshark VPN ticks every box of cross-platform support as the service allows the user to connect through an unlimited number of through the convenience of a single account. You can see the app coverage across various platforms in the list below:
| Operating systemS | VERSIONS |
| --- | --- |
| Windows | Windows 7, 8, 10, 11 |
| macOS | macOS 10.11 (El Capitan) or later |
| Linux | Ubuntu, Debian, Fedora, CentOS, Arch Linux, openSUSE |
| Android | Android 5.0 (Lollipop) or later |
| iOS | iOS 11 or later |
| ChromeOS | ChromeOS 78 or later |
| Fire TV | Fire TV (2nd gen or later) |
| Apple TV | Apple TV (4th gen or later) |
| Android TV | Android TV 8.0 or later |
| Xbox | Xbox One, Xbox Series X/S |
| PlayStation | PlayStation 4, PlayStation 5 |
| Routers | Asus, Linksys, Netgear, TP-Link, D-Link |
Other than offering app support across the conventional top four platforms(Windows/macOS/iOS/Android), you will find apps of Surfshark for your gaming consoles and smart TVs. Such a comprehensive native app coverage with unlimited connections across devices gave us no reason not to provide Surfshark with a rating of 10/10 in the cross-platform support category.
The Encryption and Tunneling Protocols
There is no denying those different entities with power and necessary tools go to a variety of lengths to spy on you and steal your data. The aim to leak information that is more intimate to such as personal details and data related to your banking endeavors. It is why keeping such data encrypted under the protection of a strong password is necessary. If that is not possible, VPNs offer standard military-grade encryption protocols to keep the identity and the data of their client safe and hidden.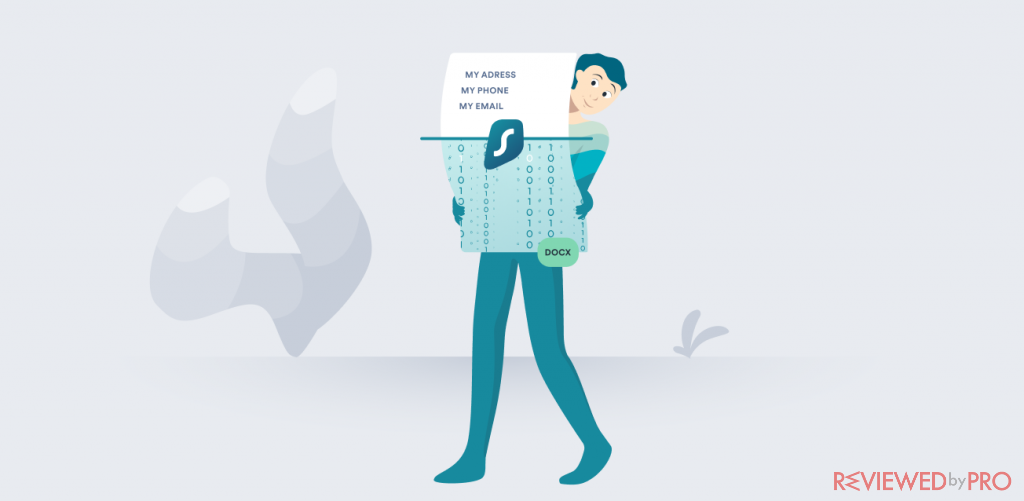 SurfShark VPN encryprion
Surfshark provides various encryption and tunneling protocols to all its clients to keep their information protected at all times. You will be able to continue your browsing activity and other kinds of data encrypted and away from the hands of hackers through Surfshark's AES-256-GCM encryption. Such a level of encryption is impossible to decrypt, which will render the individual trying to hack your device completely clueless.
Other than offering military-level encryption, Surfshark VPN has different tunneling protocols in place for its customers. If you don't know what VPN tunneling protocols are, then we have the answer. It is a technology that allows the VPNs to send the data of their clients through the internet safely. Here are some of the tunneling protocols that Surfshark VPN has placed across its network. Here is the table of security features that SurfSharkVPN provides:
| Protocol | Encryption | Use |
| --- | --- | --- |
| OpenVPN | AES-256 | Everyday use; putting a VPN on routers |
| IKEv2/IPSec | AES-256 | Mobile devices, short-range connections, everyday use |
| WireGuard | AES-256 | Hottest new thing for everyday use |
| PPTP | 128-bit | Actually a tunneling protocol; no reason to use it outside ancient technology |
| SSTP | AES-256 | A Microsoft tunneling protocol; for connecting Windows devices |
| L2TP/IPsec | AES-256 | No reason to use as IKEv2 is better in every way |
Safety on the internet is absolutely necessary, and a VPN is the only tool that guarantees that your identity remains anonymous for as long as you like. If the VPN is not capable of doing that, then this whole discussion is all for nothing. Fortunately, Surfshark keeps its promise in maintaining the integrity of its client's safety through military-grade encryption and various secure tunneling protocols. We found every feature regarding the protection of data and browsing activity to be up to the mark. For that reason, our team gave Surfshark VPN a 9 out of 10.
The App Interface of Surfshark VPN on Windows PC
Once you understand the safety protocols, server count, and the pricing plans of a VPN, the next step is to learn whether the VPN app is intuitive for every user or not. The app is the only platform of the VPN that can enable protection across the device and the internet. The app must be spontaneous so that the user from every background could maneuver it without outside help. Every person should be able to switch on a specific feature of the VPN from the app whenever they like.
The app for the Windows operating system was only 16Mb in storage size, and it took merely a minute for us to download and install it from the official website of Surfshark. Upon launching the app on the platform, the interface asked us to enter the username and password that we created before purchasing the VPN.
Once we signed into the app, we saw a giant whitish display with the following small icons that were hard to look at:
Favorite – This tab allows you to connect to your preferred server almost instantly;
Locations – You will be able to see the entire list of virtual sites and servers of Surfshark by clicking on the button;
Static IP – Once you select this tap, you will be able to connect to any of the 26 dedicated IPs of Surfshark's servers. However, these static IPs are different
Multihop – You will be able to browse under the protection of servers from two countries at once by clicking on this option.
The features option is available at the left side of the interface, which allows you to enable the following four options:
| | |
| --- | --- |
| CleanWeb | It will block malware, adware, and trackers coming from malicious sites; |
| Whitelister | You will be able to select which apps of your device need protection than the other from this option; |
| Hacklock | This feature will give you real-time alerts especially when your device ever gets under the radar of a cybercriminal; |
| BlindSearch | You will be able to enable double incognito mode through this option |
| Settings | The settings option has the Kill Switch feature under its disposal, which you can enable at any time |
| Overall Rating | 7/10 |
We found large spaces within the app interface of Surfshark VPN, which the designers could have filled to increase intuitiveness and accessibility. The app was not evident in directing the user to the server or security feature that they wished to access. The icons that we used were so small that some of our analysts weren't able to see them with the naked eye. The app interface of Surfshark VPN left a big room for improvement. Besides, it is why our team decides to give the VPN's app an overall rating of 7 out of 10.
Does Surfshark VPN work with Netflix?
Many users do not concern themselves with privacy and the protection aspect of the VPN. They only purchase the service to unblock torrenting sites in a much more private manner to bypass DPI and internet throttling. It is why the VPN must be able to support P2P platforms, and unblock streaming sites like Netflix without any extra hassle.
While allowing access to such sites, it is also essential for the VPN to provide unlimited bandwidth coverage along with high-speed internet. Things like these are crucial for the user to download and stream content quickly.
Surfshark takes pride in providing its customers the option to open Netflix of more than ten different regions. Not only Netflix, but we were also able to access pretty much every notable streaming platform available on the internet, including Hulu, Amazon, and Hotstar. We give Surfshark VPN full marks for its commitment to offer its users a wide variety to stream content with high-speed in HD quality.
If you wish to access torrenting sites to download content for free, then Surfshark has you covered as every one of its servers is P2P-friendly. It means that no one will be able to know that you are using a P2P site; neither will they be able to track your identity.
The Customer Support Service of Surfshark VPN
When the app interface fails to provide the service you need with the VPN, despite its intuitiveness, then it is where the customer care service of the VPN comes in to help. Though the chances of an average customer interacting with the support staff could be skimpy, the service should be available at all times and laced with the necessary tools to assist the client.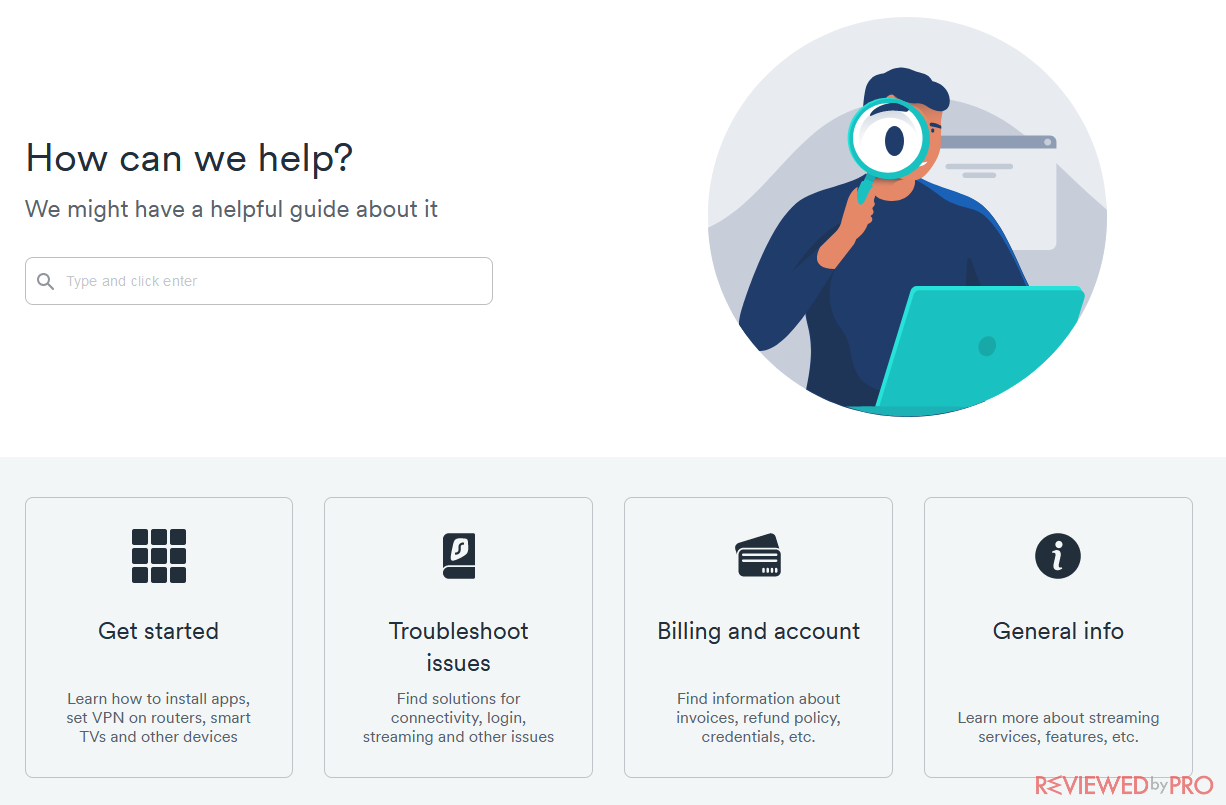 SurfShark VPN support
Services such as VPN that goes over the head of the user with zero technical knowledge should have the best customer support service of all. It should contain informative FAQs, how-to guides, live and email chat facility, and one-click solution to common issues.
Fortunately, Surfshark VPN has got it all. You will be able to access the support section by clicking on the "Help" tab from the official web page of Surfshark. From that, you will have the choice to select your device's operating system to solve your problem quickly.
If you don't want to choose the OS, then scroll down the "Help" page, and there you will be able to access the FAQ section. It has all the simple answers to the most common occurring VPN-related issues. You will be able to learn how to set-up your VPN on your computer, smartphone, and even your router.
The Knowledgebase section has quick solutions to non-technical aspects of the VPN service. You will be able to access any of the following tabs to learn everything you need about your VPN account:
Tutorials: You will find troubleshooters related to every operating system by accessing this option;
Billing: This tab will contain the information required on how to pay for the service by using different means of payment;
General Info: This section of the support section includes articles on how to logically use the VPN service to access sites like Netflix and others.
The live chat and email support facility are accessible at the very bottom of the "Help" page. It will allow you to interact with a technical expert of VPN directly and get the required assistance much swiftly. We have arranged a table for you to showcase the various facilities available across the customer support section of Surfshark VPN:
| | |
| --- | --- |
| FAQs | Yes |
| How-to Guides and Articles | Yes |
| Email Ticket Support | Yes |
| News and Updates Section | No |
| Live Chat Facility | Yes |
| Overall Rating | 9/10 |
Overall, SurfShark VPN is an inexpensive VPN service with a bunch of useful features that can protect your online privacy. Recommended!
There is no debate about the fact that having a VPN enabled on the computer system is a must. Without the presence and the safety net of the VPN, your data will remain exposed and susceptible to online theft.
We tested Surfshark VPN by dividing the qualities of the VPN service under different categories. Surfshark gave perfect results under categories such as pricing, media support, security features, and encryption protocols.
If that wasn't enough to convince our team of the utility of Surfshark VPN, the service also gave excellent results in the internet connection, customer service, and server coverage. The only trouble we came across with the VPN was with its app for Windows OS, which left a lot to desire.
We concluded that Surfshark VPN is one of those services available that you need to purchase to get a fast internet connection with high-class security features. The overall rating that the service got from us was 9.2 out of 10, which includes Surfshark VPN among the top-rated VPN services available on the internet.
| Pros | Cons |
| --- | --- |
| 1. Affordable Pricing: SurfsharkVPN typically offers competitive pricing, often with unlimited device connections. | 1. Limited Server Locations: While it has a growing server network, it may not have as many server locations as some larger VPN providers. |
| 2. Strong Security: Offers robust encryption and security features, including a strict no-logs policy and a kill switch. | 2. Speed Fluctuations: Connection speeds can vary depending on server load and location. |
| 3. No-Logs Policy: Surfshark claims to have a strict no-logs policy, which is crucial for privacy-conscious users. | 3. Limited Advanced Features: Some advanced features available in other VPNs might be missing. |
| 4. Unblocks Streaming Services: Known for its ability to bypass geo-restrictions and access streaming platforms like Netflix. | 4. Occasional Customer Support Issues: Some users have reported mixed experiences with customer support. |
| 5. MultiHop and Whitelister: Features like MultiHop (routing your connection through multiple servers) and Whitelister (split tunneling) for added flexibility. | 5. Variable Speeds: While it can provide good speeds, performance may vary. |
| 6. User-Friendly Apps: Offers user-friendly apps for a wide range of devices, including Windows, macOS, Android, iOS, and more. | 6. Limited Router Support: Limited native support for routers. |
| 7. Unlimited Simultaneous Connections: Allows for unlimited simultaneous connections on a single subscription. | 7. Limited History: Relative newcomer compared to some long-established VPN providers. |
| 8. 30-Day Money-Back Guarantee: Comes with a 30-day money-back guarantee, allowing you to try it risk-free. | 8. Limited Peer-to-Peer (P2P) Servers: Not all servers are optimized for P2P file sharing. |
Rating
   (Good – 4.1/5)
Available applications
 
Money-back guarantee
30-days
Price from
from $2.39/month
More information
Surfshark review
Get SurfShark

About the author