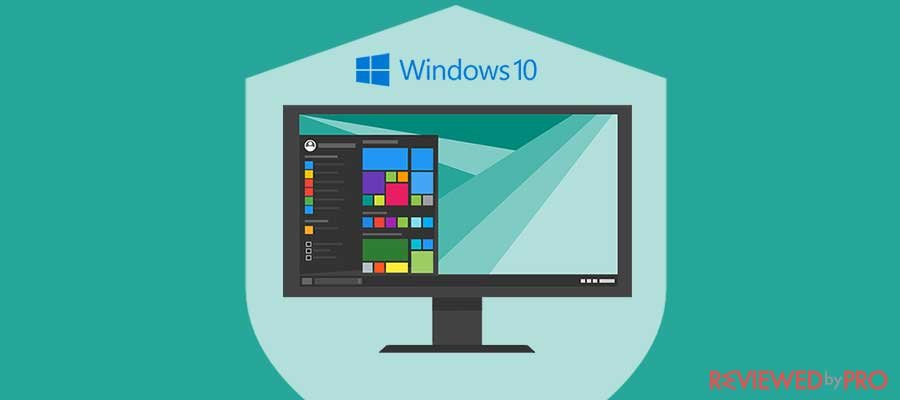 Our selection of best VPNs for Windows 10[1] will appeal to Web users who want to visit their favorite sites anonymously and safely. The VPN[2] applications we reviewed will hide your IP address[3] and help you access blocked resources around the world. In any way, it is essential to use high-quality VPN service, because not all VPNs are equally good. In this article, we are going to explain how to use and choose the best VPN service for Windows 10. Read, choose, and enjoy the security of access to the Internet, go to any website blocked in the region confidentially!
There are many VPNs that you can use for Windows 10. Each of them offers a variety of services. Here you can read all the information about top VPNs and decide on what you are going to choose.
But if you don't have a lot of time to read the whole article, you can read the summary.
1. NordVPN – according to the various tests it is the best solution for Windows 10 or any other OS in many aspects
Rating
Available applications
Money-back guarantee
30-days
Price from
$3.49 (-70% deal)

Oder VPN with a discount
More information
NordVPN review
We thought and decided that we would like to check if this service is as fast and safe as the advertisement says. We were genuinely surprised: despite the low prices available on hidden pages, the service copes with downloading torrents perfectly and even allows you to watch Netflix without any problems.
NordVPN characteristics
It has a vast server network – more than 5500 servers in 60 countries. The main servers are located in the USA.
One of the fastest VPN services, though not having a determined speed.
It is supported by MAC, Windows, Linux, Android, iPhone, Windows Phone, Windows S, and iPad.
Connection of 6 devices at the same time.
For transferring data securely, this VPN uses NGE, IKeV2/IPSec. It also provides military-grade protection.
If you encounter any problems, available 24/7 user support will be happy to help you directly through online chat, online form, email, or phone.
The NordVPN offers four plans
For every buyer, the price is always important.
$11.95 per month
$6.99 per month for a yearly plaN
$4.99 per month for a two-year plan
$3.49 for a three-year plan
NordVPN has a unique feature called SmartPlay – and the service team says that with its help, you can bypass geographic access blocking for more than 400 sites. We tested access to content protected by geo-blocks for residents of the USA, Australia, and Europe, including local news, sports programs, and gaming sites. We also checked for access to streaming platforms such as Hulu and Amazon Prime Video.
What is the result? We could watch any content on these sites. Any!
2. ExpressVPN – fastest and most secure VPN service that is compatible with various OS, including and Windows 10
Rating
Available applications
Money-back guarantee
30-days
Price from
$6.67 (-49% deal)
Oder VPN with a discount
More information
ExpressVPN review
ExpressVPN is one of the best VPN services that we have tested, but the cost of its services is much higher than that of other VPN services. The first thing we thought about: why do we have to pay for this VPN almost twice as much as average?
We tried to sort out the statements of the ExpressVPN team about that it is the fastest VPN service. We want to mention that many of our readers, of course, can find an excellent offer from one of the cheap VPN services, but if you need the fastest VPN, then Express will be a great choice. They hid their discount page very well, but you can get several months of subscription for free. So these services will not cost as much as they seem.
ExpessVPN characteristics
Services in 94 countries.
160 VPN locations.
More than 3000 servers at the locations
160Mbps speed, this means you can download any kind of software easily
It supports several platforms such as Windows, Linux, Android, iOS, HD, AppleTV, and so on.
For transferring data securely, this VPN uses OpenVPN, TCP, UDP, L2TP, IPSec, and PPTP encryption protocols
Connection of 5 devices at the same time.
Customer service and support are at a high level. You can contact by email, online form, chat, or phone.
Express VPN offers three plans
$12.95 per month
$9.99 per month for a 6-month plan
$6.32 per month for a yearly plan
If you are concerned about the purchase, it's essential to know that the VPN has a 30-day money-back guarantee.
Many VPN services promise the best speeds, the most reliable security protocols, and a privacy policy that you can trust, but not everyone keeps their promises. Why is ExpressVPN one of the best in the VPN market? This provider not only fulfills every single commitment but also gives users additional features that other VPN services simply do not have.
TrustedServer's proprietary technology provides even more reliable data protection, all in conjunction with the most reliable security protocols. This VPN is compatible with a range of platforms and devices, including routers. Thanks to the browser extension, you can also configure the application directly from the browser, which is even more convenient.
Combine this with an honest business approach, and ExpressVPN will become the undisputed leader.
3. CyberGhostVPN – Romanian-made VPN service that is compatible with Windows 10 and other operating system
Rating
Available applications
Money-back guarantee
45-days
Price from
$2.75 (-80% deal)

Oder VPN with a discount
More information

CyberGhost review
If you want to protect your online privacy and be away from the government's eyes, then the CyberGhost VPN service may be the most suitable option.
Moreover, CyberGhost VPN does not log user actions. As long as you are connected to the CyberGhost server, no one will be able to track your search queries.
CyberGhost VPN characteristics
More than 5500 VPN servers in 90 countries and these numbers are only increasing day by day.
According to t the company, it has 1Gbps of speed, but the user, of course, can have 6Mbps
This VPN service is available on all platforms and devices, including Chromebook, Mac, Windows, Linux, Android and Ipad
Users will be able to connect up to 7 devices at the same time.
For transferring data securely, the VPN has protocols of CyberGhost client, IPSec standalone, L2TP/IPSec, OpenVPN, UDP, TCP, and PPTP.
Customer service is well developed. You can contact by different means and be sure your request will be solved fast because the company takes care of the customer and his problems.
CyberGhost VPN offers four plans
$13 per month.
$5.99 per month for an annual subscription.
$3.69 for two years of subscription.
$2.50 for a three-year plan.
CyberGhost is the first VPN company in Romania that owns and manages its servers, all thanks to the crowdsourcing campaign, which gave the company full control over the server infrastructure. CyberGhost does not rent servers!
Downloading CyberGhost VPN is quick and easy. The process takes only a couple of minutes; you can start using the VPN right away.
To get the most accurate results, we tested servers located in the three most popular locations: in the USA, Britain, and Australia. We tested it for a week to find out on which days this VPN service works best.
Of course, this is not the fastest VPN, but we connected to servers in Britain and were satisfied. Despite the slow start of the download process, we were able to watch BBC iPlayer content without buffering problems.
If the connection speed does not suit you anyway, try connecting to another server. The busier the server, the slower it runs. Also, try connecting to the server that is closest to you.
4. ProtonVPN – secure your Windows 10 computer by installing a Swiss-made product
Rating
Available applications
Money-back guarantee
45-days
Price from
$4.00

Oder VPN with a discount
More information
ProtonVPN review
What happens if several scientists who previously worked at CERN come together? Besides the fact that they helped create the Internet, they also launched a service that made the dream of privacy on the Web a reality. It is what the founders of the ProtonVPN service did.
The ProtonVPN characteristics
Almost 500 servers in 45 locations
The speed is about 7 – 10 Mbps
This VPN can be used on nearly all platforms; among them are Mac, Windows, Linux, iPhone, Android Tablet, and iPad.
Connection of 3 devices at the same time.
The VPN uses protocols of TCP, UDP, OpenVPN, IKv2, and IPSec.
The customer support is always there to help you to configure any problem.
Pricing
The ProtonVPN offers three plans of the price for all of this
$4 per month – basic
$8 per month – plus
$24 per month – visionary
The ProtonVPN development team did not aim to bring virtual private networks to the masses. Initially, they wanted to make email communication as reliable as everyone expected. They tried to protect journalists and activists from being persecuted in countries where there is no freedom of speech.
Out of this desire to protect those who wanted to cover the truth in their own countries, ProtonVPN service appeared. The logical continuation was to protect those who wish to monitor every action of their citizens, even if they are not doing anything illegal.
5. VyprVPN – flexible and secure service for Windows 10 operating system
Rating
Available applications
Money-back guarantee
30-days
Price from
$ 5.00
Oder VPN with a discount
More information
VyprVPN review
How can a group of people connected to the Internet from the very first days take advantage of the scandalous fact that the NSA turns out to be watching us all? But it's straightforward: they will create a company that will allow people to work privately on the Web and not worry that Big Brother is following them.
The founders of Golden Frog, the company that developed VyprVPN, chose Switzerland for the registration of the company, which is understandable. Firstly, there are suitable laws on the confidentiality of user data, and secondly, they respect the rights of Internet users, wherever they are. In addition to its laws on data privacy, Switzerland, together with other EU countries and the United States, is working on creating new safe havens for Internet users (pushing these countries to adopt similar Internet laws).
VyprVPN characteristics
More than 700 servers in 62 countries
All these servers have at their disposal more than 200,000 IP addresses
The company doesn't have official information about the speed, but it is said that it has 50Mbps uplink and 40Mbps downlink
The VPN can be used on several platforms, such as Chromebook, Mac, Windows, iPhone, iPad, and Android TV.
Connection of 5 devices at the same time
The company uses various security protocols, including OpenVPN, L2TP / IPsec, PPTP, IKEv2, LDP, and UDP. Also, all
VyprVPN users have access to the NAT firewall, which acts as an additional level of protection.
The company's support and customer service are done by forms, email, chat, and phone. It works very fast and professional, so the customer will get his request done in minutes.
Pricing
The VyprVPN offers 3 plans of price
$3.75 per month – 12month plan
$5 per month – 12-month premium
$9.95 per month – 1-month plan
We liked that when connecting to the VPN, we could choose the server, not the region. VyprVPN also allows you to add your favorite servers to your favorites and save them for the future. Also, if you are looking for the fastest server and want to connect to it quickly, then the VyprVPN application will automatically and by default establish a connection to that server — in other words, you don't even have to do anything. But if you want to choose a server yourself, then in the application, you can see what ping will be for each of them. So you can choose the fastest server.
VPN ensures privacy and security for your Windows 10 PC
VPN clients are a relatively popular category of programs among Internet users. Using them, you send requests to end resources not through your provider, but through a virtual host, which, as a rule, is located in another country. At the same time, traffic is exchanging in encrypted form.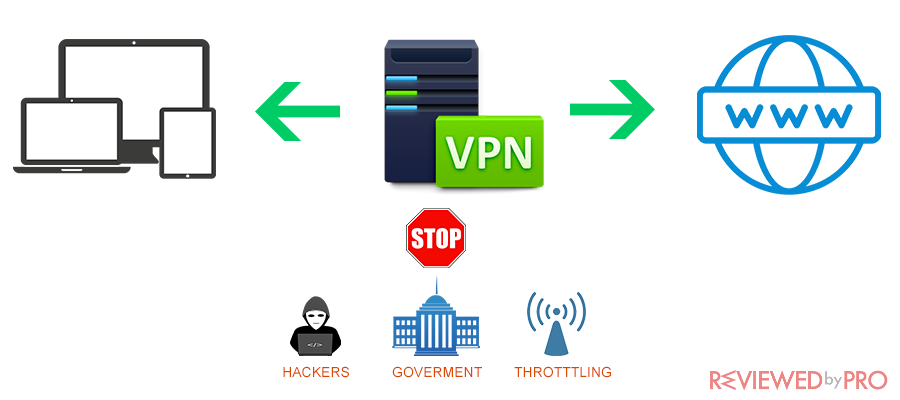 This principle of data exchange allows us to solve two main problems – to preserve anonymity (after all, the service provider receives the information in encrypted[5] form) and regional bypass blocking of resources.
Note that when using personal VPNs for Windows 7-10, XP, Vista, all traffic is transmitted in this way, including data sent by browsers, torrent clients, and other programs.
Some services offer to install a browser plug-in. In this case, only information is transmitted through the intermediate node; the initiator of the exchange is a web browser.
Some essential factors while choosing the best VPN for Windows 10
Evaluating each service, we took into account primary parameters:
Internet Connection Speed – Free or cheap internet may offer you a toned-down internet speed with the software. It could impact your everyday internet activity or gaming experience. You may also not be able to watch movies or TV shows in 4K/HD resolution. It is essential to compare the internet download speed of the VPN before finally deciding to purchase the inexpensive VPN of your choice
Server coverage – Most VPNs, including the cheap and free ones, provide server coverage across all the significant countries. Before getting a VPN for your desired purpose, you should check whether the VPN covers the intended country so that you could watch restricted content and bypass geo-blocking[6] to play games whenever you need it.
Security and Privacy – Probably the most crucial feature a VPN could provide is offering privacy and security through military-level encryption for their subscribers. Such type of protection stops any impending hackers or virus attacks. It also secures your payment info, while you purchase items online. Moreover, if you are continually using public Wi-Fi in a place like a coffee shop, you may fall victim to Wi-Fi sniffing[7] or other numbers of risks. So, it is necessary to check whether your chosen VPN offers proper encryption or not.
Multi-device support – The quality of any software depends upon its versatility when it comes to having native apps for every operating system in the world. It is the single factor, which separates the software from its competitor and makes it successful because nowadays, an average user carries devices of multiple brands(A Windows/macOS laptop and an Android/Apple phone.) VPNs available at Cheaper rates may not have native apps for different platforms to cover the cost deficit. It is essential to check the native application coverage of the VPN to ensure convenience.
Customer support – An average user of applications like a VPN may not have the technical knowledge to solve software-related problems when they come across one. Tech companies have a 24/7 live customer support service to tackle such an issue. There may be a possibility that a cheaper VPN provider doesn't provide around the clock live tech support for their customers. So, before getting a VPN, make sure to check whether they have a handy customer care support or not.
Price – We did the evaluation on how reasonable is the price for the offered options. In this category, we also took into account the functionality of the free version (if available), as well as the availability of discounts when purchasing a subscription for an extended period.
Free VPN tracks you activity on the internet, don't install it on Windows 10 PC
If a service is free, that means it can have several restrictions for users. Most often, they have a paid version. Here is what may be limited initially.
Traffic – For example, Hide Me service offers only 2 GB of traffic per month in the free version.
The number of servers – For example, in Touch VPN, you can only change the location to the USA, Canada, Denmark, and France.
Data transfer rate – Opera VPN users often complain that sites load much more slowly than without using a VPN.
What else is wrong with a free VPN?
They get access to almost all the information that you transfer to the Internet. Such data can be sold, which many services probably do. Therefore, if you continuously have to encrypt, you should think about paid VPNs that earn directly from a subscription and do not look for other ways to make money.
| | | |
| --- | --- | --- |
| Options | free VPN | paid VPN |
| Changes your IP | ✔ | ✔ |
| Unlimited bandwidth | ✗ | ✔ |
| Fast internet connection | ✗ | ✔ |
| No-logs, no tracking | ✗ | ✔ |
| No annoying ads | ✗ | ✔ |
| Millitary-grade encryption | ✗ | ✔ |
| Wide range of server selection | ✗ | ✔ |
| Customer support | ✗ | ✔ |
The guide to setup a VPN on Windows 10
Setting up a new VPN on the computer is one of the most straightforward functions, which does not require any additional knowledge. All you need is a VPN account and a native app that supports your device. Here is the step-by-step guide to set up a new VPN on macOS and Windows PC:
Go to the one of our recommended VPN service provider's website:
ExpressVPN, CyberGhostVPN, NordVPN, ProtonVPN or VyprVPN
Download the native app of the VPN for your Mac/Windows computer.
Sig-up for the subscription.
Launch the app from the Launchpad/Start menu by clicking on the icon.
Click on the "log in" button and enter your account credentials.
After entering the account information, click on "Log in."
Once you enter into your account, click on connect to enable the connection.
That is all. You are protected.
Final Thoughts
In general, it is evident that the VPN is now a useful, necessary thing and continually gaining popularity. We tried to give vital information to you, but there are many nuances associated with its use, including legislative, and not just technical.
We hope you get useful information from this article. We tried to introduce all the cons and pros of VPNs and the top 5 VPN servers, too.
| | | | | | |
| --- | --- | --- | --- | --- | --- |
|   | | | | | |
| Download Speed | 65.76 Mbps | 65.29 Mbps | 65.99 Mbps | 61.99 Mbps | 58.52 Mbps |
| Upload Speed | 29.44 Mbps | 28.41 Mbps | 31.22 Mbps | 24.29 Mbps | 15.52 Mbps |
| Server locations | 160 | 59 | 62 | 42 | 43 |
| Encryption protocols | OpenVPN, SSTP, IPSec, L2TP | OpenVPN, SSTP, IPSec, L2TP | OpenVPN, SSTP, IPSec, L2TP | OpenVPN, SSTP, IPSec, L2TP | OpenVPN, SSTP, IPSec, L2TP |
| No-log policy | ✔ | ✔ | ✔ | ✔ | ✔ |
| Multi-devices | 5 | 6 | 7 | 10 | 5 |
| Customer support | 10 | 9 | 8 | 8 | 8 |
| Price from | $6.67 | $3.49 | $2.75 | $5.95 | $ 5.00 |
| Visit website | | | | | |
About the author
References