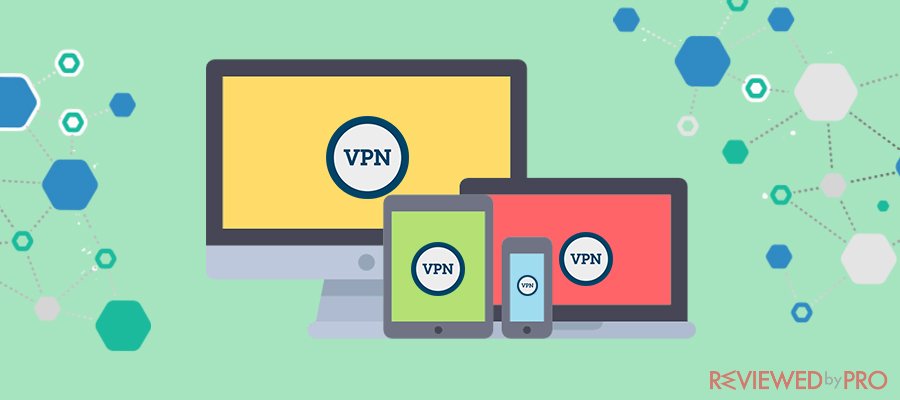 In this article, we are going to analyze the most popular VPN service providers and give you an output of the best solutions for multiple devices.Our tests were done according to those aspects:
Simultaneous supported users;
Supported platforms;
Download speed Mbps;
Servers worldwide;
Price/month.
What is VPN and why do I need it?
First of all, let me remind you what a VPN[1] is, and why do you need it. It is a Virtual private network which encrypts your connection to the other website, streaming service, and other media. It also hides your IP, which means that nobody sees what websites you are visiting and what data you are typing. Users are able to connect to the internet via another server and bypass hacker attacks. Look at the image below to understand it more clearly. Also, VPN is responsible for internet security, which means that there are no chances to get any malware, virus, ransomware or other nasty threats from the visited websites.

As you already know, every year, computer viruses, malware, and other internet threats are growing rapidly. Moreover, free WI-FI connection is accessible almost in every coffee, restaurant, shopping malls, and other public places.
If you didn't know, it is very simple to track your activity on the open WI-FI connection, steal your private data (usernames, passwords, bank account details, credit card details and so on). More and more people around the globe become the victims of hackers while using unsecured Wi-fi connections in public places.
You might think: "I am secure, I am using good antivirus software". Let me disappoint you, this is not enough anymore. The Hackers are becoming smarter and smarter and they already know how to bypass all the regular security options.
You can't even see the hackers around, because they are using Wi-fi connection extending tools and they are doing their black job safely at home, car or in a different coffee shop. Our advice is not to use open Wi-fi connections if you are not ready for that, otherwise, you are going to lose your sensitive data and money.
How to protect multiple devices with VPN?
So what to do? The only and the best method to protect your data is to stay at home and turn the computer off. Just joking. You can use a VPN service for all your devices: computers, tablets, smartphones, TVs, gaming consoles and other and be 100% sure for your multiple device security and privacy.
Another question is how to choose the best VPN service for multiple device protection. There are so many VPN service providers, that it becomes more complicated to choose the right one. We did many tests, examinations and made an output for your needs. Read further and you will find out which VPN is better than others and why.
Best VPN which supports multiple connections
Let's say you are the owner of the company or a household and you want to protect all the users of it. Some of the VPN providers allows simultaneous connections[2], some of them limit it, and some of them not allow. We have reviewed more than thirty VPN service providers and made you the list of the best VPN services which allows you multiple connections.
Multi-Platform Support
Now you know more about VPN providers and multiple connections, but there is another point of importance. The users of your company or households may use gadgets with the different operating systems (Windows, macOS, Android and so on). You should know that not all VPN service providers support multi-platform support. And there is the list of VPN, which supports multiple operating systems.
Customer support of VPN service
There could be various cases when you might need a customer support service. For example, Netflix blocked your IP and you cannot watch your favorite serial outside the United stated. What to do? Of course, you will try to contact the customer support service. Should be as simple as one, but that's not true. As you already know, we have reviewed more than 30 VPN service providers and we could say many bad words about some customer support desks. Let's leave them alone and let's see the best customer support table.
VPN Connection speed
One of the most important aspect while choosing a VPN service is connection speed. Who wants to watch HD movie or listen to the music with the pauses or interruptions
The connection speed[3] depends on many variables. The main variable is server quantity around the globe. The more servers VPN service provider has, the better connection speed it can provide. In other words, if the server is closer to you, as the rule the connection always will be better. If you are already using the VPN service, it is very easy to check the connection speed. Just open https://fast.com/ and start the test.
We have provided you the list of fastest VPN service providers below.
VPN Global server coverage
The number of servers around the globe is important not only for speed connection but also and for other reasons. The importance of server number around the world is that you can connect to the desired country and watch the content that is locked for other countries. For example, if you live in Canada, you cannot watch American Netflix. It is because of geographical restrictions of Netflix. In other words, Netflix wants to show their movies, TV shows, and serials only for American citizens. So if the VPN service providers have many servers in The United States, you can connect and watch the American Netflix by bypassing the geographical restriction.
Below you will see the list of the best VPNs providers by server count around the world.
VPN price
Another and not least important option while choosing a decent VPN service provider is the PRICE. We have seen a wide range of prices while reviewing the VPNs.
The prices vary from 1 dollar to 20 dollars per month and sometimes it was difficult to understand why it so different while service remains the same. Below you will see the table with the best price options of VPN service providers.
The simplest way to calculate the price for the multiple device support is to divide the price from the number of supported devices and you will see the price per one device. It is so simple.
Total Price / Supported device number = Price per 1 device
Very often, a VPN service provider offers super deals on sale. Try to visit every website and find the best deal of that day. Trust me, it is worth your effort to get a real deal on the price.
TOP3 picked VPN for Simultaneous Use on Multiple Devices
We have picked top3 VPN service providers which seems to be the best for the Simultaneous Use on Multiple Devices. According to all the tests, those top3 VPNs are the best comparing the rate of price and quality.We took three best VPN services for Simultaneous Use on Multiple Devices: ExpressVPN[4], NordVPN[5] and PureVPN[6]
About the author
References