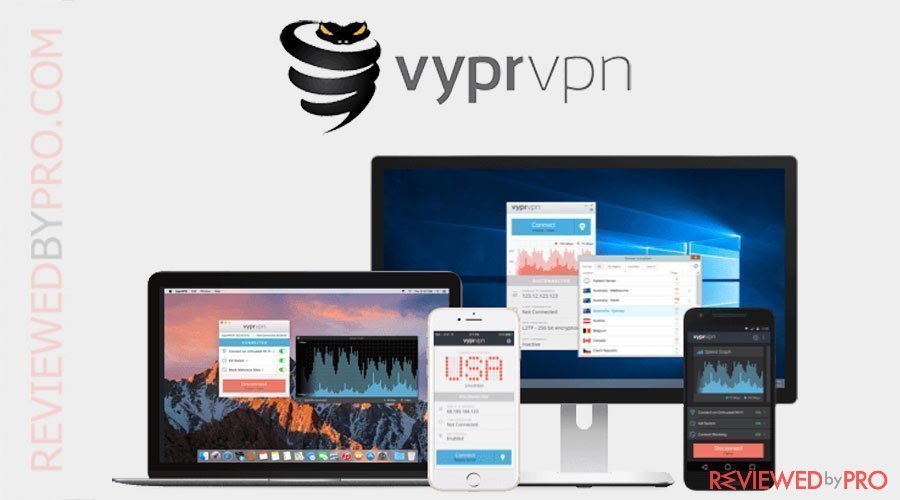 vyprvpn review for 2020
VyprVPN is a tool that provides you more online privacy and security
VPNs (Virtual Private Networks) can be great tools when browsing the Internet as they provide safety and anonymity. A VPN can especially help you in countries with Internet restrictions, for example, the vast majority of Chinese people use them to bypass strict censorship.
As you can see, VPNs make it possible to access websites that you wouldn't be able to reach otherwise. Many people use them to watch Netflix when visiting countries where his service is unavailable.
Another perk is having full anonymity online. VPN works like a virtual tunnel between your computer and the Internet. In this tunnel, all the information is safely encrypted, meaning that nobody can monitor your online activity, not even the government, your Internet provider, or any cybercriminals.
The features of VyprVPN
VyprVPN[1] is developed by Golden Frog GmbH – Global Internet Privacy and Security Solutions. The company is based in Meggen, Switzerland. The history and founders of the company are publicly revealed in the official Golden Frog website.[2] The founders of Golden Frog are Ron and Carolyn Yokubaitis. They have owned and operated Internet businesses since the dawn of the public Internet in 1994. Their businesses also include texas.net, Giganews, Data Foundry and Golden Frog. VyprVPN is extremely versatile when it comes to compatibility. The app can be used with a wide range of operating systems and devices, including Windows, Android, Mac, iOS, Router, QNAP, Blackphone, Anonabox, Linux, and even TV. It is worth mentioning that some of the VPN providers, such as NordVPN prefer to stay private.
We installed the VPN on our test PC running Windows 10. The installation process of VyprVPN was fast and easy, and we connected to the first server within a few minutes.
PROS
CONS
VERDICT
Quality self-owned and operated server network.
Does not allow Bitcoin payment
VyprVPN offers high-quality services and useful privacy features.
Wide geographical coverage
Basic plan does not include obfuscation protocol
Unique obfuscation feature
No ad blocking
Once installed the VPN displays connection status, current IP address ad the time connected.
VyprVPN is an affordable service with customizable price plans
The VyprVPN price is quite high, and its pricing system is not as flexible as of some other VPN providers, for example, AirVPN or VPN Unlimited. However, VyprVPN allows users to get a feature-limited free VPN, basic VPN, and VyprVPN Premium.
VyprVPN Basic (covers up to three devices)
Monthly plan costs $9.95 per month.
Yearly plan costs $5.00 per month and is billed $60.00 every 12 months.
VyprVPN Premium
Monthly plan costs $12.95 per month
Yearly plan costs $6.67 per month an is billed yearly.
The Premium plan covers up to 5 devices, includes Chameleon Protocol and VyprVPN Cloud. The subscription is billed $80.00 every 12 months. Users can pay using Credit Card, Debit Card, PayPal, and Alipay. You can also get a Free VyprVPN Premium Trial. After three days the trial will expire and you will be billed $80.00 every 12 months. It is a great way to try the VPN service.
A Broad selection of VyprVPN features enables you more possibilities
VyprVPN is a quality and secure VPN provider and provides a solid set of features.
Independently audited to prove not to keep user logs.
70+ worldwide server locations in 6 continents. It includes 700+ servers.
Chameleon feature to prevent DPI, VPN blocking and throttling.
Unlimited bandwidth.
Multiple protocols for encryption include OpenVPN, L2TP/IPsec, PPTP, and Chameleon.
Zero-knowledge DNS in order to reclaim privacy and defeat censorship.
NAT Firewall provides an extra layer of security and offers protection for routers and mobiles.
Support team available 24/7 via email or live chat
Integrates with multiple apps and services.
Blocks Malicious Sites
Kill Switch
VyprVPN is operated by Swiss-based Golden Frog. In this case, VyprVPN and all its user data are under Swiss data protection and privacy laws.
It is worth mentioning that Switzerland is not a member of the EU and also not a member of the infamous 14 Eyes mass surveillance alliance.[3] In addition, all the servers that you use with VyprVPN are secure because no third parties are involved. The developers use only their own servers so that no information would leak. Some other Virtual Private Network companies pay third parties to host servers because it might be cheaper, but it also compromises privacy. Finally, the company claims not to log any user data and activities.
VyprVPN can encrypt your data using several different protocols
The level of security is rather high when you use this VPN and can be compared to the security level of AirVPN. Three security protocols are supported, which are OpenVPN, PPTP, and L2TP/IPsec. You can choose which one you want to use when browsing. The safest one is L2TP/IPsec because data is encapsulated twice. It is also the slowest due to the high encryption level.
VyprVPN offers 70+ worldwide server locations across 6 continents. With 700+ servers and 200,000+ global IPs, connections. In addition, VyprVPN also allows users to choose their unique Chameleon technology. Chameleon uses the unmodified OpenVPN 256-bit protocol and scrambles the metadata to prevent DPI, VPN blocking and throttling. Chameleon allows defeating VPN blocking in those countries that aim to block VPNs. These countries include China, Turkey, Russia, Iran, and other Middle Eastern countries. It is also a case with universities, schools, and corporations. Even though the VPN provider does not offer as many locations as ExpressVPN or NordVPN, VyprVPN has a high-quality network in many locations around the world.
What is more, as it was mentioned before, VyprVPN has their own server network that gives the VPN more network security, no third-party logging, and overall better performance.
VyprVPN performed well on a internet connection speed test
When it comes to performance and speeds, the developers of VyprVPN claim that this Virtual Private Network is the fastest on the market. However, our experts have encountered other fast VPNs like NordVPN or ExpressVPN. In order to check, whether these claims are true, you can use an Internet speed test. In this way, you can see if the VPN slows down your speed. It is often the case that VPNs reduce the connection speed because the connection has to go a longer way than usual to reach the server. The thing is that VyprVPN will reduce your connection speed, but it is essential to find out, how much. We found out that the decrease is similar to the market's average – the latency is increased by 17.6 percent.[4]
Simple and user friendly interface gives user an intuitive use of application
One really positive thing that can be pointed out is the User Interface of the desktop application. Even though the program's window is quite compact, it has easy-to-read text – the font is quite big and the red background makes the white letters extremely visible. There is a feature to mark your favorite servers for future use. Additionally, you can see the connection speed of the servers by ping and choose the fastest one. VyprVPN easy-to-use apps for Windows, Mac, Android, iOS, TV and your router.
We recommend VyprVPN for every day use as reliable and stable service
Even though the prices for VyprVPN are on the higher end of the spectrum, the service that you get for that price is quite decent. The level of security and anonymity is quite high and there are a lot of additional features. VyprVPN employs the highest standards for their server network, and do not use any third-party rental servers. In addition, it has wide geographical coverage. However, we did not like that it does not offer cryptocurrency payment option, and the basic plan does not include Chameleon protocol.
Supported platforms: Windows, MacOS, Linux, Android, iOS, DD-WRT, OpenWRT, ASUSWRT, Boxee, Synology NAS, Blackberry.
Allows third-party connections: Yes, for Above.
Simultaneous connections: Up to 5 devices.
User data required: a real name and valid email address.
Supported protocols: OpenVPN, L2TP/IPsec, PPTP, and Chameleon.
About the author
References