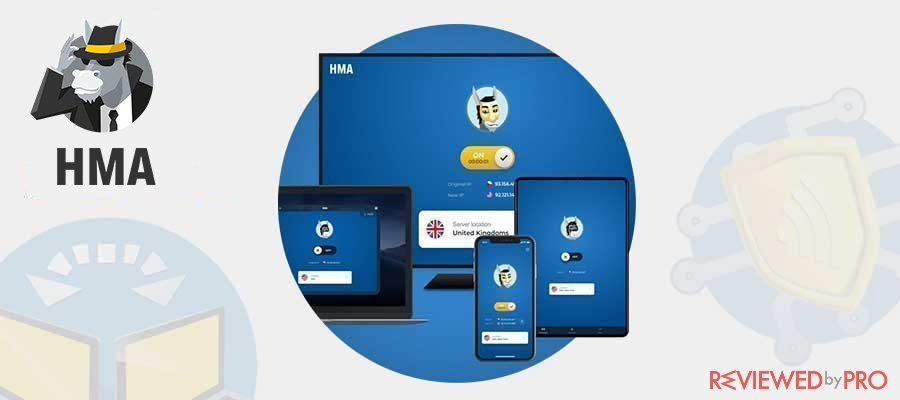 hma vpn review
HMA VPN is among the top VPN providers in the world, and with the release of its newly released V5, it is on its way to compete against the very best in the business.
HMA offers its subscribers the chance to browse, play, and shop on the internet anonymously with a complete sense of security, anywhere they like. It provides a safe passageway for the user through an encrypted tunnel to the user that connects your device(PC or Smartphone) to the internet or your mobile data.
History – Jack Cator was just 16 years old in 2005 when he founded HMA VPN with the sole purpose of providing internet users the freedom to access whatever they want, wherever they want. A decade later, in 2015, understanding the potential and success of HMA, AVG acquired the company, which later became a subsidiary of Avast in 2016. And thanks to the acquisition, HMA got the publicity it deserved, which has made it into is one of the largest VPN providers around the world.
Avast is a multinational cybersecurity software company, which originated from the Czech Republic. It also owns the world's leading antivirus product – Avast Antivirus or AVG Antivirus.
7 the most important aspects we took cover while testing a HMA VPN
At reviewedbypro.com, our team of expert security analysts has tested HMA under conditions that bring the best out of the application. We base our testing on the significant factors which contain the following features:
Internet connection speed
Server Coverage
Security and other features
Software compatibility and applications
User interface
Support
Price
After analyzing each attribute of the VPN, we present the final verdict regarding the provider on whether is it worth it to use the VPN or not? So, let us get started!
An average Internet Connection Speed test results of HMA VPN
We perform a separate speed test with the assistance of our colleagues from different regions of the world, including North America, South America, Australia, Europe, and Canada. We also ask them to conduct a speed test through a free tool for speed measurement and send us the final results. After receiving all the notes, we compare and analyze the various speeds of the VPN. Here are some of the test results from different continents of the globe.
| | | |
| --- | --- | --- |
| Continent | Download speed | Upload speed |
| North America | 24.77 mbps | 22.17 mbps |
| South America | 51.71 mbps | 38.52 mbps |
| Europe | 52.11 mbps | 31.57 mbps |
| Canada | 25.90 mbps | 29.31 mbps |
| Australia | 13.88 mbps | 2.67 mbps |
The new speed test feature automatically switches you to the fastest available server. The high-efficiency is due to the recent up-gradation of servers to 20Gbps, which enables you to stream content in 4K resolution, even in remote areas of Australia with unlimited bandwidth.
However, the internet speed is subject to the conditions where the user is browsing and the average internet connection speed of the internet without the VPN.
HMA VPN provides not the broadest Server Coverage and country selection compared to the competitors
HMA! VPN offers users one of the broadest virtual location range, way more than most VPNs in the market available today. It provides a staggering 1000+ VPN servers in more than 290 locations across 190 countries of the entire globe.
So, if you wish to unlock any regional streaming platform, wish to play in gaming tournaments, and unblock restricted content, then opting for HMA and its vast server coverage is your best option. Here is the list of countries that HMA provides its servers for you to use.
Europe

North America
Africa
South America
Asia-Pacific

Aland Islands
Albania
Andorra
Austria
Belarus
Belgium
Bosnia
Bulgaria
Croatia
Cyprus
Czech Republic
Denmark
Estonia
Faroe Islands
Finland
France
Georgia
Germany
Gibraltar
Greece
Hungary
Iceland
Ireland
Italy
Latvia
Liechtenstein
Lithuania
Luxembourg
Macedonia
Malta
Moldova
Monaco
Montenegro
Netherlands
Norway
Poland
Portugal
Romania
Russia
San Marino
Serbia
Slovakia
Slovenia
Spain
Svalbard and Jan Mayen
Sweden
Switzerland
UK
Ukraine
Vatican

Anguilla
Antigua and Barbuda
Aruba
Bahamas
Barbados
Bermuda
The British Virgin Islands
Canada
Cayman Islands
Cuba
Dominica
Dominican Republic
Greenland
Grenada
Guadeloupe
Haiti
Jamaica
Mexico
Montserrat
Nicaragua
Puerto Rico
Saint Kitts and Nevis
Saint Lucia
Saint Pierre and Miquelon
Saint Vincent and the Grenadines
Turks and Caicos Islands
USA

Algeria
Angola
Benin
Botswana
Burkina Faso
Burundi
Cameroon
Cape Verde
Central African Republic
Chad
Comoros
Congo
Cote d`Ivoire
Egypt
Equatorial
Guinea
Eritrea
Ethiopia
Gabon
Gambia
Ghana
Guinea
Guinea-Bissau
Kenya
Lesotho
Liberia
Libya
Madagascar
Malawi
Mali
Mauritania
Mauritius
Morocco
Mozambique
Namibia
Niger
Nigeria
Republic of Djibouti
Republic of the Congo
Rwanda
Saint Helena
Sao Tome and Principe
Senegal
Sierra Leone
Somalia
South Africa
Sudan
Swaziland
Tanzania
Togo
Tunisia
Uganda
Zambia
Zimbabwe

Argentina
Belize
Bolivia
Brazil
Chile
Colombia
Costa Rica
Ecuador
El Salvador
Falkland Islands
Guatemala
Guyana
Honduras
Panama
Paraguay
Peru
Suriname
Trinidad and Tobago
Uruguay
Venezuela

Afghanistan
American
Samoa
Armenia
Australia
Azerbaijan
Bangladesh
Bhutan
Brunei
Cambodia
China
Christmas Island
Cocos Islands
Cook Islands
Fiji
Guam
Hong Kong
India
Indonesia
Japan
Kazakhstan
Kiribati
Kyrgyzstan
Laos
Macau
Malaysia
Maldives
Mongolia
Myanmar
Nauru
Nepal
New Caledonia
New Zealand
Niue Norfolk Island
North Korea
Pakistan
Palau
Papua New Guinea
Philippines
Pitcairn Islands
Republic of Singapore
Samoa
Solomon Islands
South Korea
Sri Lanka
Taiwan
Tajikistan
Thailand Tokelau
Tonga
Turkmenistan
Tuvalu
United Arab Emirates
Uzbekistan
Vanuatu
Vietnam
Improved and wider list of security and privacy features
Providing the necessary means for a secure and private experience is the number one priority of a VPN, and that is what the V5(version 5) of HMA VPN has done. After reviewing every feature related to HMA, we have written brief research on the utility of the new version, the addition of some new security attributes, and how it has improved itself from before.

hidemyass security features
Less Logging
HMA VPN has made inroads in offering an anonymous browsing experience through masking the last octet of the IP address so that no one could track down your IP address while the provider keeps a small record of it. The reason behind not offering utterly anonymous IP addresses was to ensure the safety of the user and to manage the concurrent demand of servers from specific regions.
However, if you are still worried about the logging policy of HMA, then there is some good news as all the connection logs get deleted after a period of 30 days.
Kill Switch
The V5 of HMA has introduced another excellent security, which is the Kills Switch. It is used to cease an active internet connection if you feel that someone is tracking your online activity, your VPN stops working suddenly, or your online identity is in danger. In simple words, a Kill Switch protects you from inadvertent exposure online.
Furthermore, the Smart App Kill Switch allows you to pinpoint the exact application inside the computer that is posing any interference or threat. This feature makes sure to stop the app from interfering with the performance of the VPN so that your identity or location isn't exposed.
Split Tunneling
This feature offers you the freedom to choose which app you want to pass through HMA's tunnel. You can also choose specific locations for each application whenever you want to add more flexibility.
IP Shuffle
HMA VPN ensures that no one tracks down your IP address, which is why it randomly changes the IP addresses through the same virtual location to prevent anyone from meddling in your affairs. You can select to shuffle the IP at a predetermined interval or set a custom one yourself.
Moreover, if you wish to switch internet connections(Wi-Fi), then the auto-connection feature of HMA makes sure that your device doesn't remain unprotected even for a split second by automatically connecting with the new Wi-Fi connection.
OpenVPN for Windows and Android
This feature is updated regularly for the convenience of the user. HMA offers 256-bit Galois/Counter Mode encryption between the client's data and the servers of the VPN, which is enough for a safe browsing experience.
IKEv2/IPSec for iOS and macOS
HMA follows the same 256-bit encryption protocol by creating its own clients through Apple's stack IKEv2 and IPSec. After testing it, we are sure that the 256-bit encryption is the same as on any Windows computer.
Simultaneous connections
If you wish to share your account info amongst your friends and family and fear that sharing such information is not allowed, then you shouldn't worry; As HMA VPN allows connection across 5 different devices at the same time.
Other Features
Some of the other universal protection characteristics are as follows:
Protection from DDoS attacks
DNS Leak Protection
Single-Shared IP Address
IP Refresh
Zero-knowledge DNS
Internet Privacy Guides
Built-in Speed Test feature
Stream Sports Guides
Despite having its headquarter in the UK, a place known for its heavy surveillance, HMA number one priority is to protect the data of its users, and it only keeps logs of their data for the purpose of quality maintenance and diagnostics.
HMA VPN can be paired with many different operating systems and applications
HMA is available across every major operating system, including Windows, iOS, Android, macOS. Other than that, you can use the app on your Android-based smart TV and your gaming console(Xbox and PS4) by configuring your computer or buy a pre-configured Wi-Fi router.

hidemyass-supported-operating systems
HMA is available on the following version of the platforms mentioned above:
Windows 7 SP1 or later
macOS 10.10 or later
Android 5 or later
iOS 9 or later
Linux
Routers that are pre-configured or flashed with Tomato, DD-Wrt, OpenWrt, or other custom-made firmware.
This year HMA has announced An Updated User interface, which looks fantastic
The old interface was sluggish, and the users had many complaints regarding its accessibility. However, HMA listened to every grievance and designed a brand new interface with the launch of V5. Turning on the VPN was more like a job than an activity, but with the new design, users can simply turn on the VPN with one click.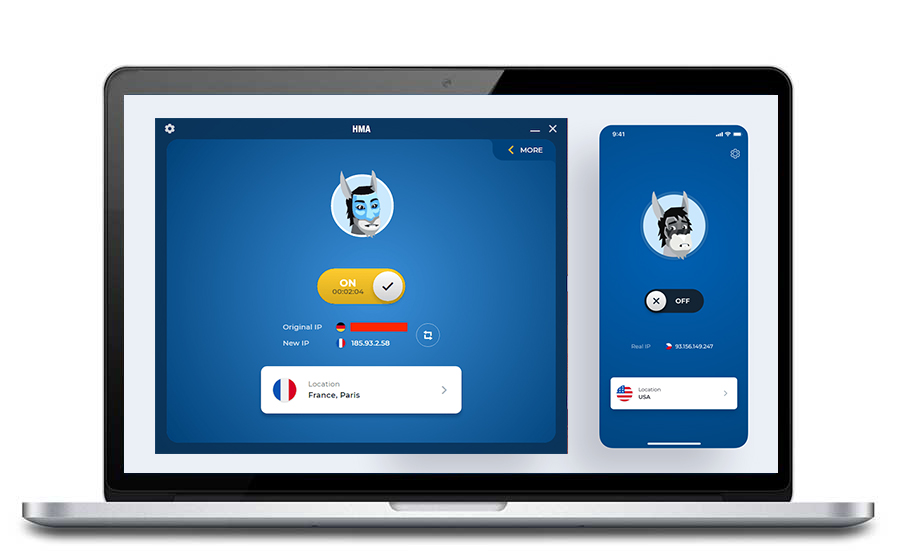 hma vpn user interface
Besides, HMA has changed the name of one of the best features of the older interface from "Instant Mode" to "Lightning Connect," which allows you to connect to your favorite location instantly.
You can now find the brand new location list organized adequately under the six continents sorted out alphabetically. With the new design, it is much easier to pick your favorite location and save them.
It is safe to say after a proper check-up of the interface that it is now easy to turn on advanced settings such as kill switch, split tunneling, auto-connect, and others.
B grade for HMA's Customer Support
HMA has the best customer support service period! They not only have the technical knowledge to help through any VPN related problem, but they are extremely friendly that one would fall in love. The service is available 24/7, set-up guide, a massive library of FAQs, and tutorials to help you through any issue.
Not the cheapest pricing packages for the average service quality
HMA VPN offers several payment plans supported by each native app.
1-Month Plan costs $7.99 every month.
12-Month Plan costs $59.88 (or $4.99 per month) and is prepaid every 12 months.
36-Month Plan costs $107.64 (or $2.99 per month) and is prepaid every 36 months.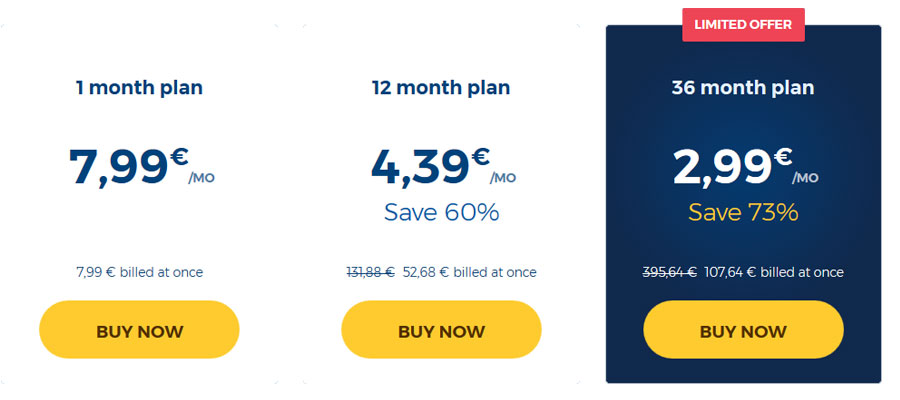 pricing
Each of the plans has a 30-day money-back guarantee along with a 7-day free trial and 24/7 customer support. Users can subscribe to any package of HMA VPN through Visa, MasterCard, Amex, Union Pay, and PayPal. The payment info is secure with SSL. However, The only negative regarding the VPN is that it doesn't offer payment in Bitcoin or any other cryptocurrency.
The Final Verdict
HMA's V5 is a welcome addition to the family of top VPNs that provide the necessary safety measures for anyone who is looking to be anonymous in the online world. The intuitive interface offers a simple path to enable the connection and choose the best virtual location. The new Kill Switch and DNS leak protection feature, along with the topnotch encryption, has silenced the naysayers.
Moreover, it has a native app for every platform, which offers you the chance to use the service wherever you want. It unlocks each streaming platform such as BBC iPlayer, Amazon Prime Video, and Netflix US with guaranteed 4K quality.
When it comes to the pricing, arguable HMA is one of the most affordable VPNs in the market with a 30-day money-back guarantee. Lastly, we highly recommend that you give HMA a try and see the improvements made with the V5 for yourself.
| | |
| --- | --- |
| Torrenting support | ✗ |
| Unblocks Netflix | ✔ |
| Unblocks BBC iPlayer | ✔ |
| Unblocks Amazon Prime | ✔ |
| Client software | Windows, macOS, Android, iPhone |
| Manual 3rd party connections | Linux and supported routers |
| Supported routers | Asus routers, Tomato, DD-WRT,Vilfo |
| Max. devices connected at once | 5 simultaneous connections |
| Number of servers | 1000+ |
| Number of countries | 190+ (220+ under ISO country codes) |
| Number of locations | 290+ |
| Supported protocols | OpenVPN, IKEv2/IPsec |
| Data encryption type | AES-256-GCM |
| Handshake encryption | RSA-4096 |
| Data authentication | SHA-256 |
| Kill Switch | Windows, Mac, and Android |
| Split-Tunneling | Android only |
| Other key features | IP Shuffling, IP Refresh |
| DNS leak protection | IPv4, IPv6 and WebRTC covered. |
| DNS Requests | Encrypted with 1st party servers |
| Single Shared IPs | ✔ |
| Server protection | 256-bit AES full-disk encryption |
| Max Individual Server throughput | 20 Gbps |
| Support | 24/7 customer support via Live Chat or phone. |
| Guarantees | 30-day Money back. No conditions. |
About the author