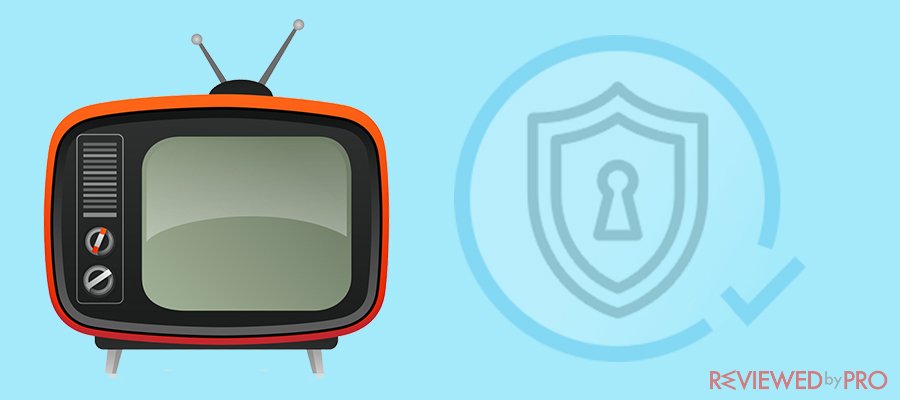 Nowadays smart TV[1] is a usual thing in every house, office or school. This device has many built-in applications, so we can enjoy many online streaming services, video games, browse the internet and listen to music via our smart TV.
Everything looks very nice, but there is one thing that bothers many smart TV owners. Many users cannot access one or another service due to geographical restrictions.
Also, it is worth to mention, that smart TV can be vulnerable as every other smart device like phone, pc or laptop.
In this article, we are going to talk about how to unblock blocked apps on your TV, How to protect it and how to set up it. Also, we will review the best VPN service for smart TV and will pick the top 5 VPN providers.
This article will cover the following topics and you can jump to the desired one if you don't have time to read the whole article:
What is Smart TV and what its possibilities?
Smart TV is a device which could be similar to a regular TV. The main difference between them is that smart TV can connect to the internet over a cable or Wi-fi. Also, it has an integrated computer with the specific software to manage applications which lets the TV to stream videos (Netflix, Hulu and other), browse the internet, play video games, listen to the music, and do the other entertainments.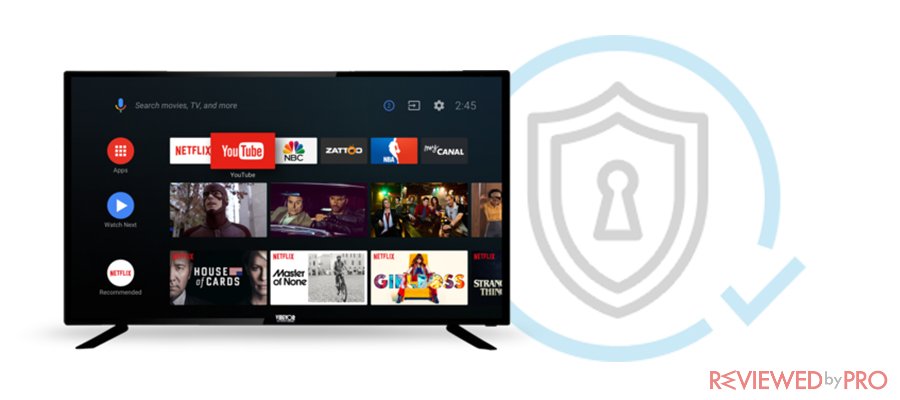 Smart TV software can be native depending on the manufacturer or it can be Android based. It is worth to mention, that all the smart TVs have integrated internet browsers and you can browse all regular pages on your TV, even check your social accounts like facebook and twitter.
Moreover, many TVs have integrated microphones and web cameras which lets you talk by Skype with your friends and family members.
The device also can be used as a tool for home smart device management (lights, door locks, air conditioner ant other.)
Those smart TVs possibilities and functions look very cool, but there is plenty of space for hackers. They can break into your device and monitor your web camera, listen to what is going inside the room, steal your passwords and inject malware into it. So you should be prepared and secure your device before connecting to the internet. Keep reading and we will provide the best solution for your smart TV security and privacy
What is A VPN Service?
Many users are using a VPN[2] service already to secure their home devices including and smart TVs. For those who don't know what VPN is, we will shortly introduce. Virtual private network (VPN) is a service which lets to keep your privacy and security at the highest level.

VPN server scans all the data and gives you clean traffic without any viruses, malware, spyware, and adware. VPN slightly reduces an internet connection speed, but it is worth to sacrifice it for your own privacy and safety. That's why it is very important to pick a VPN service with a high internet connection speed.
VPN is adding an extra security layer of protection by encrypting your internet traffic, changing your IP address and protecting from malware. Also, it lets you bypass geo-blocking[3] by changing your IP address and lets you to restricted content.
Why do I need a VPN for my smart TV?
A smart TV like another device which is connected to the internet can be infected by malware, attacked by hackers. Also, the hackers can be spying on you by smart TVs camera and microphone. Another good reason is to order a VPN, to unblock many TV applications which are restricted by geo-block.
Geo-block is very popular in the United States because many online media streaming service providers do not want to broadcast their Movies and TV shows to the citizens of other countries. There are many reasons why they are using a geo-blocking, but the main purposes are Justification of users and Legality of circumvention for online video[4], Circumvention.
For example, if you want to watch American Netflix[5], you should live in America, otherwise geo-block will not let to see the content. But, if you are using a VPN, which is located in the United States, you can easily to bypass restrictions and unblock it.
You can choose a VPN location and connect to the desired country. Nowadays many VPN service providers are offering a wide range of country selection and this will help you in many cases to unblock the locally restricted content.
How to choose a VPN for your smart TV?
There are many VPN service providers in the market and it is very difficult to decide which VPN service will fit your needs best for using it with a smart TV. We have tested more than fifty various VPN services with smart TVs and we should say that there is a big difference. We did our VPN evaluation list criteria listed below.
The range of server locations – it is a very important factor for smart TV owners. You should carefully read all the countries from the list and decide it fits for your needs or no. VPN service providers are working hard to expand the global network of the servers, but still, there is a difference in this factor.
Connection speed – this the most important factor, because you really don't want to watch Netflix which is freezing time by time. The better is connection speed the better quality of the movie you can stream. Many VPN service providers offer a service with very slow internet speed connection, so you should pick it carefully as well.
Router compatibility – it is very comfortable when you can configure your router with the VPN service. It means that all the connected devices to the router will be secure, private and data encrypted. Many VPN services are not router-compatible and you need to install the add-on on your TV, connect it every time to a VPN before connecting the internet. We would not recommend you to use a VPN for your smart TV without router compatible option.
Customer support – customer support is not the most important criteria while choosing a VPN, but it is really nice to get help when having technical problems. If you want good technical support, choose the VPN service providers from our carefully picked list.
Price – after many tests and reviews, we did find out, that sometimes the price is not worth the service and sometimes service for the low price can surprise you. There should be middle in the quality and price, but in this case, it is not the rule.
The 5 best VPN services for smart TV
We have tested and reviewed many VPN service providers, but we have picked only 5 the best for using on public smart TVs.
We did an evaluation of VPN services for the smart TVs by this criteria:.
VPN Connection speed
One of the most important aspect while choosing a VPNs service for smart TV is connection speed. Who wants to watch low quality movie? Nobody! It is always better to choose a VPN with better internet connection speed.
If you are already using the VPN service, it is very easy to check the connection speed. Just open https://fast.com/ and start the test.
We have provided you the list of fastest VPN service providers below.
VPN Global server coverage
The number of servers around the globe is not very important for using VPN, because it will not change download or upload speed. The main thing is to hide your activity on the internet and secure your session.
But if we are choosing the best VPN service for smart TVs, global server coverage is good for bypassing geo IP restrictions. The importance of server number around the world is that you can connect to the desired country and watch the content that is locked for other countries. For example, if you live in Canada, you cannot watch American Netflix. It is because of geographical restrictions of Netflix. In other words, Netflix wants to show their movies, TV shows, and serials only for American citizens.
So if the VPN service providers have many servers in The United States, you can connect and watch the American Netflix by bypassing the geographical restriction. It is extra feature for business users, but not the common.
Below you will see the list of the best VPNs providers by server count around the world.
About the author
References