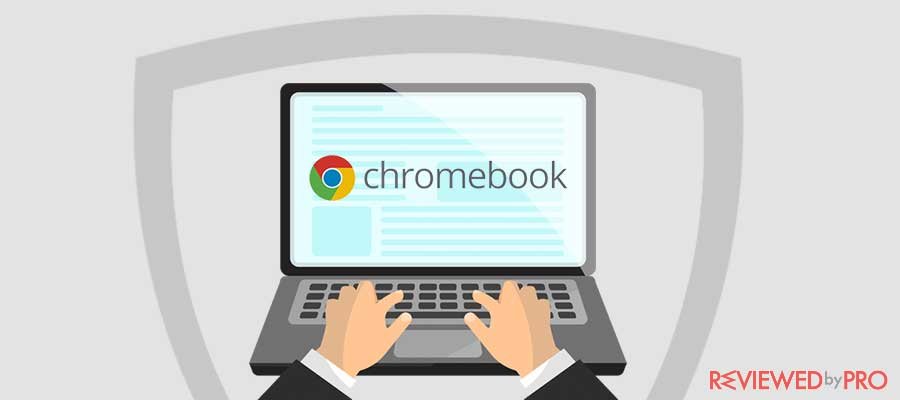 The Best VPN for Chromebook
In this article we will run throughout the best VPNs for Chromebooks and will learn how to select the best one. The VPN allows users of Chromebook to access websites without geo-restrictions. Different companies offer many such services. The best thing is that these VPNs are compatible with Chromebook. It can be rightfully said that with the help of a VPN, you can unlock your Chromebook in full and get to access the services that are restricted in your country.
The Best VPNs for Chromebook
Many users love traveling with their Chromebook machines. This travel can be out of the country as well. Geo-restrictions are some of the main reasons for which the VPN should be installed on Chromebook. Using the VPN, you can access the websites that are restricted in the country you are planning to visit. Promotional companies and streaming platforms have contracts with companies all over the world. As per these contracts, there is content that is restricted, and this is done just to get the local entertainment industry flourishing. The VPN resolves the content access problems which you face on the move.
In all such cases, the geo-restricted content can only be accessed on your Chromebook using a VPN connection. This VPN connection will let you connect through its server so that the traffic that is received by the streaming platform is directed from another location. In such cases, the servers grant access, and the content can be streamed. VPN especially gets essential when you have purchased the premium access to the material that you watch. With this software, you can always access your favorite websites and content, which is otherwise restricted in specific locations. So it is a tough task to get the best VPN for Chromebook. I am here to help you by extracting the VPNs for Chromebook to ease your life. All these software programs are highly in demand. These are already used by the majority of Chromebook users all over the world.
Brief Summary: If you don't have enough time to read the entire guide, here is a summary of the 5 best VPNs for Chromebook:
ExpressVPN: It offers High-speed internet with Bitcoin as a payment option and a 30-day money-back guarantee. Its extensive and ultra-fast servers make it perfect for availing features on Chromebook.
NordVPN: It is arguably one of the best VPN on the market. High internet connection speed and double data encryption. Also great solution for Chromebook.
CyberGhostVPN: an excellent user interface and simple navigation, makes this VPN one of the best VPN for beginners. Fits great for streaming videos online, playing games, and chromebook.
ProtonVPN: makers of Proton Mail, high Swiss quality and security, high speeds, cross-platform, and multi-user support, but it is costly and provides limited servers. Great for chromebook.
VyprVPN: high-speed internet and excellent customer support but a tad bit expensive.
1. ExpressVPN – our top selection for Chromebook for the best performance
Official website
www.expressvpn.com
Rating
  (Excellent – 4.8/5)
Available applications
 
Money-back guarantee
30-days
Price from
$6.67 (-49% deal)
Visit website
More information
ExpressVPN review
Server Coverage – 160 VPN locations have been installed by the company. The best part is that the company provides its service in 94 countries, which is a considerable number. 3000+ servers have been installed at the locations.
Connection Speed – The VPN has a speed of 106 Mbps, and this is fast enough to download any kind of software on Chromebook. As for the connection, the required speed is 0.5 Mbps, and the recommended one is 1.5 Mbps.
Other Supported OS – The different platforms that are supported by this VPN are Windows, Mac, Linux, Android, iOS, Kindle Fire, Nook HD, Surface RT, Apple TV, PlayStation, and XBOX.
Multi Devices – Once purchased, the installation can be done without any restrictions. At one time, you can connect 5 devices through this VPN.
Protocols – It uses the data encryption protocols of OpenVPN, TCP, UDP, L2TP, IPSec, and PPTP protocols for secure data transfers.
Support – The company uses all the mediums to make sure that customer contact is easy. For this purpose, it uses chat, online forms, email, and phone support to ensure state of the art service.
Price – The following are the three plans that are offered by ExpressVPN
$12.95 per month
$9.99 per month for the 6-month plan
$8.32 per month for a yearly plan
The VPN comes with a 30-day money-back guarantee, so you don't have to worry before the purchase at all.
ExpressVPN is considered to be the best VPN as per the lists that tech websites have compiled in this regard. It has fast speeds, and uptime is 99.99%. User reviews are good, and hence this VPN is in good standing. ExpressVPN is a must-have for every Chromebook for censor-free internet browsing.
2. NordVPN – the safest VPN for Chromebook with many security features, including dual VPN.
Official website
www.nordvpn.com
Our Rating
(Excellent – 4.9/5)
Available applications
 
Money-back guarantee
30-days
Price from
$3.49/month (-70% deal)

Visit website
More information
NordVPN review
Server Coverage – NordVPN is known as the most extensive technical VPN in the world. As of now, 5,569 servers have been installed in 60 countries. The best part of this VPN is that the maximum number of servers is located in the USA.
Connection Speed – There are no speeds determined by this VPN service. The state of their website that UDP protection can get the speed deteriorated by 30%. It is still considered to be one of the fastest VPN services available.
Other Supported OS – It can be installed on Mac, Windows, Linux, Android, iPhone, Windows S, Android tablet, Windows Phone, and iPad.
Multi Devices – The VPN can be used to secure 6 devices at a time. The OS does not matter, and neither does the protocols.
Protocols – The VPN uses NGE, IKeV2/IPSec, the ciphers grade one connection protection using AES-256-GCM, PFS, and 3072-bit Diffie Hellmann keys. The VPN is known for providing military-grade protection to all the devices it is installed on.
Support – There is a FAQ section on their website, the form, email, chat, and phone support are all used by this VPN to make sure that the best outcome is generated for the customers. The support has technical people guiding the customers. The results are, therefore, highly satisfactory.
Price – There are 4 different plans which are offered by this service. These are mentioned as follows:
$11.95 per month
$6.99 per month for a yearly plan
$4.99 per month for a two-year plan
$3.49 for a three-year plan
NordVPN is one of the best and most advanced VPNs, so it is highly recommended to all Chromebook users. The best part is that it allows the users to overcome tunneling, i.e., security issues altogether. The data tunneling is safe, and there is no exposure risk at all.
3. CyberGhostVPN – a cheaper alternative to the previuos VPNs, but fits great for the VPN beginners
Official website
www.cyberghostvpn.com
Rating
  (Great – 4.5/5)
Available applications
 
Money-back guarantee
45-days
Price from
$2.75 (-80% deal)

Visit website
More information
CyberGhost review
Server Coverage – CyberGhostVPN also has one of the largest networks. Currently, the VPN has 5532 servers in 90 countries, which makes it one of the best and largest VPNs in the world.
Connection Speed – Under ideal conditions, which are impossible to achieve, the company claims to provide 1Gbps of speed. As there are losses, so the average speed that the user enjoys is 6 Mbps.
Other Supported OS – Other than Chromebook, the VPN can also be used with Mac, Windows, Linux, Android Tablet, and iPad.
Multi Devices – Without any speed drop, the VPN can support up to 7 devices.
Protocols – The company has developed CyberGhost client, IPSec standalone, L2TP/IPSec, OpenVPN, UDP, TCP, and PPTP. Dual tunneling is also provided to ensure that the data is protected all the time.
Support – All conventional and available support channels are used to make sure that the customer is retained. The customer experience is also enhanced by critical problem solving and the knowledge of people that work for this company.
Price – There are 4 plans offered by this company. These are as follows:
$13 per month.
$5.99 per month for an annual subscription.
$3.69 for two years of subscription.
$2.50 for a three-year plan.
CyberGhostVPN is one of the best services on the market due to the tech-savvy nature of the company. It provides the service that is highly reliable and, therefore, highly rated by the customers. I would personally recommend this VPN for a fast connection on Chromebook.
4. ProtonVPN – freash and fast VPN service from Europe that works great on your Chromebook
Rating
   (Good – 4.3/5)
Available applications
 
Money-back guarantee
45-days
Price from
$4.00

More information
ProtonVPN review
Server Coverage – At 45 locations worldwide, the company has installed over almost 500 servers to provide state of the art services. Users from over 150 countries can use this VPN for secure and fast connections.
Connection Speed – The speed offered is anywhere between 7 – 10 Mbps, which is enough to browse using Chromebook.
Other Supported OS – Other than Chromebook, the VPN can be used to browse over Mac, Windows, Linux, iPhone, Android Tablet, and iPad.
Multi Devices – The 5 Chromebook systems can easily be secured with this VPN. At the same time, 3 servers are used to secure the IPs of the users. The multi-device connections are a bit different using Proton VPN.
Protocols – Kill switch is used to close any open connections if a VPN connection is closed. Other protocols that are used are TCP, UDP, OpenVPN, IKv2, and IPSec. These protocols are highly advanced, and therefore, the VPN is recommended to all.
Support – Other than the live chat service, this VPN offers all the available channels to the customers to connect. The company executives are always there for customer service.
Price – There are 3 plans offered by the company, and these are as follows. The prices are a bit higher, but the service completely worth every penny.
The basic plan costs about $4 per month
Plus plan at $8 per month
Visionary plan at $24 per month
ProtonVPN is one of the fastest-growing VPN networks. For consumer protection, this service is continually adding new features, and therefore, it is highly recommended to all. The best part of this VPN is the alteration in the user's IP as soon as the connection is established. It secures anonymity and also allows the users to overcome problems such as snooping by hackers.
5. VyprVPN – well-known and trutful VPN in the market that can also cover up your Chromebook with the privacy and security
Rating
(Good – 3.9/5)
Available applications
Money-back guarantee
30-Days Money Back Guarantee
Price from
$ 5.00
More information
VyprVPN review
Server Coverage – Vyprvpn offers 200,000 anon IPs at any given time, which makes it a highly advanced VPN service. The company has above 700 servers that are both high speed and well configured. Protecting privacy has never been as easy as it is with this VPN.
Connection Speed – According to some independent sources, the VPN provides an uplink of 50 Mbps and a downlink of 40 Mbps. There are no official speed stats offered by the company.
Other Supported OS – Other than Chromebook, this VPN can be used to protect Mac, Windows, iPhone, iPad, and Android TV.
Multi Devices – For privacy protection and anonymity, the service allows you to connect 5 devices at the same time. The connections are highly secured and advanced. This will enable users to surf the internet freely.
Protocols – The chameleon is the protocol that has been developed by the company to protect online privacy. The other protocols that are used by the service are IPSec, L2TP, IKEv2, LDP, UDP, and OpenVPN. The FTP is also tunneled so that the large files are never exposed to hackers or any other malicious online predator.
Support – The company provides all available and traditional customer service resources to serve the customers. It includes forms, email, chat, and phone. It allows the customers to get the resolutions to their issues within no time.
Price – There are three plans which are offered by the service. You can choose the one depending on your needs:
12 months plan at $3.75 per month.
12 months premium plan at $5 per month.
1-month plan at $9.95 per month.
Vyprvpn has been audited many times in the past. As per the analysis, it provides what it commits to its customers. The customer satisfaction level is high for VyprVPN.
Choosing a VPN for Chromebook
Several VPNs are available for Chromebook. The user, however, should choose the one that can protect privacy. Several points should be considered before choosing a VPN. These are explained below so that it becomes easy for you to get a hold of the topic.
Learn about the Application – You must learn about the application as much as possible. The tech details and analysis of the application must be conducted. The reviews and the pro tips regarding this will also be helpful for you to get the best idea. From app description to screenshots, you must get to know everything that can impact the configuration and working of the app.
What Kind of Permissions is the App Asking For? It is another vital aspect that should be closely monitored. The VPN must only ask for the related permissions. If a service is asking to access your photos and media on the phone, then, in my opinion, something fishy is going on. Many reliable resources provide the best VPN service. Some of these will also be mentioned in the latter part of this article. Choosing a competent service will get you the peace of mind you need.
How Long the Company has been around? – It is another crucial aspect that is to be considered. Choosing a VPN is a sensitive task, and it should not be taken lightly. It is directly proportional to your privacy. Never go for the companies that don't have an established reputation as of yet. It will not get you the desired results at all. Old and companies with established client base will make sure to get you the level of trust you are looking for.
Safety and Security – It is another critical aspect that should be considered before going for a VPN service. The service that you are choosing should be the one that tells you how to use a VPN. The pros and cons of the service as a whole and how to keep yourself protected is something that a function should communicate clearly. If a company is not letting you know how to use a VPN safely, then, in my opinion, avoid such service altogether. VPN is the other name of safety and security, and hence it should provide these services.
Protecting Privacy – Many independent resources conduct the audit of VPN applications. The results are proudly presented by the companies if no leaks are found. You should choose a service that has been audited. It will make it easy for you to get the best outcome, and you will also get the sense that your online privacy is protected. From speed to DNS and IP leak testing, the VPN should have presented top-notch results. It will make it possible for you to protect your IP from malicious hackers that are always waiting for vulnerable targets.
VPN can make your internet presence invisible while browsing on your Chromebook?
The VPN stands for Virtual Private Network that was initially developed to transfer the files over business networks. With time, it has grown into something completely different. The internet has taken the idea a step further, and now the VPN is used to divert the traffic. It makes the servers of different streaming platforms to think of the traffic from the server to which the VPN has been connected. This makes sure that the content is unblocked.
The VPN use with the Chromebook is essential as it will allow the users to access the stuff that is otherwise restricted. You can watch your favorite movies and shows on the move. Accessing Netflix and ABC Go has never been as easy as it is with a VPN. Enjoy unlimited streaming with paid VPNs as the data is unlimited.
Free VPN is not a good idea on your Chromebook
There are many reasons for which Free VPN is not recommended to be used with Chromebook. In a nutshell, these VPNs should not be used at all. Some ideas are mentioned as under:
Information Logging – Free VPN never comes without dangers. One of these issues is information logging and therefore is not recommended at all. It is also one of the reasons for which many countries have banned VPNs completely. This can lead to info leak and can also get your browsing patterns published online, which is not a good thing at all.
Slow Speed – The free VPNs are notoriously slow, and therefore, practically, they are of no use. If you are outside of your country and using a free VPN, then you are doomed for sure. You will not be able to access any website such as Netflix or ABC Go as they require high-speed connections. Using a free VPN is a complete waste of time. The slow speed is annoying and, therefore, can lead to disastrous results.
Limited Servers – Free VPNs disconnect quite often, and it is all because of the limited number of servers. When the switches are already occupied, you won't be able to connect at all. This ultimately leads to using of dissatisfaction and poor customer experience. This is another reason for which a free VPN is not recommended at all. Due to the limited servers, free VPNs are very slow and disruptive to use.
Loads of Ads – So you tapped the connect button and redirected it to Google Play Store. When you are using a free VPN, get ready for ads, ads, and more ads. These ads are not only annoying but can also lead to a malware installation, which can ruin your device completely. This is one of the reasons for which the free VPN is not advised at all. These ads open up multiple browsers and slow down the devices, which hamper other operations as well.
| | | |
| --- | --- | --- |
| Options | free VPN | paid VPN |
| Changes your IP | ✔ | ✔ |
| Unlimited bandwidth | ✗ | ✔ |
| Fast internet connection | ✗ | ✔ |
| No-logs, no tracking | ✗ | ✔ |
| No annoying ads | ✗ | ✔ |
| Millitary-grade encryption | ✗ | ✔ |
| Wide range of server selection | ✗ | ✔ |
| Customer support | ✗ | ✔ |
Setup a New VPN on your Chromebook easily
The process of set up a new VPN on your device is straightforward. Just follow the steps as under and get yourself connected to any website in the world.
Go to the one of the reccomeded VPN wenbsite.
Once the purchase is completed, you will get the welcome email.
Click the link in the welcome email to download the app on your device.
Copy the activation code from the email and paste it into the section required.
Click or tap to launch the application.
Connect to the most optimal server by clicking the connect button.
Enjoy!
Be more secure with a VPN on your Chromebook
For all sensitive info transfer from one system to another, the VPN should be used so that you can keep yourself safe from the hackers.
In case you are using open or public Wi-Fi, it is advised to launch the VPN as soon as you get connected to the network. It will make sure that you remain safe and secure all the time.
If you are banned from a Discord system or any particular server, you can easily create a new account by using the VPN connection.
If you remain on the move, then the VPN connection will make sure that you watch all your favorite content without any geo-restrictions.
You can keep your financial data confidential if you connect to VPN and then use the credentials to log in to the systems.
Final Thoughts
If you want to protect your Chromebook and bypass all the geoblocks and restrictions, you should use a reliable VPN service. There is the table bellow this text with the technical data. You can compare them and select the most suitable one.
Recommended VPNs
Options
Location
B.V.I. Islands
Panama
Romania
Servers
3000+
5000+
3500+
Countries
160
60
60
Supported devices
5
6
7
Torrenting

✔

✔

✔

U.S.Netflix

✔

✔

✔

Encryption and protocols
AES-256

✔

✔

✔

OpenVPN

✔

✔

✔

PPTP

✔

✔

✔

L2TP

✔

✔

✔

SSTP

✔

✔

✔

IPsec

✔

✗

✔

Internet connection speed

Download speed
83.15
72.33
71.10
Upload speed
35.18
48.18
36.45
Security features
SSL

✔

✔

✔

No-Log

✔

✔

✔

Kill Switch

✔

✔

✔

Ad-Blocking

✔

✔

✔

Double encryption

✗

✔

✗

IP Leak protection

✔

✔

✔

Operating systems
Windows

✔

✔

✔

Mac

✔

✔

✔

Android

✔

✔

✔

Linux

✔

✔

✔

iOS

✔

✔

✔

XBox

✔

✔

✔

PS4

✔

✔

✔

Browser extension
Chrome

✔

✔

✔

Firefox

✔

✔

✔

Other features
Router support

✔

✔

✔

Free version

✗

✗

✗

Accepts Bitcoins

✔

✔

✔

Money back guarantee
30 days
30 days
45 days
Read a review
review
review
review
Paid version from
$6.67/month
$3.49/month
$2.75/month
Try
About the author