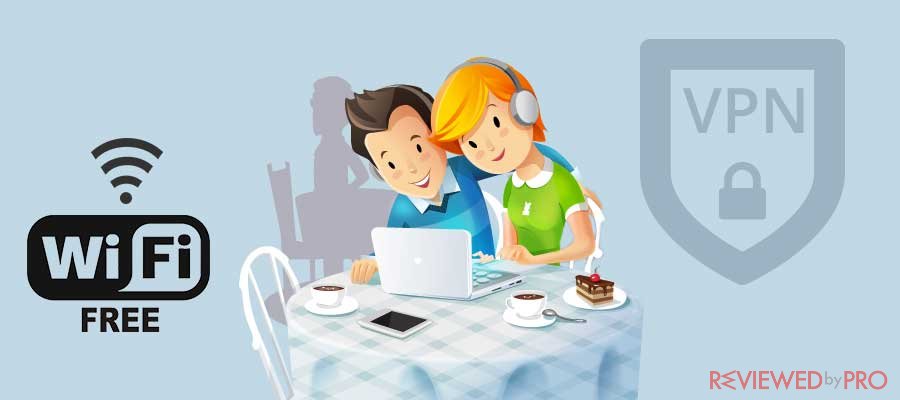 The Best VPN for Public Wi-Fi Hotspots in 2020
This article will cover the risks of using public WI-FI and how to prevent being hacked. Also, we overview the best VPN service providers for public wi-fi hotspots. We did an evaluation of VPN services for the public wi-fi by importa criteria.
Public WI-FI[1] is becoming very popular nowadays. Wherever you go, you can find free internet hotspots: supermarkets, restaurants, the library, on the plane, buses and so on. This is so great when you can use the internet for free and don't worry about your internet plan over usage. But there are two sides of public WI-FI: the bright one and the dark one. In this article, we will discuss them both.
It is a time-consuming process to analyze the different VPNs and search for the best VPN for public wi-fi hotspots, so we did for you:
NordVPN – Lightweight VPN service with double VPN data encryption method. It encourages you to military-grade data encryption and uncompromised privacy. Feel secure on-the-go and leave the hackers behind with zero profit.
ExpressVPN – A high level of encryption encourages safe and private browsing on the unsecured wi-fi network hotspots. An extensive server selection list and ultra-fast servers provide a significant internet speed without any slowdowns. Perfect VPN for public wi-fi places.
CyberGhostVPN – Fast and secure VPN service that provides OpenVPN 256-BIT AES data encryption. Suits entirely for travelers and business people who use the internet in any public place. It hides your IP and encrypts every single pixel.
Torguard VPN – No matter if you are using a public Wi-Fi hotspot or anything else, you will be able to freely open anything with the 3000+ servers in 50 countries of Torguard VPN;
IPVanish VPN – The 1400+ servers of IPVanish are all encrypted to the point that they will keep you anonymous all around the internet whether you use public Wi-Fi hotspot or not;
PureVPN –2000 highly encrypted servers of the VPN ensure that your identity remains hidden at all times while you open your device in a public Wi-Fi hotspot;
VyperVPN – This VPN has 700+ servers that are highly fast and offer brilliant encrypted features to safe-keep your identity and data.
HMA VPN– You will be able to safely browse through the public Wi-Fi hotspots with the 290+ locations of HMA VPN as each one of them has 256-bit encryption, amongst other security protoc
Private Internet Access VPN: The 3381 servers in 41 countries with exceptional encryption protocols like AES 256-bit encryption allow the safest online experience, no matter if you use public Wi-Fi hotspots or your home network;
IvacyVPN: The service offers OpenVPN and 256-bit AES data encryption to ensure secure browsing activity while accessing public Wi-Fi hotspots;
Protect your privacy on Public Wi-fi hotspot with a reliable VPN services
So you already know what critical factors you should pay attention, and how to choose a decent VPN service for unsecured public wi-fi networks. Our tests were done with more than 20 various VPN services on public wi-fi spots. After we did finalize all the results, we pick three VPN service providers that we like most. Keep reading and find out why those VPNs are so special.
1. NordVPN – is considered of being the best vpn overall on the market, that also fits perfectly for open public wi-fi hotspots
Official website
www.nordvpn.com
Our Rating
(Excellent – 4.9/5)
Available applications
 
Money-back guarantee
30-days
Price from
$3.49/month (-70% deal)

Visit website
More information
NordVPN review
Another excellent VPN that meets many security and privacy expectations would be NordVPN. It is a well-known privacy brand in the market for its double encryption technology, fast internet connection, and wide server spread geographical territory.
During the test, the download speed of NordVPN was average at 65 Mbps, and the average upload speed was around 28 Mbps. It is an outstanding number for a VPN service. The speed test was performed with the help of free speed measurement tool https://fast.com
NordVPN owns more than 5000 servers, which are located in 62 countries. High data encryption algorithms (256bit AES) ensures unbreakable protection against hackers on public wi-fi hotspots.
NordVPN can support up to 6 devices connected at the same time.
Supported operating systems: Windows, macOS, Linux, Android, and many more various applications for other devices. According to our tests, it perfectly fits for browsing on unsecured networks also of the Kill Switch function, which is also very common.
It is nice to know that this VPN service vendor provides very high-quality customer support through a live chat. It is available 24/7, by phone, by email, and ticket system.
The price of NordVPN is excellent if you will sign up for a more extended subscription.
| | |
| --- | --- |
| PROS | CONS |
| Wide geographical reaches | Performance hits and drop connections |
| Double VPN for twice the encryption | A monthly plan might seem expensive |
| User-friendly and pleasant interface | Not clear ownership |
2. ExpressVPN – protect your browsing session on any network with the fastest VPN on the market
Official website
www.expressvpn.com
Rating
  (Excellent – 4.8/5)
Available applications
 
Money-back guarantee
30-days
Price from
$6.67 (-49% deal)
Visit website
More information
ExpressVPN review
So if I were a businessman or a heavy traveler, my top selection would be ExpressVPN for browsing in public wi-fi hotspots. This VPN is characterized as one of the fastest VPN in the market. Besides that, it has extensive geographical server coverage and is available in 92 countries.
Also, it is worth to mention that ExpressVPN operates more than 6000 servers. Knowing these numbers, we can come to a conclusion that should work almost in any country.
If it is available in your region, so there are many chances that the internet speed on public wi-fi hotspots will not drop dramatically using ExpressVPN. Typically, the internet speed might drop slightly while using a VPN, but it is due to data encryption processes. ExpressVPN does not limit traffic bandwidth.
Moreover, ExpressVPN offers a 256-BIT AES encryption method, which guarantees hacker-proof security at any point in the world. As far as we know, nobody has decrypted data that were encrypted with 256 bit AES from the outside. It is so secure that the same algorithm is used on governmental institutions.
This service can be used with five different devices, and it should be enough to protect your all standard devices. It is supported by Windows, iOS, Mac, Android, Linux. Additionally, it also can be installed on BlackBerrys, Kindle Fire, Chromebooks, Barnes & Noble Nook tablets, Apple TV, Fire TV, PlayStation, Android TV box, and other devices.
ExpressVPN also provides the highest quality customer support services. If you face with some technical issues, there are 24/7 live chat available. The staff is well trained and very polite. We also did some fake problems with a VPN, and it was sorted out very quickly.
To sum up everything, we can say that this VPN service provider is worth your attention if you are traveling a lot and browsing in public wi-fi networks. By the way, you can save a lot of money by ordering service for a more extended time of period. They made many seasonal sales, and you can catch some good deals. Check the current price and see what they can offer to you now.
| | |
| --- | --- |
| PROS | CONS |
| Compatible with many devices and platforms | High price |
| High level of security | Configuration limits |
| 24/7 customer service | No ad blocker |
3. CyberGhost VPN – cheap, fast and secure service that also keeps your browsing sessions while on the go
Official website
www.cyberghostvpn.com
Rating
  (Great – 4.5/5)
Available applications
 
Money-back guarantee
45-days
Price from
$2.75 (-80% deal)

Visit website
More information

CyberGhost review
CyberGhostVPN is also at our top selection list for using it on unsecured and open internet networks. The protection level is military-grade (256bit-AES). It also ensures that the hackers will not scan your data on the public wi-fi and won't steal your money and other sensitive information.
Also, it is a no-log VPN, which means that the provider doesn't track your activity and doesn't keep the logs files on the server. The company is located in Romania. This country does not belong to the 14-eyes alliance. So, CyberGhostVPN is not obliged to provide users activity log to the policy or other governmental institution in case of suspecting something unusual.
CyberGhostVPN, like the other two leaders in this rankings, also owns many servers (5200) in various 92 countries. As you can see from the number, it is outstanding. Every year CyberGhostVPN is investing in its infrastructure and expands its network significantly.
As every premium VPN, it provides and premium customer support. You can contact CyberGhostVPN in any desired method: 24/7 live chat, email, or by phone. It seems that the support never sleeps and ready to help anytime.
If you have not an overloaded budget, CyberGhostVPN fits perfectly. For the extended subscriptions, it offers outstanding discounts. It could be named as one of the cheapest premium VPN services on the market. An excellent price and quality ratio brought this service to our top rankings for the best VPN for public wi-fi hotspots.
| | |
| --- | --- |
| PROS | CONS |
| Offering one of the widest geographical reaches | Performance hits and slowdowns |
| A very informative user interface | Not many personalized options |
| Easy setup and quick to start | Rough reviews by third-parties |
4. IvacyVPN – It offers open-Wi-Fi protection and stops hacking attempts on any device
Rating
   (Great – 4.4/5)
Available applications
 
Money-back guarantee
30-Days Money Back Guarantee
Price from
$1.33/month
More information

IvacyVPN review
Public or open Wi-Fi hotspots available across shopping malls, coffee shops, and similar places are the number one sites to get hacked. Free Wi-Fi connections are more accessible to manipulate and get the needed advantages to steal relevant information from unsuspecting users.
Though no one can deny the convenience of an open internet, It is necessary to lace the device with protection before connecting to it. VPN is the technology that prevents your devices from getting hacked by criminals. IvacyVPN is among those VPNs that carry the necessary tools to give the protection they need to be safe from hacking attempts with features like Open-Wi-Fi security. You will be able to enable the 256-bit military-grade encryption to make your data and device fully protected across all the 1000+ servers of IvacyVPN.
The fast servers that are accessible across 100+ locations can bypass geo-restrictions to open various sanctioned websites. No matter what you do on the internet, Ivacy will not keep a single record of your data. It can withstand any pressure of revealing your information due to the security laws of Singapore.
With apps across every notable platform and an excellent opportunity for the user to access 10 devices at once with a single account, Ivacy is a reliable VPN to purchase. Its customer support facility has everything, including video tutorials, 24/7 live chat, FAQs, and informative troubleshooters.
Ivacy is incredibly affordable and doesn't put any sort of strain on the pockets of the users. If you wish to get security across open internet connections, then consider purchasing IvacyVPN, which also gives the new customer to take advantage of the 30-day money-back guarantee.
| | |
| --- | --- |
| PROS | CONS |
| Cheap plans | Low servers |
| Good plans to make the user safe while using a public Wi-Fi hotspot |   |
| 10 multi-logins |   |
5. Private Internet Access VPN – get military-grade encryption to secure your device on Public Wi-Fi's
Rating
   (Great – 4.3/5)
Available applications
 
Money-back guarantee
30-Days Money Back Guarantee
Price from
$2.99/month
More information

PIA PVN review
The internet could become a scary place, especially if your device remains unprotected. It is easy for hackers and other bodies to access internet connections to learn the vital information related to you from your device. The whole endeavor becomes extra smooth for them when you access the internet connection from public Wi-Fi hotspots.
PIA VPN stops anything trying to reach into your device through whatever means with protocols like 256-bit encryption. The encryption method gets full support from tunneling protocols like OpenVPN, L2TP, and IPSec. These features hide you in plain sight and allow you to access any website on the internet, no matter what the situation of the site is in your region.
PIA VPN has more than 3380 servers in 40+ countries in over 50 locations that are super-fast and offer unlimited bandwidth. These features are enough for you to open sites like Netflix US and others across any internet connection without the fear of getting hacked. The service follows a stringent no-log rule and discourages any act of data-sharing related to the customer within its servers. You will be able to use the VPN across a whole number of platforms on as much as 10 devices simultaneously.
The customer support of PIA VPN is outstanding as it possesses every known facility that is key to assist the client in trouble. The section has a 24/7 live chat, email support, FAQs, and troubleshooting guides for every operating system and device.
PIA VPN is cheap and available across three different pricing plans. The most affordable being the annual offer that comes with a 30-day money-back guarantee:
| | |
| --- | --- |
| PROS | CONS |
| Affordable | Owned by an American company |
| 10 multi-device logins at once |   |
| Useful features to tackle issues related to public Wi-Fi hotspots |   |
6. HMA VPN – Hides you on the internet like none other even if you use insecure internet connection
Rating
  (Good – 3.8/5)
Available applications
 
Money-back guarantee
30-days
Price from
$2.99/month (-70% deal)

More information
HMA review
A VPN that has not only one of the fastest servers but offers features like AES 256-bit encryption to give a safe browsing experience, especially when you access a public Wi-Fi hotspot. The servers that more than 1000 in number can bypass geo-blocking of every kind to open websites from every part of the world.
You will be able to enjoy unlimited bandwidth and download content from various sites with servers of HMA that are available in 290+ location of 190+ countries. Internet security is essential, no matter if you use a public Wi-Fi hotspot or your home network. The super-fast servers of HMA point to the notion that you can access sites like Netflix US and view video content in HD.
Wi-Fi itself is much easier to hack for criminals and provides the best hunting ground for them to access data such as your banking info. It is why features like AES 256-bit encryption and leak prevention(IPv4, IPv6, DNS) are necessary to make the experience safe.
You will be able to secure five different devices of your loved ones with just a single VPN account of HMA. The service has apps for every platform and offers free browser extensions to unblock restricted platforms from anywhere. 
The customer support service of HMA is handy and available to serve the user 24/7. It has everything to assist the user from FAQs to live chat facility. The highly informed guides from the knowledgebase section give out precise information to get to the bottom of the problem that had disrupted the flow of your browsing activity.
HMA is cheap and offers a 30-day money-back guarantee across each of its pricing plans. So if you get ahold of the service, then you wouldn't need to worry about accessing public Wi-Fi hotspots at all.
| | |
| --- | --- |
| PROS | CONS |
| Works best with handy features while accessing public Wi-Fi hotspots | Operates from the UK |
| Servers in 190+ countries |   |
| No-log policy |   |
7. Torguard VPN – The excellent security features of the service are enough for you to access the internet anywhere
Rating
   (Average – 2.9/5)
Available applications
 
Money-back guarantee
30-days
Price from

$9.99/month
More information
Torguard review
Torguard VPN takes the security of the user as seriously as any other VPN service. From SSL encryption protocols to tunneling protocols(256-bit, OpenVPN, L2TP, IPSec), the VPN service will ensure that no one can penetrate the security of your device. It'll not matter if you're using a public Wi-Fi hotspot or any internet connection, your safety will become the concern of Torguard VPN. 
Torguard's 3000+ servers are at your disposal that will make you anonymous and offer unlimited bandwidth to access sites like Netflix and others with affluence. The super-fast servers across 50 countries will stream videos in HD while preventing any entity from hacking your device or internet connection.
The VPN service also practices a rigorous no-log policy. It has no history of sharing its client's information with anyone. Features like kill switch and malware blocker will not let any virus from entering your device through a malicious site. The VPN has apps for most platforms and encourages its users to use their VPN account across 8 different devices.
The customer support section of Torguard VPN needs some sort of revamping as it does not offer live chat interaction features. Such type of facility is a must nowadays to find suitable answers in fixing whatever issue the user face with their VPN app. However, the FAQ section, the video tutorial Youtube channel, and the email support facility is enough to assist the user struggling with different VPN problems.
The pricing plans of Torguard are a bit expensive and would shrug some new customers in the wrong directions. However, these subscription plans of the VPN do offer a 30-day money-back guarantee across all the packages.
| | |
| --- | --- |
| PROS | CONS |
| No-log rule | Expensive |
| A reasonable amount of servers | Low native app support |
| Excellent encryption features to allow the user to access to public Wi-Fi hotspots safely |   |
8. IPVanish VPN – Make yourself vanish while browsing the internet and get reliable security
Rating
   (Average – 3.4/5)
Available applications
 
Money-back guarantee
7-days
Price from
$ 6.49/month
More information
IPVanishVPN review
IPVanish VPN service has an ever-growing gallery of servers. With all the servers at its disposal, the VPN offers the standard military-grade 256-bit encryption to make the user's data protected against every type of snooping and phishing attempts across public Wi-Fi hotspots. Along with the encryption feature, IPVanish provides tunneling functions like IKEv2, OpenVPN, and L2TP/IPsec to stop anyone from tracking your browsing session.
So as long as you have IPVanish VPN, you will not have to worry about a thing while accessing the internet connection of your favorite mall or coffee shop. It is one of the reasons IPVanish is in the list of the top 10 VPNs for public Wi-Fi hotspots.
This VPN has more than 1,400 servers in 75+ locations that share 40,000+ IPs to defeat geo-blocking and internet throttling, like only a few other VPN services. These servers are also super-fast and provide unlimited bandwidth to enjoy video streaming across platforms like Netflix US in HD. No one will ever know what you do on the internet, thanks to the stern no-log rule of IPVanish VPN.
The VPN has apps across platforms like Windows, macOS, Android, iOS, and several others. You will be able to access your VPN account across 10 different devices simultaneously. Such a level of multi-login support means that you will be able to share the load of the VPN's subscription fee with nine of your friends and family.
The customer care section of IPVanish has a live chat to assist the customer directly. It also has various guides to show the user how to use the VPN app properly. Not only that, if the user ever deals with an issue beyond their control, then the email support of IPVanish will provide the needed assistance in solving the problem.
The annual pricing plan comes with a monthly fee and a 30-days money-back guarantee, which makes the VPN highly affordable and a definite catch. You can try using IPVanish VPN today and ensure protection like none other when you access a public Wi-Fi hotspot.
| | |
| --- | --- |
| PROS | CONS |
| Cost-effective VPN | Owned by a company in the USA |
| 40,000 shared IPs to open practically any blocked site on the internet |   |
| Excellent encryption protocols to enable browsing in public Wi-Fi hotspots |   |
 9. PureVPN – its fast servers offer exceptional security
Rating
  (Average– 3.1/5)
Available applications
 
Money-back guarantee
30-Days Money Back Guarantee
Price from
$2.88/month
More information
PureVPN review
The VPN from Hong Kong practices a strict no-log policy and discourages any act of data sharing without the consent of the user. It has enterprise-level encryption across all of its servers. It means that no one can track or hack the device, no matter if you use your home internet or a public Wi-Fi hotspot. The user will be able to enjoy complete anonymity throughout their browsing, gaming, or streaming session.
The 2000+ server in over 140 countries shares a staggering 200,000 IPs to open any type of restricted websites from every part of the world. You will enjoy high-speed internet with limitless bandwidth across each server to enjoy streaming sites like Netflix in full HD. No matter what type of content you access, the strict security features of PureVPN will ensure the anonymity of your online anonymity for as long as possible.
If that isn't enough, PureVPN offers secure Wi-Fi and DNS leak prevention. These are essential features that a VPN should possess to make the user safe while accessing public Wi-Fi hotspots. The VPN is available on a vast number of platforms, including Windows, Linux, macOS/iOS, and Android. It means no matter if you use a smartphone or a computer in a public Wi-Fi hotspot, PureVPN will be there to keep you safe throughout. Moreover, you will be able to access your VPN account on a maximum of 10 devices concurrently.
The customer support of PureVPN has a handy 24/7 live chat facility along with a high number of how-to guides, and FAQs. The service is cheap and comes with a helpful 31-day money-back guarantee, which is enough for anyone to test the service to its utmost capacity.
| | |
| --- | --- |
| PROS | CONS |
| Extremely affordable | Needs more servers |
| Multi-login across 10 devices simultaneously |   |
| Reliable features to safely access to public Wi-Fi hotspots |   |
10. VyprVPN – Heavy features like DNS protection will keep your device safe
Rating
(Good – 3.9/5)
Available applications
Money-back guarantee
30-Days Money Back Guarantee
Price from
$ 5.00
More information
VyprVPN review
Though VyprVPN has garnered a reputation of a fast VPN that is capable of unblocking any website on the internet, its security features are quite handy as well. The privacy-protective laws of Switzerland prompted us to include this VPN in our list of the best VPNs for public Wi-Fi hotspots. You wouldn't have to worry about having your identity stolen through phishing attempts with public Wi-Fi hotspots with VyprVPN.
The service offers 256-bit encryption and additional features like secure DNS and a kill switch to provide you with 24/7 protection. It also would alert you immediately if any attempts come into fruition on your device, which would allow you to act quickly. VyprVPN follows the no-log policy, much like the other VPNs stated in the list. It merely means that no one would be able to get their hands on your browsing activities.
The handy gallery of more than 700 servers in 70 countries with unlimited bandwidth is capable of opening blocked sites like Netflix US from every region. It is because the 200,000+ IPs make it impossible for anyone, such as the site and ISP from tracking your activity or where you live.
The VPN allows its users to access their accounts across as high as 5 devices simultaneously on a variety of different platforms. The service has apps across various platforms like Windows, macOS, Android/Ios/Blackberry, and Smart TVs.
If you want to take a look at the customer support of VyprVPN, then it is exceptionally fertile with all the required facilities. It has everything from live chat to how-to guides across the help section. You would be able to solve your VPN-related problem in a matter of minutes.
The VPN is cheap and allows all the potential customers to utilize the 30-day money-back to test every last feature of the service to its full potential.
| | |
| --- | --- |
| PROS | CONS |
| Low priced | Low servers across various regions |
| Fast servers |   |
| Handy features for a secure online browsing experience while accessing public Wi-Fi hotspots |   |
The dangers of using insecure internet connection without a VPN
Public wi-fi is an area covered by a free internet where you can check your mail, browse the internet or even stream a video online. Free internet usually is sponsored by the owner of the building (restaurant, supermarket, coffee shop and etc.). It works for commercial purposes: "Come to eat pizza at our restaurant and use our free internet". Sounds very good and many people are using without thinking of security and privacy. Every time you are connecting to the public wi-fi with or without a network password (open unsecured connection), you are risking. It doesn't matter the connection requires a password or not, because many people already know it and can connect to it even from the outside of the building.
Every year cybercrimes[2] are growing rapidly around the globe on public WI-FI hotspots. If you will decide to use a public wi-fi you are putting your privacy on risk. Hackers love public wi-fi because of the easy to steal your information and expose your privacy. Hackers spend a lot of time scanning the information on public networks, looking for a bank account logins, email passwords, distributing viruses and other malware. So you should think twice before start using open internet hotspots.
What could happen if you will be using insecure open internet is listed below. Read carefully and be prepared for the cybercriminal attacks before they start their black jobs.
Hackers
Hackers love open wi-fi connections very much. It is the easiest way to scan the traffic and to gather login information to your bank account, email passwords, social network passwords or other sensitive information like personal chats with your girlfriend or boyfriend. Simple connection to the public wi-fi can lead you to huge financial loss or sensitive date exposure.
Don't let the hackers steal from you, encrypt your connection with VPN[3].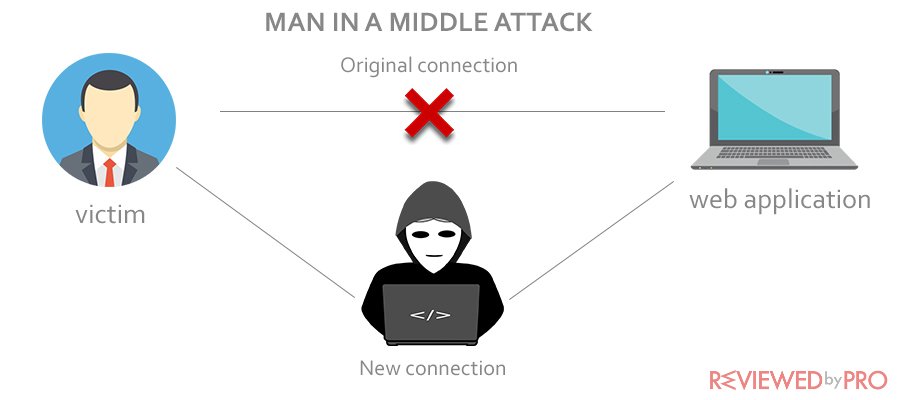 The Best VPN for Public Wi-Fi Hotspots in 2019?
Man-in-the-Middle – You should know, also that there is a new way of fraud called "Man-in-the-middle[4]". An attacker secretly relays and possibly alters the communications between two parties who believe they are directly communicating with each other. It means, the attacker makes independent connections with the victims and relays messages between them to make them believe they are talking directly to each other over a private connection, when in fact the entire conversation is controlled by the attacker.The attacker must be able to intercept all relevant messages passing between the two victims and inject new ones. This is straightforward in many circumstances; for example, an attacker within the reception range of an unencrypted wireless access point[5] could insert themselves as a man-in-the-middle.
Malware Distribution – Whereas you are using unsecured wi-fi and unsecured device, the hackers can easily inject malware, virus, spyware or ransomware into your computer and smartphone. In case your computer might start to work slower, your data can be transferred to third parties and you can lose money. So our suggestion would be not using an open wi-fi connection without a decent antivirus software or VPN connection.
Rogue public wi-fi hotspot – Another type of cybercrime is to create a fake wi-fi connection. The public wi-fi hotspot can be called by any name, for example, "Starbucks fast free net". The name of the network doesn't look suspicious and you will connect to it. Everything looks fine, and that you might decide to check your PayPal account. That's the moment hackers were waiting for. They will read all the network data and will know what you are typing on a keyboard. In this case, you are putting yourself in a huge risk of financial loss.
Protect your PC and Privacy
There are some tips and tricks on how you can protect your data and privacy from the cybercriminals. Follow the rules listed below and will make hackers job much difficult.
Use a VPN connection while connecting to the public wi-fi hotspots. It will encrypt all your data and the hackers won't be able to read it. VPN service can be added to laptops, notebooks, tablets, and smartphones while you are on the go.
Do not connect to the bank accounts on the open wi-fi hotspots without a VPN. You will leave a huge chance for hackers to steal your data. Also avoid logging to the social, mail, or other sensitive information containing accounts.
Use an antivirus software. It will warn you if something is going not right. Keep it up to date to avoid malware and virus injections on the free wi-fi hotspots.
Visit HTTPS secured websites[6]. That means, that all data you are entering on it will be encrypted. It will be much difficult for hackers to read it.
Switch on your device firewall[7]. It is a great way to add another layer of protection. This setting can be found on your operating systems settings, under the privacy and protection tab.
Switch off network sharing[8], because it will be much harder to get into your device for the cybercriminals.
What can you lose?
Hackers can use your sensitive data for cybercrime or sell it on the dark web for future cybercrimes. There is a list what you can lose:
Logins for all saved websites (facebook, twitter, Gmail and so on.);
Private pictures and chats, media posts;
Business secrets and other sensitive data
Logins to your bank accounts, credit card numbers;
I think it is enough to get in big trouble. Right?
Vital factors for choosing a decent VPN for browsing safely
Our job is to test and review VPN services and provide you the information about the best privacy solutions. From many VPNs, we took three services that, in our opinion, are worth to be mentioned. According to our methodology of VPN testing, we take the essential key factors, analyze them, and compare them.
While choosing a VPN for browsing in public wi-fi hotspots, you should pay attention to these things: Internet connection speed, Encryption level, Multi-device support, and of course, the Price.
The VPN speed is essential on slow public WI-FI hotspots – As you know, public wi-fi places provide quite slow internet connections. If you choose the VPN service that also offers poor quality of internet connection, probably you will get old while loading a simple website on your laptop. That's why it is vital to choose an ultra-fast VPN.
The more server around you, the faster connection is – A decent VPN service provider has their servers almost in every country. Before buying a VPN check, does a VPN vendor has servers in your country. If the answer is definite, that means that you are going almost the same speed as you have now. If a VPN server is far away from you, you are going to lose speed because of ping latency time.
Protect yourself from cybercriminals with Data Encryption – We think that military-grade encryption is a big plus for simple internet users to protect themselves from hackers' attacks. These days Cybercriminals became very innovative, and they can break down outdated encryption algorithms. So we recommend choosing a VPN that provides a 256-bit AES data encryption algorithm.
When the VPN fails, Kill a Switch is a must option – What is Kill Switch? This function is essential for business users for a fundamental reason. If you don't have this option on your VPN, your activity on the internet might become trackable at any time. For example: When your connection to the VPN servers is lost, your IP becomes public. Hackers can see that you are doing on the internet and steal your data.
Protect your all devices – Many business people and travelers are using more than one device on-the-go. So there is no point in buying a VPN that can protect only one method. We would recommend choosing that VPN that can cover at least five simultaneous devices.
Final thoughts
We would not recommend using public wi-fi hotspots if you are not protected from cyber-attacks. Hackers are waiting for internet dummies to commit the crime. They will definitely try to steal your money and other private data to fulfill their pockets. If you are not the geek of computer security, order one of our picked VPN and you will be sure for 100% that hackers will not steal anything from your device.
Recommended VPNs
Options
Location
B.V.I. Islands
Panama
Romania
Servers
3000+
5000+
3500+
Countries
160
60
60
Supported devices
5
6
7
Torrenting

✔

✔

✔

U.S.Netflix

✔

✔

✔

Encryption and protocols
AES-256

✔

✔

✔

OpenVPN

✔

✔

✔

PPTP

✔

✔

✔

L2TP

✔

✔

✔

SSTP

✔

✔

✔

IPsec

✔

✗

✔

Internet connection speed

Download speed
83.15
72.33
71.10
Upload speed
35.18
48.18
36.45
Security features
SSL

✔

✔

✔

No-Log

✔

✔

✔

Kill Switch

✔

✔

✔

Ad-Blocking

✔

✔

✔

Double encryption

✗

✔

✗

IP Leak protection

✔

✔

✔

Operating systems
Windows

✔

✔

✔

Mac

✔

✔

✔

Android

✔

✔

✔

Linux

✔

✔

✔

iOS

✔

✔

✔

XBox

✔

✔

✔

PS4

✔

✔

✔

Browser extension
Chrome

✔

✔

✔

Firefox

✔

✔

✔

Other features
Router support

✔

✔

✔

Free version

✗

✗

✗

Accepts Bitcoins

✔

✔

✔

Money back guarantee
30 days
30 days
45 days
Read a review
review
review
review
Paid version from
$6.67/month
$3.49/month
$2.75/month
Try
About the author
References