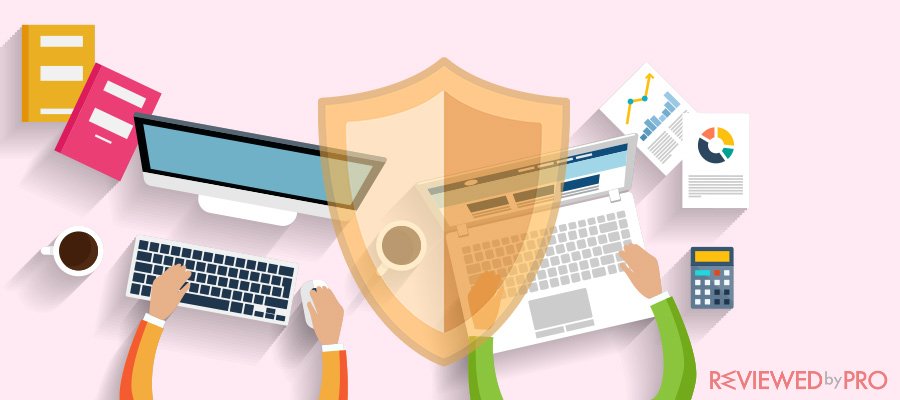 If you are looking for a VPN[1] service for your own small business company, you came to the right place. We have been reviewing different VPN service providers every day and compare them by different aspects.
During the last year, we have tested and reviewed more than fifty VPN service providers and we have what to say for you.
In this article, we are going to analyze the top 10 most popular VPN service providers and give you an output of the best VPN solution for small business.
The Best 3 VPNs for a small business company that can protect your company's online privacy in 2020
From all the ten VPN service providers, we have picked TOP 3 VPNs:
1. ExpressVPN – protect and secure your small business company with the fastest VPN on the market
ExpressVPN[2] suits perfectly for small business companies because it can offer ultra-fast servers located in 92 countries. It operates more than 3000 servers across the globe. For that reason, you can always find not overcrowded servers for the best performance.
ExpressVPN supports up to 5 simultaneous devices at one time. Also, it is compatible with some open-source routers and can offer pre-configured routers to cover up your office. You can find the instructions and manuals on how to install a VPN application on your router or how to start a new VPV secured wi-fi network.
Also, for small businesses, it is useful when a VPN can be installed on various devices with different operating systems. This VPN service supports all the most popular operating systems: Windows, Mac, Linux, Android, iOS.
In addition it is worth to say that, it can be compatible with: Kindle Fire, Nook HD, Surface RT, Apple TV, PlayStation, and XBOX, but it is not very important for business companies.
As it was expected, it provides Open VPN 256Ibit AES data encryption and will keep your business data secured and unbeatable for the cybercriminals.
Moreover, ExpressVPN provides superior support on 24/7 live support chat. If you don't have time chatting, you can submit a support ticket or find the answer on the FAQ section.
ExpressVPN is not the cheapest VPN solution, but in our opinion, the quality worth every dollar. Very often, they are doing various sales and promotions, so the prices may vary. Check the price and find out what deal is valid for this time.If you don't like, you can ask for refund due to their 30-days-money-back guarantee.
| | |
| --- | --- |
| PROS | CONS |
| Compatible with many devices and platforms | High price |
| High level of security | Configuration limits |
| 24/7 customer service | No ad blocker |
2. NordVPN – safest service with a double VPN protection for military-grade data encryption of your business
O

fficial

website
www.NordVPN.com
Rating
Available applications
Money-back guarantee
30-days
Price from
$3.49 (-70% deal)

Oder VPN with a discount
More information
NordVPN review
Another great VPN service provider for small business companies, we would nominate NordVPN. This excellent VPN vendor is located in Panama and offers no-log VPN services.
It operated with almost 6000 servers around the world. To be more exact, it is located in more than 60 countries, including the United States, Canada, Australia, and other great countries.
This VPN also supports up to 6 devices at the same time and can be compatible with Windows, Android, Linux, and Ios. Additionally, it can also support Firefox and Chrome extensions. Also, you can get a pre-flashed NordVPN router, which will cover even more devices under one roof.
The encryption is very similar to any of our recommended VPN. Its Open VPN 256-bit AES data encryption. As it was mentioned before, this type of encryption is one of the fastest and secure nowadays. It provides military-grade data encryption for your small company data.
The customer is also speedy and excellent. They do work 24/7 and can be reached by live chat, ticket system, or by email. Additionally, you can find any information on their vast database and FAQ section.
The price of NordVPN is lower than ExpressVPN, but to save some money, you need to order NordVPN for more than two years.
They also are making many sales and offer a discount for new customers. You should check it see what is the deal today.
| | |
| --- | --- |
| PROS | CONS |
| Wide geographical reaches | Performance hits and drop connections |
| Double VPN for twice the encryption | A monthly plan might seem expensive |
| User-friendly and pleasant interface | Not clear ownership |
Nord Virtual Private Network is a great choice for those who want to visit sites that are unavailable in their own country.
NordVPN was initially released in 2012 and today has more than 1 million customers worldwide.
Read about NordVPN
3. CyberGhostVPN – the cheapest VPN service for small business companies
O

fficial

website
www.CyberGhostVPN.com
Rating
Available applications
Money-back guarantee
45-days
Price from
$2.75 (-80% deal)

Oder VPN with a discount
More information

CyberGhost review
The third place for the best VPN for the small business company goes to CyberGhostVPN. It is a Romanian based VPN service provider that operated more than 5000 servers in 92 countries. It is also a severe player in a VPN field and can be used for business purposes.
According to our speed tests, it performed very well. We were testing all the VPN with the same tool and picked you only the fastest VPN service, which is capable of protecting your business.
Moreover, it can be paired with up to 7 different devices, which is quite impressive. CyberGhostVPN can be paired with the devices which are running on Mac, Windows, Linux, Android Tablet, and iPad. It also can work with the router.
The security is top-notch and fits entirely for small business companies. It runs on L2TP/IPSec, OpenVPN, UDP, TCP, and PPTP protocols, and the Open VPN 256-bit AES algorithm can encrypt data.
Of course, it has 24/7 live chat, support ticketing system, email, FAQ, and knowledge base.
It is possible to obtain the incredible law price if signed up for 3 three years subscription. The prices may be different depending on the season.
We would say that this VPN is one of the best for price and quality ratio and can protect your small business company without any problems.
VPN is a powerful tool to protect your small business company from cybercriminals
Virtual Private Network (VPN) is a service that can encrypt[3] your browsing data and change your IP. Many small business companies are using it to protect sensitive information from their competitors. Also, a VPN can safeguard the company's local network from cyberattacks.


VPN can protect your business web-based applications – For example, if you are using a CRM system inside your business and your employees might access it from anywhere, so the cybercriminals can do the same. In that case, you should close the connections from unknown IP addresses and allow the connections only from the whitelist. Without a Dedicated IP VPN, it would be very uncomfortable because you will not be able to access it while you are on the go. The same rules are valid for the websites, e-commerce stores, and other systems that can be accessed over the internet. Just imagine what could do an experienced hacker having all the credit card details stolen from your e-commerce store.
 

Make your connection secure on-the-go – I think that everybody will agree that today modern business people are traveling a lot. They need to visit their suppliers, talk to them, go to dinner at the restaurants, or drink coffee in public places. In those moments, they are so busy with other tasks that they forget to think about online privacy and security. Those places like restaurants, coffee shops, or public squares provide free WI-FI. We don't even realize that our devices connect to them automatically. Cybercriminals are waiting for those moments, and they can place malware or a virus in your device. Moreover, they can scan your online activity and steal credit card details, bank account passwords, email, or social network passwords. When the cybercriminal knows a lot of information, it is straightforward to manipulate the situation and steal your money.

For example, I am hacker and just stole your business email passwords. My next would be to contact your finance accountant and ask to make a money transfer to the particular bank account. Poor finance account cannot realize that this letter was sent not by the boss and makes the transaction of 20 000 dollars to the cybercriminal's account. It is just a simple example of how you can be tricked. According to the statistics, the last year, only in the United States, cybercriminals stole more than 8 billion dollars from small business companies. The numbers of cybercrimes are rising every year, and you, as head of the company, should encourage security.
 

Banking with a VPN – Many people in business also travel abroad very often. Not everybody knows that your bank account might be blocked if you will try to access it from overseas. Just imagine how many problems it might cause to you if you need to make a quick money transfer. You cannot just call the bank department and say: "- Hello, could you please unblock my business bank account?". You must go to the bank office personally and write a signed request. That's the way it works. With the help of a VPN, you can make a connection to your countries VPN server and travel around the world without any problems. Your bank's system will see your IP address as a local one because it will be routed via the local VPN server.
 

Secured and encrypted small business wi-fi connection – Decent VPN companies can offer pre-configured routers that can cover all the connected devices on the small business company. In this case, you can encourage that the information that goes outside the building will be encrypted and not accessible for cybercriminals. There are known many cases when hackers scan WI-FI ports, get access to it, and steal the company's sensitive information (business contacts, contracts, financial reports, email account login details, and other information). Practically it can destroy your business and life if that information will be sold to the competitors.

The worst part that you will not even notice when the hackers will do their black job. It is almost impossible to track them down because they also are using VPN and other techniques to protect themselves. A small pre-configured VPN router can solve many problems with your small business company's online security and privacy.
The difference between a VPN for Personal Use and Small Business VPN?
Nowadays, a simple VPN service cannot meet the requirements of business VPN needs. There are many reasons why small business needs a specific VPN. So let's get down and meet all the differences:
Multi user support. VPN service for small business is designed to use with more than one user. It has one account, which can be used by multiple users. The account holder created different users and passwords for the company's employees for the virtual private network connection. The manager of the account can create, delete or change users' passwords. while a personal vpn user can just change own password.
 
Server stability and speed – If you are the user of personal VPN, you might know that you are connecting to the VPN server with another thousand of users and you share server's resources. Very often, the server's connection speed is going down or the connection is lost. A VPN for small business works in a different way because you are going to get dedicated server[4] resources and your connection speed and servers reliability will remain the same every time.
 
Dedicated IP – It is very important when you are traveling, so it means that you know your server's IP[4] and you can connect to your server from any country of the world. This option is also very useful for the companies which work with the freelancers and has remote co-workers.
 
Software – Business users get a different software from VPN service provider than personal user. Software has more customizable management options.
 
Personal use vs. business use. It is normal that personal VPN is using for personal needs: watch movies, unblock restricted content by geo-blocking[5], and so on. The business VPN service is used more for online business activities, data sharing, data protection, communication, banking and other activities.
Select the right VPN for you small business company?
Read this short manual on how to choose the best VPN for your small business and find out the most valuable tips.
The VPN speed for business matters
Many VPNs are not very fast because of encryption algorithms and overcrowded VPN servers. Sometimes an internet connection might drop two or more times from the original one, and it becomes useless for business use. A reliable VPN should provide ultra-fast internet connection speed and not slow down it.
For a small business, multi-device support is a must
For a small business company, it is essential when VPN supports more than one simultaneous connection (multi-device support). In that case, you can share it with your colleagues or employees. Of course, we did not find yet a VPN service prover that offers an unlimited number of multi-device support, but 5-7 devices are quite good.
Cross-platform support for employees is also required
Even in a small business company, we can meet different people with distinct tastes and opinions. Some of them like Windows OS and others do like mac OS. To avoid confusion, it is better to choose a VPN service provider that offers cross-platform support. Some VPN service providers can provide a wide range of cross-platform supported VPN apps.
Cover up your office with VPN secured routers
If your VPN service can be configured on your local router, it can perform much better. Just imagine, all the devices which connect the internet via that router will be secured automatically and will be protected. With the VPN connected router, you'll never have to worry about forgetting to connect to a VPN server, because you're always protected right from the source. Also, you don't need to bother installing different apps on all your devices. VPN on your router [6] protects each new device automatically. Just connect to Wi-Fi, and you are already secure. No need additional extra steps!
Encryption and security
Today one of the most trustful and fastest VPN encryption algorithms is Open VPN 256-bit AES. Those three letters AES stands for Advanced Encryption Standard. If a VPN provider cannot offer this encryption, be prepared for slow internet speed and data leaks.
Small Business Company need fast VPN support
There could be various scenarios when you need help with your VPN. For example, your VPN router started to drop the connection very often. Nobody wants to mess with it, and you trying to contact the support center. It appears that support does not work today, because it is a Saturday. That's why we always say to our readers that decent VPN support must be available 24/7, especially for business users.
Try not to overpay for your business VPN
We saw many costly VPN services and never understood why it so valuable. Don't hook up on the excellent VPN service provider's website and marketing tricks. A decent VPN for business should cost under 15 USD per month. If you order it for a longer time, you can get it with huge discounts.
So know you already know about the most important factors while choosing a VPN for small business companies. You can take a look at our honestly recommended VPN.
Final thoughts
Cybercrimes against business companies are rising every year. It would be better that your company would NOT fall into the sad statistics. To avoid financial loss from cybercrime, we recommend you protecting your small business with the VPN. It will encrypt your browsing data keep your passwords unreadable. Keep it turned on while you are on-the-go. It will make all hackers gunless against you.
| | | | |
| --- | --- | --- | --- |
|   | | | |
| Download Speed | 65.76 Mbps | 65.29 Mbps | 65.99 Mbps |
| Upload Speed | 29.44 Mbps | 28.41 Mbps | 31.22 Mbps |
| Server locations | 160 | 59 | 62 |
| Encryption protocols | OpenVPN, SSTP, IPSec, L2TP | OpenVPN, SSTP, IPSec, L2TP | OpenVPN, SSTP, IPSec, L2TP |
| Router support | | | |
| Encryption | 256-Bit AES | 256-Bit AES | 256-Bit AES |
| No-log policy | | | |
| Multi-devices | 5 | 6 | 7 |
| Customer support | 10 | 9 | 8 |
| Price from | $6.67 | $3.49 | $2.75 |
| Visit website | | | |
About the author
References