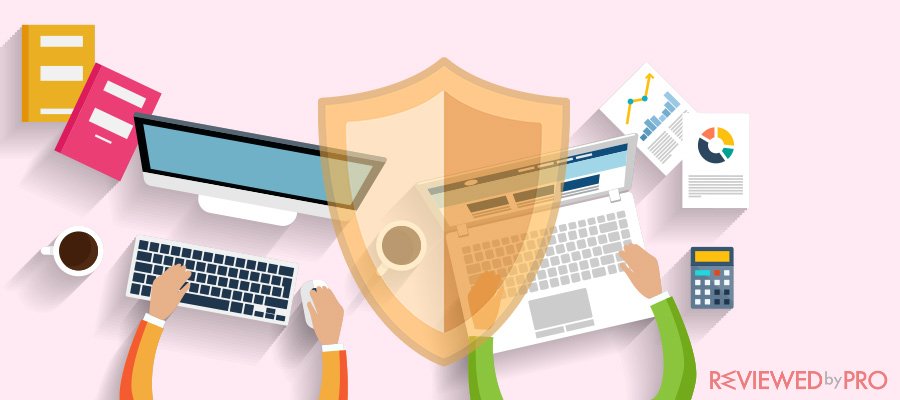 If you are looking for a VPN[1] service for your own small business company, you came to the right place. We have been reviewing different VPN service providers every day and compare them by different aspects.
During the last year, we have tested and reviewed more than fifty VPN service providers and we have what to say for you.
In this article, we are going to analyze the top 10 most popular VPN service providers and give you an output of the best solution for small business.
We have been testing them according to those aspects:
Number of supported users/devices;
Supported platforms;
Download speed Mbps
Servers worldwide;
KillSwitch function;
Supported Modems;
Price/month.
What is VPN and why do I need it for my business?
If you still don't know what VPN is, we will explain it briefly. VPN can be named as Virtual private network. It encrypts[2] your connection, secures your computer, hides your activity on the internet, and lets you bypass various internet content restrictions by geographical area. It means that nobody can see what websites you are visiting and what data you are typing. Users are able to connect to the internet via another server and bypass hacker attacks.

Moreover, it can deliver a secured web connection to company devices. Your employees can use different devices in different places and it will still be secured by a VPN. Nowadays it is very important to encrypt your company's data and be secure from competitors, unsecured wi-fi networks, hackers or government. Just imagine what financial loss could be done if your main competitor could see all your activity on the internet. It is not so difficult to hire a hacker team and track your competitors. VPN is the only way to make your business data encrypted and secure.
What is the difference between a VPN for Personal Use and Small Business VPN?
Nowadays, a simple VPN service cannot meet the requirements of business VPN needs. There are many reasons why small business needs a specific VPN. So let's get down and meet all the differences:
Multi user support. VPN service for small business is designed to use with more than one user. It has one account, which can be used by multiple users. The account holder created different users and passwords for the company's employees for the virtual private network connection. The manager of the account can create, delete or change users' passwords. while a personal vpn user can just change own password.
Server stability and speed – If you are the user of personal VPN, you might know that you are connecting to the VPN server with another thousand of users and you share server's resources. Very often, the server's connection speed is going down or the connection is lost. A VPN for small business works in a different way because you are going to get dedicated server[3] resources and your connection speed and servers reliability will remain the same every time.
Dedicated IP – It is very important when you are traveling, so it means that you know your server's IP[3] and you can connect to your server from any country of the world. This option is also very useful for the companies which work with the freelancers and has remote coworkers.
Software – Business users get a different software from VPN service provider than personal user. Software has more customizable management options
Personal use vs. business use. It is normal that personal VPN is using for personal needs: watch movies, unblock restricted content by geo-blocking[4], and so on. The business VPN service is used more for online business activities, data sharing, data protection, communication, banking and other activities.
How to choose a best VPN service for small business?
We were analyzing many VPN service providers and picked only 10 best for small business. When we tested these services, we took these criteria into consideration:
Simultaneous supported users/Multi devices
Privacy options
Connection speed
KillSwitch
Multi Platform support
Global server coverage
Customer support
Supported routers
Price
So let's review them one by one in all the prospects of view.
Multi device support
Let's say you are the owner of the company or a household and you want to protect all the users of it. For personal use VPN, there would be no questions, but for small business VPN, you need a service which supports multi devices. Some of the VPN providers allow multi-device support, some of them no. We have reviewed more than fifty VPN service providers and made you the list of the best VPN services which allows you multiple device support.
| | | |
| --- | --- | --- |
| VPN service providers | Simultaneous supported users | Visit website |
| | 6 users | |
| | 5 users | |
| | 5 users | |
| | 5 users | |
| | 5 users | |
| | 5 users | |
| | 5 users | |
| | 5 users | |
| | 3 users | |
| | 3 users | |
Cross-platform support
Another difference from personal VPN and small business VPN is the support of the multi-operating system. It is so natural that every person uses different devices with different operating systems. So for small business, it is also very important to use a VPN, which supports as many operating systems as possible. One employee likes Android, another employee likes iOS, another likes Windows OS, so it is better when your VPN service provider supports more operating systems. You never know what will be your needs after 6 months, right?
Customer support of VPN service
There could be various cases when you might need a customer support service. For example, you cannot connect to your vpn server. What to do? Of course, you will try to contact the customer support service. Should be as simple as one, but that's not true. As you already know, we have reviewed many VPN service providers and we could say something about customer support desks. Let's see the best customer support table ratings.
| | | |
| --- | --- | --- |
| VPN service providers | Customer support | Visit website |
| | 10/10 | |
| | 9/10 | |
| | 9/10 | |
| | 9/10 | |
| | 8/10 | |
| | 8/10 | |
| | 8/10 | |
| | 7/10 | |
| | 7/10 | |
| | 7/10 | |
KillSwitch
What is KillSwitch? This function is very important for business users for a very important reason. If you don't have this option on your VPN, your activity on the internet might become trackable at any time. For example:
When your connection to the VPN servers is lost, your IP becomes public. Hackers can see that you are doing on the internet and steal your data.
VPN Connection speed
One of the most important aspect while choosing a VPN service is connection speed. Who wants to wait two hours to download a huge file from your colleague?
The connection speed depends on many variables. Why to choose a service with the lower download speed, when you can choose the faster one, right?
If you are already using the VPN service, it is very easy to check the connection speed. Just open https://fast.com/ and start the test.
We have provided you the list of fastest VPN service providers below.
| | | |
| --- | --- | --- |
| VPN service providers | Download speed Mbps | Visit website |
| | 65.99 Mbps | |
| | 65.98 Mbps | |
| | 65.80 Mbps | |
| | 65.76 Mbps | |
| | 65.55 Mbps | |
| | 65.42 Mbps | |
| | 65.29 Mbps | |
| | 65.19 Mbps | |
| | 65.05 Mbps | |
| | 64.95 Mbps | |
Supported routers
If your VPN service can be configured on your local router, it can perform much better. Just imagine, all the devices which connects the internet via that router will be secured automatically and will be protected. With the VPN connected router, you'll never have to worry about forgetting to connect to a VPN server, because you're always protected right from the source. Also you don't need to bother installing different apps on all your devices. VPN on your router[5] protects each new device automatically. Just connect to Wi-Fi and you are already secure. No need additional extra steps!
| | | |
| --- | --- | --- |
| VPN service providers | Supported routers | Visit website |
| | DD-WRT & Tomato Firmware, Linksys, Asus, Netgear | |
| | DD-WRT & Tomato Firmware, Linksys, Asus, Netgear | |
| | DD-WRT & Tomato Firmware, Linksys, Asus, Netgear | |
| | DD-WRT & Tomato Firmware, Linksys, Asus, Netgear | |
| | DD-WRT & Tomato Firmware, Linksys, Asus, Netgear | |
| | DD-WRT & Tomato Firmware, Linksys, Asus, Netgear | |
| | DD-WRT & Tomato Firmware, Linksys, Asus, Netgear | |
| | | |
| | | |
| | not supported | |
VPN Global server coverage
The number of servers around the globe is not very important for using VPN, because it will not change download or upload speed. The main thing is to hide your activity on the internet and secure your session.
But if we are choosing the best VPN service for small business, global server coverage is good for bypassing geo IP restrictions. The importance of server number around the world is that you can connect to the desired country and watch the content that is locked for other countries. For example, if you live in Canada, you cannot watch American Netflix. It is because of geographical restrictions of Netflix. In other words, Netflix wants to show their movies, TV shows, and serials only for American citizens. So if the VPN service providers have many servers in The United States, you can connect and watch the American Netflix by bypassing the geographical restriction. It is extra feature for business users, but not the common.
Below you will see the list of the best VPNs providers by server count around the world.
| | | |
| --- | --- | --- |
| VPN service providers | Servers worldwide | Visit website |
| | 225 servers | |
| | 145 servers | |
| | 98 servers | |
| | 72 servers | |
| | 65 servers | |
| | 62 servers | |
| | 60 servers | |
| | 55 servers | |
| | 25 servers | |
| | 22 servers | |
VPN price
Another and not least important option while choosing a decent VPN service for small business provider is the PRICE. We have seen a wide range of prices while reviewing the VPNs.
The prices vary from 1 dollar to 20 dollars per month and sometimes it was difficult to understand why it so different while service remains the same. Below you will see the table with the best price options of VPN service providers.
The simplest way to calculate the price for the multiple device support is to divide the price from the number of supported devices and you will see the price per one device. It is so simple.
Total Price / Supported device number = Price per 1 device
Very often, a VPN service provider offers super deals on sale. Try to visit every website and find the best deal of that day. Trust me, it is worth your effort to get a real deal on the price.
| | | |
| --- | --- | --- |
| VPN service providers | Price / month | Visit website |
| | $2.75 | |
| | $3.33 | |
| | $4.17 | |
| | $4.91 | |
| | $5.00 | |
| | $5.83 | |
| | $6.49 | |
| | $6.99 | |
| | $6.99 | |
| | $8.33 | |
Best 3 VPN for small business
From all the ten VPN service providers, we have picked TOP 3 VPNs:
ExpressVPN for small business

ExpressVPN[6] is regarded as one of the better VPNs at the moment. Basically, this tool is suitable for both beginners and professionals alike as it is quite easy to use but also has a lot of extra features (similarly to NordVPN). Being among the better choices on the market, ExpressVPN offers a wide range of perks and features.
| | |
| --- | --- |
| PROS | CONS |
| Compatible with many devices and platforms | High price |
| High level of security | Configuration limits |
| 24/7 customer service | No ad blocker |
It is also important to mention that you have the choice of 30-day money-back guarantee, so there are literally no risks to the user – you can get your money back if something goes wrong.
Read about ExpressVPN
NordVPN for small business
NordVPN[7] is a very simple and reliable VPN service, which covers a wide geographical range of 62 countries and has more than 5000 servers.

| | |
| --- | --- |
| PROS | CONS |
| Wide geographical reaches | Performance hits and drop connections |
| Double VPN for twice the encryption | A monthly plan might seem expensive |
| User-friendly and pleasant interface | Not clear ownership |
Nord Virtual Private Network is a great choice for those who want to visit sites that are unavailable in their own country.
NordVPN was initially released in 2012 and today has more than 1 million customers worldwide.
Read about NordVPN
PureVPN for small business

PureVPN[8] is a commercial virtual private network on VPN service users based in Hong Kong. Pure VPN was first released in 2006 and today is used by more than three million Internet users all around the world.
| | |
| --- | --- |
| PROS | CONS |
| Offering one of the widest geographical reaches | Performance hits and slowdowns |
| A very informative user interface | Previous instances of DNS, IPv4 and IPv6 leaks |
| User-friendly interface | Rough reviews by third-parties |
The company also provides easy-to-use apps for various devices across the most popular operating systems, such as Windows, Mac, iOS, Android, Linux, Amazon Fire TV Stick, Kodi, and Android TV.
Final thoughts
If you want to use a VPN for small business in 2019 safely, here is the table with the most trusted VPN service providers for small business. VPN will hide all your activities on the internet and protect your devices from internet viruses.
| | | | |
| --- | --- | --- | --- |
|   | | | |
| Simultaneous supported users | 3 users | 6 users | 5 users |
| Supported platforms | 10 | 9 | 8 |
| Customer support | 10 | 9 | 9 |
| Download speed Mbps | 65.76 Mbps | 65.29 Mbps | 65.05 Mbps |
| Servers worldwide | 98 | 60 | 145 |
| Price / month | $8.33 | $6.99 | $4.91 |
| Visit website | | | |
About the author
References