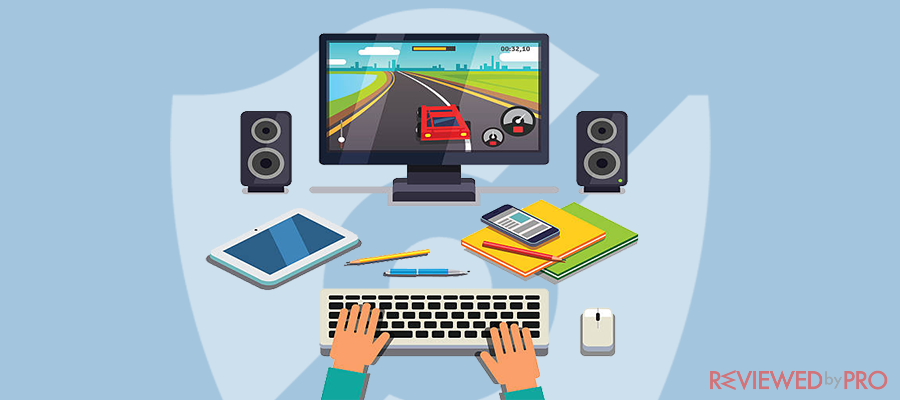 best vpns for gaming
In this article we are going to talk about the best VPNs for gaming and why do we need it at al. Everybody understands, that our world has become a global village due to the tech revolution, which has connected every one of us online.
While the Internet, online gaming, and social media have made our lives more convenient and fun, it has also made it less private. The introduction of VPNs into the tech-market has offered us a blanket of privacy from prying eyes, with extra security and anonymity, especially in the world of gaming.
If you're an avid gamer and need access to all the latest features of your favorite game, then stay with us and read through to know, "which are the five best VPNs for gaming?". If you don't have much time to read all the article, there is a summary:
ExpressVPN – well-known VPN in the gaming market. Great solutions for gaming and other online activity. It offers Ultra-fast servers and excellent connection speed. Will unblock Twitch from any point in the world.
NordVPN – one of the best (if not the best) VPN on the market. Fast servers, high internet speed made it valuable among the video gamers of the world.
CyberGhostVPN – the best value for money you can get on the market. It fits perfect for gamers. It has a friendly user interface, good connection speed, and powerful encryption.
IPVanish – superb VPN for avid gamers. Great speed and performance ration.
VyprVPN – great quallity and customer support.
Top-rated and the Best VPNs for Gaming:
We have assembled a list of top 5 VPNs for gaming by explaining the difference in their prices, app support, country coverage, and other things to help you decide which VPN is perfect for you. To ensure quality, we are not sharing information on any free VPN service.
1. ExpressVPN – ultra fast connection and wide server network makes this VPN one of the best for gaming
Official website
www.expressvpn.com
Rating
  (Excellent – 4.8/5)
Available applications
 
Money-back guarantee
30-days
Price from
$6.67 (-49% deal)
Visit website
More information
ExpressVPN review
If Express VPN were a battle royale player in a deserted island against 99 other threats like geo-blocking, censorship, and government policies, then ExpressVPN would be the last man standing after defeating them all to shout "Winner Winner Chicken Dinner." Such are the types of features it provides, with over 3,000 VPN servers located in 94 different countries/regions, Express VPN is the go-to app to enable a safe and fast environment for gamers.
Express VPN provides its encryption feature through an OpenVPN, which allows you to pick between Transmission control protocol(TCP) and User datagram protocol (UDP)—which is better for gaming.
To cover all ends, Express VPN is available on all significant platforms like Android, iOS, Windows, and macOS.
Furthermore, you can share it across five different devices with a single account. With a 30-day money-back guarantee, you can purchase this VPN for $6.67 per month.
Here are some of the other positives feature for you to examine:
| | |
| --- | --- |
| Pros | Cons |
| Offers Torrenting | A tad bit costly. |
| Allow access to different versions of Netflix. | Limited user-control. |
| Multi-platform support for OS, including Linux. | Not available as a Chrome Browser extension. |
| It offers coverage to all primary gaming servers such as North America and Western Europe. |   |
| 256-bit key encryption. |   |
| Fast Internet with minimal ping. |   |
| Money-back guarantee. |   |
From the pros and cons list, it is evident that Express VPN is an excellent choice to tackle all your gaming needs in a secure and private environment.
2. NordVPN – a well-known brand in the gaming world for its security options and speed
Official website
www.nordvpn.com
Our Rating
(Excellent – 4.9/5)
Available applications
 
Money-back guarantee
30-days
Price from
$3.49/month (-70% deal)

Visit website
More information
NordVPN review
Offering coverage in 61 countries, Nord VPN has all of the significant gaming server hotspots covered. With more user-control, it is one of those VPNs, which is built, not just to provide privacy for gaming, but everything else too, period!
It offers fast and stable servers with suitable security protocols, which allow you to access blocked content in your country in no time. You can use NordVPN across all major platforms and utilities, including Windows, iOS, macOS, Android, and Chrome Browser extension. You can use this VPN in 6 different devices under a single user account.
For gaming, NordVPN applies a secure OpenVPN encryption, which protects your gaming system from any DDoS attack.
However, its OpenVPN is known for being less user-friendly, which requires you to download a ZIP file of each NordVPN's servers separately.
It has a much more extensive customer care than any other VPN service. You can get this affordable VPN at a mere price of $3.49/month. Here is a brief overview of NordVPN's pros and cons.
| | |
| --- | --- |
| Pros | Cons |
| Available in major platforms. | Not available for Linux operating system. |
| Affordable packages and payment in Bitcoin. | The official website blocked in places like Pakistan. |
| Minimal latency issues for gaming. | Country specific servers only |
| Available for torrenting. | Less than friendly OpenVPN configuration. |
| Money-back guarantee. |   |
| No DNS leaks |   |
3. CyberGhostVPN – cheap but high quality VPN for gamers
Official website
www.cyberghostvpn.com
Rating
  (Great – 4.5/5)
Available applications
 
Money-back guarantee
45-days
Price from
$2.75 (-80% deal)

Visit website
More information

CyberGhost review
Probably one of the most underrated VPNs ever, CyberGhost is based in Romania, a place with lenient privacy and security laws, which allows the VPN to give more protection and privacy to its subscribers.
Available in more than 60 countries, CyberGhost unique features include a variety of encryption protocols and good connection speed to keep gaming much more secure and smooth. It offers the option to kill the internet connection if you feel your Internet is not safe with its 256-bit encryption.
You can use the application in 7 devices under one username across all platforms. With a 45-day money-back assurance, CyberGhost is available at the price range of $2.75/month. A brief list of software's advantages and disadvantages are listed below:
| | |
| --- | --- |
| Pros | Cons |
| Extremely handy for gaming and torrenting. | It does not have an extensive coverage plan. |
| Available in Windows, macOS, Linux, iOS, and Android. | Limited live customer care support. |
| 45-day money-back guarantee and cheap rates. |   |
| More user-control. |   |
| Accepts payment in Bitcoin. |   |
4. VanishVPN – not the cheapest, but fast and secure
ipvanishVPN
Rating
   (Average – 3.4/5)
Available applications
 
Money-back guarantee
7-days
Price from
$ 6.49/month
More information
IPVanishVPN review
IPVanish has a slick user interface, which is convenient for online games due to its fast connection speed and low ping. One of the most noteworthy thing about this VPN is that it owns all of its servers, that doesn't keep a record of your internet activity and restricts the user-information within the company's limits.
It covers 60+ countries, including all the notable gaming hotspots, to purchase gaming items at a lower price and offers services across multiple platforms such as Windows, macOS, Android, and iOS. Its UI allows you to connect ten devices under one account so that you and your friends could have a relaxing gaming experience.
However, it only has a 7-day money-back assurance, which is significantly lower than other VPNs, and it is based in the USA, which is not an ideal scenario. But, if you're thinking of getting a VPN to make your gaming experience worthwhile, then IPVanish is a perfect candidate, which is available under different deals starting from $5.20/month.
| | |
| --- | --- |
| Pros | Cons |
| User-friendly interface. | 7-day money-back guarantee. |
| 18-hour/day customer care support. | Higher price. |
| Multi-platform availability. | USA-Based VPN and no purchasing in Bitcoin. |
| Brilliant for Gaming. |   |
| Kill switch and DNS leak protection. |   |
5. VyprVPN – the last but not the worst VPN service that is suitable for playing online games
vyprvpn
Rating
(Good – 3.9/5)
Available applications
Money-back guarantee
30-Days Money Back Guarantee
Price from
$ 5.00
More information
VyprVPN review
The last one on the list of recommended VPNs is VyprVPN, which is arguably the fastest VPN available in the market. The reason it is at the end of our endorsed software is that it keeps tabs of your internet antics for 30-days, such as your IP address, the VyprVPN IP address you used, the while log of your connection runtime and the number of bytes you consumed. It also doesn't accept payment in cryptocurrency, which leaves your payment info out in the open. You are also not allowed to run the application on devices more than 5.
You can also use it across multiple platforms and can buy its premium package at the cost of $6.67/month with 30 Day money-back guarantee. So, if you're more concerned about your gaming and internet speed rather than privacy, then VyprVPN is the one for you!
| | |
| --- | --- |
| Pros | Cons |
| The fastest VPN out there. | Relatively expensive. |
| CloudVPN. | It only supports basic VPN features. |
| Private servers. | It doesn't accept payment in cryptocurrency. |
| Money-back guarantee. |   |
| 24/7 live support. |   |
VPN is a popular tool among the gamers that can change your IP location and secure your gaming session
Before finding out the top VPNs for gaming, it is essential to know what is a VPN application is, how does it ensure safety, and why should you use it while playing online games.
VPN or Virtual Private Networking is a technology that offers a secure connection to your computer to connect privately with the servers of the VPN and create a bubble where no one will know the location of your PC. It allows you to choose which country's servers you want to make all outgoing and incoming connections with the servers of the game you intend to play.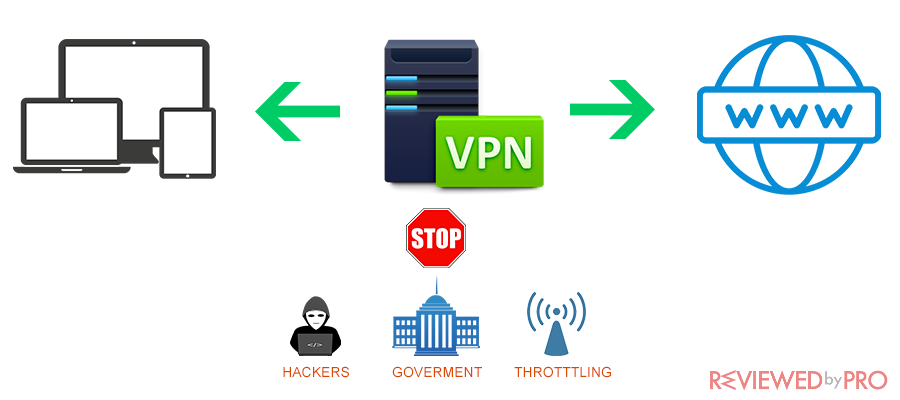 These servers related to the countries on the list are all owned and preserved by your VPN provider, which allows you to mask your identity and hide your ISP, which enables freedom while surfing the Internet under the VPN's encryption.
VPNs can be used by both businesses and individuals alike to meet their needs and purposes, such as encrypting and securing sensitive information, and download content blocked in your country.
To answer the query of why should you use a VPN for gaming, when you play an online game like Fortnite while connected to any VPN, it will show a different identity and IP address to the servers of the game. It will provide you the option to play in specific tournaments that are not accessible in your country, help you purchase certain features of the game that developers do not reserve for your region. As for AAA games, with minor assistance from a VPN, you can save much money upon their release.
Other than bypassing geo-blocking in games, your VPN will offer several unique advantages like masking your travel arrangements and purchases observed by entities such as your internet provider, hackers, and the government.
It is safe to acknowledge the fact that for as long as the Internet has existed, there has been a requirement for something to stop the leakage of valuable user information, and there's nothing better than the VPN technology.
Virtual private network makes your gaming experience secure and private
Since the launch of streaming services like Twitch and Mixer, online gaming has become one of the most profitable professions in the world, and its popularity has expanded to new horizons in recent years.
As of July 2018, out of 7 billion humans, there are 2.2 billion gamers around the globe, meaning almost a third of people on this planet are gamers. Twitch, which is the number 1 streaming platform in the world, has viewers who have spent 355-billion hours viewing games on the platform in 2017, which implies that people are investing their time and money on online games and all their subsets like never before.
Such bombastic stats have enabled game players to be recognized as celebrities. Moreover, it has encouraged people across the world to take a swing at the latest trend and make a living out of it.
Unfortunately, due to various copyright issues and piracy laws, not everyone has the kind of access to the latest games and their features like people living in regions like North America have. In some parts of Asia, which are the fastest-growing market in the gaming industry, users are still not able to stream and play their content online through Twitch and Mixer, due to various copyright issues and government restrictions.
On the other hand, online games like Minecraft, World of Warcraft, and Fortnite are prone to be hacked like never before. It is due to the sole reason that your bank/credit card information is directly linked with these games. Despite the efforts of the game developers and studios, these platforms have become hunting grounds for hackers to steal user data.
VPNs, despite the latency and slow internet issue, provide users the opportunity to purchase new games at a low price, compete in tournaments that aren't available in their region, and play risk-free without having to think about any DDoS attack from hackers.
It is easy to select the best VPN for gaming if you know what to look for
Before purchasing a VPN service, it is vital to know what your requirements are and what facility do you expect from the VPN. It is not a concealed fact that a wrong VPN can cause latency issues and slows the Internet, which could prove to be disastrous, especially for online gameplay. Another significant factor that you should take into account is the cost of the VPN and how much you could afford. Here you will learn more about what features you should be looking into before finally picking a VPN for gaming.
Server Locations and Coverage: Geo-blocking prevents users from accessing extensive built-in game features that can be found in particular regions like North America and Western Europe. It also stops players from their area to compete in in-game tournaments due to individual piracy, hacking, and government policies. Before picking a VPN, you should research whether that provider is offering privacy protection and coverage in virtual locations you want to explore or not. If the VPN is providing services in the USA, Canada, United Kingdom, and Germany, then you are good to go.
Internet Connection Speed: If you intend to keep up with the fast pace competition, online gaming demands expert hand-eye coordination and a fast-stable internet. It is known that VPNs tend to slow down the internet speed and increases latency/ping. If you have a tenuous internet connection, you would not be able to showcase your online gaming skills with efficiency. Fortunately, few VPNs do not hinder the Internet's speed and allow you to play with full flow. That's why you need to make a wise choice and pick a VPN that supports your specific needs.
Supported Devices and Platforms: Online gaming is an industry dominated by Windows PC. But since the advent of 4G, mobile gaming has burst into the mainstream, making it a potential market for the developers to invest and make profits. In recent memory, such game designers have created mobile versions of their PC games like PUBG Mobile and Call of Duty, which are also playable on PC. Before getting a VPN, it is essential whether it has a native app on platforms like Android and iOS for users to access their games on the go.
Security and Privacy options: It is worth mentioning that the number one reason to choose a VPN is to ensure the safety and privacy of your personal information and digital data. If your VPN isn't providing these essential utilities or using traditional encryption, then pick a provider that has registered encryption tech to make data that much more safe. Moreover, some VPNs offer military level encryption and security. You should also note where the VPN service is based in, as, in some countries, tech companies are obligated to provide user log quarterly, which directly points to less security and privacy.
Price: It all ends with the cost of the VPN. If you're looking for a proxy app to enhance your gaming experience, then you have to spare a few bucks for a good VPN. However, before making an impulse decision, you should compare the prices of the available providers to your budget.
Nowadays, to tackle the growing competition, VPN providers have lowered their subscription prices and tend to offer a discount on packages consistently, so you must look out for seasonal sales and coupons.
I would not use a Free VPN if I were you
As Heath Ledger's Joker said during an intense scene in Dark Knight(2008), "if you're good at something, never do it for free!" So, to explain it, using a free VPN is never a smart choice, even to play games, as it only masks your IP address, without providing any means for security or privacy with the bombardment of ads and cookies. And, we all know that online games take a hefty amount of bandwidth, which the free VPNs do not offer.
We suggest that you shouldn't even bother to download a free VPN, much less use it on your PC.
Bottom Line: The revolution of technology and our complete dependence on the Internet has sort of exposed our personal lives. With new games releasing every year with extra features and updates, you're inclined to pay for them, leaving your payment info vulnerable.
The VPN technology offers you the chance to protect your private information and allows the freedom to bear the fruits of the Internet. In this article, we have debated the top 5 VPNs that could enhance your gaming experience with added security and privacy against meddling eyes. You can pick any one of them, depending on your requirements. However,
Express VPN is our pick as the best VPN for gaming and purchasing in-game features.
Set Up a New VPN on your or PC easily
Setting up a new VPN is pretty straightforward and doesn't require much technical knowledge. Here are the steps to run a new VPN on your PC.
After downloading the VPN app on your computer, open it by clicking its icon from the desktop or searching it on the taskbar's search bar.
Once the VPN is open, enter your username and password.
If you're using it for gaming, select a VPN server situated near the gaming server to which you want to play your game.
Enter the connect button.
That's it! You're ready to play in a safe and private environment.
Wide possibilities of VPN usage
Other than using it to prevent other gamers from finding out from which location you play or prevent any DDoS attacks from hackers, there are multiple things where you can bear the fruits of this beautiful technology.
1. Using Youtube: Youtube is a hub for information and entertainment alike. Unfortunately, it is banned in some regions of the world due to individual copyrights and censorship issues. With the help of a well-reputed VPN, you can easily access the leading video platform and watch videos without any latency issues.
2. Streaming Netflix: In 2016, Netflix rocked the world by expanding its streaming service worldwide. However, after some time, users seemed to notice that Netflix's content was not linear across different regions. For example, it's always sunny in Philadelphia, one the greatest sitcoms in history is available only on Netflix UK, and you can not watch it anywhere else. If you intend to stream restricted content privately, then VPN is the best bet.
3. Shop Online: To shop or purchase items online, you are required to enter your credit card information on the website, which can be tracked by unwanted parties. A VPN allows a blanket cover with its military-grade encryption to safeguard your bank information and prompts you to buy anything you want.
Recommended VPNs
Options
Location
B.V.I. Islands
Panama
Romania
Servers
3000+
5000+
3500+
Countries
160
60
60
Supported devices
5
6
7
Torrenting

✔

✔

✔

U.S.Netflix

✔

✔

✔

Encryption and protocols
AES-256

✔

✔

✔

OpenVPN

✔

✔

✔

PPTP

✔

✔

✔

L2TP

✔

✔

✔

SSTP

✔

✔

✔

IPsec

✔

✗

✔

Internet connection speed

Download speed
83.15
72.33
71.10
Upload speed
35.18
48.18
36.45
Security features
SSL

✔

✔

✔

No-Log

✔

✔

✔

Kill Switch

✔

✔

✔

Ad-Blocking

✔

✔

✔

Double encryption

✗

✔

✗

IP Leak protection

✔

✔

✔

Operating systems
Windows

✔

✔

✔

Mac

✔

✔

✔

Android

✔

✔

✔

Linux

✔

✔

✔

iOS

✔

✔

✔

XBox

✔

✔

✔

PS4

✔

✔

✔

Browser extension
Chrome

✔

✔

✔

Firefox

✔

✔

✔

Other features
Router support

✔

✔

✔

Free version

✗

✗

✗

Accepts Bitcoins

✔

✔

✔

Money back guarantee
30 days
30 days
45 days
Read a review
review
review
review
Paid version from
$6.67/month
$3.49/month
$2.75/month
Try
About the author