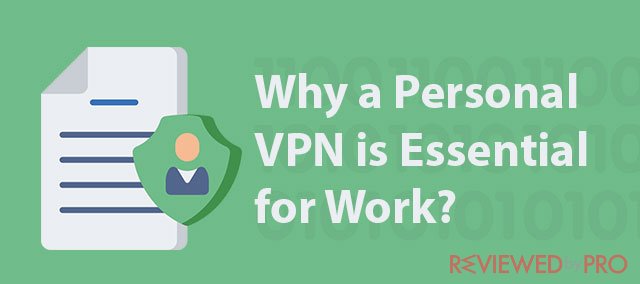 Why a Personal VPN is Essential for Work?
As offices reopen, many of us are saying goodbye to working from home and reentering the professional working environment. Although working in the office provides us with a way to better socialize and communicate with co-workers, some downsides come with this return to normalcy.
One con is that business networks impose many restrictions, meaning that you can't access certain websites. Say you want to listen to a podcast while you work or catch up with some YouTube videos during your lunch break, you'll be unable to if your work network has a firewall in place.
With that in mind, purchasing a VPN is an excellent decision if you're returning to the office soon. It will ensure that you have a degree of freedom on your devices and can continue enjoying some activities you have gotten used to while working from home.
A VPN can Bypass Network Restrictions
Even if you use a personal device such as your smartphone or tablet, it will not get past restrictions that your employer has put in place if it is connected to your work network. For example, access to social media sites like Facebook and Instagram will likely be blocked, as will the use of streaming services.
Although you most likely won't be using these websites during working hours, you may want a little respite during your lunch break. By using a VPN, you can effectively bypass your company's firewall and re-route all of your internet traffic via a VPN server. This will allow you to check your Instagram feed while eating lunch if you want to.
VPNs Hide Your Web Traffic
Not only does a VPN bypass firewalls, but it hides your internet activity from your boss. For example, if you're connected to your company wi-fi, then the network may be able to see which websites you're visiting and how often. This could be embarrassing if you're looking up sensitive information on search engines or visiting sites that you'd rather no one know about.
With a VPN, the advanced encryption transforms your web traffic into indecipherable code; so, even if your company is aware of your VPN use on its network, it won't be able to see your VPN usage!
Enjoy More Online Freedom with a VPN
Without a VPN, you're pretty restricted regarding what websites you can visit geographically. When connected to a VPN server in another country, your IP address will change, enabling you to bypass geo-blocks online. You can enjoy more content online such as foreign Netflix TV shows and YouTube videos.
As well as being able to enjoy more freedom online during your lunch break at work, a personal VPN can help you check up on specific markets overseas. For example, if you work in marketing and need to check up on foreign trends, you can change your IP address and carry out some easy research online.
Purchase a Personal VPN
Whether you want a VPN for use at home or in the workplace, PrivacySharks has got you covered. The website offers reviews of cybersecurity products and services, helping users worldwide enjoy more freedom and privacy online.
 TOP Rated VPNS for personal use
Options
Location
B.V.I. Islands
Panama
Romania
United States
Singapore
Servers
3000+
5000+
3500+
3292
1000
Countries
160
60
60
29
53
Supported devices
5
6
7
10
5
Torrenting

✔

✔

✔

✔

✔

U.S.Netflix

✔

✔

✔

✗

✔

Encryption and protocols
AES-256

✔

✔

✔

✔

✔

OpenVPN

✔

✔

✔

✔

✔

PPTP

✔

✔

✔

✗

✔

L2TP

✔

✔

✔

✔

✗

SSTP

✔

✔

✔

✗

✗

IPsec

✔

✗

✔

✔

✗

Internet connection speed

Download speed
83.15
72.33
71.10
68.55
52.55
Upload speed
35.18
48.18
36.45
32.95
28.78
Security features
SSL

✔

✔

✔

✔

✔

No-Log

✔

✔

✔

✔

✔

Kill Switch

✔

✔

✔

✔

✔

Ad-Blocking

✔

✔

✔

✔

✔

Double encryption

✗

✔

✗

✗

✗

IP Leak protection

✔

✔

✔

✔

✔

Operating systems
Windows

✔

✔

✔

✔

✔

Mac

✔

✔

✔

✔

✔

Android

✔

✔

✔

✔

✔

Linux

✔

✔

✔

✔

✔

iOS

✔

✔

✔

✔

✔

XBox

✔

✔

✔

✗

✗

PS4

✔

✔

✔

✗

✗

Browser extension
Chrome

✔

✔

✔

✔

✔

Firefox

✔

✔

✔

✔

✗

Other features
Router support

✔

✔

✔

✔

✔

Free version

✗

✗

✗

✗

✗

Accepts Bitcoins

✔

✔

✔

✔

✔

Money back guarantee
30 days
30 days
45 days
30 days
30 days
Read a review
review
review
review
review
review
Pricing from
$6.67/month
$3.49/month
$2.75/month
$3.33/month
$1.88/month
Try
About the author