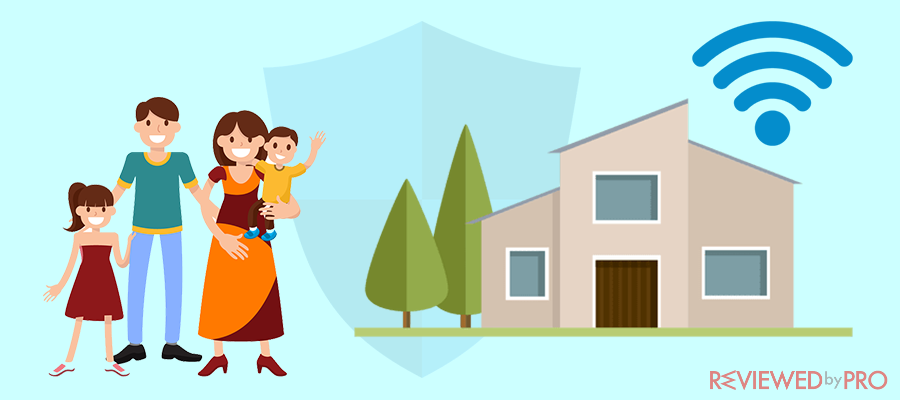 The Best VPN for Home Users (Family use)
If you care about your family security and privacy, this article is just for you. We will review the best VPN for home users and families. There are so many VPNs service providers on the market and not all of them suits for FAMILY USE. It is very difficult to decide which VPN will protect all your family members, devices, unblock Netflix, Hulu and other video streaming services from abroad.
The best tested VPNs for Home and Family users
We understand that time is of the essence, which is why we have laid out a summary for you regarding the best VPNs that a family can use with a complete sense of security:
ExpressVPN – topmost VPN that offers support across 5 devices with stable internet speed;
NordVPN – offers an extensive range of servers worldwide with the option to connect 6 devices at once with a single account;
CyberGhostVPN – offer support on 7 devices simultaneously through the confines of a single account's info with a 45-day money-back guarantee;
IvacyVPN – you can connect 5 devices at the same time with this VPN and watch anything that you hold dear online;
ProtonVPN – provides the means to connect as much as 10 devices all at once while giving good connection speed through its ever-increasing servers;
It is tough to find a VPN that is capable of providing multi-device support for the whole family with the same efficiency that it gives when a single device is in use. Fortunately, we have found out the top 5 VPNs that not only provide the necessary cushion for your family's internet privacy but offer other significant features that are necessary to make the whole browsing experience worthwhile.
1. ExpressVPN – super fast and secure VPN for up to 5 family members
Official website
www.expressvpn.com
Rating
  (Excellent – 4.8/5)
Available applications
 
Money-back guarantee
30-days
Price from
$6.67 (-49% deal)
Visit website
More information
ExpressVPN review
The most family-friendly VPN of the lot is ExpressVPN, which started out in 2009 from the British Virgin Islands. It not only offers multi-device support across different platforms, but it also grants you direct access to restricted sites like Hulu, Netflix USA, and Disney+ through the anti-blocking utility, with guaranteed fast internet speed and unlimited bandwidth.
You and your whole family can connect to any one of ExpressVPN's 3000+ servers that are available in 94 countries to access any site in the world and do other things that you hold dear. The best thing about ExpressVPN's server coverage is that it upholds stable speed as high as 117MBPS, which is more than any other VPN has to offer.
If your intention is to get a VPN for your family, then it must be able to support multiple platforms as it is unlikely for each member of the household to carry the same device. It is the reason why Express allows you to connect 5 devices at once with a single account across the following platforms and devices:
Windows PC;
macOS;
iOS;
Linux;
Every Android phone and TV;
Amazon FireOS and other devices;
There is nothing important for a person than the safety of his or her's family. A VPN's primary job, especially in this climate, is to provide the necessary shelter from meddling eyes, ISPs, government, and cybercriminals. Knowing that ExpressVPN doesn't comply with any international data sharing alliance like the five eyes, and it keeps no-logs of your data/activity. Here are some of the security methods that ensure your family's online safety without any issue:
256-bit encryption;
IP masking;
Kill switch;
Split tunneling;
Open VPN;
Some might find ExpressVPN's pricing plan to be a tad over the top, but there is no price for the safety of your family, and Express offers reasonable plans for the users along with a 24/7 customer service to help you when needed. Here are the top three subscription plans of ExpressVPN:
$6.67 per month for 15 months with a first 30-days refund guarantee;
$9.99 per month for every 6 months with a first 30-days refund guarantee;
$12.95 per month-single subscription with a first 30-days refund guarantee;
| | |
| --- | --- |
| PROS | CONS |
| Compatible with many devices and platforms | High price |
| High level of security | Configuration limits |
| 24/7 customer service | No ad blocker |
2. NordVPN – the best solutions for American families, because of the local extensive server selection list
Official website
www.nordvpn.com
Our Rating
(Excellent – 4.9/5)
Available applications
 
Money-back guarantee
30-days
Price from
$3.49/month (-70% deal)

Visit website
More information
NordVPN review
Nord offers a user-friendly interface that anyone in your home can use without any confusion. Conducting its business from Panama since 2012, Nord has the complete ability to allow you access to sites like Netflix US, Amazon Prime Video, and others with 4K resolution and unlimited bandwidth to go with it. It doesn't matter if you wish to browse online or play your games privately, Nord can do it all.
You can unlock any content by merely just connecting to any of Nord's 5500+ servers spread across 62 countries. All of them are capable of establishing a stable internet connection. Other than that, Nord offers specialty servers, which include dedicated IPs for select countries, obfuscated servers when you are having trouble connecting, and P2P.
The only logical explanation behind purchasing a VPN service for the family's use is that it should be able to support multiple cross-platform devices at the same time. Nord allows you to use its service on 6 different devices simultaneously at the same time:
Windows;
Linux;
macOS;
iOS;
Android;
Amazon FireOS and other devices;
Following Nord's CyberSec option that is an anti-phishing utility, Nord has a firm no-logs rule against information sharing. You can check Nord's other features in the list below:
AES 256-bit encryption;
Automatic Kill switch;
DNS leak protection;
Onion over VPN & Double VPN;
Split tunneling;
With a 24/7 customer service that includes live chat and other features like a ticket system and tutorials, all of Nord's below-mentioned plans come with a reasonable 30-day refund guarantee:
$3.49 per month for three years;
$4.99 per month for two years;
$6.99 per month for one year;
| | |
| --- | --- |
| PROS | CONS |
| Wide geographical reaches | Performance hits and drop connections |
| Double VPN for twice the encryption | A monthly plan might seem expensive |
| User-friendly and pleasant interface | Not clear ownership |
3. CyberGhostVPN – inexpensive VPN service that can encourage sucurity for up to 7 home users
Official website
www.cyberghostvpn.com
Rating
  (Great – 4.5/5)
Available applications
 
Money-back guarantee
45-days
Price from
$2.75 (-80% deal)

Visit website
More information
CyberGhost review
CyberGhostVPN operates all of its privately-owned servers from Romania and keeps everything you do online safe for as long as you want through its infinite bandwidth. It also establishes the needed gateway to access content from sites like Disney+, Amazon, and others. You or anyone in your family can also use CyberGhost to download files or media from BitTorrent.
All of CyberGhostVPN's 5800+ servers across 90 countries and locations can provide high-speed internet to unlock the things mentioned above. So, if you wish to access bypass geo-restrictions or play in gaming tournaments, then CyberGhost is your helper in all such scenarios to get by.
None of those VPNs, as mentioned above, offer support on different devices as much as 7 like CyberGhostVPN does, which you and members of your family can use with ease. Here are the platforms on which CyberGhost has apps for you:
Windows;
macOS;
iOS;
Android;
Linux;
Amazon FireOS and other devices;
Other maintaining a no-log rule to keep your data out of the hands of powerful entities, CyberGhost offer several other features to keep everyone in your family under a safety blanket whenever they use the internet:
256-bit encryption with an OpenVPN;
DNS leak prevention;
Split-Tunneling for different apps on your device;
An automatic kill switch;
Other than allowing coverage on 7 devices at once, no other VPN offers a 45-day money-back guarantee with 24/7 live customer support. Here the price plans of CyberGhostVPN:
$3.69 per month for 24 months;
$5.99 per month for 12 months;
$12.99 each month;
| | |
| --- | --- |
| PROS | CONS |
| Offering one of the widest geographical reaches | Performance hits and slowdowns |
| A very informative user interface | Not many personalized options |
| Easy setup and quick to start | Rough reviews by third-parties |
4.IvacyVPN – the cheapest VPN from Asia that covers up to 5 family members
Rating
   (Great – 4.4/5)
Available applications
 
Money-back guarantee
30-Days Money Back Guarantee
Price from
$1.33/month
More information
IvacyVPN review
IvacyVPN comes from Canada and fully understands the importance of cybersecurity of your family against the ones with evil intentions. While maintaining the necessary security aspects, Ivacy can bypass geo-restrictions, saves you from a DDoS attack, and much more.
IvacyVPN allows you and the members of your family to choose any of its 1000+ servers that are available in 100+ locations. All of them have limitless bandwidth to go with a high-speed internet connection.
Knowing what Ivacy offers to make online browsing convenient for everyone in your family, it permits you to use your account on 5 different devices simultaneously or any time of the day. You can also download the VPN's native apps for the following platforms to access its intuitive interface:
Windows;
macOS;
Linux;
iOS;
Android;
Amazon FireOS;
While it is hard to believe that IvacyVPN fully maintains its no-log rule while operating from Canada, we still have to believe it as its word. Here are some other encryption methods that back its claim:
256-bit encryption
And instant Kill Switch with DNS leak prevention
Split Tunneling
Open VPN
Virus protection
IvacyVPN provides 24/7 customer care service and offers a 30-day money-back guarantee with the following subscription plans:
$2.25 per month for two years;
$3.33 per month for 1 year;
$9.95 each month;
5. Protect up to ten family members or home users with ProtonVPN
Rating
   (Good – 4.3/5)
Available applications
 
Money-back guarantee
45-days
Price from
$4.00

More information
ProtonVPN review
ProtonVPN works behind the safety net of Switzerland's privacy protection laws, 1000 meters down the surface of the earth in CERN, that make sure each member of your family remains safe from the hands of petty hackers and prying data sharing authorities. It does all that while bypassing geo-blocking and providing stable internet speed with infinite bandwidth to access sites like Netflix, Hulu, Amazon, and others.
Servers of ProtonVPN are increasing and getting updated with extended capacity. As of now, you can connect or access as much as 602 servers of ProtonVPN in 44 countries with 704 Gbps capacity.
Proton has variable device supports depending on what package you subscribe to, but it goes to as high connection on 10 devices at the same time and as low as 2 devices. Here are the platforms on which Proton offers its app:
Windows;
Android;
macOS;
iOS;
Linux;
Amazon FireOS;
Rest assured that Proton has a stringent policy on not keeping any logs of your data, but it goes way beyond that. You can check some other security features of the VPN to make sure that your online security remains intact:
256-bit encryption with an OpenVPN;
Split tunneling;
DNS leak protection;
Kill Switch;
Here are the subscription plans of ProtonVPN that have variable account sharing options:
The Basic Plan at $4 per month – allows you to use the account on 2 devices simultaneously with a 30-day refund;
The Plus Plan at $8/month – allows you to use the account 5 devices simultaneously with a 30-day refund;
The Visionary Plan at $24/month – allows you to use the account 10 devices simultaneously with a 30-day refund;
A reliable VPN for Home users must meet some necessary requirements
Now we are going to discuss the basic necessities that you should look into a VPN investing in it for the online safety of your family.
1. Price – It is wise to check all the subscription plans of the plans mentioned earlier and compare them with your budget to be at ease and prepared when you finally get one for your family. The best thing about VPN providers is that they offer discounted all around the year, and their long-term packages are relatively less costly.
2. Customer Support of a VPN – Your family may comprise of pre-teens and even people with old age who may not have a clue on how to operate a VPN app. If you or your family members find yourself in some trouble, then the best thing is to contact the VPN's customer service to set the whole thing straight. Make sure to check the type of service your VPN is offering carefully.
3. Kill-switch Support – There might come a time when you could get disconnected from the VPN server due to several unavoidable circumstances. Under such scenarios, the Kill switch feature kills your connection with the internet until you connect back to the VPN again. This utility makes sure that not a single moment remains unprotected online for anyone in your household.
4. Cross-Platform Support and Multi-user Connection – The whole purpose of getting a VPN for family use is that it should be able to give you multiple device support across different platforms. If the VPN doesn't offer support across more than one device, then it is no point in buying the service, and you should look for another service that offers such convenience.
5. Router Support – VPN providers offer the option to use their service on pre-configured routers, which helps in connecting with gaming consoles and other devices on a larger scale. You should check what type of router does your VPN supports and how can it help you connect with the standard internet connection.
6. The Speed of a VPN – The VPN must be able to uphold the normal speed of the internet connection without any disconnection or latency issues. If it keeps on disrupting your online work, then there is no point in using a VPN, and you might as well be unprotected. Several ways can help you in distinguishing which VPN has the best speed and which one has the worst.
VPN can protect you family members from cybercriminals, hide your IP and encrypt browsing data
For those who still don't know what VPN is, we will remind shortly. VPN (Virtual private network) is a service which allows users to stay anonymous and secure by connecting to the desired websites via third server (VPN). That third server will change your IP, encrypts data and will block the malicious websites. In other words, it works as a secure tunnel which helps to open unlimited privacy possibilities.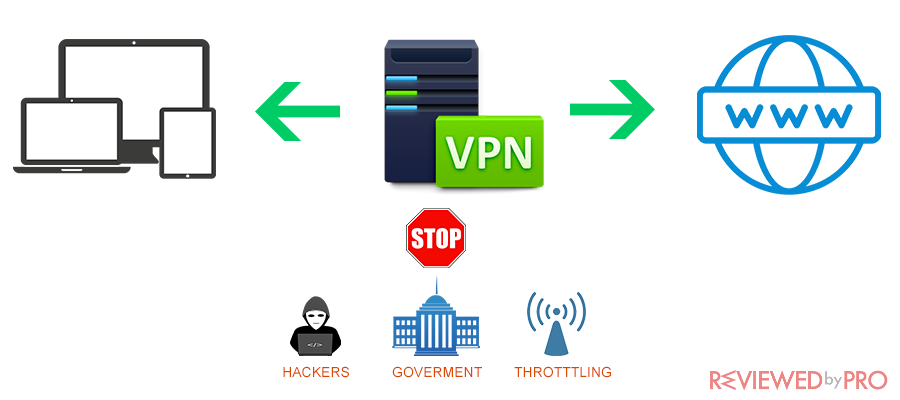 Moreover, it won't let the hackers read the data you are sending via open connection and will protect very sensitive data: bank account passwords, social network and mail passwords, images and other files you are sending to somebody. There are many ways when a VPN can help you and your family members make life easier and safer. Keep reading and you will understand what are the benefits of using a VPN.
Ensure your family members security on the free wi-fi hotspots
Over the past years, cyber-crimes has risen in dramatically numbers. The hackers are focusing on home users, especially teenagers who are struggling with the lack of knowledge about how to stay secure on the internet. Antivirus software is not enough anymore. It should be combined with the VPN to protect your family kids and members online.
Nowadays, kids, teenagers and growth people are searching for free wi-fi and never thinking about what it hides behind it. It is so easy to steal your sensitive data like a bank, email or social network account passwords when you are connected to the free and unsecured wi-fi connection at the coffee shop or the restaurant. Hackers are sitting on the corner with the laptop and waiting for another easy victim.
Many people already have lost their money and other sensitive information while using unsecured wi-fi hotspots. According to the FBI Internet Crime Report and Insurance Information Institute, cybercrimes in the United States are rising every year. Below you can see the table with the cyber-crimes and financial loss in the California, Florida, Texas, New York, and Virginia. The most cyber-crimes were done stealing bank account passwords and credit card details online from the unsecured victims.
State
cybercrimes
in 2018
Money lost
in total
Money loss
per victim
California
55,774
$329,062,355
$5,899
Florida
37,225
$111,756,654
$5,900
Texas
33,644
$96,024,002
$2854
New York
19,507
$139,450,948
$7,149
Virginia
9464
$64,313,078
$6,795
When your family's members connection is encrypted it almost impossible for the hackers to decrypt it and steal the information. The decent VPN will always help to be safe in the public wi-fi hotspots.
Be sure that your kids are Torrenting with a VPN
Maybe your teenage son likes to download movies or mp3 music via torrents and you don't know that? In many countries torrenting is illegal and you as head of the family will be responsible for your kids' behavior online.
You internet service provider see what torrents are you downloading and seeding and reports the governmental agencies if you are downloading illegal content. Don't even think about the torrenting without a VPN, otherwise, you are going to pay a huge bill for the authorship and copyright law violation.
Why risk, better install a VPN to all your families' members' devices and protect your household's internet privacy.
Also, it is worth to mention, that a VPN must have a "kill switch" function for torrenting. This function closes the internet connection automatically if the connection to the VPN will be lost. In other words, it will not let your PC connect to the internet without a VPN and your ISP will not see what content you are downloading via the torrent platform. It is very important while torrenting because your connection must be encrypted and IP hidden.
Downloaded content is
monitored in these countries
Torrents are illegal
in these countries
Torrenting sites are closed
in these countries
Netherlands
Germany
Portugal
Canada
Japan
Italy
Mexico
UK
Malaysia
Israel
Finland
China
România
France
US
Greece
UAE
Australia
India
Canada
Russia
Uruguay
United States
South Africa
Czech Republic
 
Latvia
Slovakia
 
Lithuania
Slovenia
 
 
Columbia
 
 
Brazil
 
 
Philippines
 
 
Argentina
 
 
Iran
 
 
Egypt
 
 
Denmark
 
 
Singapore
 
 
Unblock restricted content with a VPN
Maybe your family members would like to watch online movies, TV shows and serials on Netflix, Hulu, YouTube TV or another online streaming platform, but the content is blocked in your area? Maybe you would like to enjoy Netflix movies while on a vacation with your family, but geo-blocking algorithms won't let it?
Not a problem, VPN will help you to bypass the geo-blocking algorithms by changing your IP to the desired country IP.
Some of the VPN can unblock restricted content and some of them can't. It is because some VON service providers are not focusing on unblocking online video streaming services.
We believe, that the best VPN for home and household should unblock Netflix and other similar online streaming services from any point of the world. Keep reading and you will provide the information which VPN is suitable for streaming videos online.
Stay safe playing games online
Teenagers and growth family members are playing a lot of online games (Fortnite, Poker, and so on). Many games are blocked for certain regions and cannot be played in a local area. VPN can also unblock those restrictions let you play the desired game online in the different regions.
Moreover, you connection the game server will be encrypted and the hackers will not be able to steal your payment information or other sensitive data.
Stay safe while browsing the internet.
Not many VPN services have integrated features like AdBlock or anti-malware protection. So if you are making the decision to buy a VPN for protecting your family members and a household, you should pick up the VPN service with the AdBlock and anti-malware protection.
It will add the second layer of the protection to your devices because antivirus software might be outdated and cannot notice some types of viruses and malware.
Set Up a new VPN for Home and Family Use
There is no need to gain technical knowledge to set-up a VPN on your device as it is one of the easiest things you could do in your life. Here are the steps to perform the procedure after you have subscribed to your favorite service and downloaded the native app on the system:
Install the VPN on your computer or any other device.
Run it and enter your username and password once you see the interface.
Select any server from the library and press the "Connect" tab.
You'll be able to access anything you like with a complete sense of privacy and security.
Final thoughts
If you are looking for a perfect VPN for your home, you should consider all the criteria mentioned above. There is the summary table of the best TOP 3 VPNs for home and family use. Make the right decision and protect your families online privacy with the best VPN for it. Also, check our section about the best no-log VPN.
Recommended VPNs
Options
Location
B.V.I. Islands
Panama
Romania
Servers
3000+
5000+
3500+
Countries
160
60
60
Supported devices
5
6
7
Torrenting

✔

✔

✔

U.S.Netflix

✔

✔

✔

Encryption and protocols
AES-256

✔

✔

✔

OpenVPN

✔

✔

✔

PPTP

✔

✔

✔

L2TP

✔

✔

✔

SSTP

✔

✔

✔

IPsec

✔

✗

✔

Internet connection speed

Download speed
83.15
72.33
71.10
Upload speed
35.18
48.18
36.45
Security features
SSL

✔

✔

✔

No-Log

✔

✔

✔

Kill Switch

✔

✔

✔

Ad-Blocking

✔

✔

✔

Double encryption

✗

✔

✗

IP Leak protection

✔

✔

✔

Operating systems
Windows

✔

✔

✔

Mac

✔

✔

✔

Android

✔

✔

✔

Linux

✔

✔

✔

iOS

✔

✔

✔

XBox

✔

✔

✔

PS4

✔

✔

✔

Browser extension
Chrome

✔

✔

✔

Firefox

✔

✔

✔

Other features
Router support

✔

✔

✔

Free version

✗

✗

✗

Accepts Bitcoins

✔

✔

✔

Money back guarantee
30 days
30 days
45 days
Read a review
review
review
review
Paid version from
$6.67/month
$3.49/month
$2.75/month
Try
About the author