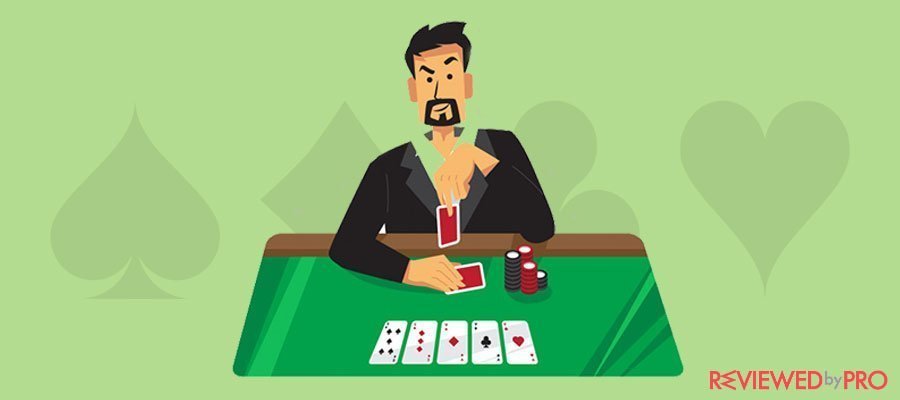 best vpn for poker
Are you ready to risk your financial security online? If you play online poker without a VPN, your financial information can become a target for cybercriminals and hackers. The best VPN for poker can hide your IP address and encrypts your data. In this way, you will be connected anonymously, and you protect yourself from hacker attacks, snooping, and spyware programs. Even if hackers try to crack your connection, they will not be able to read and use your sensitive information. Many poker websites are protected by geo-blocks to prevent users who do not reside in their region attend their website. Disguising your IP address will allow you to bypass these geo-blocking to access poker sites in other countries.
If you don't have much time to read the entire article, there is the summary of the best VPNs for poker.
ExpressVPN

– accepts Bitcoin payments, no-log policy, ultra-fast servers, and internet connection. This VPN fits excellent for playing online poker.

NordVPN

– is considered being as one of the best VPN in the market. Fast internet connection, double encryption methods, make it unbeatable VPN for online poker.

CyberGhostVPN

– affordable price, friendly user interface, simple navigation, and the ease of uses made this VPN very popular among young people. It works excellent with online poker platforms.

IPvanish

– secure encryption, fast servers, simple navigation, and reasonable price. What else do we need for a reliable online poker session?

ProtonVPN

– 100% no-logging policy, fast servers, excellent support, and reasonable price. Worth to give a try for more secure online poker sessions.
If online poker is banned in your country, you can use a VPN to play securely and anonymously.
However, not all VPNs are equally good, so for your security, it is vital to use only the best services available. In this article, we are going to talk on how to use a VPN service to play poker online. We will also help you choose the best VPN service.
The best VPNs for poker are:
We have tested more than 200 hundred various VPN services and picked the best ones for online poker. Our lits of selection was done according to these criteria: internet connection, speed, security, privacy, price, and support.
1. ExpressVPN – ensures your anonymity and do not collect browsing data
Official website
www.expressvpn.com
Rating
  (Excellent – 4.8/5)
Available applications
 
Money-back guarantee
30-days
Price from
$6.67 (-49% deal)
Visit website
More information
ExpressVPN review
It offers outstanding speeds and unlimited network bandwidth with servers in 148 regions around the world. Many of these servers are located in countries where gambling is legal. The service also offers convenient and straightforward applications for almost all kind of platforms so that you can play by all your devices.
premium VPN service uses the best possible data protection tools such as 256-bit encryption, strict no-password policies, and an automatic emergency Internet disconnect feature Informative setup and installation guides are very simple, even for beginners.
It offers a 30-day money-back guarantee, as well as a 7-day free trial for mobile users.
2. NordVPN – fast and secure VPN for stable online poker sessions
Official website
www.nordvpn.com
Our Rating
(Excellent – 4.9/5)
Available applications
 
Money-back guarantee
30-days
Price from
$3.49/month (-70% deal)

Visit website
More information
NordVPN review
NordVPN is an excellent choice for online poker. The service guarantees unlimited network bandwidth on 5,200+ high-speed servers around the world. The service has servers in countries where online gambling is permitted by law; these servers can easily bypass geo-blocks and censorship.
Encryption, an automatic emergency Internet disconnect feature, and a strict, password-free policy will protect your data while you play. Own CyberSec's security technology of this service will also protect your device from malware and block ads. Do not take our word for it?
If you are not sure if NordVPN will meet your expectations, you can use a 30-day money-back guarantee for all of its services. In case you are not satisfied, they will return your money without any questions.
If you want to know more about NordVPN, click here.
3. CyberGhostVPN – cheap VPN service that also can secure your poker game and anonymity
Official website
www.cyberghostvpn.com
Rating
  (Great – 4.5/5)
Available applications
 
Money-back guarantee
45-days
Price from
$2.75 (-80% deal)

Visit website
More information
CyberGhost review
CyberGhost is an excellent choice for playing poker online. The network consists of more than 3,700 servers around the world, and the applications have pre-configured profiles that optimize your privacy settings.
also offers the best security features to protect your data, such as 256-bit encryption, automatic emergency disconnect from the Internet, and adheres to a strict no-log policy.
Can try the services without risking anything for 45 days and find out for yourself why this is a favorite tool for users to provide online security. CyberGhost also offers a free 7-day trial for iOS, Android, and Windows users. Want to know more about CyberGhost, click here.
#4 ProtonVPN – a service from Switzerland with zero-logging data policy
Rating
   (Good – 4.3/5)
Available applications
 
Money-back guarantee
45-days
Price from
$4.00

More information
ProtonVPN review
You can use ProtonVPN to browse the web safely because your Internet connection will be encrypted by the best encryption algorithms in the market (AES 256-bit).
If you want to play poker, but it is blocked in your country, ProtonVPN will unblock it without any problems. It
has more than 500 servers in the 42 countries around the world
· For many reasons, many players prefer to play poker or access the Internet in general through a VPN. VPNs allow players to hide their traffic and surf the web anonymously securely.
5. TorGuard – US-based VPN service that will encrypt your poker session and keep your data private
Rating
   (Average – 2.9/5)
Available applications
 
Money-back guarantee
30-days
Price from

$9.99/month
More information
Torguard review
Torguard is an excellent VPN for any internet user. The price starts at $9.99 per month. You can save some money on annual subscriptions ($59.99 per year).
Torguard offers a wide variety of servers in over 43 countries. It supports the most common VPN and proxy protocols.
Also, they offer free 24/7 365 support so that you will get outstanding service at any time. It is worth to mention that Torguard supports up to 5 devices connected at the same time.
TorGuard provides fast internet speed and unlimited internet bandwidth with a 100% no-logging policy. Those factors will let you play poker safely and without any technical interruptions.
If you are not satisfied with the TorGuardVPN, you can take the advantage to cancel the subscription because of a 7-days money-back guarantee.
Final thoughts
To summarize, I would like to recommend – choose a VPN service carefully, do not install the first one you get, and do not chase for free ones. Only from the list of VPNs, we have reviewed, you can choose a safe service for playing an online poker. Bellow there is the table with the summary data of the best VPN for poker.
Recommended VPNs
Options
Location
B.V.I. Islands
Panama
Romania
Servers
3000+
5000+
3500+
Countries
160
60
60
Supported devices
5
6
7
Torrenting

✔

✔

✔

U.S.Netflix

✔

✔

✔

Encryption and protocols
AES-256

✔

✔

✔

OpenVPN

✔

✔

✔

PPTP

✔

✔

✔

L2TP

✔

✔

✔

SSTP

✔

✔

✔

IPsec

✔

✗

✔

Internet connection speed

Download speed
83.15
72.33
71.10
Upload speed
35.18
48.18
36.45
Security features
SSL

✔

✔

✔

No-Log

✔

✔

✔

Kill Switch

✔

✔

✔

Ad-Blocking

✔

✔

✔

Double encryption

✗

✔

✗

IP Leak protection

✔

✔

✔

Operating systems
Windows

✔

✔

✔

Mac

✔

✔

✔

Android

✔

✔

✔

Linux

✔

✔

✔

iOS

✔

✔

✔

XBox

✔

✔

✔

PS4

✔

✔

✔

Browser extension
Chrome

✔

✔

✔

Firefox

✔

✔

✔

Other features
Router support

✔

✔

✔

Free version

✗

✗

✗

Accepts Bitcoins

✔

✔

✔

Money back guarantee
30 days
30 days
45 days
Read a review
review
review
review
Paid version from
$6.67/month
$3.49/month
$2.75/month
Try
VPN can protect your identity and unblock the access to the foreign online casinos
VPN is a powerful Internet security tool that protects you and your devices. When you play poker online, you need a VPN service to:
Avoid problems with the law – Gambling is prohibited by law in many countries. VPN services use data encryption and mask IP addresses so that your activity through a web browser remains anonymous. It means that the authorities will not be able to see what you are doing online.
Protect your connection – Encrypts your data to protect your sensitive information. If you play without a VPN, hackers can steal and use your billing information. But when you use a VPN, your data cannot be read.
Get access to foreign casinos – Poker websites use geo-blocking algorithms to keep foreign players out. If online poker is not allowed in your country, or you just like to play in international casinos, you can bypass these blocks using a VPN. It masks your IP address, and therefore it seems that you are accessing a site from another region. You need to connect to the server in the country where you want to play, and your VPN provider will do the rest.
For better security, choose a VPN service that uses unrivaled 256-bit encryption. The function of automatic emergency disconnection from the Internet should be mandatory to avoid leakage of insecure data in the case that the connection of the VPN network is interrupted. The possibility of that is low, anyway. Unlimited bandwidth and high-speed connections are significant for playing poker online. Your VPN provider must have a global network of servers to bypass geo-blocks successfully. The servers in your country guarantee fast access to local services and websites.
In recent years, VPN services are gaining widespread popularity – there are hundreds of them on the market. They help ordinary users to ensure the security of data from online surveillance carried out by Internet providers, advertising companies, and hackers.
VPN also allows you to unblock the contents of websites, access to which is limited in the host country, allowing you to pretend that the user accesses the Internet from another state. It makes the VPN an ideal solution, for example, when you are on vacation in another country and want to get access to familiar home services.
Playing poker with a free VPN is a bad idea
In the case when the service provides a VPN connection completely free of charge, we can get a large number of the advertising content of both the facility itself and its partners. There is also no guarantee that your data will not be transferred to third parties (for example, online payment data, logins, and passwords from the services you use).
After making some investigation, it was known that many free VPN services are registered in China, in the very country whose government has passed the most strict Internet censorship laws!
The privacy policies of some of these providers explicitly state that user data will be stored and transmitted to third parties. It is simply unthinkable! If you want to protect your privacy rights, stay away from any VPN services registered in China.
There is another fundamental reason why you should stay away from free VPN services. Business people and marketers know that users want to simplify their lives as much as possible. They suggest that since you liked the free version, sooner or later, you will switch to a paid tariff plan.
Many free services offer expensive tariff plans for the access to fool functionality. that is average in quality and features, while other services, although not having a free version, offer much better services at a more attractive price. If you stay with your "familiar" provider until the end, you may overpay for the worst services and remain with poor VPN connections instead of enjoying one of the best services on the market.
| | | |
| --- | --- | --- |
| Options | free VPN | paid VPN |
| Changes your IP | ✔ | ✔ |
| Unlimited bandwidth | ✗ | ✔ |
| Fast internet connection | ✗ | ✔ |
| No-logs, no tracking | ✗ | ✔ |
| No annoying ads | ✗ | ✔ |
| Millitary-grade encryption | ✗ | ✔ |
| Wide range of server selection | ✗ | ✔ |
| Customer support | ✗ | ✔ |
Setup a VPN for playing online poker safe
To simplify the use of VPN services by ordinary users, most developers of VPN services have minimized the settings. All technical details are hidden, and the service is brought to the level – download the program, pay for the subscription, turn on the service, and do not forget to renew the subscription.
The installation and use of a VPN are super easy, it allows you to secure your data: logins, passwords from social networks, applications, payment details, and other account information.
From a legal point of view, the use of VPN services is rarely something illegal. But the content that you are trying to access using a VPN may be illegal.
Currently, most VPN service providers themselves monitor the law and change the service in order not to violate the new rules and regulations. They provide an opportunity to choose the right country for connection and regularly expand the list of available connection options.
Pros of using a VPN:
The ability to safely use public Wi-Fi and not worry about your data. Even if an attacker steals your data, he will have to sweat to use it, since it is encrypted.
The Internet provider will not have access to the history of actions on the network since the VPN service will encrypt all data.
Ability to enable adblocking. Accordingly, the likelihood of clicking on unwanted links by you and your household is reduced, which reduces the possibility of viruses infecting your device.
The ability to securely access your home or work network from anywhere.
Ability to overcome geographical and legislative restrictions. Accordingly, you will be able to go both to sites blocked in your country, and to websites that are available only to residents of a particular region. But do not forget about compliance with the law and do not violate it.
Cons of using a VPN:
Often, when using a VPN, the Internet connection speed drops, because access to the network occurs through a VPN server with data encryption.
The battery of mobile devices with VPN enabled is draining faster, and not everyone is warning about this.
The poor VPN service might gain access to the history of all your online activities and your data. Further use of this data remains with the service provider.
Free VPNs often resell data to advertisers. Or use your traffic to access other users of the service. Providers of paid VPN services usually give a guarantee that they do not collect or store data about their users and their activities on the network.
About the author