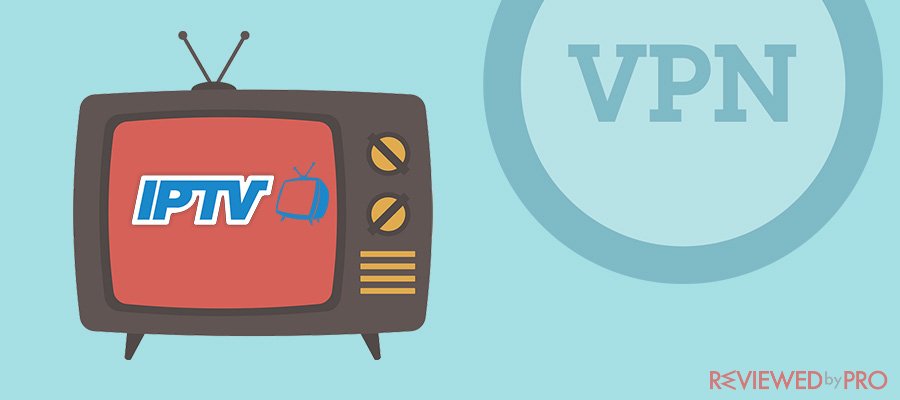 If you are reading this article, you are the IPTV lover and you came to the right place. In this article, we are going to provide you the information about which VPN fits best for the IPTV.
If you don't have time to read all article there is the summary of the best VPN IP TV in 2019:
ExpressVPN – one of the best VPN on the market, very good connections speed, very strong encryption and no log policy.
NordVPN – great VPN for any user, unblocks Netflix from many countries, great user interface, a wide range of server selection around the globe, great support and no log policy.
CyberGhostVPN – Works fine with Netflix from many countries, good connection speed, strong encryption, protection, and no log policy.
What is IPTV?
For those who don't know yet what IPTV[1] is, I will shortly introduce. IPTV means "Internet Protocol Television". In other words, it gives you the possibility to watch television via the internet. You can install the required software on your TV, computer, tablet pc or smartphone and start streaming your favorite television or other streaming media. IPTV uses internet protocol which is not limited to television streamed from the internet.
The clients of IPTV mostly are the people who have a subscription with the telecommunication network. The main requirement is to have a fast enough internet connection for online streaming. If you are the user of smart tv, there are many various software for IPTV. If you don't have a smart tv, you need to obtain a smart tv box equipment.
The types of IPTV services:
• Live television
• Time-shifted media
• Video on demand
Some popular IPTVS service providers:
| | | |
| --- | --- | --- |
| Name | Free or Paid | Hardware/OS |
| Vader | Paid | Multiple Platforms |
| Players Club | Paid | Multiple Platforms |
| Gears TV | Paid | Multiple Platforms |
| Beast TV | Paid | Multiple Platforms |
| Comstar.tv | Paid | Websites |
| Rocketstreams | Paid | Websites |
| 10dollars.TV | Paid | Websites |
| BestBuyIPTV | Paid | Websites |
| IPTV sensation | Paid | Websites |
| IPTV Action | Paid | Websites |
| FORIPTV | Paid | Websites |
| VisionMax | Paid | Websites |
| Exclusive IPTV | Paid | Websites |
| Rabbit IPTV | Paid | Websites |
| That Broke Mallu | Free | Kodi |
| Self Less Live | Free | Kodi |
| cCloud TV | Free | Kodi |
| Live Net TV | Free | Kodi |
| TV One | Free | Kodi |
| Chronos | Free | Kodi |
Why do I need a VPN for IPTV?
There are many various IPTV service providers around the world but the main problem that some users experienced with is geographical restrictions. That means you cannot watch some of the content if you are from a different country. For example, you cannot watch American Netflix[2] from Great Britain. There are many examples like this, so that's why people are using a VPN service to bypass those geographical restrictions.
The image below will let you better understand how it works. Also, VPN is responsible for internet security, which means that there are no chances to get any malware, virus, ransomware or other nasty threats from the visited websites.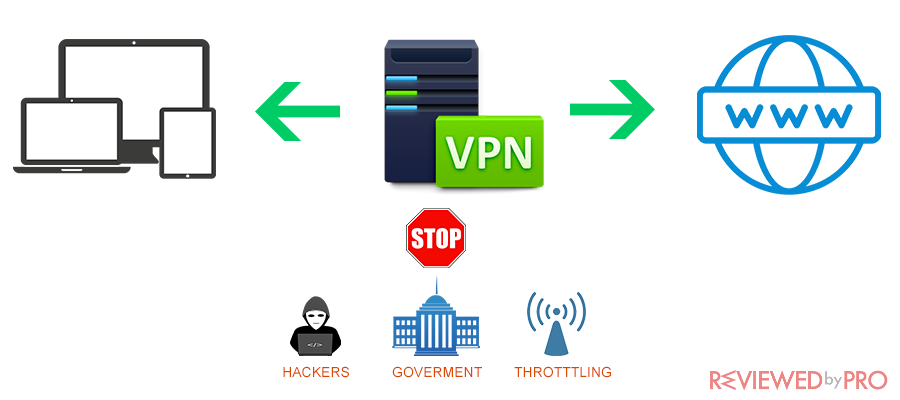 If still don't know what VPN[3] is, I will describe it briefly. The virtual private network is a service which encrypts your connection to the other website, streaming service, and other media. It also hides your IP, which means that nobody sees what websites you are visiting and what data you are typing. Users are able to connect to the internet via another server and bypass any geographical restrictions.
Best VPN to watch IPTV
So know you know what IPTV and VPN is. What you need is now to select the best VPN for the IPTV. We have tested many VPN service providers and have picked for you three VPN which seems to work best for IPTV.
Keep in mind that a VPN will most likely slow down your connection because the information has to travel longer distances than normal. Consider this when choosing the level of encryption – the stronger the encryption, the slower the Internet. There is the list one of the best VPN service providers with High speed and encryption rate which is perfect for home users and family members.

At the first place, we could name one of the most popular VPN service provider – ExpressVPN. This VPN service provider works in a market for many years and knows a lot about internet privacy. Moreover, it has great options and price ratio. Works great every time and we did not feel any connection speed slowdowns. Moreover, it unlocks American Netflix from any country of the world and concerned to be number one for unbaning variuos websited.
ExpressVPN can be used on many devices, operating system and browsers: Windows, iOS, Mac, Android, Linux, open-source routers, BlackBerrys, Kindle Fire, Chromebooks, Barnes & Noble Nook tablets, Apple TV, Fire TV, Omegle, PlayStation, Android TV box and others. It also has extensions for major browsers including Chrome, Firefox, and Safari.
The network also offers unlimited bandwidth, which is the capacity to carry data. Server switches are also unlimited, meaning that the user can switch servers as much as they want, and no additional fees are implemented.
| | |
| --- | --- |
| PROS | CONS |
| Compatible with many devices and platforms | High price |
| High level of security | Configuration limits |
| 24/7 customer service | No ad blocker |
It is also important to mention that you have the choice of 30-day money-back guarantee, so there are literally no risks to the user – you can get your money back if something goes wrong. Read more about ExpressVPN

The main features of NordVPN:
NordVPN secures user internet activity from hackers and malicious files and include Ad Blocker. In order to have the highest possible level of security, this VPN uses double data encryption. In other words, the data that goes between your device and the server is encrypted twice using Double VPN technology. The features include Military-grade Encryption, CyberSec, and Double VPN.
Privacy protection features ensure that no one can track users' online activity. The features include a Strict no logs policy, Automatic Kill Switch, DNS leak protection, and Onion Over VPN.
NordVPN allows users to bypass geographical restrictions and censorship. It offers more than 5000 servers worldwide, Streaming, SmartPlay, P2P and speed features.
NordVPN also offers apps across all the major platforms and multiple devices, as well as extensions for Chrome and Firefox browsers.
| | |
| --- | --- |
| PROS | CONS |
| Wide geographical reaches | Performance hits and drop connections |
| Double VPN for twice the encryption | A monthly plan might seem expensive |
| User-friendly and pleasant interface | Not clear ownership |
NordVPN is compatible with Android, Windows, macOS, iOS, Android TV, Linux. It has browser add-ons for Google Chrome and Firefox. The VPN service also supports Windows Phone, open-source and branded routers. Read more about NordVPN

The third place for the best VPN we are giving to CyberGhostVPN. This VPN and NordVPN are both popular and widely-used VPN services. CyberGhostVPN is one of the most user-friendly VPNs with great and useful features. Even though by using it you can experience interruptions and slowdowns, just like using NordVPN, CyberGhostVPN is more customizable and more affordable service, than NordVPN.

It uses the PPTP, L2TP/IPSec, OpenVPN, and IKEv2/IPSec tunneling protocols in order to create an encrypted connection. Users are able to set up manual connections without the CyberGhost VPN client software. The VPN service has about 3,000 servers in about 60 countries, which one of the widest geographic reaches. The countries range from Albania to Vietnam, but the list does not include China or Russia.
| | |
| --- | --- |
| PROS | CONS |
| Offering one of the widest geographical reaches | Performance hits and slowdowns |
| A very informative user interface | Not many personalized options |
| Easy setup and quick to start | Rough reviews by third-parties |
All data coming into the system gets AES-256 protection, which is actually pretty secure, and a user does not have to make any additional changes. CyberGhostVPN service is relatively slow, as it took an average of 18 seconds to connect to the service. When it comes to the latency, CyberGhost VPN did not perform the best and around came in at 70 milliseconds. The downloading ability of the VPN service was 13.4, which is not the best result either. All in one, as you can see CyberGhostVPN offers users pretty slow performance speeds. Read more about CyberGhost
Final thoughts
If you want to watch IPTV without any restrictions and interruptions, we would recommend you to use a VPN service. Here is the table with the most trusted VPN service providers to watch IPTV. VPN will unblock any geographical restrictions and will make your device safe from various internet threats and attacks.
We ranked the top 3 IPTV VPNs by the following criteria:
Simultaneous supported users
Supported platforms
Customer support
Download speed Mbps
Servers worldwide
Price / month
As you can see from the results, those three VPN service providers are the best for IPTV.
| | | | |
| --- | --- | --- | --- |
|   | | | |
| Download Speed | 65.76 Mbps | 65.29 Mbps | 65.99 Mbps |
| Upload Speed | 29.44 Mbps | 28.41 Mbps | 31.22 Mbps |
| Server locations | 160 | 59 | 62 |
| Multi device support | 5 | 6 | 5 |
| Supported platforms | 10 | 9 | 5 |
| Kill switch function | | | |
| Unlimited bandwidth | | | |
| Router support | DD-WRT & Tomato Firmware, Linksys, Asus, Netgear | DD-WRT & Tomato Firmware, Linksys, Asus, Netgear | DD-WRT & Tomato Firmware |
| Customer support | 10 | 10 | 9 |
| Price | $8.33 | $6.99 | $2.75 |
| Visit website | | | |
What else can I do with the VPN?
VPN could be using various reasons and it can help you:
Before we didn't even hear about the VPN, but nowadays many users cannot imagine their internet without a VPN service. Especially those people who live in the countries where laws are very strict and content censorship is in the first place (China, South Korea, Iran and so on).
How to set up a new VPN with for home and family use?
To set up a VPN it is a simple process and you don't need any special computer knowledge. You just need to pick up a desired VPN provider and do the following steps. You are not risking, because of 30 days money back guaranty.
1. Go to VPN service provider website.
2. Subscribe to service. You will receive a username and password.
3. Press download the VPN software.
4. Install it on your computers or smart devices or router.
5. Enter username and password.
7. Press Connect to the VPN server.
8. That's it, your privacy is increased
9. Enjoy your IP TV.
This process will take for you around 2 minutes. You will have 30 days money back guaranty if you will not be satisfied with the service. I think that you will be satisfied because we have picked only those VPNs which are trustful and worth attention.
Our security team at Reviewed by Pro constantly tests new products in order to provide you with up-to-date information and reviews of the latest Internet security and antivirus applications, privacy solutions, recovery tools, and other utilities, not just for your Windows PC, but also for your Mac and Android devices.
About the author
References