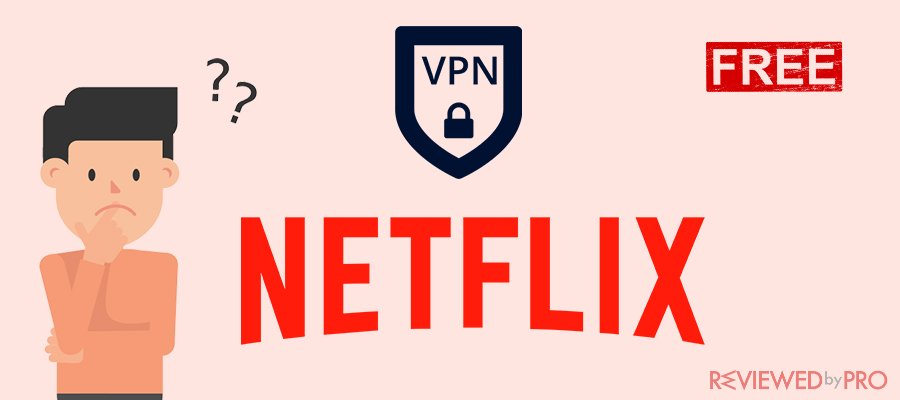 Is it possible to watch American Netflix with a free VPN?
As you know, Netflix differentiates the content by regions. In other words, if you are non-American, you cannot access American Netflix content. It is because Netflix has developed an algorithm that recognizes your IP address and determines which country you are from. Netflix has agreements with content providers that restrict the broadcasting of content in a particular market. For example, certain films may be shown in Europe but may not be shown in America due to some applicable censorship or other laws.
So in order to outwit the Netflix IP authentication algorithm, people use a VPN service. A VPN routes your Internet traffic through a proxy server that is in America, and in the end, your IP looks as if you are from America.
Netflix is ​​aware of VPN users trying to outwit the IP blocking system and trying to combat them by implanting VPN detection systems. For this reason, VPN service providers are continually improving their VPN systems, changing IP addresses, algorithms, and hardware to just please their customers who want to enjoy American Netflix.
It's no surprise, then, that a free VPN service can rarely offer access to the American Netflix library. We tested over 20 well-known free VPN services and found no one to unblock Netflix in the American region from another country.
Nevertheless, we have found a number of paid VPN providers that can unblock American Netflix. The good news is that they offer to try their services for free temporarily. It means that after a month, you can subscribe again to another VPN service and again enjoy American Netflix for 30 days for free. If you like the recommended service, you can always order that service for a long time later.
Pricing is highly dependent on the period of service ordered. The longer you subscribe to a VPN service, the greater the discount the provider provides. In other words, buying in bulk always pays off more.
VPN security services that allow you to enjoy American Netflix for a number of days for free
In giving recommendations to VPN service providers that allow you to use their services for free, we have also paid close attention to several important aspects. We are security and privacy professionals, so the VPN service must meet all security and speed requirements.
In other words, our recommended VPNs will not only allow you to access American Netflix but will also allow you to use this protection in other life situations.
NordVPN is one of the most severe VPN service providers in the market, which allows you to try the service for free and works with Netflix.
Probably no one needs to introduce NordVPN anymore, because everyone already knows this service provider. We just want to mention the technical settings and privacy policy of this VPN provider briefly.
NordVPN is based in Panama and offers complete privacy to its customers. Additionally, it works great with any Netflix network and offers a free trial for up to 30 days.
Vendor servers are located around the world (60 different countries). Therefore, an extensive geographic network of servers allows users to change their IP address to almost any country's IP address.
A fast and stable internet connection ensures the smooth streaming of Netflix content without any interruptions. The transmitted data is encrypted with the AES-256 algorithm, which ensures absolute data security and privacy.
The application is compatible with all standard and can be used on up to 6 devices simultaneously.
It is also worth mentioning that NordVPN has an excellent customer helpline, which can be reached at any time of the day by phone, email, or through the dress service system.
ExpressVPN is an inferior VPN service that allows you to watch Netflix for free for up to 30 days.
Another service provider that you can try for free for up to 30 days with a money-back guarantee. By subscribing to the service, you can unsubscribe at the end of the month and get your money back without any issue.
The company providing this service is registered in the British Virgin Islands, and this means that the jurisdiction of the country is not subject to international law. Allows the ExpressVPN provider to waive mandatory data collection about its users and their online activities.
If a service provider were registered in the Americas, Europe, or another country, it would be required to collect user data and, if necessary, report to government organizations about its users.
The handy application can be installed on any device and used for Netflix streaming from any country. Up to 5 devices can be connected at a time, allowing VPN access to a circle of friends or family.
The data, like NordVPN, is encrypted using the AES-256 algorithm, which means that no one can decode it and view what you have been doing online.
As far as prices are concerned, they are similar to those of the service provider mentioned above and maintain similar pricing principles. When ordering the service for a more extended period, a higher discount is applied.
CyberGhostVPN – fast and reliable service to stream Netflix for free for 45 days
CyberGhostVPN is another excellent service that you can try for free by watching Netflix from the American Library for up to 45 days.
The service also has all the necessary security attributes and has a high Internet speed. In other words, your internet speed will be slightly reduced when connecting through CyberGhostVPN servers. Good internet quality is one of the essential factors for watching Netflix online. It is due to the new and powerful IT infrastructure in which CyberGhostVPN is constantly investing.
The powerful and reliable AES-256 data encryption system ensures reliable and fast data encryption. In our view, this is very important if you want neither cybercriminals nor government agencies to be able to track your actions online.
Compared to previous VPN services, CyberGhostVPN allows the service to be used on up to 7 devices simultaneously. You can ensure online security or privacy in a small business or larger family or just share it with friends.
Also, the CyberGhostVPN app can be installed on all popular devices, from smartphones to Android TVs.
In terms of price, CyberGhostVPN could be called the leader among the mentioned opponents. You can purchase a VPN plan from $ 2.75 a month.
In summary, CyberGhostVPN is also an excellent VPN service that is great for those who want to try American Netflix for free.
Dangers lurking for users who want to watch Netflix with a free VPN service
It may happen that you suddenly find a completely free VPN service with which you can access the American version of Netflix. However, we must inform you of what lies behind it.
You've probably thought to yourself that a free service can't exist because someone has to pay to maintain it. There is a rule on the internet that "if a product is free, then the product is you." The same rule applies to free VPN services.
The free VPN service is never committed to providing persistent access to Netflix libraries. They just run for a while, and then Netflix blocks all the IP addresses for that service.
The most exciting part is that all up to one free service providers collect and aggregate data on their consumer behavior online and then sell it on the black market or to advertising agencies. Don't be surprised if you start getting more advertising in your email inbox or lose small amounts of money from your bank account.
One more strange thing is that free VPN services do not encrypt data and can be scanned by hackers or other cybercriminals.
Sometimes it's worth wondering if a few dollars saved a year won't do you much more financial or moral damage because it's not just about your money; it's about privacy.
To Sum up
There is a small chance that you may find a free VPN service that will allow you to enjoy the American Netflix library temporarily. You will be at high risk to your financial security or privacy by using a free VPN service.
Instead, we recommend trying a professional VPN solution for free for up to 45 days, then sign up again and get it free again for another 45 days. Of course, it's not convenient to re-register every time, but it's much safer than using an untrusted VPN service.
If you decide you need a professional VPN service, you can order it for 2-3 years and save a bunch of money.
So our advice is to stay alert to the vastness of the internet and not trust free services. Free cheese is only available for mice.
Below is a table with a summary of VPN data that offers the opportunity to try out their services for free, allowing access to American Netflix.
About the author