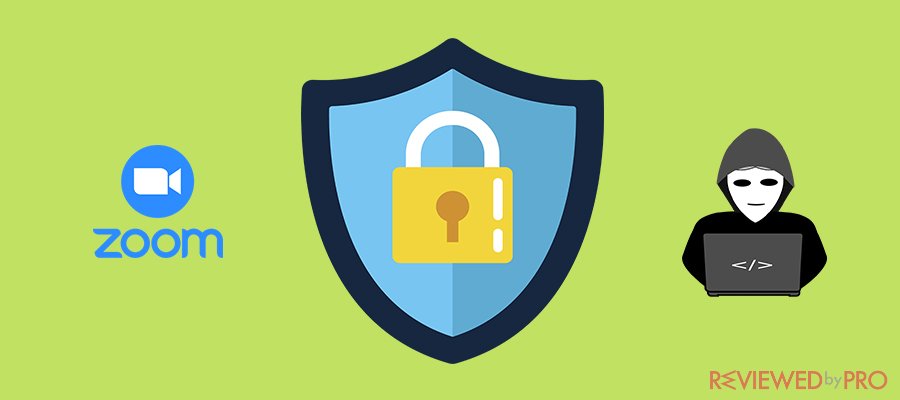 How to make your Zoom online conference more private and safe
When the Covid-19 virus has spread worldwide from the beginning of the year, many companies, schools, and universities started to work and educate remotely. Zoom application was one of the best solutions for online and remote conferences for many of us during the LockDown and social isolation. We have decided to write this article and teach you how to secure your online conferences and prevent from data and privacy loss. 
Since then, the usage of Zoom has risen significantly, and it became very popular around the globe. Many of us were using it, and it became a life-saver for the business companies and education institutions. 
Moreover, it became a target for hackers who are trying to intercept, spy, and join any online conferences. There were thousands of known cases when cybercriminals did watch the online meetings via the Zoom app and gathered sensitive information that might be used against the Zoom users later. 
Zoom app had many security bugs in its product, and those security issues made open access for the hackers. Some of the bugs were fixed, but not all. The hackers still can access some of the online sessions, your webcams, and spy on you even if the Zoom application is closed. 
It is worth to mention that hackers also can access your webcam at any time and see what is happening inside the room. They can access your webcam if the Zoom app is closed. 
Another reason why Zoom isn't secure it is because of the lack of data encryption in its all algorithms. The company will implement the advanced encryption system someday, but at the moment, all the online conferences are unencrypted, and every user should use a VPN (Virtual private service). We would recommend using NordVPN as one of the best VPN services on the market overall. 
Official website
www.nordvpn.com
Our Rating
(Excellent – 4.9/5)
Available applications
 
Money-back guarantee
30-days
Price from
$3.49/month (-70% deal)

Visit website
More information
NordVPN review
Some big companies like Google or SpaceX have prevented their employees from using Zoom for private conferences. Some of the Governmental agencies have stopped using this software until the data encryption will be implemented, and all the security issues of the software will be solved. 
If you already are using a VPN there are some other tips and tricks how you can make the online meeting more private and secure:
1. Protect your Zoom conference with the passwords
One of the most straightforward methods to improve online Zoom session is to create a password for your online meeting. You just need to login on Zoom official website, go to "Settings," and enable the option "Require a password when scheduling new meetings." That's all. This simple method will make your online meeting more protected from praying eyes and cybercriminals. 
2. Lock the virtual meeting room after the conference has started
Another possibility to make your Zoom chat more private is to lock the virtual conference session after all the hosts are connected. If you are sure that all the wanted persons are online, just click "Manage participants" and click once again "More." You will find the button "Lock," and this option will prevent others from joining the meeting.
3. Turn off screen sharing.
If you turn off the screen sharing, you will be guaranteed that Zoom hijackers won't share an erotic movie on your private virtual Zoom conferences. The option can be enabled under the tab "Security" during the live online meeting. It is not so pleasant when you are talking with your colleagues and bosses about your business plans, and suddenly adult movie action appears on the screen. 
4. Authenticate all the users
If you want even more privacy on the online meeting, you should allow participating in it, only the registered users. In that way, you also will prevent unwanted persons from virtual conferences from the outside of the system. 
5. Join the online conference before the hosts
Another tested and approved way to increase your online meeting's security is not to allow your hosts to connect to the virtual conference room before you. This option also could be found on the Zoom website, under the account settings. 
6. Randomly generated IDs will make your zoom conference even more secure.
We would not recommend using personal IDs for your meeting sessions because cybercriminals can guess it. A safer way is to protect your online meeting room is to use the system's randomly generated IDs. Also, you should not share your event ID in public places such a Facebook or Twitter wall.
7. Manage users on a Waiting room
One more excellent option to make your online meeting more private is to manage users in a virtual waiting room. Here you can admit or remove unwanted users from participating in your event. You will be sure that all the required members will be added or removed manually from the meeting room before it starts. 
8. Do not share the files on the virtual meetings.
File sharing is also a dangerous activity during the meeting because someone can share malicious files and infect them. Sometimes malware spread automatically during the zoom conference, and users don't know that they have shared something. So our recommendation is to turn off the file-sharing during online meetings. 
9. Kick unwanted participants
If you see an unwanted person in your virtual meeting room who disturbs other users by sharing files, videos, or jokes, you can eliminate him, by clicking the "Kick" button from the tab "Participants." Find the name of an unwanted person. Click "More" and "remove."
10. Update the software regularly.
Zoom Corporation is working hard to improve its product since it appeared so vulnerable, and time by the time, they do release some of the application updates. Be sure your Zoom application is up to date, and it will ensure that the most common security bugs are eliminated. 
To Sum UP
Overall, Zoom is an excellent solution for any type of conference. Sometimes it needs to be sure you are following all the recommended tips and tricks to improve the online meetings' security and privacy. Also, don't forget to combine all the tips and tricks with a reliable VPN. As we were mentioned before, we recommend using NordVPN with Zoom for the best speed and privacy performance. 
Recommended VPNs
Options
Location
B.V.I. Islands
Panama
Romania
Servers
3000+
5000+
3500+
Countries
160
60
60
Supported devices
5
6
7
Torrenting

✔

✔

✔

U.S.Netflix

✔

✔

✔

Encryption and protocols
AES-256

✔

✔

✔

OpenVPN

✔

✔

✔

PPTP

✔

✔

✔

L2TP

✔

✔

✔

SSTP

✔

✔

✔

IPsec

✔

✗

✔

Internet connection speed

Download speed
83.15
72.33
71.10
Upload speed
35.18
48.18
36.45
Security features
SSL

✔

✔

✔

No-Log

✔

✔

✔

Kill Switch

✔

✔

✔

Ad-Blocking

✔

✔

✔

Double encryption

✗

✔

✗

IP Leak protection

✔

✔

✔

Operating systems
Windows

✔

✔

✔

Mac

✔

✔

✔

Android

✔

✔

✔

Linux

✔

✔

✔

iOS

✔

✔

✔

XBox

✔

✔

✔

PS4

✔

✔

✔

Browser extension
Chrome

✔

✔

✔

Firefox

✔

✔

✔

Other features
Router support

✔

✔

✔

Free version

✗

✗

✗

Accepts Bitcoins

✔

✔

✔

Money back guarantee
30 days
30 days
45 days
Read a review
review
review
review
Paid version from
$6.67/month
$3.49/month
$2.75/month
Try
About the author