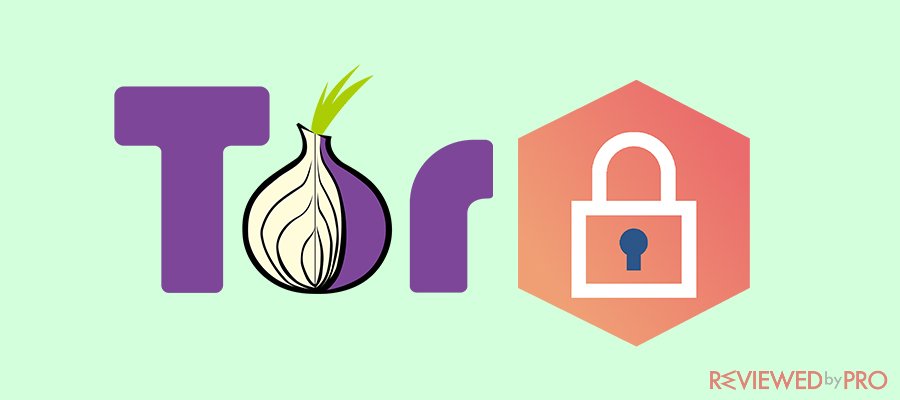 What is Tor browser?
Tor browser[1] is a unique browser because of its technology. It was developed for those people, who want more privacy while browsing the internet. Every time you browse the internet, TOR browser makes a connection via another server and hides your IP. In that case, it gives you one layer protection and hides your activity on the internet.
Another very nice feature of Tor browser is that you can carry it with you wherever you go. It can be portable and launched from the USB or other portable devices. Just imagine, with the TOR browser, you can unblock blocked websites your office or university. You just need to bring with you a USB hard drive and launch the TOR browser from it.
Also, TOR browser blocks trackers encrypt your connection and hide your IP from the third party monitoring. An interesting fact is that TOR browser is absolutely free. This project is based on the volunteers, which shares server relay resources around the world.
Why do I need a VPN with TOR browser?
Very often, your ISP[2] (internet service provider) monitors your activity on the internet. If they see that you are using TOB browser, you look suspicious automatically. As it was mentioned before, the TOR project is running by volunteers and you never know where your internet activity is held and monitored.
Despite that that your browsing data is encrypted and IP is hidden, TOR may also keep your browsing history in its network. Some internet service providers are blocking websites which are on TOR network. So it means that you are browsing anonymous, but not 100% privately.
Another bad thing about using the TOR browser is slow connection speed. It is natural that you cannot expect great speed for free.
Moreover, TOR is not encrypting all your activity on the internet. It only encrypts browsing activity, but not encrypts torrenting, HD movie streaming and so on.
For the maximum security and privacy, the solution is to combine the TOR browser and VPN[3] together. In this scenario, all your data will be encrypted by a double layer of security. Your internet service provider will no longer see what websites you are watching, what torrents you are downloading, seeding and what streaming services you are using.
It is worth to mention, that you also should to pick the VPN service with "no logs[4]" policy. It means that some of the VPN providers are screaming about the 100% privacy, but keeps your browsing activity logs on the server. If the government will ask the VPN service providers your browsing activity logs, they will do it and you may have some problems with the law.
Browsing with VPN, the speed is much faster than browsing with TOB browser. Tor is used more to anonymize you, but not for torrenting or other similar download activity.
There the two scenarios of how you can connect to the VPN with the TOR browser.
Connect to VPN via TOR Browser
| | |
| --- | --- |
| Pros | Cons |
| Ability to access Tor blocked websites. | Tor usage can be detected by ISP |
| Ruduces the risk from Tor exit nodes | Manual setup is required |
|   | Blocked access to .onion webs |
|   | Tor relay[5] network can detect your real IP address |
|   | Routes all of your internet traffic through Tor, slowing internet speed connection. |
Connect to TOR browser via VPN
| | |
| --- | --- |
| Pros | Cons |
| Hides your activity from ISP on TOR Browser | Some websites are blocking Tor network trafic |
| Ability to access all .onion websites | VPN provider knows your IP |
| Hides IP address from the Tor network |   |
VPN which keeps your activity LOGS
You are reading this article, you might be interested in privacy and security on the internet. There some VPN service providers which are not suitable in some case. We are not trying to say, that it provide low-quality service, but there are some law issues. In a different country, there is a different law and VPN companies should keep it. Our job is to review it and inform you.
PURE VPN
The man was arrested by the FBI when the company PureVPN (situated in Hong Kong) exposure the browsing logs to the FBI. So if that man would be used TOR browser, he would not be arrested for double layer privacy protection. < source >
HOTSPOT SHIELD VPN
Hotspot Shield has been accused of spying on its users and injecting its own advertising into web pages, according to a newly filed Federal Trade Commission complaint. Hotspot Shield is injecting tracking cookies into users' browsers. Then they are collecting browsing data and sell it to third-party ad agencies. < source >
HideMyAss VPN
UK-based HideMyAss, which offers freebie web proxy and paid-for VPN services, said it handed over potentially incriminating data to the feds only in response to a court order. It had been aware that its service was being used by Anonymous/LulzSec members for some time before this without taking any action, as a blog post headed LulzSec fiasco by the firm explains.
Cody Andrew Kretsinger, 23, of Phoenix, Arizona allegedly used HideMyAss.com's web proxy service to hack into the systems of Sony Picture Entertainment as part of a hack that exposed the personal details of thousands of gamers. According to the court order, Kretsinger used SQL injection techniques that were run via HideMyAss's anonymizing web proxy service to launch the high-profile attack.< source >
Best VPNs for TOR browser
1. ExpressVPN
At the first place, we could name one of the most popular VPN service provider – ExpressVPN. This VPN service provider works in a market for many years and knows a lot about internet privacy. Moreover, it has great options and price ratio. Works great with TOR browser every time and we did not feel any connection speed slowdowns. Moreover, it unlocks American Netflix from any country of the world and concerned to be number one of the Google Chrome VPN addon.
This VPN can be used on many devices, operating system and browsers: Windows, iOS, Mac, Android, Linux, open-source routers, BlackBerrys, Kindle Fire, Chromebooks, Barnes & Noble Nook tablets, Apple TV, Fire TV, Smart TV, PlayStation, Android TV box and others. It also has extensions for major browsers including Chrome, Firefox, and Safari.
The network also offers unlimited bandwidth, which is the capacity to carry data. Server switches are also unlimited, meaning that the user can switch servers as much as they want, and no additional fees are implemented.
To connect ExpressVPN users need to download Google Chrome add-on, enter the activation code and create the account. The process for us took no longer than five minutes.
| | |
| --- | --- |
| PROS | CONS |
| Compatible with many devices and platforms | High price |
| High level of security | Configuration limits |
| 24/7 customer service | No ad blocker |
It is also important to mention that you have the choice of 30-day money-back guarantee, so there are literally no risks to the user – you can get your money back if something goes wrong.
Read more about ExpressVPN
2. NordVPN
O

fficial

website
www.NordVPN.com
Rating
Available applications
Money-back guarantee
30-days
Price from
$3.49 (-70% deal)

Oder VPN with a discount
More information
NordVPN review
The second place we could give to NordVPN as the best VPN for using with TOT browser.
Browsing with TorBrowser won't be accessible to anyone, including your Internet Provider, hackers, or even the government responsible for all the bans. VPNs can also be used where the WiFi connection is not secured, and this is especially relevant with public WiFi services like those in cafes or malls.
NordVPN is compatible with Android, Windows, macOS, iOS, Android TV, Linux. It has browser add-ons for Google Chrome and Firefox. The VPN service also supports Windows Phone, open-source and branded routers.
It took us about 1 minute to install and run the VPN on our Google Chrome browser.
3. CyberGhost
O

fficial

website
www.CyberGhostVPN.com
Rating
Available applications
Money-back guarantee
45-days
Price from
$2.75 (-80% deal)

Oder VPN with a discount
More information

CyberGhost review
The third place for the best VPN for Tor browser we are giving to CyberGhostVPN. CyberGhost VPN and NordVPN are both popular and widely-used VPN services. CyberGhost VPN is one of the most user-friendly VPNs with great and useful features. Even though by using it you can experience interruptions and slowdowns, just like using NordVPN, CyberGhost VPN is more customizable and more affordable service, than NordVPN.

It uses the PPTP, L2TP/IPSec, OpenVPN, and IKEv2/IPSec tunneling protocols in order to create an encrypted connection. Users are able to set up manual connections without the CyberGhost VPN client software. The VPN service has about 3,000 servers in about 60 countries, which one of the widest geographic reaches. The countries range from Albania to Vietnam, but the list does not include China or Russia.
All data coming into the system gets AES-256 protection[10], which is actually pretty secure, and a user does not have to make any additional changes.
The VPN service is relatively slow, as it took an average of 18 seconds to connect to the service. When it comes to the latency, CyberGhost VPN did not perform the best and around came in at 70 milliseconds. The downloading ability of the VPN service was 13.4, which is not the best result either.
All in one, as you can see CyberGhost VPN offers users pretty slow performance speeds.
| | |
| --- | --- |
| PROS | CONS |
| Offering one of the widest geographical reaches | Performance hits and slowdowns |
| A very informative user interface | Not many personalized options |
| Easy setup and quick to start | Rough reviews by third-parties |
Final thoughts
As you can see from the comparison table, there are three leaders: ExpressVPN, NordVPN, and CyberGhostVPN. The most quality VPN for using with TorBrowser is ExpressVPN. Despite the higher price, this extension works very nice with TorBrowser, so we have ranked it first place. Other two VPN service providers are very valuable too, but as you see the price is different, so decide by yourself what to choose.
About the author
References