A Virtual Private Network (VPN) is a relevant and useful piece of technology that builds a connection between a user and a server.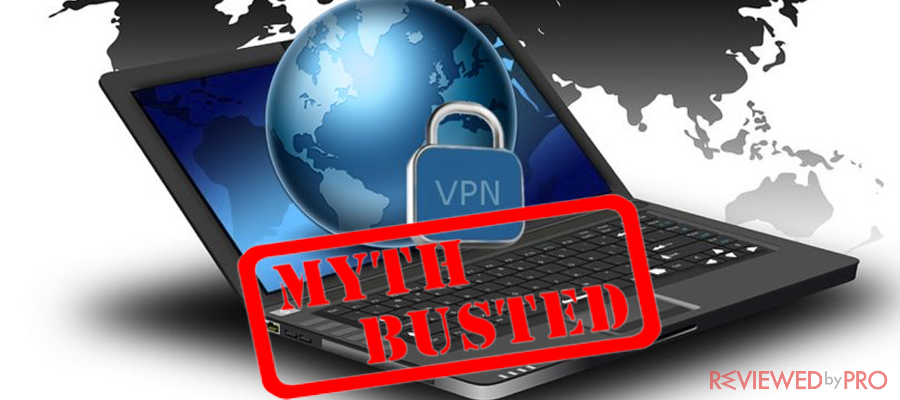 VPNs were created in order to establish network access and secure corporate communications. Today, this technology has become popular among non-corporate consumers to access the Internet securely from the eyes of ISPs which aim to sell browsing information.
Even though VPNs are powerful pieces of technology, they also have limitations. This article provides information about VPN myths.
1. Free VPNs are also good
VPN providers offer their customers paid and free services. Free services would only be suitable for a consumer who only aims to avoid packet sniffing while using public Wi-Fi.
Paid VPN services provide many more advantages, such as faster operations, bigger data allowances, and security.
2. VPN slows down the connection
VPN operates by encrypting the information of the machine. The processes of encryption and decryption actually take some time and can slow down the Internet connection.
When it comes to VPN providers, they offer paid and free services, and naturally, users who pay for VPN support get a faster connection due to the higher priority at the server.
In addition, in most of the cases, there are no significant speed differences between using VPN services or no. In some cases, VPN even speeds up the processes and the Internet connection.
3. VPN is for advanced consumers
VPN services are simple and easy to use. Once downloaded, the VPN software requires easy setup and it will run on your PC in minutes. For example, some VPN providers, like TunnelBear, note consumers about their simple configuration and use.
4. VPN provides anonymity
VPN servers aim to provide users anonymity via the encrypted tunnel to a protected server. However, the statement that VPN user is anonymous online is not completely true.
Even though VPN makes its user more anonymous than a non-VPN user, VPN support can be penetrable and the encryption can be broken.
In addition to that, VPNs also maintain logs and keep the information of a user's activity for some period of time. Moreover, VPN providers can also reveal your data to government authorities by legal guidelines, which is not anonymous at all.
5. VPN servers are the same
There are some similarities among VPN service providers, however, it cannot be said that they all are the same. The most noticeable differences include price, speed, supported platforms, and servers. In order to choose the right VPN server for you, make sure to research all of these parameters.
6. You are safe while using a VPN
It is true that VPN services provide more anonymity online, however, VPN is not a security service suite and will not protect your device or your browser.
It is important for users to understand the limitations of a VPN and to receive the maximum protection, use it only as a part of a complete security package on the PC.
Recommended VPNs
Options
Location
B.V.I. Islands
Panama
Romania
Servers
3000+
5000+
3500+
Countries
160
60
60
Supported devices
5
6
7
Torrenting

✔

✔

✔

U.S.Netflix

✔

✔

✔

Encryption and protocols
AES-256

✔

✔

✔

OpenVPN

✔

✔

✔

PPTP

✔

✔

✔

L2TP

✔

✔

✔

SSTP

✔

✔

✔

IPsec

✔

✗

✔

Internet connection speed

Download speed
83.15
72.33
71.10
Upload speed
35.18
48.18
36.45
Security features
SSL

✔

✔

✔

No-Log

✔

✔

✔

Kill Switch

✔

✔

✔

Ad-Blocking

✔

✔

✔

Double encryption

✗

✔

✗

IP Leak protection

✔

✔

✔

Operating systems
Windows

✔

✔

✔

Mac

✔

✔

✔

Android

✔

✔

✔

Linux

✔

✔

✔

iOS

✔

✔

✔

XBox

✔

✔

✔

PS4

✔

✔

✔

Browser extension
Chrome

✔

✔

✔

Firefox

✔

✔

✔

Other features
Router support

✔

✔

✔

Free version

✗

✗

✗

Accepts Bitcoins

✔

✔

✔

Money back guarantee
30 days
30 days
45 days
Read a review
review
review
review
Paid version from
$6.67/month
$3.49/month
$2.75/month
Try
About the author