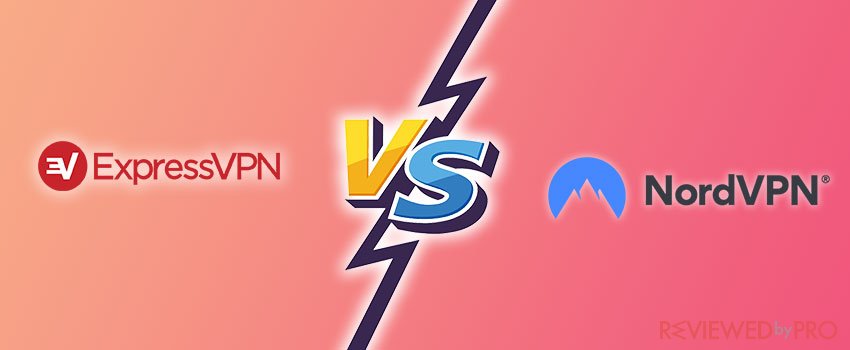 expressvpn vs nordvpn
ExpressVPN and NordVPN need no introduction even to the person who is new to the internet. But you can not keep both of them as your premier VPN service provider on your computer and smartphone. If you intend to know which one is better for you based on aspects like pricing, features, and coverage, then read our ExpressVPN versus NordVPN article and learn the answer with proper facts.
The world of internet browser is our oyster as it is the gateway to limitless information and knowledge. It is also the number one source for hackers/cybercriminals and government agencies to spy on you and track your data. If you do not act to prevent such actions, then the situation has a habit of getting out the hand and become worse.
Only a VPN tool is capable of ceasing, such as hacking and spying attempts on your device, no matter what activity you perform. Even though countless VPN service providers on the market offer protection for their services for a small charge, there are only a handful of VPNs that are capable of maintaining your privacy to the fullest. In this article, we will look into NordVPN and ExpressVPN and see which one of them is better and the purchasable item for you.
Summary:
Do you understand the full features and working of the conventional VPN and just wish to know the answer on which VPN prevailed in the battle of ExpressVPN versus NordVPN, then check out this summary, which is written explicitly for our expert readers. We have declared a winner after each category which were the unique points in assisting us in determining the final winner out NordVPN and ExpressVPN:
Internet Speed Comparison – ExpressVPN's speed was superior under servers of most prominent continents as compared to NordVPN. The winner was ExpressVPN;
Server Coverage Comparison – With coverage across servers in 94 countries and each of them having the ability to offer super speed, bypass internet throttling for torrenting, and accessing Netflix USA, ExpressVPN was superior and the winner of this round;
Comparison of Encryption Potency – This round was a Tie as both NordVPN and ExpressVPN allowed military-level 256-bit encryption under all of its pricing plans to protect user data and offer complete privacy;
Comparison of a variety of Features – This round was also a Tie as NordVPN and ExpressVPN had a similar level of security plans for their users that were impenetrable such as Kill Switch, Wi-Fi protection, and much more;
Compatibility with various Platforms – ExpressVPN had apps available across every big and small platform from Windows to even a Chromebook. Whereas NordVPN only offered its application across the top platforms. The winner of this round was ExpressVPN;
The Interface Intuitiveness Comparison – Both VPNs had intuitive apps with simple functions to switch on VPN protection, and it is why this contest was a Tie;
Customer Support Comparison – ExpressVPN won this round on the account for its video tutorial facility, even though it shared similar customer service features with Nord;
Price Comparison – Express only offered single account support on 5 devices at a time, which was less than what Nord presented(6 platforms) with all of its packages. The prices of Nord were much more reasonably priced as compared to Express. It is why the winner was NordVPN.
Final Winner: ExpressVPN
Nord VPN gave an intense fight and showed that it is a worthy player in the VPN business, but it only came second to ExpressVPN.
After all the eight rounds, ExpressVPN won the complete comparison analysis with a margin of 4-3-1(4 wins, 3 draws, and 1 comparison went to NordVPN).
NordVPN vs ExpressVPN – Our Analysis and Verdict on which is Better
Pitting NordVPN and ExpressVPN against each other is an arduous task as both carry strong stats and potency behind their service, which has gained them such a level familiarity among the average users that only a few have been able to achieve. However, there can only be one winner, and we will assist you in providing the answer in the most transparent way imaginable. Our analysis will base on various categories of must-haves of a VPN software and check how well NordVPN and ExpressVPN performed under such categories that will eventually churn out the name of the final winner.
Express provided more Fast and Stable Internet Speed versus NordVPN

expressvpn versus nordvpn comparison speed
It is an extremely slippery slope when we talk about the relation between the speed of the internet and the usage of the VPN for privacy purposes while performing routine internet procedures such as browsing, streaming, and playing online games.
It is a fact that the speed of the internet will go down below the ISP packet the exact moment when the VPN gets enabled on your particular device. It is due to the several security features that take up a portion of the internet's total capacity to perform their roles for user safety. These standard features include data encryption, OpenVPN or L2TP/IPSec, and PPTP.
However, it is vital to check the stability of the internet connection rather than the speed to check the VPN's impact on it.
In this section of the comparison, we will check the internet speeds of ExpressVPN and NordVPN and how they impact the overall performance of the internet, which will help us to decide the winner of this particular comparison.
We also based our speed comparison by conducting the speed test through servers across four different regions, including Asia, North America, Europe, and Australia, with the help of various speed testing sites against our average internet connection speed of 200Mbps for download and 130Mbps for upload.
Speed Test of ExpressVPN
We used various speed testing sites with ExpressVPN turned on to assess the impact on the average download speed of the ISP across four different continents. Even though the speed drop was significant against our average internet rate, ExpressVPN's numbers were still impressive as it managed to return 83Mbps in the servers available in the US(North America).
Across all the servers, ExpressVPN managed to give out a solid average of 85Mbps. Video content viewing in the high-definition display is totally possible with ExpressVPN. Not only that, you can easily maintain stable ping(<100ms) to play online video games like Fortnite or Minecraft with ease with unlimited bandwidth.
Speed Test of NordVPN
Nord gave better results when the servers that we connected to were closer to the location of the ISP and the router. In North America, it only managed a connection rate of 36Mbps, and similar was the case when we tested the UK servers. Such connection speed is still capable of offering video streaming in HD and 4K resolution. Stream latency issues will not become a problem with NordVPN for gamers who get wish to play online video games without any data lag or interruptions. With NordVPN, you can enjoy unlimited bandwidth with super-speed.
You can look at the speed test figures that we collected in the table below:
| | | |
| --- | --- | --- |
| Region / Download & Upload | | |
| North America | 83 Mbps / 35 Mbps | 36 Mbps / 12 Mbps |
| Asia | 95 Mbps / 45 Mbps | 86 Mbps / 45 Mbps |
| Europe | 74 Mbps / 39 Mbps | 31 Mbps / 16 Mbps |
| Australia | 89 Mbps / 41 Mbps | 76 Mbps / 41 Mbps |
The Final Winner: ExpressVPN beats NordVPN in the Speed Test Comparison
Express VPN was the winner of the speed round mainly due to its ability to keep stable internet connection speed across each region at a linear rate as compared to NordVPN that was significantly lower than the ISP's average speed. However, we felt that the upload speed offered by Nord was more in tune with the average rate of the ISP as it reached a maximum of 100Mbps in the North American servers.
These figures may not mean much to the average user, but if you are an avid gamer, then we suggest taking a look into what NordVPN has to offer as upload speed plays a pivotal role in maintaining ping for the player during online gameplay.
Express VPN has Coverage across more Locations versus NordVPN as per our Server Comparison

expressvpn versus nordvpn comparison server coverage
The purpose behind the creation of the internet was to offer the complete user freedom to access knowledge and content they wished to open. However, such a concept and belief didn't get much appreciation across some part regions of the globe, and content restriction was imposed with the course of the internet's evolution. It is not only the authoritarian regimes that follow such sanctions but also several companies that only enable their content such as movies/tv shows, and even video games for a specific section of the world.
VPN is the miracle of technology that helps in breaking the barriers of content restriction. With a VPN, you not only have the full power to open any content in the world you like that is not accessible in your region under conventional means but also get to open such things with stable internet speed. So next time you wish to watch your favorite show on Netflix and fear that you would not be able to access it due to geo-blocking facilitated by Netflix, then all you have to do is get a VPN and enable it on your device to watch that content. It is as simple as that.
Server Coverage of ExpressVPN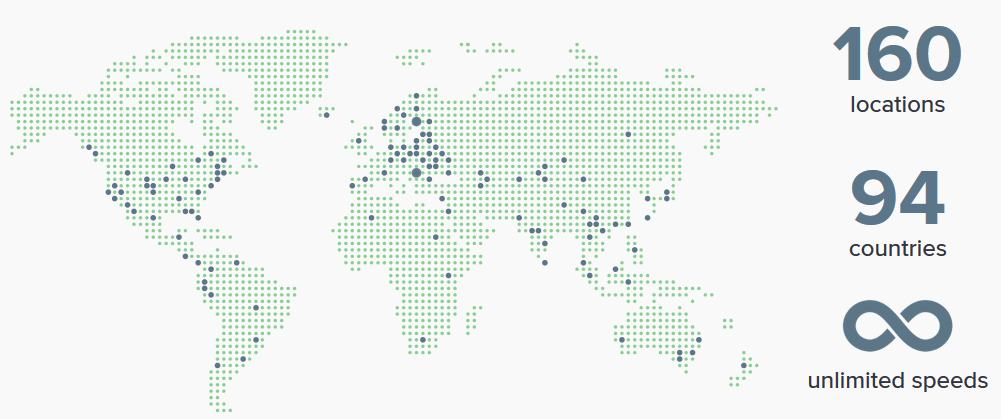 ExpressVPN offers coverage in more than 3000 servers, which it has spread out in 160+ locations in roughly 94 countries. Each server maintains the integrity of the speed of the internet while bypassing geo-blocking and internet throttling every step of the way. You can not only access platforms like Netflix USA, Hulu, and Disney+ but also utilize the facility of torrenting to download stuff for free without the ISP noticing such an activity.
ExpressVPN is available in these countries:

Argentina

Bahamas

Brazil

Canada

Chile

Colombia

Costa Rica

Ecuador

Guatemala

Mexico

Panama

Peru

United States

Uruguay

Venezuela

Albania

Andorra

Armenia

Austria

Azerbaijan

Belarus

Belgium

Bosnia & Herzegovina

Bulgaria

Croatia

Cyprus

Czech Republic

Denmark

Estonia

Finland

France

Ukraine

Hungary

Iceland

Japan

Greece

India

Indonesia

Ireland

Isle of Man

Italy

Jersey

Latvia

Liechtenstein

Lithuania

Luxembourg

Macedonia

Malta

Moldova

Monaco

Montenegro

Netherlands

Norway

Poland

Portugal

Romania

Serbia

Slovakia

Slovenia

Spain

Sweden

Switzerland

Turkey

South Africa

United Kingdom

Georgia

Germany

Kazakhstan

Kyrgyzstan

Laos

Australia

Bangladesh

Bhutan

Brunei Darussalam

New Zealand

Pakistan

Philippines

Singapore

South Korea

Sri Lanka

Taiwa

Cambodia

Hong Kong

Macau

Malaysia

Mongolia

Myanmar

Nepal

Thailand

Uzbekistan

Vietnam

Algeria

Egypt

Israel

Kenya
Server Coverage of NordVPN
With NordVPN, your ISP will never get the chance to throttle the internet when you exceed the bandwidth limit beyond their regulations or even access torrent websites through their service.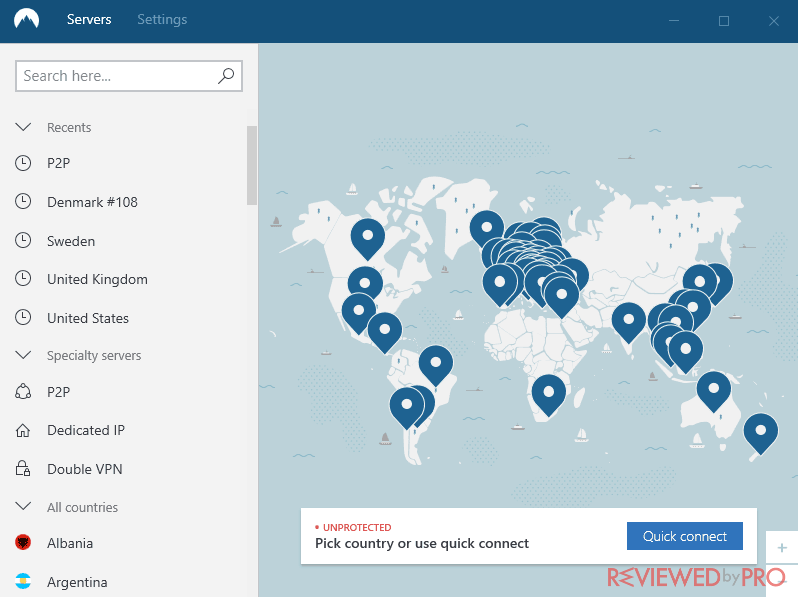 nordvpn-server-coverage
NordVPN covers roughly 5500+ servers in 58 locations, with 2000 servers belonging to the North American region alone(USA & Canada). With such stats, you can not only open Netflix USA followed by several other streaming platforms but also access any type of content you want that is not available to you under ordinary circumstances.
NordVPN is available in these countries:
United Arab Emirates

United States

Canada

Mexico

Brazil

Costa Rica

Argentina

Chile

South Africa

Egypt Australia

New Zealand

South Korea

Singapore

Taiwan

Vietnam

Hong Kong

Bossnia and Herzegovina Macedonia

India

Turkey

Israel

Slovenia

Indonesia

Thailand

Japan

Malaysia

United Kingdom

Netherlands

Germany

France

Belgium

Switzerland

Sweden

Spain

Denmark

Italy

Norway

Austria

Romania

Czech Republic

Greece

Serbia

Azerbaijan

Luxembourg

Poland

Finland

Hungary

Latvia

Russia

Iceland

Bulgaria

Croatia

Moldova

Portugal

Albania

Ireland

Slovakia

Ukraine

Cyprus

Estonia

Georgia
Although NordVPN had approximately 2000 servers more than ExpressVPN, 2000 of those servers were available only in the North American region. Whereas the servers of ExpressVPN were more linear and spread out for users of each area of the world. It is why we decided to declare ExpressVPN as the winner of the contest.
| | | |
| --- | --- | --- |
| Server coverage | | |
| Servers | 3000+ | 5500+ |
| Countries | 94 | 58 |
| Locations | 160 | 75 |
Winner: ExpressVPN beat NordVPN
NordVPN and ExpressVPN offered the same level of Encryption, and the Contest was a Tie in our Comparison of Encryption Potency

expressvpn versus nordvpn comparison encryption
VPN claim to keep your data private and protected from various level of threats but have you ever wondered how they do that and claim such a fact with extreme confidence. High-level VPNs maintain or back up such a claim by providing military-grade encryption to protect their servers, connection, and, most importantly, their user's data.
The most common type of encryption is the AES 256-bit level security, which comes with several security protocols like OpenVPN, PPTP, and L2TP/IPSec. The 256-bit Advanced Encryption Standard or AES 256 is among the most secure encryption methods(256-bit key) that the VPN uses to encrypt and decrypt data or files.
Data Encryption of ExpressVPN
There is a saying that "Hope for the best but prepare for the worst." It is the same mantra that ExpressVPN follows by offering 256-bit military-level encryption to protect the data of its client, which is impenetrable beyond the capability of the hackers, the government, and even a supercomputer to decrypt the protected data.
ExpressVPN maintains the encryption through protocols like an OpenVPN, L2TP/IPSec(Layer 2 Tunneling Protocol), and PPTP (Point-to-Point Tunneling Protocol), that you can choose at any time while using the VPN.
Data Encryption of NordVPN
Much like any other VPN that concerns itself with not compromising on user security, NordVPN also provides AES 256-bit military-level protection to the data of its users and clients all over the globe.
NordVPN maintains such a level of data protection to prevent entities like the ISP, hacker, and the government from tracking its user's internet traffic or even selling the data to other agencies like the advertisers. It keeps a hold of the data encryption through protocols like the OpenVPN(through TCP and UDP ports) and IKEv2/IPsec(to enhance security and stability) so that even equipment like the supercomputer wouldn't be able to penetrate it.
Both VPN services offered the same level of compelling encryption to its respective users that are being used nowadays by pretty much every high-end VPN in the world. There was no reason for us to pick out a single winner after reviewing both Nord and Express, and it is why this contest was a draw.
| | | |
| --- | --- | --- |
| Data encryption protocols | | |
| AES-256 | ✔ | ✔ |
| OpenVPN | ✔ | ✔ |
| PPTP | ✔ | ✔ |
| L2TP | ✔ | ✔ |
| SSTP | ✔ | ✔ |
| IPsec | ✔ | ✗ |
The Final Winner: The Encryption Comparison between NordVPN & ExpressVPN was a Tie
The Feature Coverage was Similar with ExpressVPN and NordVPN in our Features Comparison

expressvpn versus nordvpn comparison security features
The security feature of a product like the VPN represents the might of the service provider and the significance of the concern that the vendor shows to protect its user. Nowadays, there is no singular way to protect data, as it would have been pretty easy for hackers to break past its firewalls to steal user information.
Given the exponential growth of data hacking attempts in recent times, VPN services like Express and Nord offers various features to preserve the integrity of their user's data. In this section, we will observe such facilities of both the VPNs, and see which one is better out of the two.
Security Features of ExpressVPN
ExpressVPN offers all of its services/features with a promise not to share user data with anyone thanks to its no-logs policy, which gets full support from its base of operation, The British Virgin Islands. The country operates outside the jurisdiction of the data-sharing alliance of the Five, Nine, and Fourteen Eyes. Other than such a commitment, here are some of the other security methods take are capable of conserving user data, identity, and other things.
The Kill Switch – If you enable this feature, then no second will go by when you ExpressVPN doesn't keep you protected on the internet. If for some reason your servers get dropped, then ExpressVPN will automatically disconnect you from your internet until you reconnect to one of the VPN's servers again;
The Split Tunnelling – Several apps and programs on your computer/smartphone operate at the same time, and they tend to share the VPN coverage and disrupt the stability of your primary function that you switch on the VPN to perform on it. Through this feature, you can route which app should use the VPN and which one should not;
Bypassing Geo-Blocking – You can access any website and content you want through ExpressVPN, which avoids geo-restrictions like a piece of cake through features like IP masking and extensive server coverage;
Open Wi-Fi Protection – Open internet connection, especially in the public spaces are a nucleus of data snooper/sniffer to infiltrate your device. ExpressVPN prevents such an attack on your system through its Wi-Fi security feature.
Security Features of NordVPN
Nord operates from Panama, which is a Latin American country known for offering data privacy protection to businesses that operate in it. It means that Panama does not allow entities like the Five-Eye coalition to take away intelligence information under legal channels.
The country's regulations assist vendors like NordVPN in keeping a firm grip upon its no-log policy so that no one other the user knows about their whereabouts and browsing activities on the internet. Here are some additional security features of NordVPN that compliment the no-logs policy brilliantly:
The CyberSec Utility – This feature prevents your device from accessing malware-infested websites that may damage it. Not only that, it prevents phishing attempts on your device by blocking ads and avoiding botnet control. It means your device will in no way participate in any type of DDoS(distributed denial-of-service) attack;
The Double VPN – With this feature, Nord will allow you to hide behind two servers instead of a single one to perform your online browsing activities. Double VPN is also referred to as VPN server chaining;
Kill Switch – Much like ExpressVPN, this feature keeps you under the protection of the VPN each second of internet usage and kills the internet if the server connection drops due to overload or any other cause;
Onion Over VPN – This unique feature will allow you to get routed through the Onion network through an encrypted tunnel so that no person can track your online activity due to such an added layer of security;
DNS Leakage Prevention – If your DNS leaks, then your ISP and other entities will know what type of sites you are visiting, especially if such websites are for torrenting. The DNS leak prevention feature will stop that from happening so that you can browse through your internet with full security and privacy.
The effectiveness and diversity make or breaks the service provider's business, but we are happy to say that both Express and Nord were able to provide unique and privacy prompting features to their user, and hence this contest was declared a convincing draw between the two VPNs.
| | | |
| --- | --- | --- |
| Security features | | |
| VPN over SSL | ✔ | ✔ |
| No-Logging data | ✔ | ✔ |
| Kill Switch | ✔ | ✔ |
| Ad-Blocking | ✔ | ✔ |
| Double encryption | ✗ | ✔ |
| Malware protection | ✗ | ✔ |
| Open Wi-Fi Protection | ✔ | ✗ |
| The Split Tunnelling | ✔ | ✔ |
| DNS Leakage Prevention | ✔ | ✔ |
| Onion Over VPN | ✔ | ✔ |
| IP Leak protection | ✔ | ✔ |
The Final Winner: The Feature Comparison between NordVPN & ExpressVPN was a Tie
ExpressVPN offered much Better Coverage across various Platforms as Compared to NordVPN

expressvpn versus nordvpn comparison platforms
A person is not attached to a single platform like the old days when we only had to worry about the safety of our data stored inside our PC. Nowadays, thanks to the advent of modern technology, we are more connected than ever through several gadgets like Smartphones, Gaming Consoles, SmartTVs, and laptops. Some of these devices allow us to access our data on the go where we can use the mobile data or the open Wi-Fi hotspots to perform the much-needed activity.
Still, it has also made us more casual, and our data even more susceptible to hacking/snooping attempts more than ever.
The VPN service provider must offer service across multiple platforms so that we can activate the VPN whenever we feel the need to use it, especially in public places. In this part of the article, we will check the range of platform coverage offered by NordVPN and ExpressVPN.
Platform Support of NordVPN
Nord offers its support on the following platform that comes from the family of browser extensions, computers, smartphones, and even smart TVs:
• NordVPN for Windows;
• NordVPN App for Android;
• NordVPN for macOS and iOS;
• NordVPN for Android TV;
• NordVPN for Linux;
• NordVPN for browser extensions(Firefox & Chrome).
Unfortunately, NordVPN doesn't cover AmazonFire OS and gaming consoles, but you can avail of the VPN service by configuring the router or your home PC through the Ethernet cable or creating a Wi-Fi hotspot connection. Such activity will allow you to use Nord's service on such platforms without any hesitation.
Platform Support of ExpressVPN
From routers, gaming consoles to offering support on rare devices like the Chromebook and the Amazon FireStick, ExpressVPN is a complete package that understands the diversity of clients. Other than that, ExpressVPN permits the passageway to configure several tools like the Chromecast, Roku, and Nvidia Shield through manual setup, whose tutorials are readily available on the VPNs official website. Here are the common platforms supported by ExpressVPN:
Although Nord displayed a compelling argument by offering app support across all the major and most-used operating systems, it was still wasn't enough or close to the coverage provided by ExpressVPN. Express covered all the devices, no matter if they were routers, smartphones, or even gaming consoles. It is why the winner of the platform compatibility section is ExpressVPN.
| | | |
| --- | --- | --- |
| Operating systems | | |
| Windows | ✔ | ✔ |
| Mac OS | ✔ | ✔ |
| iOS | ✔ | ✔ |
| Linux | ✔ | ✔ |
| AmazonFire TV & Fire Stick | ✔ | ✗ |
| AndroidTV | ✗ | ✔ |
| Router support | ✔ | ✔ |
| Browser extensions | ✔ | ✔ |
The Final Verdict: ExpressVPN beat NordVPN in the Platform Comparison
The Interface Intuitiveness Comparison between NordVPN and ExpressVPN was a Tie

expressvpn versus nordvpn comparison ux
The interface of the software gives the user a proper experience of the actual product, mainly if it is user-friendly and straightforward. The whole idea behind an intuitive interface is that the service provider should permit their user the luxury to initiate the primary function of the software from the start with a simple click. Whether NordVPN and ExpressVPN do that for their respective client? Let us find out!
The User Interface of ExpressVPN
ExpressVPN's software for PC works pretty much like a mobile app where you can activate the VPN server by clicking the big button available at the very middle of the display. Below that, ExpressVPN gives out the details about the current situation of your virtual location and, besides that, a tab that offers you the opportunity to select any other server you want to use.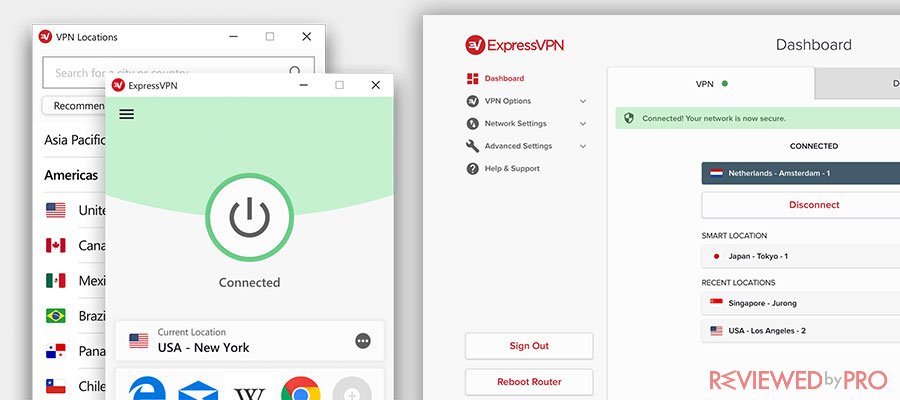 user interface expressvpn
The menu tab available at the top left corner of the interface gives you the freedom to choose various settings and features such as Split Tunnelling, Kill Switch, and much more. With the general settings button, you can maneuver the behavior of VPN, such as allowing it to start upon Windows startup. Overall, the entire interface is simple to use and lets users from every background to navigate it freely.
The User Interface of NordVPN
Upon launching the NordVPN app on your computer, you will see a map of the entire world with server pins scattered all over them. You just have to click on the specific pin of the server as It makes it easier to select the virtual location of choice.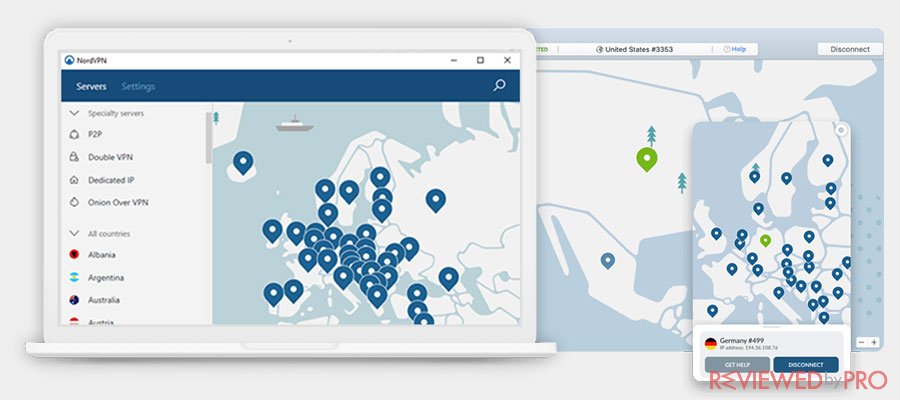 user interface nordvpn
Features such as CyberSec, Kill Switch, and other general settings are available from the Settings button at the top of the interface. From there, you can also select the type of protocol out of UDP and TCP for browsing through the internet. There was no negative thing about the interface other than the fact that it may get hard for a novice to select an individual server from the cluster of pins. However, NordVPN has a drop-down list for such users to choose their server with much ease.
The Final Winner: The Interface Comparison of NordVPN & ExpressVPN was a Tie
The interface of NordVPN was much bigger and more comfortable to navigate while ExpressVPN's seemed more professional and elegant. But both of them have been designed to give out a much intuitive feel to the user of every background. It is why this contest was a direct draw.
ExpressVPN beat NordVPN in the Customer Support Comparison

expressvpn versus nordvpn comparison support
When the interface and the whole service fails or malfunctions, then the only platform that is capable of solving the user's hassle is the customer support service of the said software.
From FAQs to a 24/7 live chat facility, the customer care section of the VPN service churns out assistance and information so that the customer can get back to doing their browsing endeavors again with much-deserved privacy/anonymity. Is the customer support coverage of NordVPN and ExpressVPN good enough? We have the answer for you in the section below:
The Customer Care Facility of ExpressVPN
The support section that is accessible from the official website of ExpressVPN offers the following options at its front page:
The Live Chat facility for every customer/non-customer that is available 24/7;
Informative Guides that are based on two options – Troubleshoot Now & Get Instructions;
ExpressVPN Video Tutorials that offer you virtual guides to use the software through a Youtube Channel;
An Email and Ticket Support Section which permits to discuss much deeper problems related to the VPN with a top technician;
A list of Popular Topic or Solutions to the issues that occur more often than not.
The Customer Care Facility of NordVPN
You can launch NordVPN's customer care program by clicking on the Help button available on the front page of the VPN's website. The section consists of the following care facilities that offer you to dig deep into the problems and find the answers to such issues quickly.
24/7 Live Chat;
A FAQ button to access the solutions to fundamental problems;
General Info button that offers much-needed info about the actual VPN service provider and the app;
The Billing button to manage all your payment information and other things;
The Connectivity tab to manage all the connectivity issues with the device and the VPN.
Almost all the services provided by NordVPN and ExpressVPN were similar, and there wasn't much to talk about as they covered each part in offering their customer the help they deserved.
However, ExpressVPN went the extra mile and arranged for video tutorials both inside the support section and through a Youtube channel, something that NordVPN didn't manage to offer. For that reason, we decided to declare ExpressVPN as the winner of the customer support comparison.
| | | |
| --- | --- | --- |
| Customer support options | | |
| 24/7 live chat | ✔ | ✔ |
| Instructions | ✔ | ✔ |
| Troubleshoot | ✔ | ✔ |
| Video Tutorials | ✔ | ✗ |
| Email Support | ✔ | ✔ |
| Ticket Support | ✔ | ✔ |
| F.A.Q. section | ✔ | ✔ |
The Final Verdict: ExpressVPN beat NordVPN in the Customer Support Comparison
NordVPN has much more affordable rates than ExpressVPN according to our Price Comparison Analysis

expressvpn versus nordvpn comparison price
It all comes down to the pricing offers of the respective VPN service to determine whether the product is within the budget of the typical user and how well they can afford it. VPN services make it convenient for their potential customer to purchase the product by offering them to share their account to be used on multiple devices simultaneously. In this part of the comparative analysis, we will check the rates of NordVPN and ExpressVPN and reveal to the fact about which one of them is affordable for you.
The Pricing Offers of ExpressVPN
With a complete 30-day money-back guarantee, ExpressVPN offers its users sufficient pricing plans that are applicable on a maximum of 5 devices at a time across multiple platforms that we had discussed earlier.
The monthly package is getable for a small price of $12.95 per month, but the most popular plan is the 1-year offer, which you can get for a low amount of $8.32 per month. ExpressVPN is purchasable via conventional means of credit card and PayPal. You can also get it through Bitcoin to safeguard your payment information. Here are the rest of the pricing offers in the table below:
The Pricing Offers of NordVPN
NordVPN is among the most cost-effective VPN services in the world that are also good in quality. All of the pricing plans of NordVPN are usable across as much as 6 devices of variable platforms simultaneously. The most popular pricing program of Nord is the 3-year/36-months offer that is available at a small cost of $3.49 per month. NordVPN also has a monthly package that you can purchase at a price range of $11.95 per month.
Each of the pricing offer mentioned in the table below comes with an impressive 30-day money-back guarantee, which allows the user to check and dissect the product appropriately, and return it if they do not feel satisfied with it. You can buy NordVPN with your credit card and several cryptocurrencies such as Bitcoin, Ripple, and Ethereum.
| | | |
| --- | --- | --- |
| Pricing plans | | |
| 1-month | $12.95/month | $11.95/month |
| 6-months | $9.99/month | $11.95/month |
| 12-months | $8.32/month | $6.99/month |
| 24-months | $8.32/month | $4.99/month |
| 36-months | $8.32/month | $3.49/month |
| 30-Day Money-Back Guarantee | ✔ | ✔ |
| Accepts crypto currency | ✔ | ✔ |
| Supported devices | 5 | 6 |
The Final Verdict: NordVPN defeated ExpressVPN in the Customer Support Comparison
NordVPN had better and affordable plans in the long run along with an offer to cover 6 devices at once as compared to 5 devices coverage by ExpressVPN. It is why the winner of the pricing round was NordVPN.
ExpressVPN was the Final Winner versus NordVPN in our Full Comparative Analysis
We used eight comparison techniques to assess the NordVPN and ExpressVPN and to find out which one of them was better for you. While NordVPN seemed reasonable to get price-wise, the extensiveness of server coverage, speed, and ability to bypass geo-restrictions with each server of ExpressVPN was good enough to make it the final winner of the complete comparative analysis.
Out of the eight comparisons, three were well-fought draws(Encryption, User-Interface, & Features), but Express won the four(customer support, servers, speed, & platform compatibility) out of five comparisons to deserve the award to be called the final winner. You can check the more brief comparison in the table below:
Options
Location
B.V.I. Islands
Panama
Servers
3000+
5000+
Countries
160
60
Supported devices
5
6
Torrenting

✔

✔

U.S.Netflix

✔

✔

Encryption and protocols
AES-256

✔

✔

OpenVPN

✔

✔

PPTP

✔

✔

L2TP

✔

✔

SSTP

✔

✔

IPsec

✔

✗

Internet connection speed

Download speed
83.15
72.33
Upload speed
35.18
48.18
Security features
SSL

✔

✔

No-Log

✔

✔

Kill Switch

✔

✔

Ad-Blocking

✔

✔

Double encryption

✗

✔

IP Leak protection

✔

✔

Operating systems
Windows

✔

✔

Mac

✔

✔

Android

✔

✔

Linux

✔

✔

iOS

✔

✔

XBox

✔

✔

PS4

✔

✔

Browser extension
Chrome

✔

✔

Firefox

✔

✔

Other features
Router support

✔

✔

Free version

✗

✗

Accepts Bitcoins

✔

✔

Money back guarantee
30 days
30 days
Read a review
review
review
Pricing from
$6.67/month
$3.49/month
Try
About the author