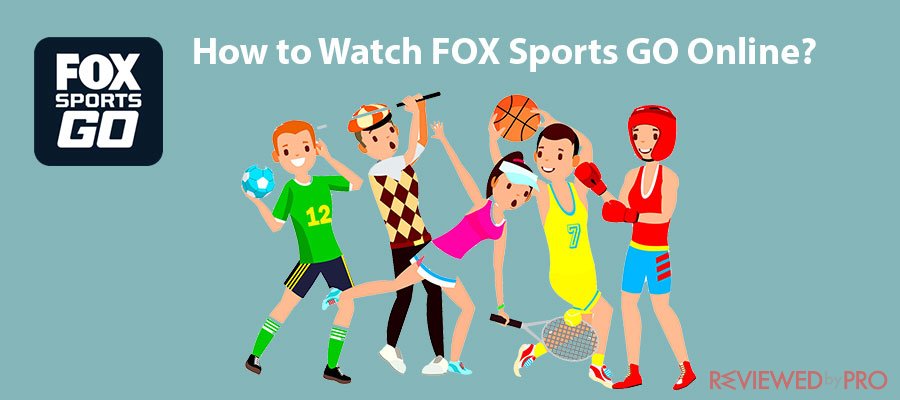 How to Watch FOX Sports GO Online from Anywhere Outside the US
FOX Sports is one of the most popular sports channels currently available. There's hardly a sporting event not covered: live scores, schedules, and fantasy games, player and team news, rumours, videos, stats, etc. On the other hand, FOX Sports Go is the streaming service for FOX Sports Networks, accessible by any device with an active internet connection. FOX Sports Go brings engaging sporting events from all around the world to your favourite screen and fingertips.
With the frequent programming and channels update, FOX Sports Go is one of the best sports streaming services currently available on the Internet-a great option for watching a wide range of sports and all in one place.
One tiny issue, however, is the fact the FOX Sports Go implements geo-blocks (restricting access to its content based upon geographical locations), i.e. blocks out none-US viewers from streaming over the Internet. But as I said earlier, it's a relatively tiny issue.
Here in this post, is the simplest way to bypass geo-blocking by using a VPN (Virtual Private Network) providers:
Exactly How to Stream FOX Sports GO on Your Device in 3 Steps:
Choose any fast streaming VPN of your choice (with US servers). We highly recommend ExpressVPN for FOX Sports GO.
Install the VPN on your device, and simply connect to a fast US server.
Create an account at the FoxSportsGo.com website (Or simply log in if you already have an account), and you're all done.
How to Stream FOX Sports GO on Hulu
To access FOX Sports GO, you'll need a login for a separate cable, streaming provider, or satellite. Hulu is a great option and here's exactly how to use it:
Launch the VPN app, choose a high-speed server based in the US, and connect to it.
Proceed to the Hulu website.
To watch WWE SmackDown live, for example, select the Hulu + Live TV package. That comes packaged with a 7-day trial period.
Once you've signed up, visit the FOX Sports website, and sign up or login if you already have an account.
Next, select Hulu as your TV provider on FOX Sports GO.
Find the latest episode of WWE SmackDown, and you're all set.
Why Do You Need a VPN to Watch FOX Sports GO in The First Place?
As stated earlier, it's due to the geo-blocking implemented by FOX Sports GO. But before you conclude how weird FOX is, geo-blocking isn't just a FOX thing. Matter-of-factly, broadcasters are usually required (by law) to block out specific categories (which could be international or regional) of viewers from streaming content outside their home region.
Enforcing such a law makes more sense if you give it a little more thought. However, geo-blocking doesn't mean you'll be permanently denied access to content because there are great VPN providers out there who give you a way out.
The logic behind the operation of a VPN service is quite simple: when connected, the service/app connects your device to a server located in any country you choose. Your traffic, hence, is assigned the same IP address as the VPN server you're connected to. The streaming site (or whatever site you visit) will then think that you are in the same country since your IP Address says so.
So, since you're technically accessing the site from the US, for example, geo-blocking will be disabled for you.
But wait… There's good news and bad news:
When using VPN services, it is highly recommended that you use a strong, secure one. Every serious website administrator, for example, is aware of the VPN users. Consequently, VPN detectors and blockers are also very potent and active. The good news, however, is that VPN users-with strong VPNs-still have the edge over the blockers.
An IP Address assigned to you by a poor VPN provider might be dictated by FOX Sports Go and blocked out. However, an IP Address provided by a more advanced VPN provider would not/won't be easily detected.
So, here are the top, fastest, strongest, and most advanced VPNs great for FOX Sports Go:
VPN connection speed is key (especially when not restricted to only browsing webpages/downloading). When streaming, a VPN that induces lagging could cause incredible frustration; sports lovers, in particular, can relate to this more than anyone else.
Best VPNs for streaming FOX Sports GO Online
ExpressVPN
Official website
www.expressvpn.com
Rating
  (Excellent – 4.8/5)
Available applications
 
Money-back guarantee
30-days
Price from
$6.67 (-49% deal)
Visit website
More information
ExpressVPN review
It is one VPN we recommend especially for streaming. Our VPN Speed Test shows ExpressVPN as the fastest. Our latest reviews also show why ExpressVPN is best for streaming sports. When live streaming sports, for a better viewing experience, a reliable connection must be established between your device, your VPN, and the service-FOX Sports Go, in this case.
ExpressVPN has lots of servers (over 3000) scattered in over 90 different countries of the world. ExpressVPN also has lots to servers in the US, so accessing FOX Sports Go outside the US with ExpressVPN wouldn't be an issue at all. With its incredible server coverage, you could easily access geo-restricted sites.
Some cool features of ExpressVPN include the ability to use 5 simultaneous connections, the inclusion of a router app, automatic kill switch, split-tunnelling, premium encryption, and user data no-logging policy.
ExpressVPN works well with other services including Hulu, Netflix, Amazon Prime Video, CBC, NBC, and HBO GO. ExpressVPN uses OpenVPN (a commercial open-source software) and 256-bit AES encryption.
The paid version offers you a 30-day money-back guarantee so you can test out the service before deciding whether it is for you or not. A free trial is offered as part of special promotions-you might need to contact the customer service to get started with that.
ExpressVPN is available on Windows, Android, Chrome, macOS, iOS, Apple TV, and Firefox.
NordVPN
Official website
www.nordvpn.com
Our Rating
(Excellent – 4.9/5)
Available applications
 
Money-back guarantee
30-days
Price from
$3.49/month (-70% deal)

Visit website
More information
NordVPN review
NordVPN is actually our highest-rated VPN provider, based on several criteria. Whatever reasons you have for using a VPN, NordVPN will cater to them: whether you just want to stream FOX Sports Go, stay anonymous online, or completely bypass government censorship.
NordVPN is an excellent option for streaming FOX Sports Go online, due to the numerous servers located in the United States.
It is known mostly for its stability and reliability. VPN is also capable of streaming/downloading at very high speeds.
NordVPN maintains over 5000 servers across over 60 countries. Some of its features include unlimited bandwidth, the fact it allows up to 6 simultaneous connections on your devices, compatibility with select routers, dedicated IP Addresses, and military-grade encryption.
NordVPN works well with FOX Sports Go, Netflix, Disney+, Sky Go, Hulu, Amazon Prime Video, and HBO GO.
NordVPN comes with a trial period, which is usually the case with premium VPN services. The trial period lasts for 7 days, free of any charge whatsoever. For the paid version, there's also a 30-day money-back guarantee just in case you don't like what you get from it.
NordVPN gives you a real taste of how secure/unlimitedly you could use/browse the Internet. We also have a detailed user review if you're curious and want to know more about NordVPN.
Platforms:
NordVPN is compatible with Android, Linux, macOS, iOS, Windows, browsers, and Routers.
CyberGhostVPN
Official website
www.cyberghostvpn.com
Rating
  (Great – 4.5/5)
Available applications
 
Money-back guarantee
45-days
Price from
$2.75 (-80% deal)

Visit website
More information
CyberGhost review
After testing VPN apps (300 of them) extensively, CyberGhost emerged as our best pick for Mac users. CyberGhost comes packaged with an ad and malware blocker.
CyberGhost also ensures you get a safe and secure connection across your devices with military-grade encryption (as usual with premium VPNs). CyberGhost also supports seamless and simultaneous connections from your various devices, irrespective of the platforms/OS they run (Android, iOS, Windows, Mac, or Amazon FireStick).
With 6,300+ servers scattered in about 90 different countries, you're almost spoilt with choices. It makes it exceptionally great for avoiding network congestion and snail-speed connections since fewer users share the same servers at any given time due to the vast amounts of servers.
When it comes to HD streaming, CyberGhost does an impressive job, too (10mb/sec—a test showed 10.81 Mbps in the US).
Other features of CyberGhost include DNS/IPv6 leak protection, automatic kill switch, 256-bit AES encryption and IKEv2 protocol (for Mac—you can easily configure the app to work with the OpenVPN protocol on Mac if you prefer that to the default IKEv2 protocol).
One of the distinguishing features of CyberGhost is the Smart Rules feature. It lets you pick which apps you want to launch automatically as soon as you establish a VPN connection and If you're going to initiate the VPN connection as soon as you start your device.
This feature is one of the much-appreciated features-you'll understand better if you switch to another VPN app that doesn't offer such automated features.
CyberGhost also comes with a 7-day trial period and a 45-day money-back guarantee!
Supported platforms: Android, iOS, Windows, Mac, Linux, and Amazon FireStick.
SurfsharkVPN
Rating
   (Good – 4.1/5)
Available applications
 
Money-back guarantee
30-days
Price from
from $2.39/month
More information
Surfshark review
Get SurfShark

Surfshark is a relatively new VPN provider specializing in streaming, which is our basic goal in this article. Surfshark proves itself as an excellent choice for watching sports and other live events, including gaming via game consoles over a VPN network. It is secure and provides a fast, solid, and reliable connection that will definitely meet your streaming needs.
Surfshark maintains 1700+ servers across 63 different countries-relatively low compared to the older VPNs. However, that's understandable due to the fact that it's also relatively new and fast-growing. Surfshark comes with some really outstanding and interesting features:
Surfshark offers an unlimited number of devices. That means your entire family could simultaneously use just one subscription across their various devices. Surfshark also comes packaged with 15+ Netflix libraries, kill switch, strict no-logging policies, AES 256 encryption, a "whitelister" and protection against malware and phishing attempts.
Servers are readily available in the US; hence, streaming FOX Sports Go won't be an issue at all. Surfshark also comes with a 30-day money-back guarantee. A more detailed user-review is available here.
Surfshark is available on all major devices and platforms: PlayStation and Xbox (Game consoles). Android and iOS (Mobile phone and tablet). Windows, Mac, and Linux (Desktop). Chrome and FireFOX (Browsers). Amazon Fire TV app, Apple TV, and other smart TV apps (TV apps). Trust VPN (VPN App).
HotSpotShieldVPN
Rating
   (Average – 2.6/5)
Available applications
 
Money-back guarantee
45-days
Price from
$12.99/month
More information
Hotspotshield VPN review
HotSpot Shield is another great VPN provider. One distinguishing feature of HotSpot Shield that will interest you is their proprietary data compression protocol. This technology makes streaming speeds super fast when compared to other apps. This feature of HotSpot Shield could easily make it rise to the top of users list of favourites.
HotSpot Shield's servers are spread across just 25 countries, so it doesn't support as many countries as one might expect. The 2,500+ servers, however, could compensate that. With sufficient servers in the US, HotSpot Shield will have no issues accessing FOX Sports Go and other services that attempt to block out VPN access.
Other features of Surfshark are Catapult Hydra protocol (maximizes speed without jeopardizing security), user-friendly dedicated apps, support for P2P, and excellent 24/7 live chat/customer support for premium users.
HotSpot Shield also includes a 45-day money-back guarantee. If you want a more detailed review of this app, this article contains just that. Supported platforms/devices include Windows, Mac, Linux, Chrome, Android, iOS, TV, and Routers.
Final Word – VPN can help you to watch Fox Sports GO online
With FOX Sports GO, you can access the wide range of sports programming, games, and events offered by the FOX Sports Network. However, if you intend to view FOX Sports GO outside of the United States, you'll need a good VPN to mask your IP Address (location) properly.
And talking about VPNs, ExpressVPN is our best pick for FOX Sports GO. Are you new to VPNs? Do you need an incentive to get started with streaming FOX Sports GO through a VPN provider?
If you're still curious and want more detailed information about VPNs and every single thing you should know about them which is precisely what we're best at-we've got it covered here for you. What exactly is a VPN and if You Need One? And the Best VPNs Overall. We have the answers.
About the author