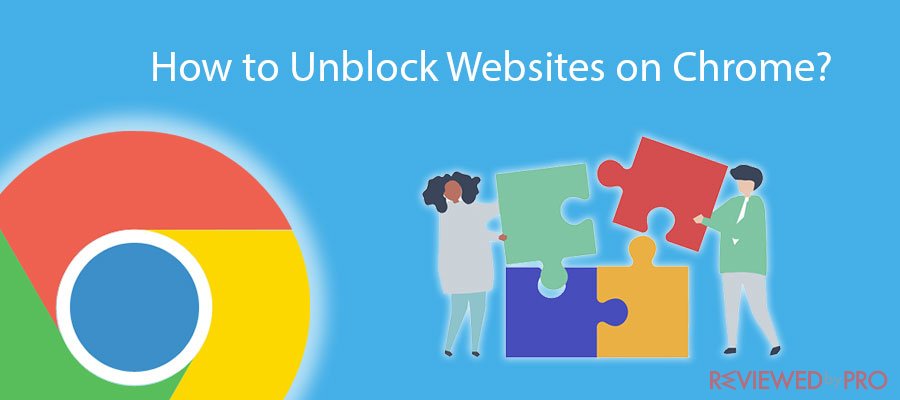 How to Unblock Websites on Chrome?
It is the priority to understand and give a general introduction to unblock any website on the Google Chrome browser. We must see why so many sites are blocked in some countries[1], at offices, colleges and universities? In fact, despite your Internet Service Provider(ISP) allowing these websites, local virtual proxies are set by the web admin to block access to these websites. There are several reasons, political, cultural, and profit-oriented.
Google Chrome is currently the king of web browsers taking a 69% market share as of June 2020, the latest survey by Statista. It only makes sense to see how app developers, extensions, and add-ons have helped users unblock their favorite websites, block ads, use private VPN for secure communications, etc. Chrome extensions, currently, there are more than 188,600 chrome extensions on the Chrome Web Store. We shall soon see the best methods to use on Chrome to unblock your favorite sites.
The best methods to unblock websites on Google Chrome
You can do a few things on a Google Chrome browser to unblock your favorite video streaming platform or browse a website. We list them below, in the order of priority, but their accessibility depends solely on the user.
You should see the version of Chrome you're using. The type of website you're using. For example, if you wish to unblock xvideos.com, you might rely on a video streaming unblocker, supporting the latest video codecs. For unblocking Netflix, you should find the fastest VPN. For downloading videos, find an extension that supports FLV or HEVC codecs and so on.
One of the best things you can do is use a VPN. A Virtual Private Network works seamlessly with a few problems only. You cannot use WGET or FTP on VPNs as you don't know the IP address. VPNs hide your IP both ways to keep you safe. It allows you to visit xvideos.com, for instance, privately, and your IP provider has no record of it either. We shall devote most of this article to finding the best VPNs.
1. Use a VPN extension for Google Chrome
On Google Chrome, a recent survey showed that the top used website unblocking extensions[6] were all VPNs. As per NDTV, DotVPN, TunnelBear, Hotspot Shield, ZenMate were among the most used free services. But, being the most used doesn't mean the best.
As web technologies keep changing, VPNs need to update, support new things like HTML5, have the best servers in most locations, and offer fast video streaming. For example, CyberGhost VPN is among the rare that supports 4K video streaming. It is also one of the cheapest VPNs out there without compromising on quality. ExpressVPN is a high-priced VPN but comes with elite and premium offerings. It promises no-delay and zero-lag streaming and downloads for sites like xvideos.com via its VPN. So, there are several aspects like multi-device compatibility and efficiency when selecting a VPN for your Chrome Browser.
ExpressVPN for Google Chrome
Official website
www.nordvpn.com
Our Rating
(Excellent – 4.9/5)
Available applications
 
Money-back guarantee
30-days
Price from
$3.49/month (-70% deal)

Visit website
More information
NordVPN review
You can find ExpressVPN on Chrome Web Store under the Productivity category, and it lists over 900,000+ users currently actively using their services. It has over 776 ratings, with an average of 4+ stars. The main features of ExpressVPN indeed include privacy, security, and speed. As of August 27, 2020, their latest update is version 4.9, and it is available in 17 different languages. And there is the 30-day trial as well.
Below are some features that make it elite and premium.
ExpressVPN app directly integrates with the Chrome Extension, can spoof your IP location online, and allows you to access content online without any limitation.
All you need to use is the ExpressVPN app for Mac, Windows PC, or even Linux if you are a geek at the college. It would help if you got an ExpressVPN subscription, which is a bit expensive.
It comes with three standard plans in the US. Starting from $12.95 pm, $10 pm for a 6-month plan, and $8.4 for a 12-month plan.
What makes this browser the best for ExpressVPN is this VPN is tailored for the browser from scratch. It is not a generic product. You can have one-click access, connect, and start browsing securely. It can spoof your location and stops all HTML5 geolocation, which Google Chrome put there inside the browser, for IPs to target you with ads and track your online activity. ExpressVPN blocks them and keeps you safe. Finally, it blocks WebRTC, a protocol where websites can discover your iPad location, and use this for whatever reason.
2. CyberGhost VPN for Google Chrome
Official website
www.cyberghostvpn.com
Rating
  (Great – 4.5/5)
Available applications
 
Money-back guarantee
45-days
Price from
$2.75 (-80% deal)

Visit website
More information
CyberGhost review
It is a proxy and a VPN, both on your favorite browser. Of late, its active users have surpassed 300,000 on Google Chrome, and are increasing rapidly every day. It has been rated 4+ stars, average, with over 500 ratings till now. Compare this with ExpressVPN; this is 3x more ratings per user, which shows its acceptance rate. CyberGhost is an excellent public Wi-Fi protection shield and can unblock your favorite sites like XVideos or Netflix. Below are some of its features.
CyberGhost comes with encrypted communication for the Ethereum blockchain network.
It comes with a free and borderless VPN for unlimited browsing and unlimited downloads, without hassle.
It allows us to bypass digital censorships by spoofing IP and leaves no trace for your internet service provider.
It has the most extensive 5,600 servers in 92 countries today and serves the fastest network for video streaming sites.
It works on all devices, and you need just a nominal subscription plan to get going. The lowest possible deal of $2.75 pm is the best to get with such a high-quality service. It also comes with a 45 days trial period, instead of 30, 50% more than most VPNs.
It is because CyberGhost's Chrome browser extension is free to use and available worldwide. It covers all internet-censored countries, to be specific. As it was built of the Ethereum blockchain, you can use apps, make payments, and mine. With a single-click power button, it will connect you to your server, and your IP changes the next second. You are safe and secure on the web now.
3. NordVPN Chrome Extension
Official website
www.expressvpn.com
Rating
  (Excellent – 4.8/5)
Available applications
 
Money-back guarantee
30-days
Price from
$6.67 (-49% deal)
Visit website
More information
ExpressVPN review
NordVPN is one that has grown to 700,000+ users of late and is one of the VPNs. It makes it the 2nd in the most active users ranking, but it also serves as a brilliant balance between expense per month and quality features. Yes, it comes with the usual 30-day free trial, but it costs only $3.49 per month, which is excellent. It has slightly less around 5000+ servers and in lesser countries, but it is manageable.
NordVPN offers four pricing models and four plans. $69 annually or $54 every six months. Or, you can pay $12 per month.
It is a lightweight VPN and doesn't crash the browser or slow it down, eat up the RAM, etc. Browsing is simple, too, with a single-click UI.
The VPN is reliable, and encrypted end-to-end means it can block malware, keep IP addresses safe, and keep you clean online.
It allows you the flexibility to toggle whether you want to enable WebRTC or not? It also allows users to toggle CyberSec, which avoids ads from IP trackers, phishing websites, etc. WebRTC is a JavaScript, so it blocks all Java and doesn't leak the IP.
2. Unblock websites on Google Chrome by using Proxy Servers and Sites
You can manually use a set of proxy servers[7] by going to a website or adding a Chrome Extension that diverts all the traffic through that website. That makes the whole process slow and tedious, and in most cases, makes browsing video streaming sites and terrible experiences. It may or may not be the best solution because it can crash things a lot.
3. Install the Proxy Apps on Google Chrome to access blocked websites.
Then, proxy apps are similar to a VPN but more similar to using proxy websites. These apps on Android, iOS are more stable. You can enable the proxy app, and then use the Chrome Browser, divert the traffic through the app's servers. So, instead of showing your IP, it shows the server's IP, and you can visit a blocked website on Chrome.
VPN extensions for Google Chrome is the best solution for unblocking websites
To give an overall takeaway point, VPNs are currently the best chance. Look for a service that has customer support, is used by many, and has up to date filtering, IP blocking methods. As web tech changes rapidly, so should these VPNs, where proxy servers and sites fail. In essence, a VPN today is right, even if you go for a free service.
About the author
References