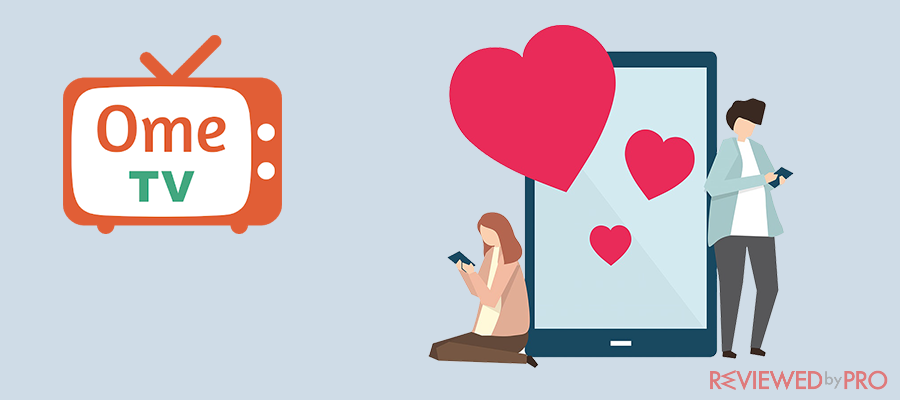 OmeTV[1] is very similar chat to other popular video chatting platforms like Omegle, Chat Roulette or Chat alternative. It is based on video chatting with strangers around the world. Ome.tv users often gets banned for some unclear reasons. In this article we are going to talk about how to get unbanned from Ome.tv and how to not get blocked again.
If you don't have time to read all article there is the summary of the best VPN[2] for OmeTV which will unban you in a minute:
ExpressVPN – one of the best VPN on the market, very good connections speed, very strong encryption and no log policy. Perfect for OmeTV.
NordVPN – great VPN for any user, unblocks Netflix from many countries, great user interface, a wide range of server selection around the globe, great support and no log policy. Great for OmeTV.
CyberGhostVPN – Works fine with Netflix from many countries, good connection speed, strong encryption, protection, and no log policy. Good for OmeTV.
What is ome.tv?
Ome.tv is positioning itself as an alternative for Omegle chat.  Ome.TV is available for "Android" and "iOS" smart devices. You can download it anytime from the Google play or AppStore. At this moment it has more than 10 million active users from various countries. Simple and intuitive interface makes Ome.TV one of the most popular video chat platforms Omegle like websites.

It is worth to mention, that you can flirt with boys and girls anonymously, because you don't need to register in the system. Another great feature that other websites don't have is online text translator, which helps you to communicate with the stranger from foreign country. For example, if you were connected to the person from japan, you can text in English and system will translate it automatically. This function makes Ome.tv one of the greatest websites among similar ones.
It is worth to mention, that Ome.tv works fine without installing any plugin or add-on to your browser. You just need to open a browser, insert ome.tv in the address line and start chatting to the strangers.
The reasons you got banned on Ome.TV?
Of course, Ome.tv like any other this type of video chat, has its own terms of use. If you don't follow them, you are going to get blocked and banned. So, please take a look at those simple rules and be informed about it. Without knowing the rules you don't need to get unbanned because you will banned again and again.

Disrespectful activities
If you will start spreading vulgarity or sexuality or inadequate/depressive comments, you can expect to be banned very soon. Religion, race and sexual orientation are those things that better don't make jokes of it. Degrading other person and showing disrespect, will lead you to a fat ban of Ome.TV.
Offensive behaviour
Also, there are many more other factors which might block your OME.TV account. For example, making nude video chats, asking for virtual sex and other similar actions is not tolerated.
The algorithm of OME.TV detects your face and it must be in the camera frame. If the algorithm cannot detect your face several times, you will be kicked out of the chat.

Basically, it means that you cannot show your naked body, because the algorithm must follow your face. It works very similar as chat roulette, when it is forbidden to show bare chest without a face.
So if you think, that ome.tv is good for virtual sex, think again, because it is not for that.
Displaying irrelevant images or text
Ome.tv will not tolerate if you will display some kind of printed texts or images to other users. For example, naked pictures, printed advertisement or videos. Also, URL links with advertisement are also forbidden.
Also, you might be banned for directing webcam towards yours or other PC screen, by disturbing other OmeTV user with webcam emulator.
Spamming
Spamming is also forbidden in OmeTV. You cannot place URL links on the chat and ask for users to visit your website, vote for something, or buy something.
Demonstrating any advertising videos, images or other media is not allowed.  
All those actions will lead you the ban.
Any user can make a complaint on you if you are not following those rules mentioned above. Especially if they will make a screenshot of your chat or video, it will be much easier to prove the violations.
How long OmeTV ban lasts?
The types of the ban on Omegle is different, depending on some factors. We have discovered three types of bans:
One week ban for soft violation of policy.
Ban up to 4 months or 120 days for a second time soft violation of policy
Permanent ban for difficult violation of policy: spamming, nudity, racism and so on.
So if you don't want to ban, behave like in the natural world, watch your language and follow the rules of OmeTV policy.
Countries which blocks OmeTV
There are some countries in the world, which blocks many websites and applications including and OmeTV. These geographical restrictions are done by content censorship and regulated by the law of this country.
It's not the secret that China blocks many applications, including and Google. So there is a list of countries, which blocks OmeTV:
Countries which Blocks OmeTV

North Korea
Sudan
Ethiopia
China
United Arab Emirate
Iran
Pakistan
Syria
Qatar
As you see the list is not very long, but we want to say that this is not the complete list, because it is difficult to find out where internet censorship, regulated by the law affected the usage of OmeTV chat.
The best ways to unban/unblock Ome.TV
As we have discovered, OmeTV bans only the IP address of your PC. There are three best ways to unblock OmeTV.
1.      Unblock OmeTV by acquiring new IP address.
Many ISPs are using Dynamic IP[3] (non-static or dedicated) addresses system for their clients, in this case it can very easy to change.
Step 1: Type in google search bar "What is my IP" and you will see your current IP address. Please remember or write down your Current IP address.
Step 2: Reboot your modem. If your ISP is using a dynamic IP address system, you will be assigned to the new IP address after the modem reboot.
Step 3: Go back to Google and enter again "What is my IP". Check if the IP is changed from the previous one you have written down. If it is changed, that means you have changed your public IP address.
Step 4: enjoy the OmeTV again and try not to be blocked again.
If this tutorial did not help, that means that your ISP is using a static IP address system and the public IP address is assigned to your place permanently. In this case, we recommend using a VPN to unban Ome.TV.
2.      Unblock OmeTV by using a proxy.
A proxy[4] server works as a tunnel between your PC and the OmeTV. It is an intermediary server which is separating you from OmeTV. By using a proxy server will change your IP addresses.  New IP address means that you will be able to use OmeTV.

The main problem is, that the most part the free Proxy servers, will not unblock Ome.TV. It is already blocked by Ome.TV servers.
Paid Proxy servers is not smart to use for Ome.TV, because it is too expensive. The best solution left just one – use a VPN (virtual private network).
3.      Unblock OmeTV by using a VPN.
For those who doesn't know what VPN is, we will explain briefly. VPN stands for Virtual private Network. It is a service which allows you to make a connection via third server to a desired website or server. It works as intermediate tunnel between you and ome.tv be assigning you to a new IP address.

Moreover, VPN encrypts your internet connection and makes it secure. It means, that the hackers, ISP or even the Government agencies will not be able to snuff around and watch your activity online.
Also, a decent VPN service can provide you other various functions, which can protect your PC from malware, ads, and hackers' attacks.
Finally, it can be used for torrenting, unblocking video streaming services (Netflix, Hulu and other), unblocking various websites effected by geo-block or your government. In short words, VPN gives you a privacy and freedom of anonymity on the internet. IP is changes, browsing data is encrypted, and you are safe online.
Recommended VPNs for OmeTV:
ExpressVPN – ultra fast servers, unblocks OmeTV from any country.
NordVPN – great VPN for good price. Works fine with OmeTV, Chatroulette and other video chats.
CyberGhostVPN – Also very good solution for OmeTV lovers. Unblock OmeTV as much as you want.
How to choose a VPN for OmeTV?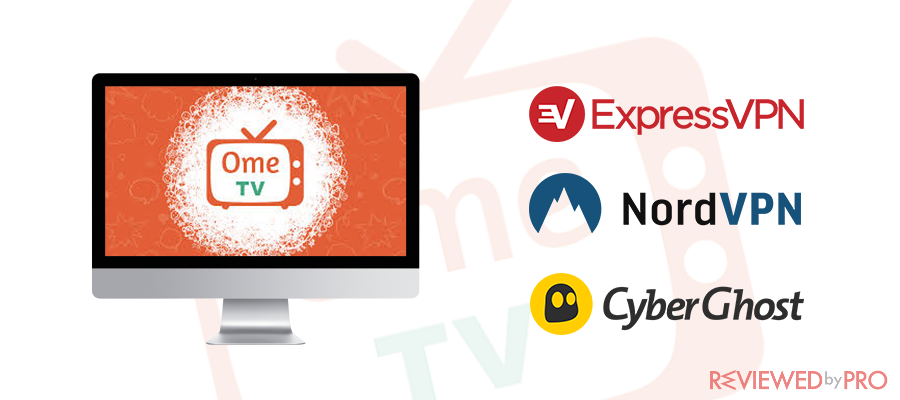 It is not so easy to choose the best VPN for video chatting, because most of the VPN are also blocked like the proxy servers. We are testing VPN services since 2016 and have tested more than 200 of them. Some of them were total crap and some of them are really good. If you want to obtain really good VPN, you should pay attention to this criteria:
Connection speed – this factor is very important for video chatters, because slow internet will make your video chat quality awful and freezing. The speed is a must for OmeTV users. Also high speed is good when you Torrenting or streaming Netflix online. We picked only the fastest VPN for you.
Data encryption methods – there are more than 5 well know encryption methods[5] for VPN servers. Some of them slows down the performance due to the outdated encryption algorithms. We recommend to use those VPN service which supports Openvpn AES-256 bit encryption. This is the most secure and fastest data encryption algorithm which makes your connection unbreakable for hackers, ISP or Government.
Server coverage and locations – the more server locations, the more times you will be able to unban you OmeTV account. Also, server locations make internet connection even faster. For example if you live in Canada and VPN server is also located in Canada, you connection to it will be shorter and faster. Check if the VPN is located in your country. This is also very important for those who use VPN for banking, because banks don't like the connections from the abroad.
No-log policy – this factor maybe is not the most important for Ome.TV users, but you should know about it. Some VPN server providers are logging your data and might expose to the government agencies in case of a cyber-crimes. You want to be 100% anonymous use a best No-Log VPN.
Cross-platform support – Lets imagine that you want to use OmeTV in your office. Your PC is running on Windows. When you come back home, you want to use OmeTV on your home PC, which is running on MAC OS. Or maybe you want to use OmeTV while you are on the go on your Android or iPhone? Then you should pick a VPN which is compatible with the most popular devices.
Multi-device support – there many VPN services which supports only one user per account. It means that you cannot share your account with somebody, because of this limitation. It is always better to choose a VPN with multi-support option, because you can share your expenses with the friends. Also you can buy a VPN for family use.
Customer support – there might be some technical interruptions while using a VPN. Great and fast support for 24 hours is necessary if you have some issues, right? We have picked only those VPN vendors which provides only the best support. We have seen so many bad cases of client support, that we don't want even to remember it. Those vendors really loves their customers.
Price – the price is very important for many users, especially for teenagers. We have picked the best middle price range VPN with the best features and options. The best deal is to buy a VPN for 12, 24 or 36 months. In that case you save a lot of money. If you will share the account with your friends, it will cost you just a couple dollars per year.
Those are the main factors that separated decent VPN from the total peace of crap, so don't waste your time and pick one from the list.
Our tested and recommended VPNs for OmeTV
#1 ExpressVPN
You might already know, that ExpressVPN is a very popular service around the globe and trusted by thousands of users. Maybe this VPN is not the cheapest, but we can admit that the price is worth quality. With this VPN you can be sure that the connection speed will be perfect from any point of the world.
You don't need to worry about privacy and security. The encryption level is amazing and it does not affect the connection speed at all. You can browse adult websites, unblock Netflix, Netflix, Amazon Prime, do banking tasks without the fear.
Express VPN supports multi-device function and can work on various operating systems and devices: Windows, iOS, Mac, Android, Linux, open-source routers, BlackBerrys, Kindle Fire, Chromebooks, Barnes & Noble Nook tablets, Apple TV, Fire TV, PlayStation, Android TV box and others.
Moreover, there are available add-ons for Chrome, Firefox, and Safari for even better browsing experience.
Also, you don't need to worry about the bandwidth, which is unlimited. No additional fee for every single option.
So this VPN we would consider as one of the best VPN for online streaming (Netflix, Netflix).
| | |
| --- | --- |
| PROS | CONS |
| Compatible with many devices and platforms | High price |
| High level of security | Configuration limits |
| 24/7 customer service | No ad blocker |
It is also important to mention that you have the choice of 30-day money-back guarantee, so there are literally no risks to the user – you can get your money back if something goes wrong. Read more about ExpressVPN
#2 NordVPN
O

fficial

website
www.NordVPN.com
Rating
Available applications
Money-back guarantee
30-days
Price from
$3.49 (-70% deal)

Oder VPN with a discount
More information
NordVPN review
Everybody likes NordVPN for a very friendly and modern user interface. It offers a wide range of server locations around the world. NordVPN servers are located in 62 different countries and contain more than 5000 servers.
Nord Virtual Private Network is a great choice for those who want to visit sites that are unavailable in their own country (for example porn websites) and to stream video (Netflix, Netflix).
We are have picked NordVPN as the second best VPN for streaming video online.
The main features of NordVPN:
NordVPN secures user internet activity from hackers and malicious software, including Ad Blocker. In order to have the highest possible level of security, this VPN uses double data encryption. In other words, the data that goes between your device and the server is encrypted twice using Double VPN technology. The features include Military-grade Encryption, CyberSec, and Double VPN.
Privacy protection features ensure that no one can track users' online activity. The features include a Strict no logs policy, Automatic Kill Switch, DNS leak protection, and Onion Over VPN.
NordVPN allows users to bypass geographical restrictions and censorship. It offers more than 5000 servers worldwide, Streaming, SmartPlay, P2P and speed features.
The VPN also offers apps across all the major platforms and multiple devices, as well as extensions for Chrome and Firefox browsers.
NordVPN is compatible with Android, Windows, macOS, iOS, Android TV, Linux. It has browser add-ons for Google Chrome and Firefox. The VPN service also supports Windows Phone, open-source and branded routers.
| | |
| --- | --- |
| PROS | CONS |
| Wide geographical reaches | Performance hits and drop connections |
| Double VPN for twice the encryption | A monthly plan might seem expensive |
| User-friendly and pleasant interface | Not clear ownership |
#3 CyberGhostVPN
O

fficial

website
www.CyberGhostVPN.com
Rating
Available applications
Money-back guarantee
45-days
Price from
$2.75 (-80% deal)

Oder VPN with a discount
More information

CyberGhost review
CuberGhost is another great VPN service which suits perfectly for streaming online video and browsing adult websites. We like CyberGhost for its reasonable price and great quality. It is not worse than ExpressVPN or NordVPN. The main difference is fewer server locations and servers.
Also, we should admit, that the interface of CyberGhost is just great and might be one of the best in the market.
CyberghostVPN has multi-level encryption and you can choose the best for your needs: PPTP, L2TP/IPSec, OpenVPN, and IKEv2/IPSec.
| | |
| --- | --- |
| PROS | CONS |
| Offering one of the widest geographical reaches | Performance hits and slowdowns |
| A very informative user interface | Not many personalized options |
| Easy setup and quick to start | Rough reviews by third-parties |
Final thoughts
If you have read all the article, you understand that the best way to get unbanned from OmeTV is a VPN. It will let you unblock your OmeTV account in a minute. Before buying a VPN, try to restart your modem/router. Hopefully your Internet service provider is using a dynamic IP protocol and after the modem/router restart you will be assigned to the new IP. Also we recommend you to follow the rules of OmeTV in the future. It is not so difficult to be a nice person. In this case, if router restart won't help, try a VPN. You can try it for free up to 45 days because of money-back guarantee. You can just ask for a refund and you will get it back without any questions. We have tested it and it worked fine.
| | | | |
| --- | --- | --- | --- |
|   | | | |
| Download Speed | 65.76 Mbps | 65.29 Mbps | 65.99 Mbps |
| Upload Speed | 29.44 Mbps | 28.41 Mbps | 31.22 Mbps |
| Server locations | 160 | 59 | 62 |
| Encryption protocols | OpenVPN, SSTP, IPSec, L2TP | OpenVPN, SSTP, IPSec, L2TP | OpenVPN, SSTP, IPSec, L2TP |
| No-log policy | | | |
| All security option | | | |
| Customer support | 10 | 9 | 8 |
| Price | $6.67 | $6.99 | $2.75 |
| Visit website | | | |
How to set up a new VPN?
To set up a VPN it is a simple process and you don't need any special computer knowledge. You just need to pick up a desired VPN provider and do the following steps. You are not risking, because of 30 days money back guaranty.
Go to VPN service provider website: ExpressVPN, NordVPN or CyberGhostVPN
Subscribe to service. You will receive a username and password.
Press download the VPN software.
Install it on your computers or smart devices or router.
Enter username and password.
Press Connect to the VPN server.
Enjoy your OmeTV

This process will take for you around 2 minutes. You will have 30 days money back guaranty if you will not be satisfied with the service. I think that you will be satisfied because we have picked only those VPNs which are trustful and worth attention. Also, check our best no-log VPN section.
Our security team at Reviewed by Pro constantly tests new products in order to provide you with up-to-date information and reviews of the latest Internet security and antivirus applications, privacy solutions, recovery tools, and other utilities, not just for your Windows PC, but also for your Mac and Android devices.
About the author
References