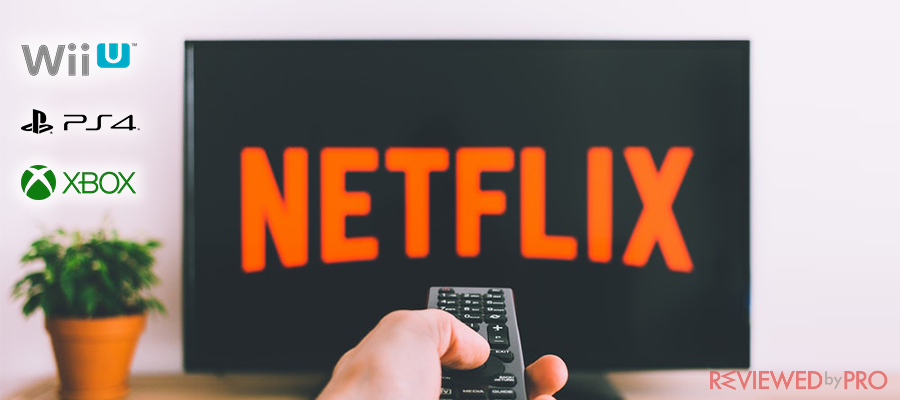 watch netflix on xbox or ps4
Watch American Netflix with PS4, Xbox by changing DNS codes
It is not a secret that Netflix[1] is blocking their content for regional reasons. Naturally, if you live in America, you can watch only American Netflix. So what to do for those who want to watch American Netflix from another country, Germany, Sweden, Canada or the United Kingdom on their gaming consoles (Xbox One, PS4, XBOX 360)? In this short article, we will introduce you to how to unblock Netflix on your gaming console by changing DNS[2] settings. This simple trick will help you bypass all geographical restrictions, so let's get to work.
Before you start reading the article, we just wanted to say, that If you don't want to play with the DNS codes, the best solution to unblock U.S. Netflix from abroad is a VPN. There is a list of the best VPNs For Netflix:
ExpressVPN – Topmost VPN with a broad range of servers, the ability to go through geo-blocking, and high-end encryption protocols in place to grant you full safety online.
NordVPN – Matches the quality of ExpressVPN that provides additional features like anti-phishing and AdBlock. It can unlock access to Netflix on any device with a snap of the finger.
CyberGhostVPN – Hails from Romania and offers a stringent policy of keeping no-logs. Provides means to access Netflix while making sure that you remain anonymous online.
First of all, you need to install Netflix on your PS4[3] or Xbox[4]. I am pretty sure that there's no need a detailed manual for that. Just go to the application menu, find Netflix app and press "Install".
Secondly, you need to adjust DNS settings. There are two ways for that: automatic and manual. So let's begin from the automatic.
Automatic DNS code Settings
Press the "Guide" button on your Xbox controller.
Press the "Settings" tab, which is located on top right of the screen.
Press "System Settings".
Select your connection type "Wired" or "Wireless".
Press "Configure Network".
Set "IP Settings" and "DNS Code settings" to "Automatic"
If it doesn't working, let's proceed to the manual settings.
Manual DNS code settings
Press the "Guide" button on your Xbox controller.
Press the "Settings" tab, which is located on top right of the screen.
Press "System Settings".
Select your connection type "Wired" or "Wireless".
Press "Configure Network".
Set "IP Settings" and "DNS Code settings" to "Manual"
Press "DNS settings" and enter the Primary DNS.
| | |
| --- | --- |
| Primary DNS: | Secondary DNS: |
| 88.80.186.67 | 88.80.186.66 |
| 69.42.58.18 | 213.5.182.117 |
| 88.80.186.67 | 162.243.65.31 |
| 109.74.19.20 | 213.5.182.117 |
| 162.248.221.182 | 070.038.098.032 |
| 104.207.139.102 | 192.241.137.65 |
| 194.51.194.51 | 185.51.195.51 |
| 162.243.065.031 | 107.191.039.197 |
| 209.177.145.030 | 162.208.009.231 |
| 104.207.139.102 | 192.241.137.65 |
| 208.67.222.222 | 208.67.220.220 |
| 162.243.65.31 | 213.5.182.117 |
| 185.51.194.194 | 109.74.12.20 |
| 194.51.194.194 | 185.51.195.195 |
Click save and test your connection again. If everything is ok, try to launch Netflix.
Very similar DNS setting configuration is with Play Station 4 and Nintendo. Listed IP address is working now, but sometime later it might not work, due to various restrictions and blockades by Netflix.
Watch Netflix on PS4 or Xbox with a VPN
If the DNS codes does not work anymore, you watch Netflix on your gaming console by using a VPN. There many various VPN service providers, but we have picked for you the best one. So there is the list of the best VPN service providers to watch Netflix on your gaming console.

Fir those who doesn't know what VPN[5] is, short description: A VPN (Virtual Private Network) is a service that lets you access the web by using another a server. It also hides your IP address and encrypts your connection. So it means, that nobody will see from which country and what websites you are browsing.
Trusted VPNs to watch Netflix on ps4 or xbox
We have selected three best VPN for gaming consoles to watch Netflix which don't keep logs of user activities. It also protects your privacy without losing internet speed. Read short reviews and select your favorite.
#1 ExpressVPN
Official website
www.expressvpn.com
Rating
  (Excellent – 4.8/5)
Available applications
 
Money-back guarantee
30-days
Price from
$6.67 (-49% deal)
Visit website
More information
ExpressVPN review
ExpressVPN came into existence in 2009 and now operates independently from the outskirts of the British Virgin Islands, which allows it to work outside the compliance of the "Five Eyes" alliance. Not only that, it works on conventional sources like Windows and Mac computers, but you can also use Express on your iPhone and Android devices, along with both PS4 and Xbox through a pre-configured router.
With the complete and competent ability to unlock access to any site in the world, through its super fast 3000+ servers in 94 countries. You can watch Netflix or any other VOD service for that matter on any device. Our experts have carefully calculated that the speed of ExpressVPN ranges to a significant of 101 Mbps on a fiber optic internet connection. You need unlimited bandwidth to watch the content you like or play the game you have the most skill in, which is why there is no limit on bandwidth from ExpressVPN at all.
ExpressVPN backs its claim to be the best VPN by offering secure protocols to keep you safe online and prevent any attempts of a cyber attack on your device. Some of the are listed below:
OpenVPN and 256-bit AES encryption
IPSec and PPTP protocols
TCP/UDP
No-log policy
Kill switch and DNS leak protection
Other than that, if you still feel the need to talk with someone regarding the VPN and understand the workings of the software, then ExpressVPN's 24/7 customer service is available for you to guide you all the way. You can use the VPN on
5 variable devices with the information of a single account.
Some may feel that ExpressVPN is expensive than the rest, but the package plans are affordable and provide significant incentives and a 30-day refund policy. The plans are as follows:
$12.95 per month, which is billed each month
$9.99/month for 6-months, which Express collects every 6-months
$8.32/month for one year, which is payable after every 12-months.
How to set up MediaStreamer on PlayStation 4 by changing your PS4 DNS setting
#2 NordVPN
Official website
www.nordvpn.com
Our Rating
(Excellent – 4.9/5)
Available applications
 
Money-back guarantee
30-days
Price from
$3.49/month (-70% deal)

Visit website
More information
NordVPN review
Coming in at the second spot in our list of top VPNs for your gaming consoles is NordVPN that operates in Panama, which is way outside the alliance of the Five or the Fourteen eyes. It implies the fact that the No-log policy of Nord is always at play, and no one can put their hands on your data or logs.
The servers are increasing with time, and until now, Nord offers 5500+ servers in 60+ countries that are super-fact in their own right and have the full capacity to unblock Netflix US or any other site from the PS4 or Xbox. Other than the gaming consoles, you can download the native app for platforms like Windows, macOS, Linux, Android, iOS, and others.
While the no-logs policy is enough for many to trust a VPN service, Nord goes way out of its way to provide other protection protocols that ensure full safety for you at every time. Here are some of them:
256-bit AES high-level encryption
Anti-Phishing(Cybersec)
OpenVPN and Dedicated IP for each server
TCP/UDP and L2TP
DNS leak protection and Kill Switch
AdBlock
Nord has a vast gallery of How-to guides and FAQs along with a 24/7 live chat service and offline ticketing service. If you subscribe to its service, you can use it the account on 6 different devices concurrently.
The 30-day money-back guarantee offer goes with all the subscription plans. All of them are listed below:
$3.49/month for 3-years, payable after 36-months
$4.99/month for 2-years, payable after 24-months
$6.99/month for 1-year, payable after 12-months
| | |
| --- | --- |
| PROS | CONS |
| Wide geographical reaches | Performance hits and drop connections |
| Double VPN for twice the encryption | A monthly plan might seem expensive |
| User-friendly and pleasant interface | Not clear ownership |
#3 CyberGhostVPN
Official website
www.cyberghostvpn.com
Rating
  (Great – 4.5/5)
Available applications
 
Money-back guarantee
45-days
Price from
$2.75 (-80% deal)

Visit website
More information

CyberGhost review
Working in Bucharest, Romania, since 2004, CyberGhost is among the very best. It is due to the widespread 5800 servers in 90+ countries, similar to ExpressVPN. CyberGhost can unlock any site or streaming service(Netflix, HBO GO, others), and it doesn't matter if you are using a gaming console(PS4/Xbox) a computer(Windows/Mac), or a smartphone(Android/iPhone).
Followed with no bandwidth limit and high-speed servers, CyberGhost works outside the confines of the Five-Eyes alliance. Other than a no-log principle, there are some other security protocols that CyberGhost presents to the users for a relaxing online browsing experience.
OpenVPN and 256-bit encryption
An automatic kill switch
Split-Tunneling
IP masking along with IKEv2/IPSec
PPTP
It offers the following packages for you to pick from:
$3.69/month for 2-years with a 24/7 customer care service and a 45-day money-back guarantee
$5.99/month for 1-years with a 24/7 customer care service and a 45-day money-back guarantee
$12.99 for each month with a 24/7 customer care service and a 45-day money-back guarantee
| | |
| --- | --- |
| PROS | CONS |
| Offering one of the widest geographical reaches | Performance hits and slowdowns |
| A very informative user interface | Not many personalized options |
| Easy setup and quick to start | Rough reviews by third-parties |
Configure your router to watch Netflix with PS4 or Xbox
As we have tried many VPN services and we could say, that the best way for using VPN is to configure your router[6]. You can configure your router in that way, that it connects directly to VPN service and all devices under that router will connect to the VPN service (including gaming consoles).
It is ver easy to configure your router, just open google enter your "router model name + configure vpn". You will find many manuals and you will sort it out very shortly.
However, it is worth to say, that not all ISP (Internet service provider) routers work fine with that. So our recommendation is to get the second router for that purpose.All you must too google before buying a router. Search keyword likes this "Best routers for VPN" and toy will get the list of best routers fir that.
How to set up a new VPN on PS4 or Xbox?
You just need a piece of basic computer knowledge to operate a VPN and use it till your package runs out. Here are the steps to set-up a new VPN after you subscribe to the service:
Method #1: Setting up a VPN on PS4 or Xbox through Windows PC
Download a VPN app on your PC and install it
Connect both your PC and gaming console with an Ethernet cable.
Access Control Panel on the PC and go to "Network and Sharing Center."
Enter on the Change Adaptor Settings and Right-click on your internet connection.
Click on "properties" and click on the "Sharing" tab.
Select the option "Allow other network users to connect through this computer's internet connection" and choose your
Method #2: Setting up a VPN on PS4 or Xbox through MAC
Choose one of the recommended VPN and install it on your MAC
Use a LAN cable to connect your gaming console with your MAC
On your MAC, click System Preferences>Sharing
Next, click on Internet Sharing
Open the drop-down menu of Share Your Connection From, choose Ethernet, AirPort or Wireless
Choose To Computer Using and select Ethernet
Select the checkbox Internet Sharing
Internet Sharing icon should be green
Open VPN app on your Mac, go to servers list and choose USA etc.
PS4 or Xbox, open Settings>Network Settings>Setup Internet Connection
Select Use a LAN Cable
Select Do Not Use a Proxy Server and proceed further with default selected options.
Test Connection
VPN on your gaming console through Mac finished.
Method #3: Setting up a VPN on a Router
Install a VPN application on your router
Open your gaming console and select "Network Settings."
Select the option "Set Up Internet Connection" and click on "Use a LAN Cable."
Allow automatic detection of Ethernet on your console through the settings.
Click on the "Do Not Use a Proxy Server" option through the joystick.
You can access Netflix on your console at any time.
The other ways of VPN usage
VPN is a great tool for those who travel a lot. For example, if you going on a vacation and late in the evening you would like to watch some British humor at BBC iPlayer from the hotel of GranCanaria. No problem, it will work fine.
Also, VNN is great to do some banking tasks while you are on the go and often using public wi-fi hotspots. Hackers are waiting in such a places victims like you. It is super easy for them to read your banking or credit card details and steal your money. VPN encrypts all your internet traffic and hackers cannot read it anymore.
You can try to configure your PS4 or Xbox as we have shown above, if it is not working, try VPN service. Note that those IP addresses that we have provided can stop to work at any time. As you know, free services are to giving any guarantees. Best advice is to get a router and a VPN service. In that case, you will always be sure of the best quality service. Thanks for reading and good luck.
About the author
References