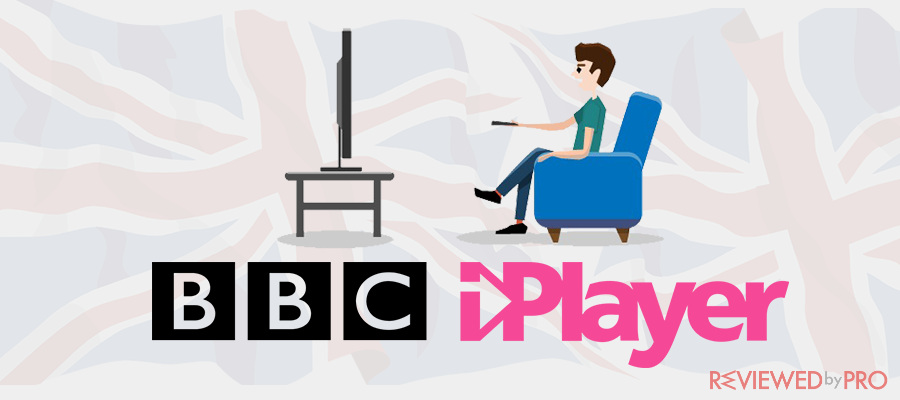 BBC[1] (British Broadcasting Corporation) considers being as one of the most popular televisions in the world. Later on, in 2007, when it became popular streaming television over the internet, BBC has launched an internet streaming application iPlayer[2]. Today, BBC iPlayer is available for all common devices: TV, PC, Tablets, and Smartphones. Here you can watch for free news, various types of movies, music concerts, and other entertainment content.
If you don't have too much time to read the entire article, you can simply unblock BBC iPlayer with the VPN service:
ExpressVPN – probably one of the best VPN on the market. It can change your IP and unblocks BBC iPlayer in a second. Great privacy and security features for a great price.
NordVPN – another great VPN service which will unblock BBC from any point of the world. Anonymize your internet presence with NordVPN.
CyberGhost – the third VPN service from our top selection list for iPlayer is CyberGhost. Also great VPN service with many security and privacy features.
BBC provides 12 channels which are categorized by different content: BBC One, BBC Two, BBC Three, BBC Four, Radio 1, CBBC, CBeebies, Scotland, News, Parliament, Alba, and C4S.
BBC programs are categorized by Arts, Comedy, Documentaries, Drama & Soaps, Entertainment, Films, Food, History, Lifestyle, Music, News, Science & Nature, Sport, From the Archive, Audio and other.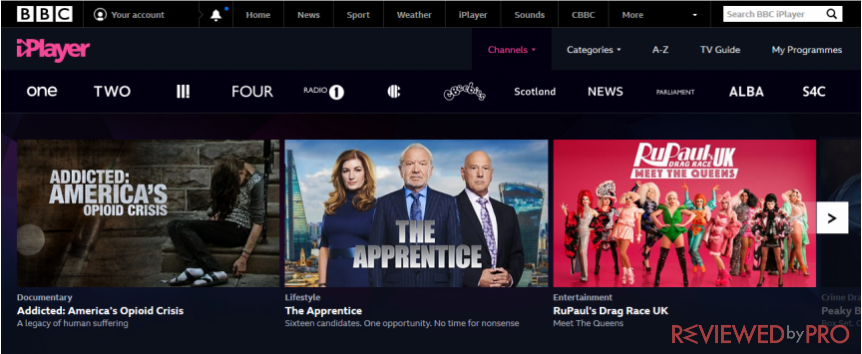 The main problem is that BBC iPlayer is available only in the United Kingdom. If you will try to connect to an iPlayer from the outside of the UK, you will get the error: "BBC iPlayer only works in the UK. Sorry, it's due to rights issues".
If you want to watch the BBC you must use a VPN that has servers in the UK. In this case, you will spoof your virtual location and trick geo-blocking[3] algorithms.
What VPN is?
For those who don't know what VPN[4] is, we will explain it shortly. VPN stands for Virtual Private Network. It is a service that makes a connection via another server located in other countries. In this case, we recommend VPN services that have many servers in the United Kingdom. Additionally, VPN encrypts your browsing data so it won't be readable for hackers, Internet service providers or even government agencies. VPN are widely used around the world to increase internet privacy, security and change the IP address. Also, it is a great service for those people who travels a lot and wants to watch their favorite internet streaming services from abroad.

Some time ago, it was super easy to access the BBC with the help of a VPN. Today, things get complicated. BBC has developed a VPN detection system, which helps to fight with the VPN users. Despite that, there are still many VPN service provider which works well with iPlayer.
In this article, we are going to provide you the information about the best VPNs for BBC iPlayer.
Why the BBC doesn't want you to watch their content from the outside of the UK?
BBC as many other internet streaming companies are using a geo-blocking algorithm, which can identify your location and block the content for certain geographical locations. For example, you cannot watch American Netflix from Canada. The same situation is with BBC iPlayer as you cannot watch it outside the United Kingdom.
Those restrictions are made to protect the content from being watched from specific locations. It is because of the agreements with content providers, which are regulated by copyrights, licenses or even governmental internet censorship.
To keep the agreement with content providers, BBC iPlayer and other streaming companies are regulating where and who can watch the streamed content. In case BBC iPlayer would break the agreements, they could be fined with the huge fines. This might cause a drop in its reputation and lead the company to a huge financial loss.
It was a public secret, that if you want to use iPlayer, you should acquire a VPN and you can watch from any point of the world. As was mentioned before, things became more complicated and now BBC fights with the VPN providers and users by blocking them.
BBC fights with the VPN providers and users by blocking them.
It is another reason for that. The citizens of the United Kingdom must pay a mandatory fee for a TV license. The part of the gathered funds goes to the BBC and other TV providers. By the statistics, there are more than 50 million users around the world who are watching the BBC by using VPNs. Just imagine how many resources are required to keep all the systems stable and uptime. Besides that, those users from the outside of the UK don't pay any TV fees. That also means the BBC do not get any profit for that.
So it is logical, that BBC must fight with those unwanted users who are not bringing any profits and uses technical resources. As you see, there are some important reasons why BBC iPlayer is blocking foreign and VPN users. That's why, today, many VPN services don't work with BBC iPlayer anymore.
How BBC iPlayer can detect the usage of a VPN?
From now on, you already know that BBC iPlayer is working hard to keep you out of watching its content if you do not live in the UK. The VPN detection system[5] is not a new thing in this market. Almost every bigger video streaming company is using it (Netflix, Hulu, Sling, Amazon prime).
VPN detection system works in three common ways:
Shared IP detection
It is not a secret, that a simple VPN service shares one IP per server for a certain number of users. Let's imagine that 50 users from the same IP are making connections to the BBC iPlayer's server. This indication would be a great example of abnormal iPlayer usage.

It would be logical, that 2-5 users from the same IP are connecting to the BBC iPlayer and watches different movies (family use), but if there are a hundred of users connected at the same time, it looks like a VPN server. In many cases, it would be blocked automatically and blacklisted forever. Every day, one by one the IP addresses are being blacklisted and one day all VPN services might be banned. Or maybe not.
Moreover, almost all well-known free VPN services are already blocked. We did test it several times, so don't waste your time doing that again.
Also, it is worth to mention that poor quality and cheap VPN services most likely won't work as well. That's why you need a decent VPN service that has a serious algorithm for user number/IP manipulations.
Finally, if you don't want to get banned by BBC iPlayer's VPN detection system, order the VPN with a dedicated IP[6] address. In this case, there is no chance to be blocked. Your dedicated IP address won't be shared with anybody else, so it will not trigger the security algorithms. Some extra costs will give you 100% comfort without any blocks. Here you can visit our list of the best-dedicated IP VPN section.
The database of blacklisted IP
BBC iPlayer as every other online video streaming company, which fights with the VPN users, is gathering, aggregating and keeping the database of blacklisted IP[7] addresses. If you will buy a poor quality VPN service, and you will try to watch BBC iPlayer, there are many chances that the whole range of your VPN vendor's IPs has already been blocked.
We did not found on the internet to buy a list of IP addresses that belongs to the VPNs, but we do believe, that online video streaming companies are sharing their gathered and blacklisted IP addresses. That's why it is getting harder and harder to bypass geo-blocking bans.
it is getting harder and harder to bypass geo-blocking bans.
Decent VPN service providers must buy hundreds or even thousands of new IP blocks to fight the geo-blocking affected services like BBC iPlayer or Netflix. That's why, we do not offer you to use free, cheap or untested VPNs.
Deep Packet Inspection
Deep packet inspection[8] (DPI) is a method used by many US government agencies to secure their computers from hackers' attacks. The algorithm of DPI is inspecting traffic which comes inside and outside the network. This Automatic Deep Data Inspection Algorithm analyzes data and can easily determine if they come from a VPN server. Because VPN servers use certain data processing technologies, they can leave some traces in traveling data packets that are detected by DPI.
Smaller VPN service providers can't afford thousands of new IPs
So as you can see from the VPN detection methods, BBC iPlayer took it seriously. Many VPN companies got tired of playing a cat-and-mouse game with BBC iPlayer and refused it.
It is quite expensive to buy thousands of new IP addresses to allow your clients to watch programs on BBC iPlayer. Smaller VPN service providers simply can't afford it, or because of too few users, it's not worth it.
How to start watching BBC iPlayer with a VPN?
This is a short manual on how to proceed with the registration to BBC iPlayer from the outside the UK. If you will not follow the instructions, it will not work. So, please read carefully and follow the instructions.

First of all, what you need to do, is to clear your browser's cache and cookies. It is mandatory if you tried to open BBC iPlayer before.
Only after that turn on your VPN, select location "United Kingdom" and connect.
Next, go to the official BBC iPlayer's website and register a new account.
Open the website:

https://account.bbc.com/register

It says "Let's start. This account is for someone who is…" press the button "13 or over"
Enter your date of birth. You can input and fake date of birth, just you must be sure, that your age appears to be 18+.
Enter your email and password and there is a tricky place "country". You must select "United Kingdom". Otherwise, it will not work from the beginning.
Due to the UK TV License law[9], you will be asked to enter the UK postcode. You can generate a postcode here:

https://www.doogal.co.uk/PostcodeGenerator.php

After that, you will get the message "OK you're signed in. Now, want to keep up to date?". Just select "yes" or "no".
Verify your email by opening an email account and press the link in the message you did get from the BBC.
That is it, now you can freely watch BBC iPlayer from any point in the world.
If you did follow all the steps, as it is written, you can access BBC iPlayer whenever you want from any country.
What to do if the VPN fails with BBC iPlayer?
Very often, even the best VPN providers are blocked by BBC iPlayer. If this happens, there are several things you can do. There's no need to panic and try to get your paid VPN service back. This happens all the time and this type of problem is fast enough to be resolved by the VPN vendor.

All you have to do is sign out of your VPN account and sign in again. You will probably be given another IP address that has not yet been blocked.
If you have the option, you can manually switch VPNs to another UK server. This way, your IP will be reassigned to another IP server and you will be able to use BBC Broadcasts again.
In most cases, you don't need to do anything. The VPN provider will assign a new IP address to that server and the BBC will resume operating as usual within a few days.
As was already mentioned before, you can use a VPN with a dedicated IP address. It will give you the possibility to stay unblocked for much longer.
Clean your browser's temporary files, cache, and cookies. Try to connect again. It might be, that you have connected to BBC iPlayer without a VPN turned on.
Perform a DNS leak[10] test. Connect to your VPN and visit this website: https://www.dnsleaktest.com. If you will see that there is a problem, contact your VPN provider and report about that.
If you tried all the methods listed above and BBC iPlayer is still not working, it means that you should change your current VPN to one of our recommended VPN.
The list of tested VPN which are not working with BBC iPlayer
We have been testing VPN services for almost two years and we have found some VPNs that are not working with the BBC. So here is the list, that we would recommend you to use it. All the VPNs from this list are already blocked and there are no chances to stream BBC iPlayer with them.
The list of VPNs which are not working with BBC iPlayer

VPNTunnel
AnonymousVPN
Perfect Privacy
Proxy.sh
Tunnelr
VPN4All
VPN Master
TorVPN

EarthVPN
GooseVPN
iPredator
Overplay
PureVPN
IPVanish
Private Internet Access (PIA)
HolaVPN
HideMyAss
Hide.me
Betternet
LeVPN
SuperVPN
VPNBook
VPNJack
We don't want to discriminate all those VPN services listed above. They might work great for other purposes, but in this case, they are useless with BBC iPlayer.
How to choose the best VPN for BBC iPlayer?
We are testing many VPN services for many various reasons. In this case, we were choosing a VPN to watch movies on BBC iPlayer. There are several important factors worth to pay attention to before selecting the best VPN for the mentioned purpose.

Connection speed – Many VPN services can slow your internet connection speed because of outdated data encryption algorithms and weak IT infrastructure. The high speed of internet connection is a must for streaming videos online. Otherwise, the quality of the picture will drop down or video will be freezing. Also you can check our fastest VPN section.
UK based VPN servers – The number of servers in the United Kingdom is also a key factor for the best BBC iPlayer VPN. The more servers are based in the UK, the fewer chances to block them all by the BBC's VPN detection algorithms.
Dedicated IP option – Possibility to order the dedicated IP address is also a great option for those users who can spend extra money for greater guarantees not to get blocked. If you did read all the articles, you already know that sometimes even the best VPNs get blocked because of shared IPs. A VPN with dedicated IP address can guarantee that it won't be blocked.
DNS leak and Kill Switch[11] – those two functions will encourage, that your VPN will not be compromised to the VPN detection system and you will not be get banned.
Customer support – Customer support is another important factor while choosing a decent VPN for streaming videos online from providers like BBC iPlayer, Netflix or Hulu. During our journey in the world of VPNs, we have seen so many bad examples of customer support because know we know it is important. Fast and pleasant support will encourage your great video streaming experience from any point in the world.
Price – Ant the last but not the least important factor is the price. We have seen very expensive VPN services which weren't worth a penny. It is important to pay a reasonable price for a reasonable and quality service. We think, that our blog readers are smart and nobody wants to overpay for bad or the same quality services.
Overall, those mentioned factors are the most important if you want to watch BBC iPlayer from the outside of the UK.
TOP VPNs for BBC iPlayer
Our top selections list for the best VPN for BBC iPlayer are quite short. We put there only three of the best VPN providers. Of course, we could make a list of TEN or TWENTY services, but we believe that those three providers are the most worth to be on our top list.
You might already know, that ExpressVPN is a very popular service around the globe and trusted by thousands of users. Maybe this VPN is not the cheapest, but we can admit that the price is worth quality. With this VPN you can be sure that the connection speed will be perfect from any point of the world.
You don't need to worry about privacy and security. The encryption level is amazing and it does not affect the connection speed at all. You can browse adult websites, unblock Netflix, Netflix, Amazon Prime, do banking tasks without the fear.
Express VPN supports multi-device function and can work on various operating systems and devices: Windows, iOS, Mac, Android, Linux, open-source routers, BlackBerrys, Kindle Fire, Chromebooks, Barnes & Noble Nook tablets, Apple TV, Fire TV, PlayStation, Android TV box and others.
Moreover, there are available add-ons for Chrome, Firefox, and Safari for even better browsing experience.
Also, you don't need to worry about the bandwidth, which is unlimited. No additional fee for every single option.
So this VPN we would consider as one of the best VPN for online streaming (Netflix, Netflix).
| | |
| --- | --- |
| PROS | CONS |
| Compatible with many devices and platforms | High price |
| High level of security | Configuration limits |
| 24/7 customer service | No ad blocker |
It is also important to mention that you have the choice of 30-day money-back guarantee, so there are literally no risks to the user – you can get your money back if something goes wrong.
O

fficial

website
www.NordVPN.com
Available applications
Money-back guarantee
30-days
Rating
More information
NordVPN review
Everybody likes NordVPN for a very friendly and modern user interface. It offers a wide range of server locations around the world. NordVPN servers are located in 62 different countries and contain more than 5000 servers.
Nord Virtual Private Network is a great choice for those who want to visit sites that are unavailable in their own country (for example porn websites) and to stream video (Netflix, Netflix).
We are have picked NordVPN as the second best VPN for streaming video online.
The main features of NordVPN:
NordVPN secures user internet activity from hackers and malicious software, including Ad Blocker. In order to have the highest possible level of security, this VPN uses double data encryption. In other words, the data that goes between your device and the server is encrypted twice using Double VPN technology. The features include Military-grade Encryption, CyberSec, and Double VPN.
Privacy protection features ensure that no one can track users' online activity. The features include a Strict no logs policy, Automatic Kill Switch, DNS leak protection, and Onion Over VPN.
NordVPN allows users to bypass geographical restrictions and censorship. It offers more than 5000 servers worldwide, Streaming, SmartPlay, P2P and speed features.
The VPN also offers apps across all the major platforms and multiple devices, as well as extensions for Chrome and Firefox browsers.
NordVPN is compatible with Android, Windows, macOS, iOS, Android TV, Linux. It has browser add-ons for Google Chrome and Firefox. The VPN service also supports Windows Phone, open-source and branded routers.
| | |
| --- | --- |
| PROS | CONS |
| Wide geographical reaches | Performance hits and drop connections |
| Double VPN for twice the encryption | A monthly plan might seem expensive |
| User-friendly and pleasant interface | Not clear ownership |
CyberGhost is another great VPN service which suits perfectly for streaming online video and browsing adult websites. We like CyberGhost for its reasonable price and great quality. It is not worse than ExpressVPN or NordVPN. The main difference is fewer server locations and servers.
Also, we should admit, that the interface of CyberGhost is just great and might be one of the best in the market.
CyberghostVPN has multi-level encryption and you can choose the best for your needs: PPTP, L2TP/IPSec, OpenVPN, and IKEv2/IPSec.
| | |
| --- | --- |
| PROS | CONS |
| Offering one of the widest geographical reaches | Performance hits and slowdowns |
| A very informative user interface | Not many personalized options |
| Easy setup and quick to start | Rough reviews by third-parties |
Final thoughts
So if you did read all the article you probably understood, that there plenty of variuos VPNs. We always recommend using a VPN on every internet session. Otherwise, you are risking be attacked by the hackers. If BBC iPlayer in your country is blocked, our recommended VPN will unblock it. Also, your connection will be secured by the military-grade encryption[10] and won't be accessible for the hackers. Don't save a couple of dollars, buy a decent VPN service and increase your privacy at a maximum level.
| | | | |
| --- | --- | --- | --- |
|   | | | |
| Download Speed | 65.76 Mbps | 65.29 Mbps | 65.99 Mbps |
| Upload Speed | 29.44 Mbps | 28.41 Mbps | 31.22 Mbps |
| Server locations | 160 | 59 | 62 |
| Encryption protocols | OpenVPN, SSTP, IPSec, L2TP | OpenVPN, SSTP, IPSec, L2TP | OpenVPN, SSTP, IPSec, L2TP |
| No-log policy | | | |
| All security option | | | |
| Customer support | 10 | 9 | 8 |
| Price from | $6.67 | $3.49 | $2.75 |
| Visit website | | | |
How to set up a new VPN?
To set up a VPN it is a simple process and you don't need any special computer knowledge. You just need to pick up a desired VPN provider and do the following steps. You are not risking, because of 30 days money back guaranty.
Go to VPN service provider website: ExpressVPN, NordVPN or CyberGhostVPN
Subscribe to service. You will receive a username and password.
Press download the VPN software.
Install it on your computers or smart devices or router.
Enter username and password.
Press Connect to the VPN server.
Enjoy BBC iPlayer!
This process will take for you around 2 minutes. You will have 30 days money back guaranty if you will not be satisfied with the service. I think that you will be satisfied because we have picked only those VPNs which are trustful and worth attention.
Where else VPN is used for?
VPN is a great tool for those who travel a lot. For example, if you going on a vacation and late in the evening you would like to watch some British humor at BBC iPlayer from the hotel of GranCanaria. No problem, it will work fine.
Also, VNN is great to do some banking tasks while you are on the go and often using public wi-fi hotspots. Hackers are waiting in such a places victims like you. It is super easy for them to read your banking or credit card details and steal your money. VPN encrypts all your internet traffic and hackers cannot read it anymore.
Many people are using VPN for gaming. For example, if you would like to play "Fornite" with USA folks, but location restrictions will not you do that. You already know what to do. Just change your IP with the help of a VPN to the American one and go ahead.
Another group pf people are using VPNs for watching American Netflix, Hulu, Sling or other IPTV services on their smart TVs. Moreover, it used with an Amazon Fire TV stick. VPN is a great option to cut the cord with your cable TV provider and start streaming television over the internet.
The most popular pattern of VPN usage is torrenting. In many countries torrenting is illegal, but people still want free movies, software, and music. VPN is a great tool for safe torrenting.
Also, check our best no-log VPN section.
Finally, VPN is used for unbanning popular video chats like Omegle, Chatroulette, Ome.TV, Camsurf, Chat alternative and others.
There are much more ways how you can use a VPN, it depends on your creativity. In one sentence we can say, that VPN gives you freedom of internet usage without traces of your presence.
Our security team at Reviewed by Pro constantly tests new products in order to provide you with up-to-date information and reviews of the latest Internet security and antivirus applications, privacy solutions, recovery tools, and other utilities, not just for your Windows PC, but also for your Mac and Android devices.
About the author
References