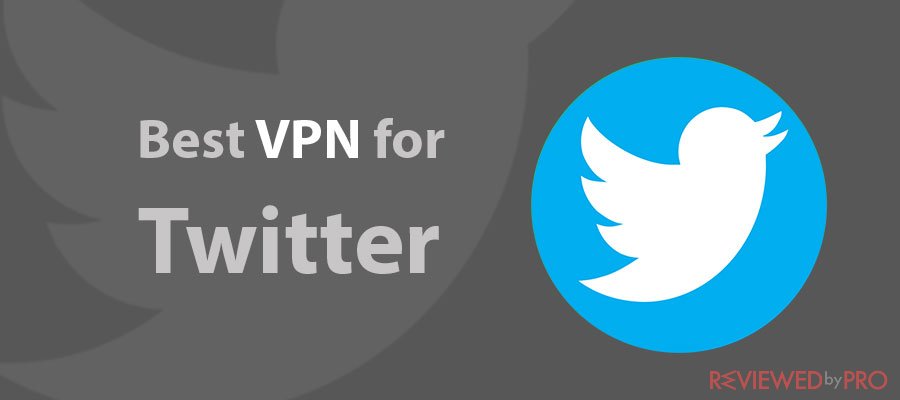 Best VPN for Twitter
Are you looking for the best way to access Twitter even though it has been blocked where you live? This article will show you just how to do that with the help of the best VPNs available for you. You will no longer have to be thrown off your favorite site because your school, work, or government say so.
Twitter is a popular social media site used worldwide; it has earned the endearing name, "the bird app." People use it to communicate with others worldwide, even as they give daily updates about their lives. However, some places of work, schools, colleges have placed a ban on Twitter to ensure that people concentrate on what they are supposed to do at the time. Some countries have also blocked Twitter to stop potential uprisings, especially those that arise when people see what is going on in other regions.
If you are in any of the categories above, then using a VPN will help you in unblocking Twitter where you are located to enable you to gain free access to the service.
What is a VPN, and why do I need it with Twitter?
VPN is an acronym for Virtual Private Network. What VPN does is create a separate private network (as the name implies) from the traceable public one to provide you the anonymity and online privacy you require. How this happens is that VPN will cover up your IP address or your Internet Protocol address, thereby making it impossible for others to trail you online and know which sites you visit.
VPNs' services are more secure than even a secured Wi-Fi hotspot as it encrypts all the internet traffic going back and forth your device and passes this traffic through another server that serves as an intermediary. It sounds a bit complex. That is because it creates a web of complexities that make Internet Service Providers (ISPs), surveillance agencies, network administrators, and the like from monitoring what you do online.
The most important factors for choosing a VPN for Twitter
Several factors are to be considered before a VPN can be categorized among the best; these factors or criteria, if you will, are outlined below:
A wide range of server locations all around North America and Europe
It contains a significant number of simultaneous connections. With these, you get to share connections with family and friends.
Stable service and speed
Easy use
Has apps for both iOS and Android
It must have strong parameters for encryption. It is very vital to ensure that your location remains hidden from prying eyes.
Do you now see the importance of having a VPN if you must be able to access Twitter and not be discovered?
In a nutshell, VPN hides the following for you:
Your online browsing history
Your location and IP address
Your internet activities to help you maintain freedom
The location you stream from
Your devices such as a tablet, desktop computer, smartphone, and laptop
The best VPNs for Twitter
The criteria above have been carefully considered in bringing up the list below for best VPNs for Twitter that you can rely upon to maintain your privacy when it comes to using Twitter:
1. ExpressVPN
Official website
www.expressvpn.com
Rating
  (Excellent – 4.8/5)
Available applications
 
Money-back guarantee
30-days
Price from
$6.67 (-49% deal)
Visit website
More information
ExpressVPN review
This is one of the best among the best, and it is relatively popular among users of VPN. It has been termed "the fastest VPN on earth" by both experts and novices to the tech world. 
The unique features of this VPN have earned it this bold name; such features include the following:
It is a high-speed VPN as advertised above
It is stable
It makes use of military-grade protocols for encryption.
The design is minimalistic and straightforward. It is relatively easy for new users to comprehend and navigate through. There is also the testimony of users having a seamless network, so they don't experience problems.
There is a wide range of servers across 94 countries, up to 3000 in number, and North America and Europe. Users can choose from any of these servers. The server which ExpressVPN feels will serve you best will be found in the app or desktop version of the service when you open it, labeled "smart location." With this, you should be able to open your Twitter without blockage.
An additional layer of security has been provided in the form of a "network lock" feature. This feature does bring web traffic to a halt temporarily if the network connection suddenly drops.
With one subscription, you can get access to three devices simultaneously, which makes it cost-effective.
There are apps for both iOS and Android devices. You can also use it for the desktop version for Linux, macOS, and Windows.
It can go past systems that detect locations
A disadvantage of this VPN is that it breaks your bank as it is not cheap hence the need to use coupons if you can lay your hands on them for discounts.
2. NordVPN
Official website
www.nordvpn.com
Our Rating
(Excellent – 4.9/5)
Available applications
 
Money-back guarantee
30-days
Price from
$3.49/month (-70% deal)

Visit website
More information
NordVPN review
This VPN has been used for over ten years now. Thus it can be trusted as one that knows the game. 
Its features bother on suitable encryption protocols, speed, easy use, and other elements that are enumerated below:
Similar to IPVanish, NordVPN does not retain a single customer data, which makes it reliable. It means that if your aim of getting a VPN is to escape detection from political sources, then you can rely on NordVPN to prevent your online data from being garnered by such people.
There is provision for an internet kill switch, which is a necessary backup for such services.
You can also connect a single subscription of this VPN to six devices: that is relatively high!
The servers you can access are over 5000 spread across sixty countries.
The live chat support can be accessed all hours all day.
Disadvantageously, it gets a bit cumbersome to navigate through the desktop app version.
3. CyberGhostVPN
Official website
www.cyberghostvpn.com
Rating
  (Great – 4.5/5)
Available applications
 
Money-back guarantee
45-days
Price from
$2.75 (-80% deal)

Visit website
More information
CyberGhost review
This is yet another VPN that can get the job done when it comes to providing online privacy for you. This VPN company has its headquarters in Romania, and it is dedicated to its policy to erasing all data by the user to boost privacy further.
The other features of this VPN are outlined below:
It is relatively cheaper compared to the other high-end VPNs in this list. This makes it affordable for the average user who cannot afford to get the expensive ones.
It has over three thousand servers operated in sixty countries and available for users. With the weekly increase of these servers, they keep growing beyond this number.
It has a resilient encryption standard and a kill switch for your internet.
You can use it on both PC and macOS, as well as iOS and Android.
It is reliable, fast, and easy to use.
It does not contain powerful advanced features like other VPNs that require you to spend more. For a service that is quite affordable, one can expect this.
4. IPVanishVPN
Rating
   (Average – 3.4/5)
Available applications
 
Money-back guarantee
7-days
Price from
$ 6.49/month
More information
IPVanishVPN review
This tool provides the highest standard of security and privacy you seek as a user who wants to unblock and use Twitter confidently.
In helping you attain this, the following features have been embedded in the IPVanish service:
Speed is not compromised as it can stream a video of 1080p without hiccups.
On this service, your server preferences, timestamps, online log in records are non-existent as they are not saved. It appears as your online presence has vanished. It makes it's a "logless VPN."
If you subscribe to the paid version, you get an automatic internet kill switch.
With an encryption standard like a 2,048-bit key exchange, anything you browse online using the tool can be encrypted forever. Hence, even if there is an unlikely case of hacking, your information cannot be found. It can't get better than this!
The server networks range from 1,300 over 75 countries, with the majority being in Canada, Europe, and the US.
Secure apps are provided for devices that Mac OS X-based, iOS-based, and macOS-based.
The apps have been found not to work in a country like China.
You do not get live customer care or support.
5. VyprVPN
Rating
(Good – 3.9/5)
Available applications
Money-back guarantee
30-Days Money Back Guarantee
Price from
$ 5.00
More information
VyprVPN review
This is a different type of VPN, different from previous ones that have been discussed so far. It is because Vypr logs data, a policy that involves storing the IP address of the user, the VyprVPN address used by the same user, a gross total of bytes the user consumes, as well as the time the user starts and ends the online session. There haven't been any cases where the company has divulged such vital information of users to government authorities or the likes, at least not yet. So, you can still place your confidence in their ability to keep your activities private.
The company asserts that the data they log on users is kept for just thirty days to help in troubleshooting if the need arises and for product improvement.
VyprVPN has been said to have one of the toughest encryption standards that have made it a reliable service to ensure your private information is not leaked.
For an additional fee, you can sign up for the Chameleon protocol that goes further to create a barricade that prevents your Internet Service Providers from even discovering you are making use of a VPN in the first place.
A majority of its 700 servers are located in Europe and North America
With a single subscription plan, you can connect to three devices at the same time and use them effectively
The apps are available for Windows, macOS (desktop versions), iOS, and Android.
You should note that when it comes to advanced configurations, this VPN still needs more options.
You cannot pay for it with cryptocurrency as this payment method is not available yet. It can be limiting to some users.
6. ZenmateVPN
Rating
    (Average – 2.3/5)
Available applications
Money-back guarantee
30-Days Money Back Guarantee
Price from
$2.99/month
More information
ZenmateVPN review
The first thing you should know about Zenmate is the fact that it came into the VPN space as a result of its Chrome extension, which is free; this brought the attention of users.
You can always upgrade to a higher version, which you will need to pay for, of course. However, be rest assured that you will get a broader range of server network and the encryption standard will be higher when you do.
Like most tools in this list, it doesn't store user data in logs, and it is fast as well.
Browsing is smooth with this service, video streaming also.
A con that has been discovered, however, was the lot of DNS leaks across the Zenmate VPN at a time.
More so, you cannot do a 14-day free trial to test the waters before deciding if you want to sign up for the service, which can be discouraging.
On the brighter side, with the premium package, you get access to a whole thousand servers spread around 28 countries globally, which is a pretty good deal.
Service is adequate, and the encryption standards are decent, although not as fast as others on the list.
It works well with Twitter, which is the crux of the matter, right?
7. SurfSharkVPN
Rating
   (Good – 4.1/5)
Available applications
 
Money-back guarantee
30-days
Price from
$1.99/month
More information
Surfshark review
Surfshark is another VPN on this top ten list that is worth looking into. Its features are similar to others on the list, yet it is unique in its own way as no two VPNs can be the same, just like no two persons can be the same.
These features include the following:
It has a high speed, which is suitable for a VPN.
The number of platforms and devices you can Surfshark on are very diverse and unlimited
It has simple commissioning, which makes it easy to use for even the most basic user.
You should note on the con side, which this VPN only supports English on the website, which can be difficult for non-English users to navigate through swiftly.
Support is provided to users only through chat and email.
The discounts that have been provided on their prices make the VPN quite affordable for all users.
It is known to be a well-rounded VPN that can let you torrent, stream, and browse on the "Dark Web."
8. UltraVPN
This is a VPN owned by Network Connect, responsible for other VPNs as SafeVPN and PrivacyWeb. It is conventional in that it has features like other VPNs such as a kill switch in case it drops, apps for iOS, Windows, Android, and macOS, and there is a zero data log policy.
Generally, that is about it. Specifically, it has other aspects which include the following:
Besides having over a hundred server locations in 60 countries, it has plus as its servers are compatible with P2P.
The support system has several options that cater to the user's needs on all fronts: email, phone (for billing only), and live chat. With all these in place, you can contact the company when the need arises.
Unfortunately, it has high pricing when compared with other VPN services, and with this pricing system, you can only connect to three devices after subscribing.
On the plus side, it is fast and easy to install as well as use.
It is not compatible with Linux systems, a point worthy of note for Linux users.
9. PureVPN
PureVPN has been in the market since 2007, based in Hong Kong but with servers that are self-managed across over 140 countries of the world, up to 2000 of these servers.
The diverse yet unique features of this VPN are outlined below:
There are apps for virtually everything, so you can use it to gain untraceable access to Twitter on any device you may be using.
There is a large number of protocols to choose from
It supports torrenting and protects you against IPv6 and DNS leaks.
Like other great VPNs, PureVPN has a kill switch for emergencies.
It allows for split tunneling, and you can use the Bitcoin payment method, which is excellent news!
It supports various platforms such as Mac, Windows, Android, iOS, and Linux devices. There are Chrome and Firefox extensions you can use.
With this VPN, you can connect to as many as ten devices simultaneously and with a single subscription. It gives you great value for your money.
The pricing of PureVPN is higher than the average VPN, but of course, it is not an average VPN.
10. SaferVPN

This VPN is recommended for you if you want to be safe from not just those that want to snoop into your online activity, viz the government, but also from hackers.The features that enable the VPN to achieve this are outlined below:
Its content is unlimited
It is a good VPN when it comes to streaming online, as it enables fast streaming.
The connection is instant as well, so you are assured of no unnecessary delays.
Note that this VPN is not an excellent choice for P2P.
The protocols provided by SaferVPN include L2TP, IKEv, PPTP, as well as OpenVPN.
All major platforms have apps, and this includes the Chrome extension. It will assist new users with just basic knowledge as they can navigate seamlessly.
When uploading and downloading files, users have found SaferVPN to be relatively easy at high speeds.
The customer support is available 24/7 through Live Chat. The response is instant on this platform, and on Facebook, it takes only about a few minutes. And if there is anything users love, it's a quick response and resolution to their issues.
Having gone through the list of the best VPNs for Twitter, what is your final verdict? It all depends on you now to choose which one(s) you wish to use to help you get access to Twitter and not be detected by whoever will want to do so.
About the author