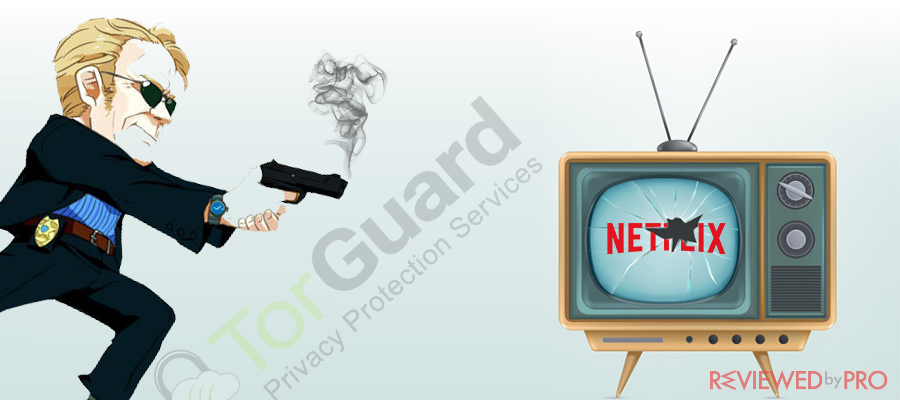 Netflix is not working on Torguard?
Many our readers ask us, does Netflix work with standart Torguard VPN service? The answer is NO, because almost all the IPs are already blocked by Netflix VPN detection tool.
Just imagine that you are planning a business trip or a vacation to a foreign country. You have prepared your TorGuard VPN for that purpose, knowing that it will unblock your American Netflix on your laptop and keep you safe. You come back to your hotel room, turn on your laptop, trying to connect Netflix and you get the error: "Whoops, something went wrong…Streaming Error. You seem to be using an unblocker or proxy. Please turn off any of these services and try again."
Recommended VPNs:
That is very sad when you cannot watch your favorite TV show or serial while on the go. Keep reading and you will understand why Torguard was blocked by Netflix.
Tips and Tricks to unblock Netflix with Torguard
Change the VPN server. The first step would be to try to connect to a different VPN server and change the IP address. Another server might not be blocked yet. Try it with all possible American servers while you will find not blocked IP address. If it is not working, it means that Netflix already blocked all Torguard VPN IP addresses. There is no other way except one – change VPN service provider. Some VPN service providers like TorGuard are not focusing on how to bypass the Netflix geo-blocking system and it is getting more difficult to watch Netflix from abroad.
Unblock Netflix with dedicated IP VPN. You can easy unblock Netflix if you will order a dedicated IP for your TorGuard. For Netflix, it is very difficult to block users, which are using a dedicated IP address. However the IP is not shared, so it is harder to detect for Netflix VPN detection system. The only problem is that dedicated IP address cost twice as a different VPN service provider which works fine with Netflix.
Try to change PORTS. This method might work if you are an advanced user and you are at home. You can try to change router ports because Netflix doesn't like some specific ports which are associated with VPNs. Try to connect your router and change it to 2018, 41185, 443, and 80.
Try Shadowsocks. Shadowsocks is a proxy project that is open source and extremely popular in China. It has the ability to transfer and redirect internet traffic to a proxy server that makes the user able to bypass geo-restrictions much like a typical VPN. But the only problem with Shadowsocks is that it does not offer good enough speed to stream Netflix in good quality.
Try Tor Browser – another alternative to a TorGuard is a TOR browser. It might unblock your Netflix, but the connection might be terrible. However the connection is terrible, so you should not expect great video quality.
The last time we did tests on TorGuard VPN it was working fine with Netflix, but this time we had many questions from our readers about this issue. It is a really good VPN, but it is not the best solution for unblocking Netflix. They have not too many servers and those servers might be already blocked by Netflix VPN detection system.
Ok, so you have tried all the steps and you still cannot watch Netflix, or you are not satisfied with the video quality. We have another alternative that will help you for sure.
Alternatives to Torguard which still works with Netflix
We should give credit to Netflix where it is due as its servers try each day and night to block IP addresses from their platform that does not come from the conventional means. Unfortunately, robust VPNs such as Torguard have fallen victim to Netflix's intense screening process as well as several VPN vendors use a limited number of similar IP addresses. It makes it impossible for the user to open the streaming service and stay secure on the internet at the same time with Torguard. We have arranged for a list of replacement VPNs that can invalidate the situation and allow you to access any website/service in the world.
This section is for those VPN enthusiasts who understand the working of the VPN technology and only wish to know the names of the best VPNs to replace Torguard and watch Netflix without any further discrepancies:
1. Use ExpressVPN instead of Torguard
Official website
www.expressvpn.com
Rating
  (Excellent – 4.8/5)
Available applications
 
Money-back guarantee
30-days
Price from
$6.67 (-49% deal)
Visit website
More information
ExpressVPN review
It would help if you gave ExpressVPN a try instead of Torguard to watch or open anything that you like on the internet. With its ever-increasing new IP addresses on 3000 servers across 160 locations (94 countries), Express not only can only open Netflix, but it also gives you infinite bandwidth with high-speed internet to watch the content in the best picture quality imaginable.
Netflix is available across each notable platform, no matter if you are using a computer, smartphone, or TV. Much like that, ExpressVPN also has apps on every portable platform and device that is good enough for Netflix.
Your daily log and internet activities are protected by the privacy-friendly laws of the British Virgin Islands(ExpressVPN's HQ). Furthermore, methods like military-level encryption, OpenVPN, and a kill switch ensures to bypass any attempts of surveillance, online attacks, and internet throttling.
You have a choice to select any package you want from the below-mentioned list:
12 months + 3 months free package at $6.67/month. It comes with a 30-day reimbursement policy to be used on 5 different devices simultaneously;
6 months package at $9.99/month. And it comes with a 30-day reimbursement policy to be used on 5 different devices simultaneously;
The monthly plan begins at $12.95/month. It starts with a first 30-days reimbursement policy to be used on 5 different devices simultaneously;
| | |
| --- | --- |
| PROS | CONS |
| Compatible with many devices and platforms | High price |
| High level of security | Configuration limits |
| 24/7 customer service | No ad blocker |
2. Stream Netflix with the best VPN on the market – NordVPN
Official website
www.nordvpn.com
Our Rating
(Excellent – 4.9/5)
Available applications
 
Money-back guarantee
30-days
Price from
$3.49/month (-70% deal)

Visit website
More information
NordVPN review
Nord has countless IP addresses and over 5400 servers in 59 locations that make it nearly impossible for Netflix's mainframe to detect them and block your access in watching your favorite movie. After intense testing across several platforms, we have concluded that Nord maintains an internet connection speed for up to 75Mbps, which is enough to allow the user to stream Netflix or any other site with quality as high as 4K, followed by endless bandwidth to throw off any attempts of ISP throttling.
You can download Nord's app on platforms such as Windows, macOS, every smartphone(Android/iPhone), TVs, and others. And to sweeten the coverage deal, Nord allows you to hook 6 devices with the same account at the same time, without any hidden cost.
Features such as CyberSec that safeguards any phishing attempts on your device, no-logs policy protected by the laws of Panama, and high-grade encryption are enough that you remain anonymous and safe for as long as you want.
You can pick any of the top four price plans of NordVPN and replace Torguard at once to make it your number one VPN to watch Netflix:
36 months offer at $3.49/month(30-day refund policy);
24 months plan at $4.99/month(30-day refund policy);
12 months package at $6.99/month(30-day refund policy);
1-month program at $11.95/month(30-day refund policy);
| | |
| --- | --- |
| PROS | CONS |
| Wide geographical reaches | Performance hits and drop connections |
| Double VPN for twice the encryption | A monthly plan might seem expensive |
| User-friendly and pleasant interface | Not clear ownership |
3. CyberGhostVPN – One of the best alternative to Torguard for streaming Netflix
Official website
www.cyberghostvpn.com
Rating
  (Great – 4.5/5)
Available applications
 
Money-back guarantee
45-days
Price from
$2.75 (-80% deal)

Visit website
More information
CyberGhost review
If you are looking for an alternative to Torguard, then the Romanian VPN vendor CyberGhost is the one you should pick. It has over 100,000 IP addresses at its disposal that works exceptionally well with its privately-owned 5800 servers across 60+ countries.
Each of them has the utmost ability to provide a steady internet connection with virtually no limit on streaming quality content on Netflix. And unlike Torguard, which comes from the island of Nevis(part of the fourteen-eyes alliance), CyberGhost has a no-logs policy safeguarded by the laws of Romania.
CyberGhost allows you to use a single account on as much as 7 devices, no matter which time of the day you apply. It also each framework(Win, Mac, iOS, Android, Linux) that works good enough with Netflix.
If you think the stringent policy on no-logs isn't enough, then CyberGhost discards any threat of DDoS, malware, or internet throttling on your device from a mile away with features like DNS leak protection, kill switch, 256-bit encryption, and virus blocker.
Please select any of its top three package plans that we have slated out for you and start using CyberGhostVPN instead of Torguard today:
24 months at $3.69/month (45-day refund policy);
12 months $5.99/month (45-day refund policy);
1-month offer for $12.99/month(45-day refund policy);
| | |
| --- | --- |
| PROS | CONS |
| Offering one of the widest geographical reaches | Performance hits and slowdowns |
| A very informative user interface | Not many personalized options |
| Easy setup and quick to start | Rough reviews by third-parties |
4. The cheapest alternative to Torguard that is capable to bypass Netflix geo-blocking
Rating
   (Good – 4.3/5)
Available applications
 
Money-back guarantee
45-days
Price from
$4.00

More information
ProtonVPN review
One of the more robust VPNs out there, with its 1000+ servers, IvacyVPN has the full proficiency to open Netflix from any place you live, no matter what type of limits the regional authorities impose on you. Ivacy offers the utility mentioned above with ceaseless bandwidth and a stable rate of internet required to watch Netflix's content in 4K.
Although Ivacy hails from the city of Singapore, it still does not compromise on sharing the logs of its loyal customers with any higher power. It also protects the user's online endeavors through randomizing the IP allocations, military-level encryption, and a kill switch to keep the device safe 24/7, and much more.
Ivacy is available on a wide variety of significant devices and platforms that people use ever so frequently. You can use Ivacy on a maximum of 5 different gadgets concurrently.
You can start using Ivacy at once by paying for its top subscription plans through different modes of payment, including Bitcoin, other cryptocurrencies, and PayPal.
24 months at $2.25/month that you can use on 5 different devices at once with a 30-day money-back guarantee;
12 months at $3.33/month that you can use on 5 different devices at once with a 30-day money-back assurance;
1-month package available for $9.95 each month that you can use on 5 different devices at once with a 30-day money-back assertion;
5. ProtonVPN – A worthy alternative to Torguard
Rating
   (Good – 4.3/5)
Available applications
 
Money-back guarantee
45-days
Price from
$4.00

More information
ProtonVPN review
Hailing from the country of Switzerland and created by the scientist working at CERN, ProtonVPN, even though still a small scale VPN, is slowly rising among the ranks of the top VPNs by adding new and improved features with each update. If you are looking to replace Torguard finally after it continuous failure to open Netflix, then you should immediately swap it with Proton.
With its 610 servers in 44 countries, Proton allows its consumers to access any site like Netflix without any apprehension. These servers are capable enough to bypass internet throttling and geo-restrictions while giving a significant rate of internet connection speed with 714 Gbps capacity.
Protected by the privacy-welcoming policies of the government of Switzerland, Proton gives the best no-log plan out of all the VPNs on the market. Other than possessing an impenetrable substructure, Proton offers extreme means for you to remain anonymous throughout, no matter you play a video game, use BitTorrent, or watch Netflix. The users can avail of methods such as 256-bit encryption, DNS leak prevention, OpenVPN, and a kill switch to keep themselves safe from any threats.
Proton is downloadable on each platform that is compatible with Netflix. You can begin having a safe online experience by purchasing one of the three plans that ProtonVPN offers to its potential subscribers, followed by a 30-day money-back guarantee:
The Basic Plan – $4/month for one year. The user can connect their account on 2 devices concurrently;
The Plus Plan – $8/month for a full year. The user can connect to as much as 5 devices at the same time;
The Visionary Plan – $24/month for an entire year. The user can connect their account on 10 devices simultaneously;
Netflix VPN detection tool has blocked many Torguard's IP addresses
Netflix is using a geo-blocking algorithm which prevents users from streaming video from a different country. For example, you cannot watch American Netflix if you live in Canada. It looks like Canada is a friend to The United States, but the content is different.Mostly it is because of the agreements with the media providers which have licenses and copyrights only for the certain regions. Also, the content might be different in the different regions to the regulations of the law on internet censorship. The content might be modified, some scenes might be cut off, and soundtracks might be different and so on.
So that's why Netflix doesn't want you to watch their content from the foreign country. Otherwise, they are breaking the agreements with their partners and the law. Every year, Netflix is investing a lot of money for improving their VPN detection systems, which helps them to fight with the users who want to bypass geo-blocking and watch restricted content. At the moment Netflix VPN blocking system concerned to be the most modern in the world. The major blocking algorithms are:
VPN IP database – They have a database of the IP addresses which belongs to the VPN service providers. This database is expanding every day because more and more IP addresses they are adding to it. It's like a game "hide and seek". VPN providers are buying a lot of IP addresses, and Netflix is trying to block the one by one.
VPN Blocking by ports – The majority of VPN service providers are using the same internet ports. It is not very difficult for Netflix to identify and block them. Some of the VPN service providers are not trying anymore to bypass Netflix's VPN detection system, because it would be too expensive reorganize all the VPN system.
VPN Deep Packet Inspection (DPI) – The traffic data is analyzed by the security algorithms which can see the source of connection. If the connection comes from the VPN service providers – it is banned. The same technique is being used by the Government and Military agencies in order to avoid attacks from the internet. You can just imagine Netflix VPN detection system works as a military security system.
Shared IP blocking – The most common way to block a VPN for Netflix is to detect too many connections at the same time from one IP address. As you might know, VPN is sharing one IP with many users. So it is nothing strange, that you are trying to watch Netflix from abroad and it is not working. Might be, that this IP address has been already blocked before.
The Final Opinion
Opening Netflix is just one of a few things that a VPN can do. Through the feature of bypassing geo-blocking, a VPN allows the users who are avid gamers to open limited functions of a video game that are only available for players living in certain regions of the world. These gamers can purchase the items at will or beta-test the new features through the power of a VPN. If you wish to visit a site and it is banned in your region due to some unfair government sanction or some other reason, then with a VPN you can easily open that website, without the ISP ever knowing. Torrenting is frowned upon among the members of the fourteen-eyes alliance, as their piracy laws forbid the citizens to download content from those sites for free. If you use a VPN that operates outside the jurisdictions of such a coalition, then you'll be able to do torrenting at will.
There is no point in carrying on with a VPN such as Torguard if it isn't paving you a way to watch Netflix. You should replace the service with a much more reliable option that holds its ground in offering you the service you deserve and want. We have carefully tested each of the selected replacement VPN vendors for you and stated the key attributes that make them better than TorguardVPN. Furthermore, we have also mentioned their price plans for you to compare them with your budget so that you can get the most affordable package.
Set up a new VPN for free
Among the most straightforward jobs in the world and much more relaxed than opening an account on Netflix, setting up a new VPN is the one thing that anyone can do, doesn't matter if you have any technical computer-related knowledge or not.
You can try it free up to 30 days, so there is no risk. If you don't like, you can cancel it go back to Torguard.
Once you subscribe to any of the VPN vendors, as mentioned earlier, then it is a cakewalk from thereon. Here are the set of instructions to set up a new VPN:
Download the app on your system;
Install and run it by clicking on the app's icon;
Enter your username and password and click on sign in to proceed;
Select the server of the region you intend to watch Netflix in and hit the connect button;
You'll be able to do whatever you want on the internet with complete anonymity;
About the author