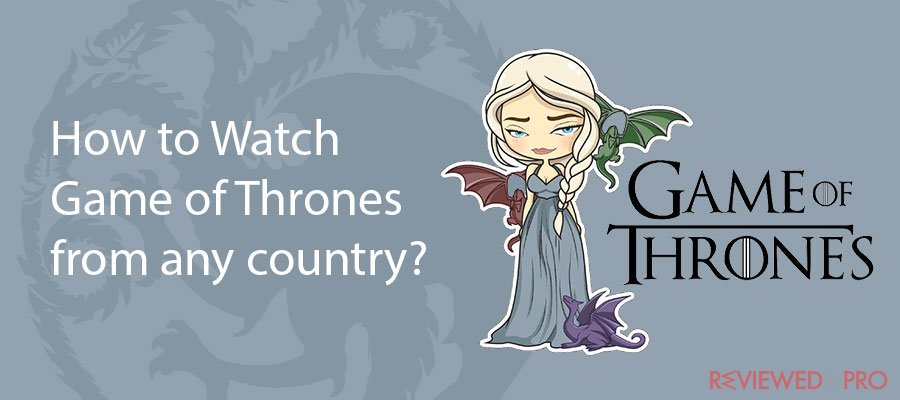 How to Watch Game of Thrones from any country?
It's always painful to say goodbye to an old friend who has always been there for you. Saying goodbye to a much-admired long-lasting TV show like the Game Of Thrones, which gained such public acclaim from fans all around the world, was even more challenging. The show lasted for almost a decade from its first appearance on HBO in 2011 and considered a global talking point ever since. If you cannot watch Game of Thrones from your country, this article is just for you.
The history of Game of Thrones
With its middle-earths storytelling components combined with devious plot twists acted out by its glorious casting, which gained huge admiration from the viewers, the show is considered a TV phenomenon. The whole world went silent on every episode's airing time. The fans living in the US had the front row seat for the ever gripping show while fans in other time-zones had a hard time either staying awake or waking too early to synchronize with the original airing. An even more challenging quest awaited the ones who couldn't catch the original airing time, widely known as "The uneasy dance: Avoiding spoilers on social media until I get back home and watch the episode for good!".
The ones who didn't catch the global ride when the show still had new seasons premiering have missed a great deal. And –believe it or not- there are even a rare few who still haven't entered the mind-bending, fierce, yet glorious realm of Game of Thrones. Now it's their time to catch up with the rest of the world via digesting the 73 episodes long saga on their own before the long-awaited prequels come into existence in 2022.
Yet time has passed since the controversial finale aired on May 2019 of our beloved
Game of Thrones when the show left with leaving all of its fans in awe in front of their screens. If you would like to make a fresh start from the very beginning from your couch, the whole 73 episodes out there. It is even a good time for re-watching the show for all of us who have been stuck in their homes, emerging a whirlpool of boredom every evening, practicing social distancing skills all alone due to the pandemic. Let the fun in! Let's all forget what we knew about the Game of Thrones and enjoy the fun ride right from the start!
Watch Games of Thrones anytime and anywhere with a VPN
The question is how to overcome legal restrictions for online streaming and then comes how to watch the series without the interruptions of commercials comfortably. Do not panic! After all, you can always rely on a virtual private network (VPN) to safely Game of Thrones episodes. The idea behind the VPN mechanic is simple: it changes your IP so that the country information becomes valid for streaming from online streaming portals. The VPN companies charge a very
reasonable price comparing to the exclusive service they offer. Let's start streaming right now! You'll need to follow these simple instructions, and you're all set for the binge-watching party, which begins tonight. First, choose a VPN which you'll need to install to your computer or mobile device. After the installation, connect to a US server. Finally, go to
Hulu and get the add-on for HBO, and you're all set. The most popular VPN services available World-Wide are listed below:
ExpressVPN
It offers you one of the most reliable solutions for online streaming with unrestricted access over the web and is accessible from almost every corner of the earth. With its 160 servers distributed all over 96 countries, Express VPN is, as its
name implies, fast. No wonder why it Game of Thrones awarded as the best VPN for Speed for 2020 by vpnmentor.com. While streaming online not only with very fast connection speed, you can also enjoy the series with all of your devices, including gaming consoles. Express VPN also comes with a fairly reasonable price. Their offers range between $8 -to $12, and this price includes access to a 24-hour live chat support system. Just through the touch of a button, your IP
will be hidden, and your network data will be encrypted so that you can enjoy watching the series without interruptions.
NordVPN
It is one of the best VPN solutions offered to watch the HBO success Game of Thrones with its 5487 servers located in 59 countries. The Nord VPN algorithms will instantly direct you to the nearest server located to you to start streaming the show with the highest connection that the web could provide you.
You can log-in and access the web with security and keep your traffic undercover connection up to 6 devices with only one subscription. Thanks to Nord VPN, you cannot even interrupt yourself while watching the show, for you can switch
streaming from your PC to your mobile device when you're navigating yourself into the kitchen to grab your favorite snacks. This VPN company is also very reasonable when it comes to pricing. With different offers ranging between $8
up to $12, it also offers a 30-day money-back guarantee.
CyberGhostVPN
It offers the same no tracking and no logs policy, and by subscribing, it offers a 2-month free trial. Awarded best VPN for its value in 2020, Cyberghost VPN offers an 18-month payment plan with a highly affordable rate of $2,75 per month and has a 45-day money-back guarantee. With servers located on 89 countries and 6200+ servers, you'll access the show with unlimited bandwidth and traffic in no time. Cyber-Ghost VPN supports up to 7 devices with the same subscription with the ease of access through data encrypted VPN tunneling. Your stream will have no boundaries: either travel between countries or pay a visit to the bathroom and back, you will enjoy the show uninterrupted!
SurfSharkVPN
Another acclaimed VPN company that offers you to stream Game of Thrones at the highest bandwidth speed, but it also is highly advanced in providing security for its users.
With their 1700+ servers distributed to 63 countries, Surf Shark brings a full speed bandwidth to your device. Unlike other top-rated VPN companies, Surf Shark offers you unlimited simultaneous access from different devices with only one subscription. With a 30-day money-back guarantee policy, you can subscribe to the services with a monthly payment schedule starting from $2.49. 
So let's have a look at some country-specific streaming solutions available out there on the web.
How to stream Game of Thrones in US?
USA If you've read the article so far and reside in the US, I'm sorry to inform you that you don't need a VPN to access the show, unlike the viewers who live in the rest of the world. You can choose to go and download the HBO app, or you can choose to purchase a HULU subscription with an HBO add-on to access the show. The HULU subscription
starts at a reasonable price of $5.99 per month and a free 1-week trial deal. You can easily unsubscribe after completing the series if you're just into streaming to devour the gripping Game of Thrones episodes.
How to stream Game of Thrones in UK?
The UK Considering there is always an option for you guys residing in the UK, such as buying each episode or purchasing series of the show from Amazon prime. Or you can choose a reasonable-sounding NOW TV subscription for 7.99 per month with a 7-day trial. If none of this suits your budget or you'd like the privilege to surf the web in incognito mode, you can easily access the show with one of the VPN options above.
How to stream Game of Thrones in Australia?
For Australia, you can subscribe to Binge with its screen count plans to start from $10 per month for one device up to $18 per month for four different devices. You can also choose the infamous Foxtel for a pricing range starting from $25 up to
$109 per month. Do these sound a bit too pricy? Check out the VPN options available worldwide for the Game of Thrones binge-watching marathon.
Additional Privileges of Using VPN for streaming
The Internet is only seemingly innocent when it comes to security. From identity theft from a blog post you've just shared until a phishing mail you've newly opened, the web is like a jungle full of booby traps. But no need to worry when you can trust some VPN companies to cover your back when you're peacefully watching your favorite show online.
A virtual private network will encrypt your connection data and change your IP, thus preventing your internet service provider (ISP) from monitoring your actions. It'll also become handy when you're accessing the Internet from places where you can't be sure who is watching the users' traffic. You'll have access to geo-blocked content such as the Game of Thrones episodes, avoid censorship, and see the content no matter where you live. Let alone watching shows, even surfing on the web, could be highly restricted in some countries from time to time. At such desperate times, all surfers show the highest level of gratitude for the VPN providers, which makes surfing possible anywhere, always.
About the author