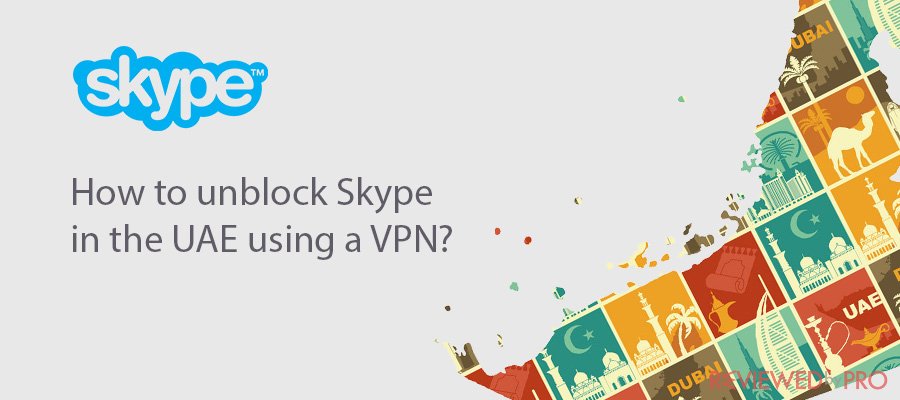 How to unblock Skype in the UAE using a VPN?
The United Arab Emirates (UAE) is is much a tourist hub as it is a business center. Despite the fact the UAE produces oil and gas, it's really more focused on tourism and business. This of course means you can expect an influx of vacationers from all around the world.
These vacationers and visitors  can stay in Dubai for weeks, months, or longer; others even find work and remain there. What's the point we're trying to make here?
When people are away from their loved ones, they would of course want to keep in touch, and Skype is one of the most potent ways they can go about doing that. But here's where things get complicated: Dubai's government and Skype don't gel too well!
Skype is one of the world's largest and most popular VoIP service providers. It offers an incredibly fast and cheap solution for long-distance communication that poses a threat to Dubai's telecommunication companies in terms of revenue generation.
The telecommunications industry is one of Dubai's main sources of generating revenue due to the number of visitors and foreign workers who keep in touch with their loved ones across various countries.
Etisalat and Du are the leading telecommunication companies in the UAE and are largely owned by its government. Therefore, the government blocks any service that might endanger it's revenue streams.
If you are a subscriber of one of these telecommunication companies, you'll be spoon-billed for international calls, so it's obvious providers benefit most from calls like these. And because they want your money at all cost, they came up with an alternative video calling service which, unlike Skype, is a paid service. Yes, you guessed right: it's very expensive!
According to Dubai's major telecommunication provider, Etisalat,
"the access to the Skype app is blocked since it's providing unlicensed voice over internet protocol (VoIP) service, which falls under the classification of prohibited content as per the United Arab Emirate's regulatory framework."
Therefore, this means that Skype is not operational in the UAE.
This is in tandem with the quote on the Skype official website that
"it has been brought to our attention that our website and services have been blocked by the ISPs in the UAE."
So if you are in the UAE, be it for vacation or, as a foreign worker and you intend to make an important voice or video call for business or otherwise on the Skype app-be it on mobile data or wifi/Lan network, then you'll have to resort to an alternative. So, what do you do? You simply follow the steps below to unblock your Skype in the UAE!
How to unblock Skype in UAE using a VPN
According to UAE authorities, voice over internet protocol (VoIP) carries several risks such as hacking, privacy vulnerabilities, and phishing, hence, the need to ban it across the United Arab Emirates.
Services like Whatsapp voice/video calls and Viber are also blocked. Luckily, there are processes you can follow to bypass this internet censorship and have access to all sites and apps without having to worry about the prying eyes of the UAE authorities. What you need is a VPN, regardless of which city of the UAE you reside.
The following steps will offer a comprehensive guide:
First and foremost, you need to sign in with a reliable VPN provider. NordVPN is highly recommended for this job.
Go to their app section on their website to choose which device you want to download their client on. NordVPN is available on Android, iOS devices, PC, Mac, and Firestick.
Download and install your VPN app on the device you intend to use Skype on.
Sign in with your VPN account. Sign up for a plan with the VPN provider. NordVPN offers a great plan. When you opt for a 12-month plan and pay it at once, you save 49% compared to the monthly payment. Also, you get entirely three months free. After subscribing, go to the servers list and navigate through it.
Connect to one of NordVPN server locations worldwide.
Skype without restriction! Enjoy unbeatable audio and video calls using Skype.
N.B: not all VPN services work in the UAE. Therefore, if you are looking for the best VPN to unblock skype or other VoIP services, once again, we suggest NordVPN. You can always get your money back if you are not happy with their services as they offer a 30-day refund.
Criteria for selecting a VPN for using Skype in United Arab Emirates
Understanding the complexities of a VPN is overwhelming, especially if you are new to the whole concept. However, with the right guide, the use of a VPN is not that complicated. Below is the outline of a VPN selection criteria.
Fast download speed: Skype uses a lot of data on voice and video calls. Therefore, be sure to select a VPN that can keep up with the task so that the quality of the network doesn't get affected.
Zero-logging policy: VPNs that keep logs are not good for online privacy. Therefore, it's pertinent to make sure your VPN has a zero-logging policy before you send even a single byte of data.
Strong server network: A fast and reliable connection depends on the more servers a VPN operates on.
Software compatibility: a VPN needs an app for the device you are trying to run Skype on, else you won't be able to unlock it.
Traffic restrictions: once you encounter bandwidth limitations, your Skype call may end earlier than intended if the VPN blocks or restricts certain types of traffic. Therefore, it is advisable to use a VPN with no traffic restrictions.
Lists of recommended VPNs to unblock skype in the UAE
ExpressVPN works fine with Skype in UAE
Official website
www.expressvpn.com
Rating
  (Excellent – 4.8/5)
Available applications
 
Money-back guarantee
30-days
Price from
$6.67 (-49% deal)
Visit website
More information
ExpressVPN review
ExpressVPN is from the British Virgin Islands, which means it is not subjected to EU laws or data jurisdiction. In terms of securing your privacy, it's the safest and most reliable VPN. Authorities will not get hold of your activities online since there is nothing to submit. Now, that's what we call no-log policy!
Security-wise, it uses one of the best encryptions that ever exist. This VPN is also capable of unblocking Netflix regardless of your geographical location. So, security aside, it offers a flawless streaming experience. It also offers the following:
Thousand of servers around the globe
No-log policy
40,000+ IP addresses
Smart DNS
Kill Switch
One subscription for five devices
Live Chat
30-day refund
Unblock Skype in UAE NordVPN
Official website
www.nordvpn.com
Our Rating
(Excellent – 4.9/5)
Available applications
 
Money-back guarantee
30-days
Price from
$3.49/month (-70% deal)

Visit website
More information
NordVPN review
A reliable VPN that has a plethora of IP addresses to provide a secured connection for it's subscribers. It comes with more than 4000 servers around the globe, so there's more than enough options for you to choose from.
It's servers can be used for HD streaming, torrenting, and online gaming. These servers are user-friendly and well equipped to provide absolute security even in countries like the United Arab Emirates. Other features include:
Fast servers in more than 60 countries.
No-log policy
Military-grade encryption
Double VPN
Kill Switch
Six devices under one subscription
Live chat support
SurfShark works with Skype anywhere in the world
Rating
   (Good – 4.1/5)
Available applications
 
Money-back guarantee
30-days
Price from
from $2.39/month
More information
Surfshark review
Get SurfShark

SurfShark offers unlimited, strong, and reliable connection. It also has a fresh looking website, user-friendly app and friendly customer support. With servers in over 50 different countries, SurfShark has more to make you fall in love with it.
High level security protocols
No logs policy
Speedy servers
Live chat support
DNS leak protection
Kill switch
30-day refund
How VPNs work to unblock Skype in the UAE
Explaining the processes to unblock Skype in detail using a VPN doesn't give one an idea how it works and maybe, just maybe, one may harbor doubts as to whether or not the processes actually works. It is, therefore, pertinent to explain how VPNs work to unblock the restrictions imposed on Skype by the UAE authorities.
The keyword concerning all internet security is the Internet Protocol (IP) address. Therefore, app or Internet blocks are based on IP addresses. So when you connect to the internet or Skype in the UAE, the ISP gives your device an IP address which cybercrime authorities can use to detect your exact location.
The United Arab Emirates, along with other countries, all have their IP addresses. That is how sites and apps know the country in which a user is located. Therefore, to unblock Skype in the UAE, you'll have to mask you own IP address and take on another from a different part of the world.
For example, if you are in Dubai and you connect to a server in the United States, the app will think you are located there. Always be sure to pick a server that is located in countries like the United States, China and Canada.
So, there you have it. A simple yet effective way to breach through the restrictions Dubai's government places on using Skype. And don't worry about if what you're doing is illegal because it isn't. No one will barge through your door and slap handcuffs on your wrists just because you want to call your loved ones back home and ask how everyone is doing!
The steps below have simplified the process for you, so happy Skyping!
About the author