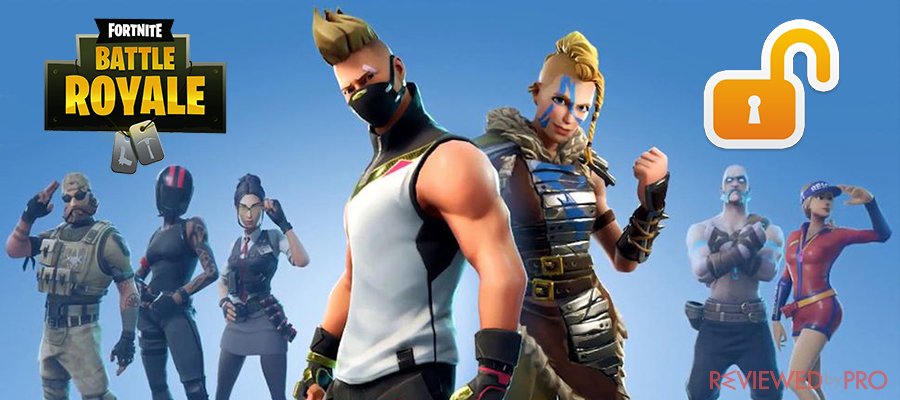 What is Fortnite?
Fortnite[1] is an online shooter game which was developed in 2017. The author of this fantastic game is "Epic Games".

The game is available in three modes:

• Save the World – a cooperative shooter-survival game for up to four players to fight off zombie-like creatures and defend objects with fortifications they can build,
• Fortnite Battle Royale, a free-to-play battle royal game where up to 100 players fight to be the last person standing
• Fortnite Creative, where players are given complete freedom to create worlds and battle arenas.
The first two game modes were released in 2017 as early access titles and Creative was released on December 6, 2018. Save the World is available only for Windows, macOS, PlayStation 4, and Xbox One, while Battle Royale has been released for those platforms and additionally for Nintendo Switch, iOS and Android devices.
In this article, we are going to introduce you how to bypass the restrictions for Windows and MacOS versions at school, university, and workplace.
Why Fortnite is blocked at school?
Fortnite is one of the most successful game for the last two years in the world. Millions and millions of people play it every day and this game appears to be very addictive. It became so popular and addictive that schools, universities and offices managers started to ban it more around the globe. Young people started to play Fortnite during the working hours and lessons so it became difficult to concentrate on their daily tasks. They stared not to think about their duties but thinks how to play Fortnite. Naturally, for that reason productivity of employees, school children and students have fallen dramatically.
If you reading this article, probably you also have faced with the Fortnite ban and searching for the solution. Don't worry, we have a solution for people like you. Keep reading this article and you will be introduced with the best way to unblock Fortnite at school, university or office.
How Fortnite is blocked?
The easiest way to block access to the desired servers or site, including Fortnite, is to change the router's DNS[2] settings. The network administrator can easily connect to the router's settings and block any desired site or IP addresses that users attempt to connect.
Just a few button clicks and Fortnite or any other site in your school or workplace are blocked.
There are some ways to bypass this type of blocking and but we will introduce you with the best one this article, so read on. You will not only learn how to bypass blocking on Fortnite but also on Facebook, Twitter, Snapchat, YouTube and other popular sites.
The best way to unblock Fortnite at school
The best and the only way to unblock any kind of blocked content including and Fortnite is to use a VPN[3] service. For those how doesn't know what VPN is, I will introduce. It is a Virtual private network which encrypts your connection to the other website, streaming service, and other media. It also hides your IP, which means that your local server does not understand that you are connecting to the Fortnite servers. Users are able to connect to the Fortnite server via another server and bypass local IP restrictions. Imagine road from point A to Z.

VPN stands in the middle as a point C and encrypts all your internet activities (browsing history, IP address and so on.) Look at the image below to understand it more clearly. VPN becomes very popular around the globe due to various restrictions and bans. So we would recommend ordering one for yourself. By the way, VPN also is responsible for internet security, which means that there are no chances to get any malware, virus, ransomware or other nasty threats from the visited websites.
Best VPN services to unblock Fortnite
We have tested various VPN services for laying Fortnite and we have selected the best three which looked to use the best.
Express VPN short review

ExpressVPN[4] is regarded as one of the better VPNs at the moment. Basically, this tool is suitable for both beginners and professionals alike as it is quite easy to use but also has a lot of extra features (similarly to NordVPN). Being among the better choices on the market, ExpressVPN offers a wide range of perks and features.
PROS

CONS

VERDICT

Compatible with many devices and platforms

High price

ExpressVPN supports many platforms and offers one of the widest range of locations.

High level of security

Configuration limits

24/7 customer service

No ad blocker
It is also important to mention that you have the choice of 30-day money-back guarantee, so there are literally no risks to the user – you can get your money back if something goes wrong.
Read about ExpressVPN
Nord VPN short review
NordVPN[5] is a very simple and reliable VPN service, which covers a wide geographical range of 62 countries and has more than 5000 servers.

PROS

CONS

VERDICT

Wide geographical reaches

Performance hits and drop connections

NordVPN is a great choice for long-term use.

Double VPN for twice the encryption

A monthly plan might seem expensive

User-friendly and pleasant interface

Not clear ownership
Nord Virtual Private Network is a great choice for those who want to visit sites that are unavailable in their own country.
NordVPN was initially released in 2012 and today has more than 1 million customers worldwide.
Read about NordVPN
Private VPN short review
PrivateVPN[6] offers users all the privacy and security features that are useful and needed for an average and advanced user. The company offers only about 100 servers locations in 57 countries in the Americas, Asia Pacific, Europe, Africa, and the Middle East. Users are able to connect through any of the locations and change the server location at any time.

The company uses one of the strongest VPN protocols in the market that include OpenVPN, PPTP, L2TP, IKEv2 and IPSec.
PROS

CONS

VERDICT

Strong encryptions

Not transparent about logging policy

PrivateVPN offers advanced protections, fast speeds, and user-friendly client software. All at a very reasonable price.

Good performance rates

Not many server options

Convenient and user-friendly apps

–
PrivateVPN is developed by a Swedish-based company named Privat Communication Sverige AB. The company is relatively small and new but it claims to provide the highest levels of security and privacy.
Read about PrivateVPN
Final thoughts
You have been introduced to the situation of Fortnite blockade and now you know how to bypass it. Don't forget that with the VPN service, you can unblock Fortnite in any place or country. Moreover, VPN service protects your computer from viruses and hides your tracks. Nobody will know what websites you are visiting or what services you are using (for example you can watch the American Netflix outside the United States). So now you know all the secret and let's get to the battle now! Good luck!
About the author
References