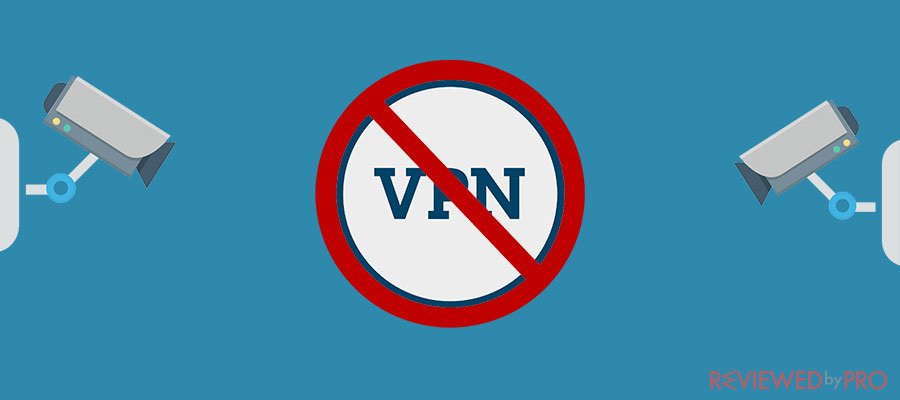 How to Make a VPN Undetectable & Bypass Blockers?
VPN Blocks ruining your internet experience? Did Netflix geoblock you again? A VPN is an important part of your online experience, because it keeps you secure and anonymous whenever you go online. But what do you do when your VPN is blocked? In this article we are going to teach you how to make a VPN Undetectable & Bypass Blockers. Also, we will reveal the best VPN providers on the market, that includes the free trials or premium features as freebies!
Why VPNs get blocked?
There is an umpteen number of examples of websites being blocked in certain regions. This is a measure imposed both by private companies and governments. While governments block sites they feel are against the culture, companies do this to comply with laws of the region in which they operate and for economic purposes as well. 
Today we reveal what you need to look for in your VPN service so that you can avoid these blocks without reducing your privacy or security. 
Networks can block VPNs too sometimes generally because they want control over their users, especially to distinguish between their paid and free users. This is a big problem, and apparently a very common one in some countries. Even in 2020, some governments actively look for VPNs and block them. That can be a big downer as it prevents you from accessing popular apps like Netflix, Skype and even content from around the world! No matter the reason, a website can be blocked in many different ways, some of which are more restrictive than others. 
Government Censorship. In some areas, governments impose strict censorship. They may block websites that don't support the culture and values of their country. In UAE, for example, many social media and streaming sites are banned in these countries, as is the use of VPNs.
Location Restrictions – Streaming sites like Netflix, BBC iPlayer lock down their content to specific regions. That means you can't stream content from the USA in Singapore, for instance.
Copyright Infringements – Internet service providers (ISPs) routinely limit VPN use to prevent copyright infringement. That includes downloading copyrighted movies and songs.
Workplace Restrictions – Most schools and workplaces introduce restrictions so you can't access certain websites. That might include, for example, YouTube and Facebook.
 You may want to know how exactly they're blocked?
 IP Blocks – If you connect to your VPN, it actually blocks your real IP address and displays the server's IP address instead. Many sites keep a log of identified VPN IP addresses, and you can be blocked straight away if you try to access the site. An example of this is Netflix's geoblocking mechanism.
Port Blocking – Most VPNs use specific ports when they connect to the internet. It's easy to block certain types of traffic when that traffic always uses the same port. Port blocking is easy to tackle by simply switching ports.
Deep Packet Inspection (DPI) – DPI is an advanced way of blocking VPN traffic. Rather than checking where the traffic comes from, sites look at the type of traffic instead. 
The best ways to make a VPN undetectable for VPN blockers
1. Use an Obfuscated Server
An obfuscated server hides your VPN traffic altogether. It scrambles your data to make your VPN traffic look like any other internet traffic. Only high-quality VPNs have this feature. For places with strict digital censorship such as China, for instance, this is an excellent method to use.
2. Use a Dedicated IP Address
Dedicated IP addresses are another great feature that can usually be purchased on top of your monthly VPN subscription. VPNs use shared IP addresses. If multiple people using a VPN with the same IP address access a platform like Netflix, all Netflix needs to do is block that IP address. A dedicated IP address helps you get around this issue by assigning you a unique IP address.
3. Switch your Server 
Sometimes simply switching to another server in the same country can unblock your VPN. So consider a VPN that offers unlimited server switching, too.
4. Change Ports
Ports are monitored and sometimes to avoid detection, you just need to switch ports. You can find VPNs that do this efficiently. Many scan ports automatically when you connect so that you can evade blocks.
5. Change Security Protocols
Most VPNs offer a variety of security protocols so that you can switch in case of a VPN block.
6. Switch to Mobile Data
When you're at work or school, you can avoid most VPN blocks by disconnecting from the WiFi and switching to mobile data.
7. Use Tor Browser
Tor is free, open-source software that lets you surf the web anonymously. You can find VPNs that are compatible with this browser. That adds an extra layer of security. Since your traffic and IP address can't be identified, it's harder to block you.
 8. SSH Tunnel
SSH tunnelling is an advanced way of bypassing blocks by sending your data undetected through filtering services. You can create an SSH tunnel by using local port forwarding. You can simply connect your current device to another device elsewhere to bypass a block.
9. SSL/TLS Tunnel
Some VPNs offer SSL/TLS tunnels by default. Anyone monitoring port 443 will find it hard to identify whether you're par through as regular HTTPs traffic or VPN traffic, so you're less likely to be blocked.
10. SOCKS5 Proxy
The SOCKS5 Proxy works by using the Socket Secure 5 protocol to transfer data using a proxy server. The proxy uses remote servers to help you bypass blocks, especially in countries like China. But we need to make note that a broker isn't completely secure.
VPNs that can help you to remain undetectable for VPN blockers.
Now you know what some things to watch out for in VPNs are! Using a VPN to bypass blocking is not something every service can achieve. At the very minimum look for these features:
Offers multiple servers in many locations.
The service should refresh its servers' IP addresses regularly. 
Your chosen VPN service should be customizable, so you can connect it to different ports
Shoulder obfuscated proxy technology 
Here are our top recommendations:
NordVPN
Official website
www.nordvpn.com
Our Rating
(Excellent – 4.9/5)
Available applications
 
Money-back guarantee
30-days
Price from
$3.49/month (-70% deal)

Visit website
More information
NordVPN review
With 5,400 servers across nearly 60 countries, this option is trendy. Added benefits include dedicated IP addresses to navigate those pesky geoblocks. Cross-platform presence, obfuscated, double VPN, and Onion Over VPN servers are also part of the package.
ExpressVPN
Official website
www.expressvpn.com
Rating
  (Excellent – 4.8/5)
Available applications
 
Money-back guarantee
30-days
Price from
$6.67 (-49% deal)
Visit website
More information
ExpressVPN review
With servers in 90 countries, this one is a close competitor to NordVPN and others. It gives you plenty of options to bypass geoblocks too. 3,000+ super-fast servers in 94 countries. It's compatible with Tor and offers obfuscated servers, DNS leak protection, cross-platform presence and more.
CyberGhost
Official website
www.cyberghostvpn.com
Rating
  (Great – 4.5/5)
Available applications
 
Money-back guarantee
45-days
Price from
$2.75 (-80% deal)

Visit website
More information
CyberGhost review
This VPN lets you make port connections at random. With access to 6,000 servers, geoblocks would become non-existent with this product. It offers a cross-platform presence, an easy to use interface in comparison to its competition and several options to customize. Their 45-day money-back guarantee makes it definitely worth a try.
Private Internet Access
Rating
   (Great – 4.3/5)
Available applications
 
Money-back guarantee
30-Days Money Back Guarantee
Price from
$2.99/month
More information
PIA PVN review
On offer is a cool 3,200 servers in 29 countries to bypass geoblocks. 3,200+ servers in 29 countries. Unlimited bandwidth and lightning-fast speeds, step-by-step tutorials and a cross-platform presence are some of its salient features. Also on offers a 30-day money-back guarantee
Surfshark
Rating
   (Good – 4.1/5)
Available applications
 
Money-back guarantee
30-days
Price from
from $2.39/month
More information
Surfshark review
Get SurfShark

Rating
Available applications
Money-back guarantee
30-days
Price from
$1.99/month
Oder VPN with a discount
More information
Surfshark review
Can bypass geoblocks with servers in 60 countries. One can simultaneously make unlimited connections. Their encryption is touted to be military-grade too. With a built-in ad and malware blocker and multi-platform presence, this service also has an enviable list of features. A 30-day trial period is useful for test-drive a VPN when you're travelling abroad, for instance.
Now a question that bothers many of us. These are all premium services with just a handful offering trial periods.
Is it possible to trick a VPN blockers with a free service?
Free VPNs are extremely unlikely to do this job well, and we need to accept this. To begin with, free services offer minimal networks of servers, which means that there is a higher chance of your service getting blacklisted. Streaming is likely to be slow on free VPNs as they tend to have more users than their networks can support. Free VPNs also have little or no security or privacy protocols, so it makes your system extremely vulnerable to malware.
So what next?
To make sure your VPN is not detected by websites and services looking for it, you need to choose a high-quality provider. A service that offers advanced features like obfuscated VPN servers, various security protocols, and an extensive network of IP addresses isn't always easy to find. But without these features, you risk being detected and blocked.
About the author