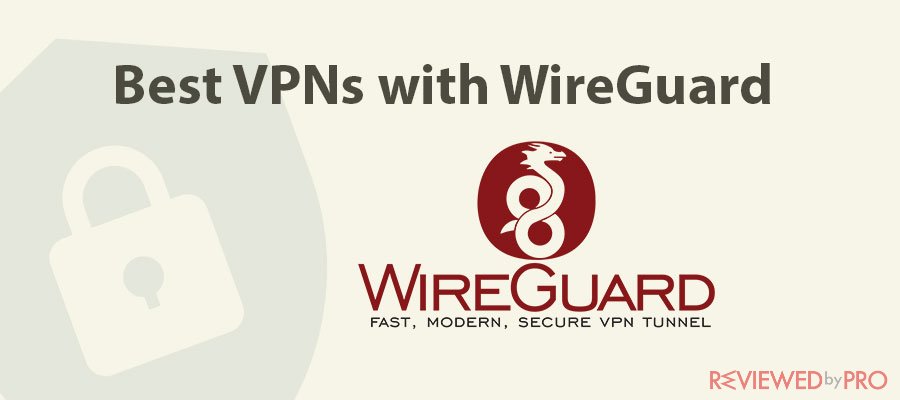 Best VPNs with WireGuard
There is this new technology that some VPNs are beginning to adopt. It is a VPN protocol that claims to increase the working speed of the VPN. It also doubles the security of the VPN. Simply put, any VPN that has the WireGuard protocol will have increased streaming speeds and security.
Without question, these two are the things that add color to any VPN. But are the claims true? Is a WireGuard safe to use? Are there VPNs that have the best WireGuard protocol in place? 
I did some research into these questions, and I'll be sharing my findings with you. 
First off, let's see more about WireGuard and some of the advantages and disadvantages of this new VPN protocol. 
What is WireGuard? 
WireGuard is a VPN protocol and an open-source software application that provides secure point-to-point connections. It was written and developed by Jason Donenfeld, who initially designed it for Linux Kernel. However, WireGuard is now being used for Windows, macOS, and Android.
WireGuard uses conservative modern cryptographic protocols, making it a secure Layer 3 network tunnel for IPv4 and IPv6. It can penetrate through firewalls because of its UDP base and built-in stealth. Its authentication model is based on authenticated keys by SSH. 
It was designed as a general-purpose VPN that will run on embedded interfaces. To add to this, WireGuard is relatively small in size as compared to the older protocols, OpenVPN and IPSec. Comparing the size of WireGuard with OpenVPN size, it is just about 3,782 lines of codes as opposed to OpenVPN's roughly 40,000 lines of codes. It implies that it will be much cheaper and faster to audit WireGuard than to audit OpenVPN. 
Advantages of WireGuard 
High-speed encryption: WireGuard uses the latest cryptographic protocols for data encryption, giving it so much data encryption and transmission speed. This makes WireGuard be a very reliable choice.
Quick connection and reconnection: with WireGuard, you can connect and reconnect with your VPN almost instantly. It means you will experience very few disconnections. With this feature, you can switch between networks on your device and still not lose connection to your VPN, especially when you connect with a smartphone. 
Super lightweight: WireGuard, unlike the complex OpenVPN and IPSec, is very small in size, having just about 4,000 lines of codes. It makes it simple to use and audit. It also reduces vulnerabilities and any risk of flaws as VPNs use WireGuard. It also provides excellent performance for the VPN as the performance speed is greatly improved with WireGuard.
Disadvantages of WireGuard 
No independent auditing yet: WireGuard is just starting and has not yet been independently audited. They're still on the testing ground, which means the chance of having loopholes is high. 
Static IP address: Another disadvantage is that WireGuard assigns you a static IP address and not the dynamic IP address as it should be. It implies that the same IP address is given to you each time you connect with WireGuard. It is not good since this IP address has to be stored to be assigned to you next time you are connected. Meaning anyone who hacks into the system can trace your online activities to you. 
These are just a few disadvantages, which I'm sure they'll work out soon to ensure user privacy is kept tight. 
Maybe this is why only a few VPNs have begun adopting this new VPN protocol. After in-depth research, I have put together a list of three of the best VPNs that currently use WireGuard. 
Before getting into the VPNs that use WireGuard already, let me briefly show you some of the VPNs that don't use WireGuard yet; think about it. Will they join the others to use this new protocol, or will they stick to the old ones they are already using? Let's find out. 
VPNs That Are Yet to Adopt WireGuard 
Surfshark
Rating
   (Good – 4.1/5)
Available applications
 
Money-back guarantee
30-days
Price from
from $2.39/month
More information
Surfshark review
Get SurfShark

Surfshark is among the best VPNs available today. It has WireGuard among its list of protocols that it supports and intends using it. But for now, it seems Surfshark wants WireGuard to improve its performance first. Looking at the disadvantages we just saw above. Surfshark is not in a hurry to adopt this new VPN protocol, though it has its list of supported protocols. 
ExpressVPN
Official website
www.expressvpn.com
Rating
  (Excellent – 4.8/5)
Available applications
 
Money-back guarantee
30-days
Price from
$6.67 (-49% deal)
Visit website
More information
ExpressVPN review
ExpressVPN also has been among the top-ranking VPNs. Concerning WireGuard, ExpressVPN considers it to be a great idea in development. That is to say, WireGuard is excellent but cannot be adopted by ExpressVPN just yet; until further testing has been done. Soon, ExpressVPN will adopt WireGuard, but before then, it sees the need to work with WireGuard to review and audit the codes used by WireGuard.  
Having seen this, it seems WireGuard will soon be adopted by most of the VPNs, if not all. 
Let's move on and see three of the best VPNs with WireGuard. I have not placed them in any particular order of preference. 
Private Internet Access (PIA)
Rating
   (Great – 4.3/5)
Available applications
 
Money-back guarantee
30-Days Money Back Guarantee
Price from
$2.99/month
More information
PIA PVN review
PIA is one of the best VPNs with WireGuard, owing to how comprehensive its performance is. Before PIA fully integrated WireGuard, it only used its beta testers while finding out how best to adopt it fully. After some time, PIA made WireGuard available on Windows, Linux, macOS, iOS, and Android apps. 
PIA has 3,381 WireGuard servers operational in 41 countries. It means you have a wide variety of global content to enjoy. However, it is only the latest version of PIA that comes with WireGuard. To use WireGuard on this version, just head to the settings and turn it on. After this, you can easily connect with WireGuard and enjoy your online experience. 
With the WireGuard active, connection speeds are increased. The difference between the speed using OpenVPN and WireGuard is very evident. You can easily connect to HBO Go, Netflix, and many others. However, PIA doesn't currently work with Vudu, BBC iPlayer, and Hulu.
For PIA to fully adopt WireGuard, it had to set some additional privacy measures in place to double that provided by WireGuard. It added the RESTful API, which is protected by RSA. This additional layer of privacy prevents your activities from being saved on the VPN. This added API, coupled with PIA's no-logs policy, prevents WireGuard from storing the IP address assigned to you when connecting with the VPN. 
Another measure taken by PIA is the automatic deleting of all your logs after three minutes of inactivity. You wouldn't even be notified. 
For security, the WireGuard has encryptions that adware and malicious websites. It also has WebRTC leak protection, which means you will experience zero data leaks. It also has good DNS and IPv6. I ran an individual test on all these and found out that they work perfectly. 
Private Internet Access is an amazing choice to use if you are looking for a good VPN with WireGuard. It is straightforward and easy to use, and you can decide to use the WireGuard or not. All you need to do is to turn it on or off from the settings. 
With PIA, you can simultaneously connect up to 10 devices. 
Just in case you experience any challenges, you can access help from the 24/7 live chat support system. You also enjoy a 30-day money-back guarantee policy to test this VPN and see if it works for you. 
A quick summary of features 
Uses RESTful API for additional privacy protection
Has 3,381 WireGuard servers in 41 countries
Simultaneously connect ten devices
It has a 30-day money-back guarantee policy
Can work with: Amazon Prime Video, Netflix, Showtime, HBO Go, DAZN
It is compatible with: Android, iOS, macOS, Windows, Linux
NordVPN
Official website
www.nordvpn.com
Our Rating
(Excellent – 4.9/5)
Available applications
 
Money-back guarantee
30-days
Price from
$3.49/month (-70% deal)

Visit website
More information
NordVPN review
NordVPN is one of the leading VPNs having the best of every feature you can find on a VPN. Its security, privacy, speed of operation, and simplicity are just top-notch with over 5,400 active servers that bring you the best online experience. 
NordVPN developed NordLynx, which was specially designed to work with WireGuard. It is the only VPN to have done this. Currently, it is compatible with Windows, Linux, macOS, Android, and iOS.
NordLynx has a double Network Address Translation (NAT) covering for WireGuard's weak security to assign a static IP address. What NAT does is assign you a dynamic IP address each time you connect with the VPN, instead of the static IP address that WireGuard will assign you. It means none of your logs on stored on NordVPN servers in compliance with NordVPN's No-logs policy. 
To add to the security, CyberSec is put in place. It is a security software that blocks out malware, ads, and any form of phishing. You will never come across one single ad even while on popular ad platforms like Facebook and YouTube. 
As the security of NordLynx is guaranteed, the speed of connection and usage is not left to chance. I noticed that NordLynx speed is more than that of NordVPN. Using NordLynx, you can perform different activities at the same time and not even experience any interruptions. It also has the Auto-Connect feature that automatically connects you with the nearest server to you. 
You have nothing to worry about when using NordLynx because the DNS and IPv6 it uses are entirely protected from leaks. Your IP address and DNS will never be leaked. 
For simplicity, you can take it from me that NordLynx is very easy to set up and use. Remember, we mentioned how small WireGuard is, making it very easy to use. 
You are given access to 24/7 live chat for all your inquiries and complaints. Your time will never be wasted as you get in touch with them. 
NordVPN also offers a 30-say money-back guarantee. So make use of this period to check out all the features you can. 
A quick summary of features 
Has 5,900+ servers in 59 countries
Has very fast speeds, which ARE faster with WireGuard
Simultaneously connect six devices 
Has CyberSec technology for ad and malware blocking
Has a 30-day money-back guarantee policy
Can work with: Disney+, HBO, BBC iPlayer, Netflix, Hulu, Amazon Prime Video, Vudu
It is compatible with: Windows, macOS, Linux, Android, iOS, routers, and browsers with OpenVPN
CyberGhostVPN
Official website
www.cyberghostvpn.com
Rating
  (Great – 4.5/5)
Available applications
 
Money-back guarantee
45-days
Price from
$2.75 (-80% deal)

Visit website
More information
CyberGhost review
CyberGhost has not yet fully adopted WireGuard to use on all its apps. For now, it is only available for Linux users and users on the beta iOS app. CyberGhost believes WireGuard is a great technology and has donated publicly in support of its development process. As it is, WireGuard still has some areas to tackle before it hits optimal security and privacy target. I'm sure CyberGhost will soon adopt WireGuard for all its apps. 
CyberGhost is a very easy-to-use VPN. Because of its ease of use, you will find no challenges setting up WireGuard on the CyberGhost beta iOS app. However, the setup for Linux is a little bit complex. To get started, you need to add "–wireguard" to the command-line app. If you are still not clear on how to go about it, contact CyberGhost's 24/7 live chat support for assistance. 
In addition to the ease in setting up, CyberGhost has around 7,000 WireGuard servers in 90 countries. It gives it one of the most extensive global coverage. To allow for a maximum user online experience, you can connect seven devices to CyberGhost simultaneously. 
In addition to its No-logs policy, CyberGhost uses the same RSA certified RESTful API that PIA uses to keep your privacy protected. With this in place, non of your logs are saved on CyberGhost. It also uses a daemon that assigns a dynamic IP address to you instead of the static IP address assigned by WireGuard. This further guarantees your privacy. 
CyberGhost uses kill switch, DNS and IP protection, trackers, adware, and malware blocker for security. All these add to WireGuard's security to keep your data safe. 
CyberGhost offers a 45-day money-back guarantee. 
A quick summary of features:
Uses RESTful API that prevents logging of your traffic
Has 7,000 WireGuard servers in 90 countries
Simultaneously connect seven devices
Has a 45-day money-back guarantee
Can work with: Netflix, Vudu, HBO Go, BBC iPlayer, Hulu, Showtime, DAZN
It is compatible with Linux and iOS (beta) 
Some FAQs about the wireguard
How safe is WireGuard? WireGuard has very advanced security because it has a high-speed connection and reconnection to your VPN. It means you will experience fewer disconnections, and when you are disconnected from the VPN, it quickly reconnects you to your VPN. As a result, your vulnerability to getting hacked is minimal. Another thing is its lightweight codes and modern cryptographic protocols, which double down your security. However, it is still a work-in-progress when it comes to your privacy. It only assigns you a static IP address each time you connect to your VPN, which requires your logs to be stored on the VPN server so that it can trace that IP address to you. It is not good for your privacy. For this reason, VPNs that use WireGuard some add-ons that assigns you a dynamic IP address. An example is a RESTful API used by PIA and CyberGhost.
In comparison to OpenVPN, is WireGuard better? Well, when you place these two side-by-side, you will find that WireGuard is better in some way as OpenVPN is better in others. For example, WireGuard has reduced its code lines, making it faster, easier to use and maintain, and increasing general security. However, when it comes to privacy, OpenVPN is the better one since WireGuard is still a work in progress in this aspect. It is why VPNs that adopt WireGuard use certain add-ons that checks this.
What is WireGuard? In simple terms, it is a new secure tunneling protocol that works just like the older OpenVPN and IPSec. Just that it much faster and simpler than these. It also has better security encryption.  
Can I use WireGuard on my Android? Yes, Android allows the use of WireGuard. As I mentioned earlier, PIA and NordVPN have already adopted WireGuard for all their apps, including Android. 
Is WireGuard used by all VPNs? Not at the moment. You know, WireGuard is still developing, and it has many hurdles to cross, especially in the aspect of its privacy flaws. However, most VPNs haven't begun using WireGuard, though they think highly of it. One such is ExpressVPN. 
The Conclusion about using Wireguard on a VPN
As we have seen so far, not many VPNs have ventured into using WireGuard, though it has a promising future. This is largely because of the privacy flaw that is yet to be addressed. 
However, as we have seen, the VPNs already using WireGuard have set up brilliant solutions to the privacy flaw. I have tried to give you a brief review of three of these VPNs. 
I am optimistic that WireGuard will be the VPN protocol used by every VPN. But for now, it still has extended hours of work to tackle some of the loopholes, especially the privacy flaws.  
About the author