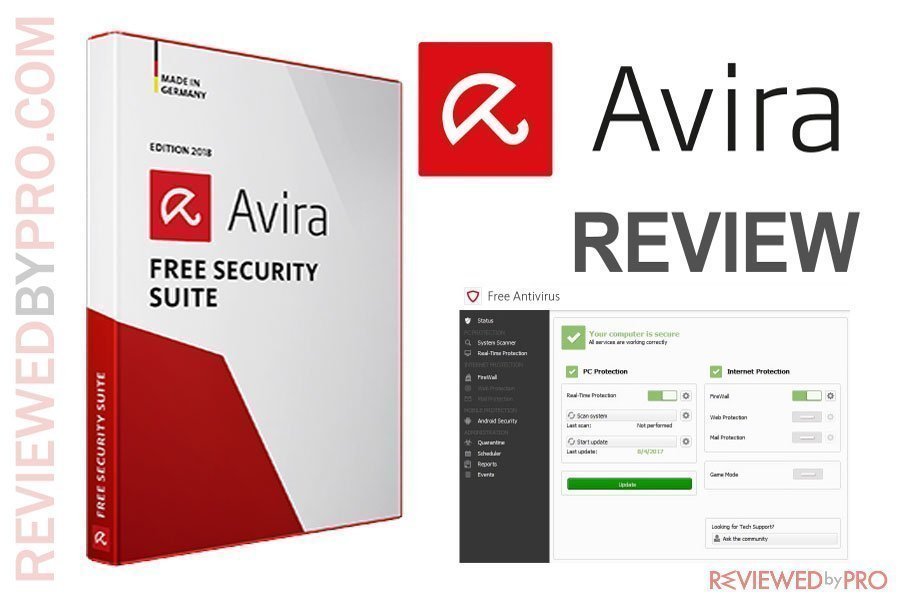 avira review Avira Antivirus 2018 is a program manufactured by Avira Inc. in Germany [1]. Avira has over 30 years of experience in the market and that might be a big advantage compared to other developers. Avira provides users with a variety of free security solutions across all the major operating systems, including Avira Free Antivirus, Avira Free Antivirus for Android, Avira Free Antivirus for Mac and other security and privacy tools such as Avira Phantom VPN or System SpeedUp. Most of the Avira free tools are similar to other brands' paid antivirus suite, however, you will only get limited features unless you purchase the full version. When it comes to Windows' security and antivirus, Avira offers Windows users a range of security products that include a free package Avira Free Antivirus, and paid ones such as Avira Antivirus Pro, Avira Internet Security Suite, and Avira Prime. Let's see how the new Avira version looks in comparison to today's market.
Pros
Cons
Verdict
Doesn't disturb your PC performance
Some adware left unremoved
One of the best free packages in the market.
Great customer service
Not many extra features, compared to other packages.
Download and installation
Avira Antivirus 2017 offers its anti-virus app to Windows, OS X, Android and iOS. We reviewed the version for Windows 10. You can download Avira Antivirus from our website. The file is only 4.57 megabytes, so that won't take long. To install the application, you have to click on the file you have downloaded. An installation window will appear, on which you will have to press "Yes". Next, click "Accept and Install". You will shortly be able to use the anti-malware application.
Test results
Antivirus protection
Avira's antivirus defenses include a traditional malware scanner that searches for the digital signatures or suspicious icons to match already known malware signatures and heuristic monitoring which looks for suspicious behavior and analyzes code. In addition, Avira collects all new and unusual behaviors to Avira's cloud-based servers, on which all the icons are carefully investigated. Firstly, we tried the new Avira antivirus version on a highly-infected PC. The results were good. Avira managed to detect and remove about 90% of the malware and viruses[2] from our PC, while it left about 10% of the malicious software. In comparison to other current software, these are not the worst results, but they are not the best.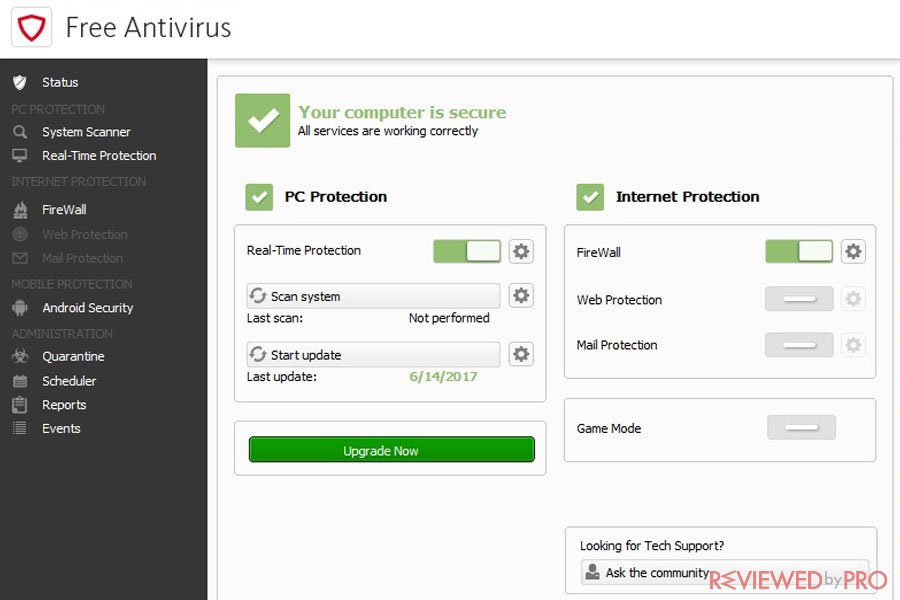 Another experiment was installing a full and updated version of Avira on a laptop and then trying to install samples of viruses, malware, Trojans, and adware. The results were a bit better, as the program detected and removed 95% of the samples. The ones that still went through were mostly adware. It made us think that if you really want to be 100% safe from all the online threats, you should get an additional anti-spyware and anti-adware application along with the new Avira Antivirus, as it seems this software simply wasn't created to detect and remove adware[3]. One thing we noticed about the new Avira version is the number of windows that pop up each time a threat is detected. This might just be a positive feature, as you can always know when a malicious file appears onto your PC. It is worth to mention that Avira Antivirus participated in the latest test, conducted by the independent German-based testing lab AV-TEST in April 2018. The antivirus software demonstrated almost perfect results, as it managed to detect 100% of zero-day malware attacks, including web and e-mail threats, and 99.8% of widespread and prevalent malware discovered in the last 4 weeks. Avira managed to improve its antivirus protection results compared to its' previous versions of the antivirus that did not demonstrate such good scores.
Additional features
Avira Antivirus Free provides users with simple and intuitive next-gen antivirus protection, powered by artificial intelligence, cloud technologies, and endpoint antivirus scanner. Avira safeguards its customers against all types of malware, such as ransomware, Trojans, viruses or spyware. The antivirus engine includes Real-time Cloud scanning which examines unknown files in the cloud anonymously from over 400 million its customers. Users can easily turn of the sharing feature. The free version also includes Privacy features. In addition to Avira Antivirus Free, users can download many of its free tools, such as Privacy and Identity protection applications Avira Phantom VPN, Avira Password Manager, Avira Privacy Pal, Avira Browser Safety, Avira SafeSearch Plus, Avira AppLock+; Optimization tools Avira Free System Speedup, Avira Software Updater, Avira Android and iOS Optimizer. As you can see the free tools include features that common mid-priced Internet security package offer, which is good. However, Avira's free tools features are limited.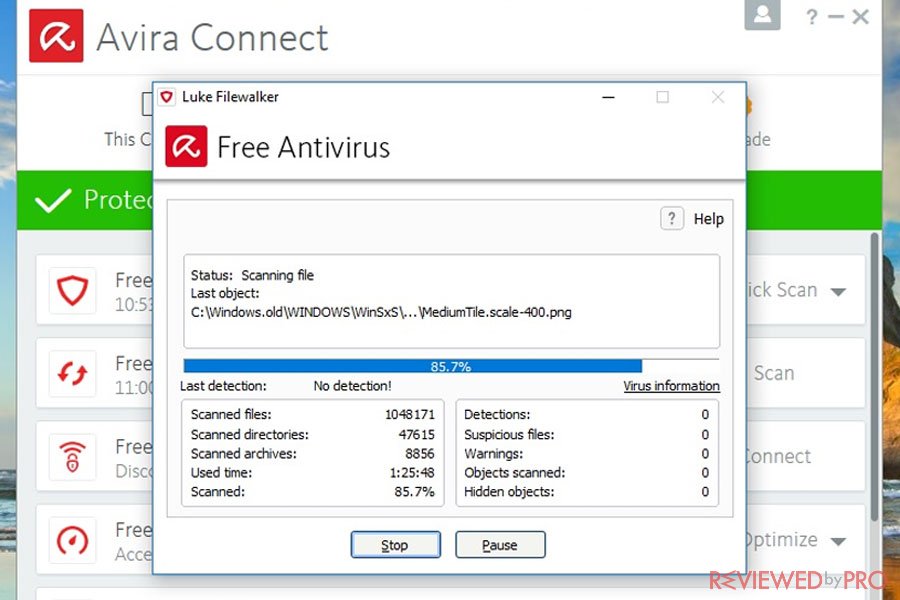 System-performance impact
One of the strongest sides of Avira Free Antivirus 2018 is the really low resource usage.
Firstly, when we were carrying out the full scan[4], the resources used were as low as 3%. That's one of the best results in the competition right now. Using Avira actively, you can still easily browse the web, download very large files and do other multitasking stuff without any interruptions. That's quite incredible. However, it slowed down the boot of the system by three or four seconds, but the average user probably wouldn't notice any difference. In addition, according to AV-TEST, Avira Antivirus Free has a lower than a mediocre system-performance impact, as it slows down the PC while launching popular websites by 8%, the launch of standard software applications is slower by 8%, and the installation of commonly-used apps is also slower by 23%. In comparison, the industry average is 12%, 11% and 28%, respectively.
Scanning performance
As researchers notices, one of the strongest sides of Avira Antivirus Free is its low usage of system resources. In addition, scans have a minimal impact on a system, run smooth. The full system scan took an average of about 1 hour and 40 minutes. The quick scan took only 1 minute and 30 seconds which is very quick compared to other similar products.
User interface
The latest version of Avira Antivirus has updated its interface to a brighter and more open format. As usual, the main window is half-size and cannot be expanded, but can be moved around. The main window indicates the device's performance, and provides the list of other Avira applications installed, such as Software Updated, Phantom VON, System Speedup, Password Manager, SafeSearch Plus and Software Updater.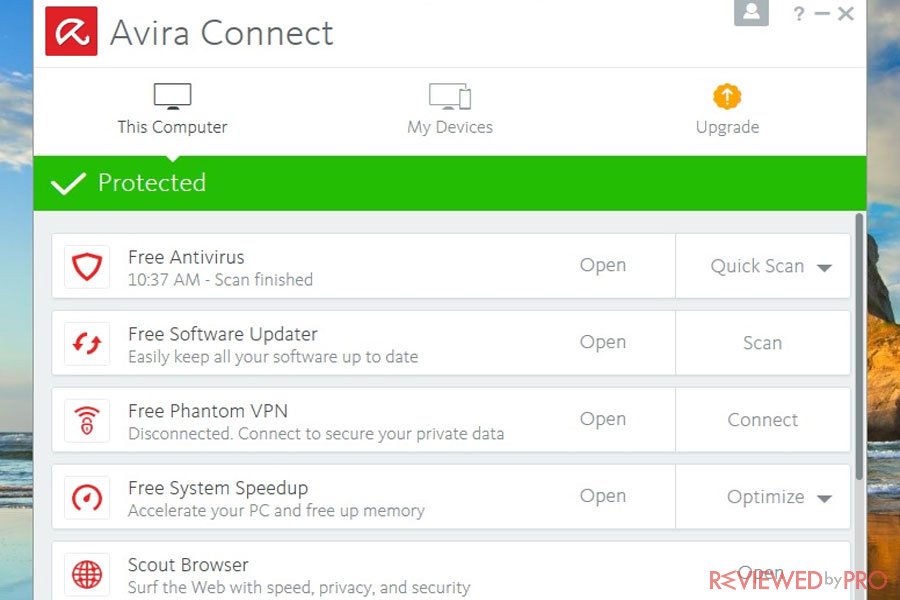 Customer support
One thing we don't usually get with antivirus software is easy-to-reach technical support and prompt answers from them. We couldn't say that it is extremely easy to reach the customer support at Avira, because you still have to fill out a form and enter the registered email address to see their email or phone number, but once you do that, they will be quite helpful – they usually respond within a few hours, while competitors take much longer to respond. Another great thing is that Avira antivirus technical help team may help you get rid of a virus totally for free – they do not implement any fees if you get a virus while using Avira Antivirus software. Another great thing is that they are very friendly and quick to solve your problem. We could definitely say that Avira Antivirus 2017 has one of the best customer services in the competition now.
| | |
| --- | --- |
| Feature | Score |
| Antivirus protection | Very Good |
| Additional features | Many free but limited tools |
| System-performance impact | Light |
| Scanning performance | Average scans without a bigger system hit |
| User interface | Wide open and simple to use |
Customer reviews
The information in user reviews on the Internet is similar to what we have already found out about the program. Many customers say that it is efficient and easy to use. A number of customers even claim that it is better than the rest [5]. However, some people note that the software does not detect all the threats on the computer. Because of this, an additional anti-spyware app might be recommended as a supplementary program.
The final verdict
All in all, we rate Avira Antivirus as quite a good program for the average PC user. It is a great application if you have a device that you want to keep running fast, because Avira doesn't take up many resources. Even though the app didn't remove all the adware, its virus database is being constantly updated and some reviewers describe it as one of the best on the market. And let's not forget the friendly customer support!
Other products
Avira Free AntiVirus for Mac
Avira Free Antivirus for Mac offers Mac users the highest level of protection for free. The security solution is easy to install and use. Avira Free Security Suite for Mac includes Antivirus, VPN, and Safe Search. If you want to upgrade your Free Antivirus to a Premium version that includes more features, Avira also offers the premium version of Antivirus for Mac.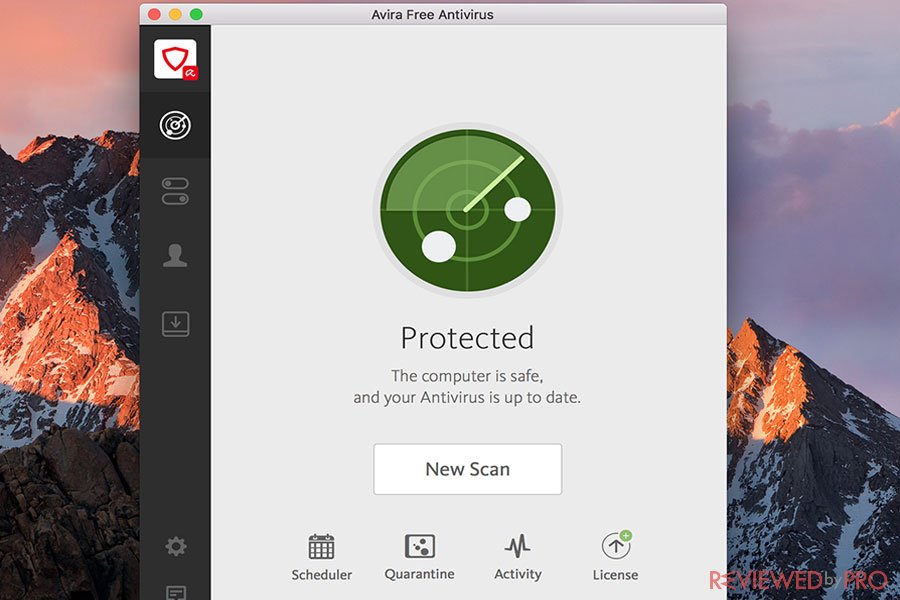 The detailed review can be found here.
Avira Free Antivirus for Android
Avira Free Antivirus for Android is a great choice for those who look for a reliable mobile antivirus, with a full range of Anti-Theft features. As we reviewed the application, it is easy to use and includes many additional free features. Last but not least, Avira Antivirus for Android demonstrates almost perfect malware detection rates!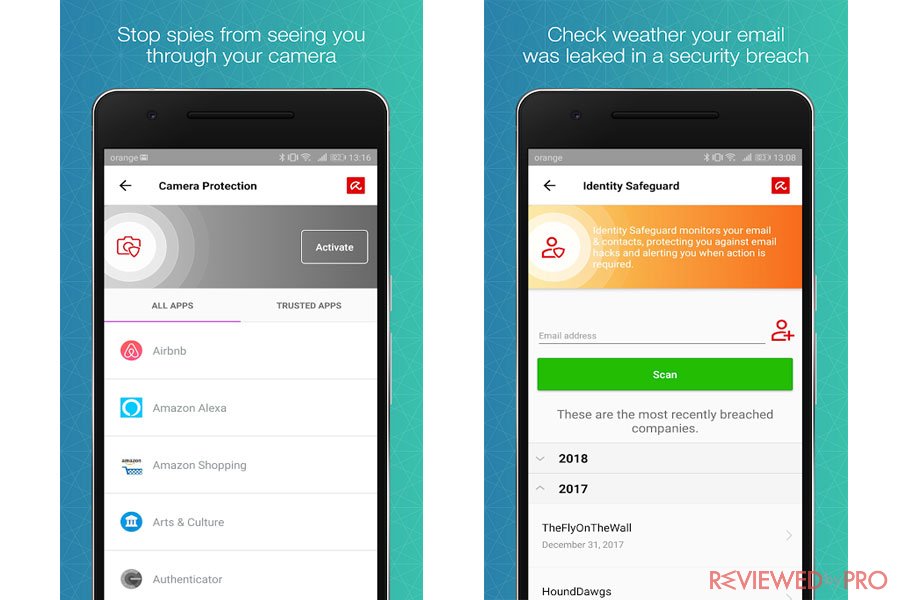 Avira Phantom VPN
VPN is a useful security and privacy tool for those who want to reach maximum protection while browsing online. Avira offers its users Phantom VPN that will make you unhackable, untraceable and uncensored. The security tool provides consumers Web browsing anonymity, secure encryption, simultaneous connections, easy-to-use user interface and more. Phantom VPN protects sensitive data, such as financial information and credentials, logins and passwords, and other private files. By using the VPN you become anonymous user from an ever-changing location. It also allows you to bypass geographical restrictions. Avira Phantom VPN has 36 server locations around the world, so you can simply select the country you want to tunnel through.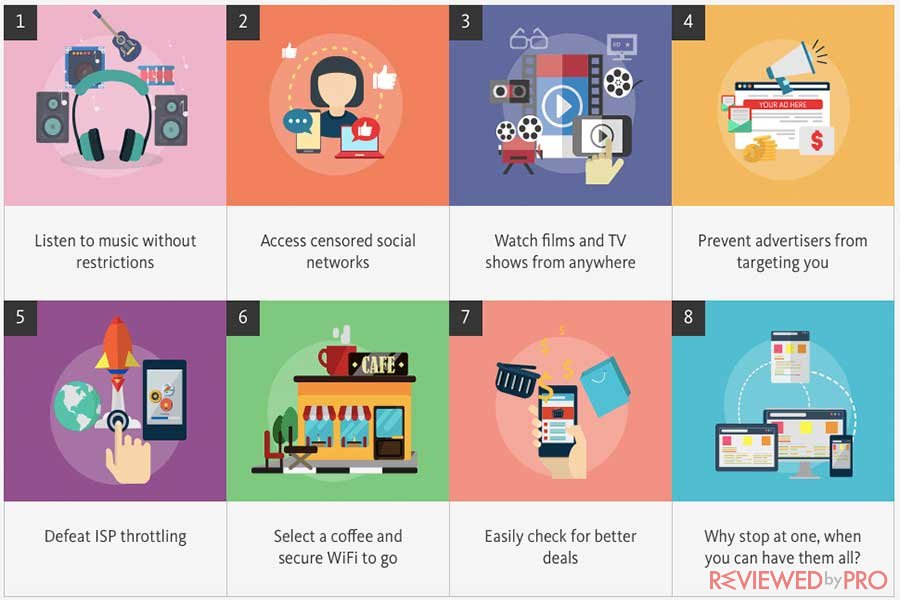 You can get free or paid version of the VPN. It works on all your devices and multiple operating systems, including Windows, Android, macOS, iOS, and browsers. The full Avira Phantom VPN review is available here.
Avira System Speedup
Avira provides users with a single privacy cleaner that ensures fast, smooth-running PC. Avira System Speedup Pro is designed to increase performance, privacy and free up disk space. The application takes care of your disk, prevents system freezes and crashes, increases performance, extends battery life, improves gaming experience, ensures privacy and more.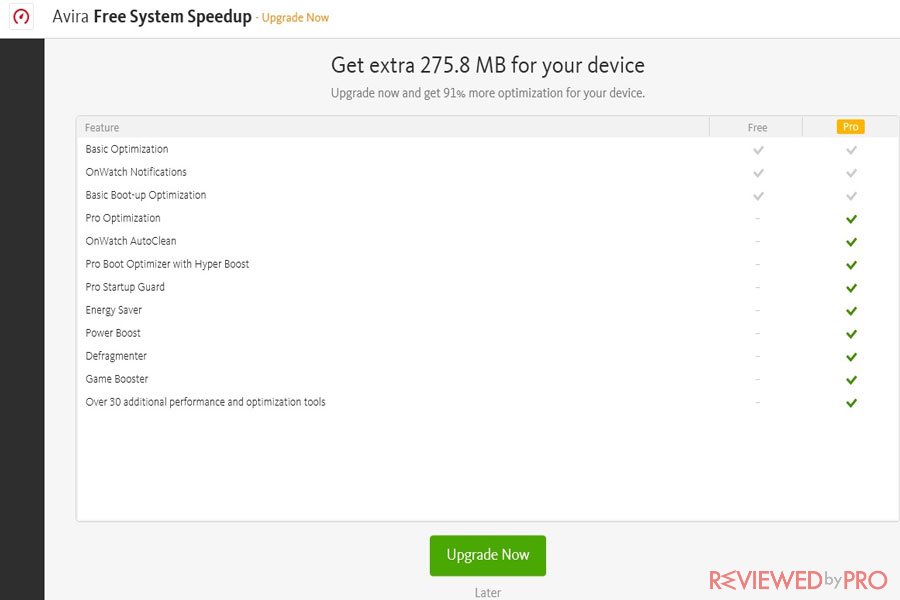 Avira Free Solutions for PC
Avira provides users with a variety of free solutions in order to protect their PC and private information. Avira Free Antivirus 2018 provides free award-winning protection. Avira Browser Safety protects users while they are browsing the web. Avira SafeSearch is a secure search engine which offers users secure search results, search excellence, and PUA detection. Finally, Avira Connect allows users to easily manage their digital life from Avira online dashboard.
Comparison
Avira AntiVirus and Zemana AntiMalware Avira AntiVirus and Zemana AntiMalware provide trustworthy protection against cyber threats. While Zemana AntiMalware scored better results at malware detection and removal and scans quicker the device, Avira AntiVirus has more useful features and helpful customer support. Thus, if you are looking for lightweight software that does not impact your computer performance, you should choose Zemana, but if you need more useful features and want to keep your device fast, Avira would be a great choice.
About the author
References