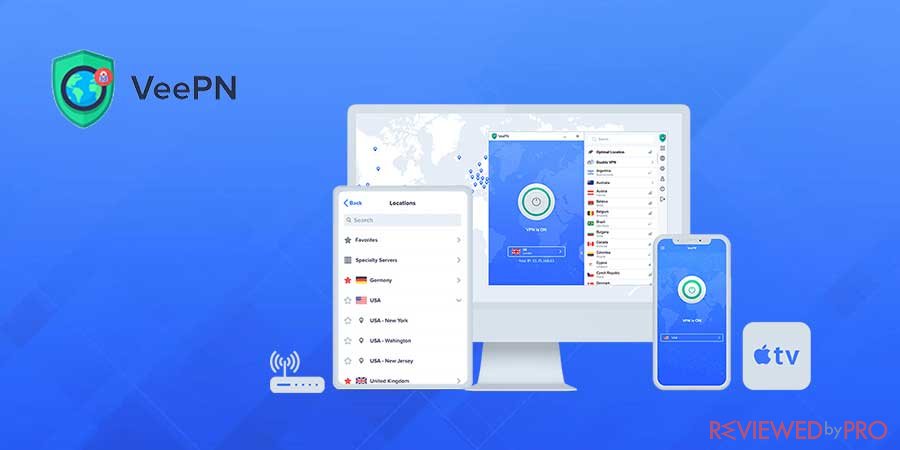 veepn review
VeePN is a modern VPN service available in browsers, PC, and smartphones. This software creates a connection between your device (laptop, PC, smartphone, tablet, etc.) and VPN servers. This is a kind of tunnel that makes your Internet surfing free and safe. That's why VeePN is in demand among customers for many reasons. So let's analyze its functionality including real gems and hidden rocks. Balancing between the app's advantages and disadvantages, you can decide whether it is worth your attention or not.
| | |
| --- | --- |
| Website | |
| Compatible OS | iOS, Windows, Android, Linux |
| Number of supported devices | 10 devices for any type of subscription |
| Server supported / Total servers | 50 / 2500 |
| Router supported | Yes! |
| Split tunneling | Yes! |
| Price range | from $1.67 to $10.99 per month |
Why VeePN is a top VPN service
VeePN is described on the official website as an ultra-secure, fast, and easy-to-use application. It includes 50 locations and more than 2500 virtual private network servers. VeePN doesn't leave activity and connection logs and protects your security with Blank-Level 256-Bit encryption.
Pros of VeePN

Cons of VeePN

– 10 supported devices;

– 50 locations and 2500+ servers;

– high-quality security level with proper encryption;

– money-back guarantee and free trial for new users;

– affordable subscriptions (3 options).

– no free subscription for new customers (but free 1-day trial);

– the speed of connections depends on the location;

– you may face delays in response in live chat sometimes.
The main criteria of analyzing VeePN
It's vitally important to analyze, describe, and judge software according to the exact criteria. Such a comprehensive approach allows making fair and honest conclusions that will be useful for customers. So here are the main criteria for VeePN:
– the quality of the official website and apps. People want to use a service without any annoying issues. Variety of ads, slow speed, the absence of mobile-friendly version, and other things negatively influence their experience;
– features. There are general claims that virtual private software must perform for a customer. It includes protecting your personal information, unlocking content, increasing your Internet surfing security, etc. Also, it's important to pay attention to such extensions as Kill Switch, Double VPN, DNS Leak Protection, etc.;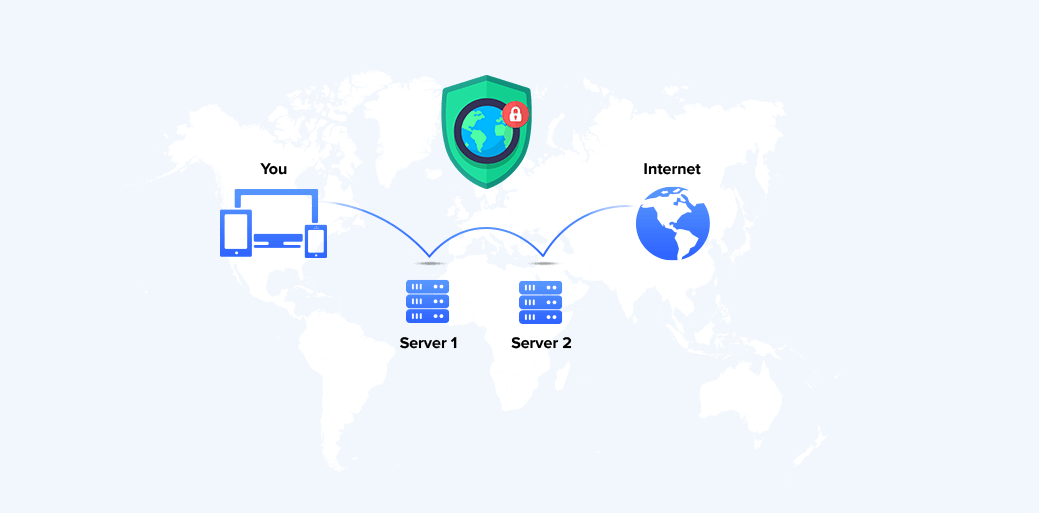 duoble vpn feature available
– compatibility with different operating systems. Users may have computers or mobile gadgets based on iOS, Windows, Android, Linus, and other OS. They literally require proper software support to be able to download, install, and start using the virtual private network;
– affordability and gaining's. We want when the quality meets the price. Otherwise, the offer isn't beneficial for customers. That's why it's vitally important to analyze the prices of subscriptions, special offers, and savings;
– customer support. The best scenario is when your VPN works perfectly and doesn't let you experience any error. But bugs happen, and we want to go through these things alone. So good customer support is a must.
The General Overview of VeePN
This VPN provider is based in Panama and doesn't limit users in any way. This is a country that is meant for private servers to be located because of good local laws and the absence of any restrictions. There are no specific retention directives that may put you, your personal data, and your identity in danger.
Another great advantage of locating in Panama is the pricing policy. Compared to the USA and Great Britain, services located there could offer users more beneficial deals and plans. As a result, you can trust the company and enjoy affordable fees for its services.
VeePN developers promise they use high-quality equipment to provide customers with secured connections. AES-256 encryption is on. Among the available protocols are 4 options, including one of the most popular ones – WireGuard. It's up to you to select the protocol you want to use.
Besides classic features, users are glad to know they can rely on VeePN in other issues. Unblocking Netflix, blocking annoying advertisements, detecting malicious websites, and so on help us make our Internet surfing free and secure.
The First Impression
Let's take a look at the official website. It is fast, has an intuitive design, friendly interface, high-quality mobile version, and other nice benefits. There are 15 available languages, so you can consume content about VeePN services without a language barrier. Among them are English, French, Chinese, Russian, German, Japanese, etc.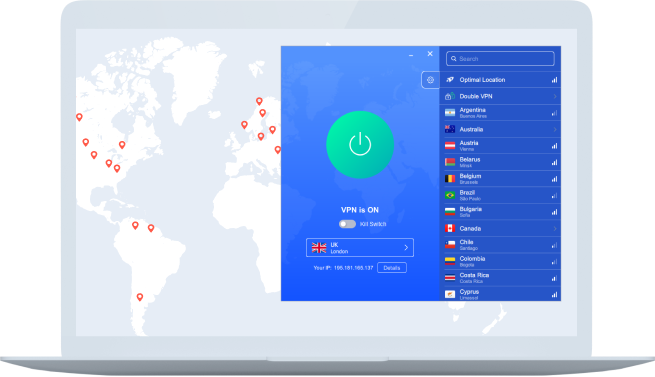 veepn desktop
The website is quite informative. You can find all services' descriptions, reviews, pricing plans, and so on. If you require extra help or want to talk to a real person, then click on the chat button. If you already have bought a subscription or created an account, you can log in and use your dashboard.
The first impression from opening the VeePN website is nice and pleasant. Together with affordable subscription plans, this VPN service intrigues users to try its classic and extra features.
Essential Features with Useful Extensions
Overall, the official website highlights the general professionalism, so VeePN appears as a worthy option. No matter your expectations, it will fit your demands. Its main features are:
unblock content. No matter where you are located, VeePN lets you access any website from any location on the Globe. Among the most demanded options are unblocking websites, games, Netflix, streaming media, and music. For example, if you want to watch a movie on Netflix but it's restricted for your country, then VPN will change your IP for the country allowed so you will access content;
protect your personal information. With modern AES 256-bit encryption, you'll stay safe, secure, and anonymous. Users seek for getting anonymous IP, concealing their personality, preventing tracking their activities, and saving money for paid access. Don't be afraid of your personal and banking information;
increase your online security. With the listed above technologies and encryption, individuals may try to find out their current IP, hide IP, and use VPN Encryption to prevent personal information leaks. Such a simple move will protect your data from hackers and become your shield from ads.
Besides these standard features, VeePN also offers advanced features. You may like the following options too:
NetGuard. This feature improves your Internet surfing by making it safer, faster, and easier. It becomes possible thanks to blocking annoying advertisements, teachers, and malware. If you want, you can turn these features off or on;
Kill Switch. It is created to prevent unexpected exclosures. Your connection will be stopped if your virtual private network has any issues. So the app minimize exposure risks and protects your activity;
Double VPN. You definitely will appreciate this feature if you work with specific data. Double virtual private network means your information has double protection;
DNS Leak Protection. This security feature is also responsible for protecting your data in the most unexpected situations. It makes sure that your DNS queries are going through a virtual private server;
Streaming. If you want to access Amazon Prime videos, TV series on Netflix, BBC iPlayer, and other streaming services, you can rely on VeePN too. It makes all these websites and apps work no matter the restrictions.
Such features as Multi-protocol, Anonymous Browsing, Peer-to-peer, Web Inspection, and dynamic IP are also available. Unfortunately, you can't use Dedicated IP, Remote Access options.
 All these opportunities don't require you any effort. You click or tap on the device and run these features. No need to struggle with settings and errors – you prefer VeePN as a high-quality service, and you will get it.
Compatibility with Popular Platforms
It's a great opportunity to use one subscription to the full. You can open the service on your personal computer or laptop via any browser or install software based on iOS, Windows, and other popular platforms. There is no need to buy several subscriptions – you only need one to connect 10 gadgets.

veeps apps
There is an easy opportunity to scale the number of connections for customers or companies with 10+ devices. You only need to pay $0.8 per extra gadget. The limit of connections can increase up to 100.
This service is available for every user. Whether you prefer playing games on a personal computer or watching movies on Netflix on a smartphone, you'll be able to reach all the advantages of a virtual private network. Such good technologic support makes installing VeePN as easy as possible. You only need several seconds to open the official websites and several minutes to get an application installed on your device. 
Protection and Protocols
VeePN uses a true gold standard in security nowadays – AES 256-bit encryption. It is also known as military-level protection. Using this encryption means a user can always be sure of a safe and secure tunnel for any personal data. Hackers and scammers have no chances to harm you with such an impressive level of protection.
You should know that your IP isn't meant to be shown to everyone. This is your safety that must be hidden like a diamond. For this reason, VeePN accepts a no-log policy. It means the app and online service don't record, save, and share your location, searching history, personal data, etc.
Thinking about protocols, VeePN lets you choose between 4 options: WireGuard, OpenVPN (UDP & TCP), Shadowsocks, and IKEv2. As you can see, PPTP, SSTP, and L2TP aren't available, but it's not a big deal at the moment. As a result, this software ensures a customer with a great level of protection and is definitely worth its price.
Prices, Offers, and Savings
VeePN has a quite standard price range. First of all, there is no free VeePN subscription. You aren't able to get any of the mentioned above features before buying any plan. Well, customers may consider this fact as a disadvantage, but experienced Internet users know high-quality services can't live without investments. When it comes to security, variety of features, protection, etc., there is no place for free options.

pricelist of veepn
Development and supporting stable service requires regular work and investments.
As a result, VeePN users may enjoy several very huge advantages. On the one hand, you can freely use this service without worrying about your personal information. This company doesn't sell your data to third parties. On the other hand, there is no annoying advertisement on the official website. Yes, VeePN is paid, but the mentioned facts make it worth your money.
Here is good news: you don't have to pay and buy a pig in a poke. You can, and you should test VeePN features for free before purchasing a subscription. The service gives everyone a 1-day free trial to try all the features. It's a very good option that saves customers from frustration.
If you decide that VeePN matches your requirements and you want to buy a VeePN subscription, then you need to select one from 3 of options. Here are available plans:
1-month subscription. Let's be honest, and this is the worst deal. This plan costs $10.99, and access to the service is valid only for 1 month. Its only benefit is the smallest fee billed from your card;
1-year subscription. This is a good deal that means you have 47% savings. The price reduces to $5.83 per month, and you are billed $69.99 one time for the whole year;
5-years subscription. If you are sure you'll use VeePN for years, then choose this plan. It costs only $1.67 per month! This is the best value that saves you 85%. You need to make a single payment of $99.99 once and enjoy using services.
As you can see, a monthly subscription isn't the best choice. It is pricey and doesn't satisfy users. That's why most customers prefer a 1 year or 5 years plan. Every plan includes the same advantages: 50 locations, 2500+ servers, 10 devices for a user, compatibility to any operating system, and the absence of logs. Besides, a money-back guarantee helps them feel comfortable and trust service.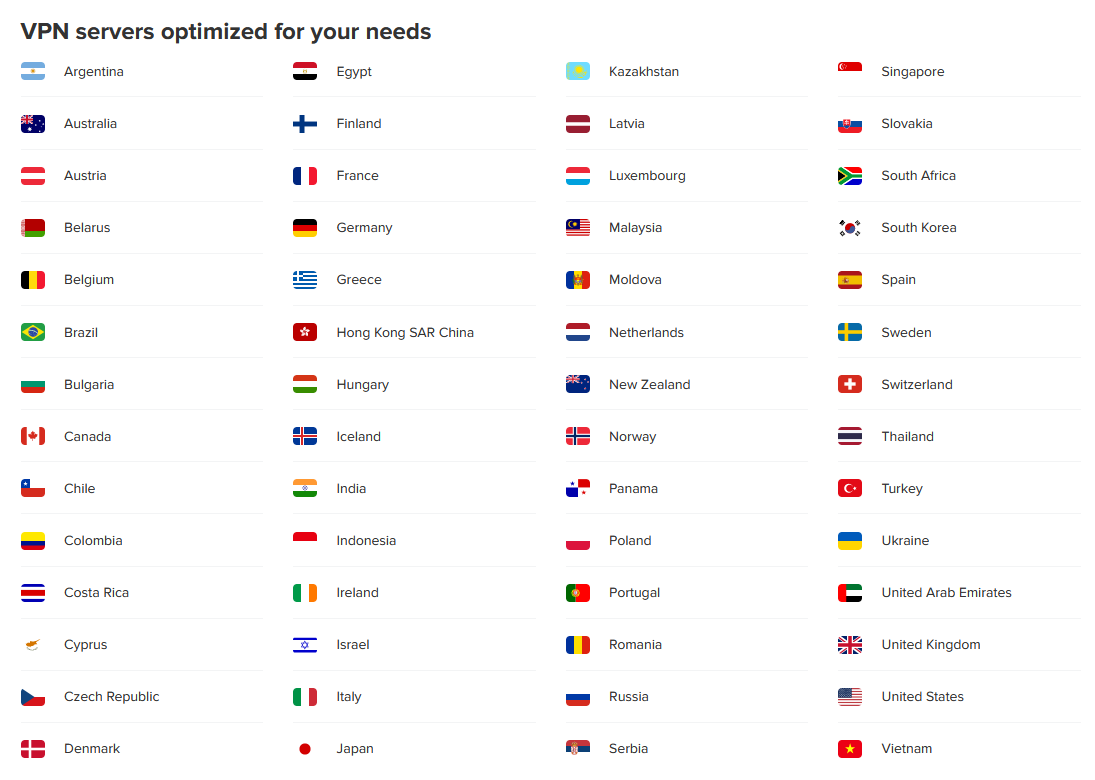 available countries for veepn
Compared to other popular VPN services, VeePN is cheaper. For instance, a yearly subscription to NordVPN costs $6.99, the same plan at ExpressVPN charges you $6.67. As you remember, the VeePN fee is $5.83 per month in the yearly plan.
The variety of payment options also impresses. You can pay for the preferred subscription using your credit card, Paypal, AliPay, Crypto Currencies, and PaymentWall.
Customer Support
VeePN showed a high-quality performance. But if you have any issue with its features or want to get answers to your questions, then you can always do it. Customer support is friendly and professional, and users should contact agents directly without a doubt.

Strong support of Veepn
There are 3 options for how you can get more information about VeePN opportunities. The very first one is to read the most frequently asked questions. There are plenty of informative tips that will satisfy most customers. The next option – and the most favorite one – is to use live chat. A member of customer support will help you with your issue. And thirdly, you can always email the VeePN team and get a response as soon as possible.
How to Start Using VeePN
This is the simplest part of the VeePN analysis. You need to follow the official website, make payment for the preferred subscription by providing a service with your personal information and email address. It's important! Use a valid email because you'll have to use login details and a download link for further authorization. Once you follow that link, you can select the proper version of VeePN to use.
On the download page, you can pick up an installation app for Windows, MacOS, iOS, Android, and Linux. Every operating system has its particularities that influence the time and procedure of installation. But in general, as a customer, you are required only to download an installation file, run it, and wait.
The second option is to download the app from Google Play or App Store directly. After the installation is done, you'll only need to follow step-by-step instructions to complete your subscription.
Conclusions
VeePN is a high-quality VPN with numerous benefits. It includes many classic and advanced features that allow a customer to cover many possible issues on the Web. It is paid, and this fact may push off certain customers, mostly newbies, because experienced Internet users know high-quality VPN couldn't cost zero cents.
Overall, VeePN has earned an audience's love and respect for its numerous advantages. It supports 10 devices, includes 50 locations and 2500+ servers, offers 3 types of affordable subscriptions, and many other nice options. Customers usually experience only good aftertaste after installing VeePN and have no reasons to try other software. So give it a try!
About the author