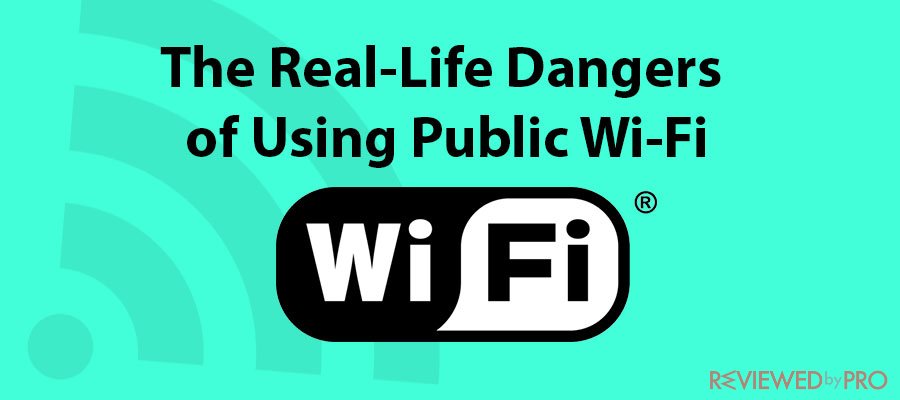 The Real-Life Dangers of Using Public Wi-Fi
Most computers in use today come with all the necessary wireless LAN technology. As the world advances technologically, public Wi-Fi has become part of our economy. The use of public Wi-Fi is becoming more widespread and popular, with consumers browsing the web courtesy of cable companies, institutions, airports, and others that offer free hotspot. Wi-Fi enables free surfing of the Internet.
Wi-Fi networks provide convenience and ease of integration. They also provide the advantage of the ease of access to sites and information in the event of low data subscriptions.
The use of public Wi-Fi has greatly reduced the amount of money spent on buying data. It allows individuals to gain access to sites, download data, amongst others for free. Using public Wi-Fi has enormous advantages; however, it also comes with some major real-life dangers. I'll be discussing some of these dangers and how you can protect against them.
Some Real-life Dangers of Public Wi-Fi
Public Wi-Fi is less secure than a private or personal network. Using a private or personal network reduces the risk of hacking. Encryption reduces the risk of being attacked by hackers, thereby making web surfing a lot safer. Even though sensitive data is now sent through encrypted channels, the use of public Wi-Fi still enables hackers to gain valuable and sensitive information on individuals and bodies.
Below are some of the real-life dangers of using public Wi-Fi networks.
Rogue Wi-Fi networks (evil twin or honeypot attack)
These are networks designed to secretly gain access and possibly get some very valuable data from individuals, companies, and or, organizations without their knowledge.
They often carry the same name as the original Wi-Fi. For example, a guest passing the night in a certain Royal Hotel might want to connect to the hotel's hotspot on seeing a hotspot named Royal Wi-Fi, not knowing that it's a rogue hotspot. After a connection is established, it is difficult to tell the difference except before the connection was established.
Cybercriminals often set these networks up as a honeypot to entice people. This creates a back door to the network, making the efforts in securing the network seem useless.
Man-in-the-middle Attacks
 The network quietly sits in the background and collect the data as it passes through, or it can actively try to make you think it is the website or service you are attempting to connect to.
 A typical example of this type is when you're connected to an online merchant to browse products. When you want to purchase any of the products, you are usually required to send your login information (username and password), and the online merchant's server checks your credentials and logs you in. Once you're logged in successfully, you can then make payment for any product you ordered for via the payment information you have on file. It will then ship and deliver your purchase to your address.
This online merchant can also collect information that is sent back and forth between the two parties, such as the user's login and password information, the order information, credit card info, or where the order is to be delivered. It can be risky.
Distribution of malware over public Wi-Fi
Malware is software programmed to carry out malicious activities. Hackers can easily distribute malware over public Wi-Fi. By this, computers owned by organizations, institutions, or companies can be infected with a virus that can, in turn, cripple or destroy devices. Distribution of malware over public Wi-Fi also slows down the progress of institutions, businesses, amongst others.
Unauthorized spying (snooping and sniffing)
 It can be informed of eavesdropping, accessing pages viewed by others, and illegal access to videos. Through this, log in details, credentials, accounts, and cybercriminals can hijack possibly private chats.
Attacks through Ad-hoc
 Ad-hoc are networks that connect different computers directly irrespective of their locations. An ad-hoc network is also a collection of mobile nodes that can communicate without each other with the help of wireless. They pop-up unexpectedly and are sometimes annoying. Sometimes they advertise goods and products based on reference.
They often redirect network users to other sites (unwanted sites), thereby enabling hackers to gain access to them. Seeing as how some cites cannot be properly accessed without them, the users of those sites have no choice but to access the sites even with the Ad hoc. It also presents the problem of the hidden terminal, packets losses due to transmission error, routing overhead, amongst others.
Vulnerability to hacking
Public Wi-Fi increases the vulnerability of individuals' passwords and usernames to hacking. It allows hackers to see important emails, encrypted messages, amongst others. That is why most Wi-Fi networks that were created for home, business, or institutions use are password-protected and encrypted.
However, most public Wi-Fi hotspots are set up strictly for convenience and are not secured. Hackers can also intercept the messages between two points; they can also change the data being sent — for example, requests for cash from a victim's family online.
Hackers usually steal information by diverting internet users away from an SSL-protected website following their login, or to space replacers with an unencrypted website, which steals their login credentials and details before forwarding them to the real website.
Worm and Virus attack
A virus attacks a program, thereby crippling a system while a Worm can compromise a system even without a program. The risk of a virus and worm attack is very high when connected to public Wi-Fi. These can crash computers and other devices. They can also cause malfunction.
Devices can easily be hacked over public Wi-Fi and made to function in undesired ways. A typical example is the hacking of the security system of an organization and causing total lock do lockdown organizations. Another example is the hacking of the traffic system, thereby maybe causing a massive traffic jam.
External interference
Public Wi-Fi signals are cable of being interfered with beyond the control of the public administrator; as such, they are less reliable and less secure.
How to Safely use a Public Wi-Fi Network
Data security is very important, especially with the rising threat of hacking and other cybercrimes. Statistics show that over 2 million cases of identity fraud are associated with the hacking of public Wi-Fi.
The alarming rise in cyber cybercrimes to several types of research, the most common danger of using public Wi-Fi is hacking during which the users of such Wi-Fi are not aware.
I have penned down some ways you can use to stay protected over public Wi-Fi. 
Enable Computer Firewall
Firewalls also serve as good protection. They can protect a computer from virus attack. They help in ensuring that the computer or system is not infected with a virus. In the case whereby a VPN is not used to protect the connection, the computer's firewall should be enabled before connecting to a hot spot. Configuring firewall software on the computer to block non-VPN traffic isn't all that easy, however. It varies across operating systems and products, and it may not even be possible in system operating systems.
Identify the genuine hotspot
It is probably the easiest way to prevent being a victim of connecting to a fake Hotspot. If you want to identify the hotspot, it can be done by asking an employee or staff the name of it. They will, in turn, check to ensure you are connected to the right hot spot, if you are not, then they will connect your device to the right network.
Install antivirus and malware scanners
Some antivirus and malware scanners can be downloaded for free or purchased online. They can protect computers and other devices from attacks by viruses and worms. These worms and viruses can corrupt or in some cases, crash hard drives and some other important devices. The damages caused by them are not quickly detectable in the case whereby antivirus or malware scanners are not installed on the computer. The havoc wrecked by the very badly.
Disable Auto-connector
Do not allow your computer to auto-connector just any Wi-Fi. Instead, check for the authenticity of the Wi-Fi before connecting to it. When not in use, disable the Wi-Fi to avoid unexpected connections.
Enable Two-factor Authentication (2FA)
Requiring a second element for logging on to a website, such as a passcode texted to your phone or email or a physical key you insert into your computer such as ID cards, goes a long way toward keeping hackers out even if your password is compromised. It is becoming more popular as the need to prevent cyber crimes arises. For this, password combinations involving letters both with paper and lower case, special characters, and even numbers are used. It greatly reduces the risk of hacking by cybercriminals.
Beware of Phishing
 Emails that appear to be from your bank or credit card company could be from a hacker trying to gain access to your account. When you click on a link in one of those emails could send you to a fake website designed to steal your login credentials. It can also result in malware or spyware being installed on your device. It is better and safer if you just type the URL of the financial institution directly into your browser.
Using a VPN (Virtual Private Network)
A good VPN protects an internet user from cybercriminals. A VPN app encrypts the data being sent and received by an inter use, after which the encrypted data stream is sent to the VPN provider's server, where it is then forwarded to the intended recipient, be that a website, email server, amongst many others.
It prevents outsiders from viewing information and received. It is the best way to keep information safe while using public Wi-Fi. A VPN ensures all of the traffic from your device is encrypted, whether the site you are visiting has SSL or not.
 VPNs are excellent to protect against protection-in-the-middle attacks. One of the advantages of using a VPN is that it hides your browsing history, IP address, logs, and web activity amongst others. A VPN protects any data you are sending across any network. It means your data will remain scrambled even if someone manages to gain access to your device.
The importance of VPNs cannot be overemphasized SSL(Secure Sockets Layer) connections for websites: SSL is a layer of encryption used in web browsers to protect your data. In the case whereby a VPN could not connect, an SSL connection can be used. Most online banking, shopping amongst others require identity verification which uses SSL connections. Its importance is very high. When connecting to a secure site, a little green padlock in the address field is seen above. If clicked on, it will display the information about the encrypted connection.
The Best VPNs for safe and secure browsing on public WI-FI hotspots
Here are 2 of the best VPNs you can use when connecting to a public Wi-Fi.
NordVPN
Official website
www.nordvpn.com
Our Rating
(Excellent – 4.9/5)
Available applications
 
Money-back guarantee
30-days
Price from
$3.49/month (-70% deal)

Visit website
More information
NordVPN review
NordVPN is one of the best VPNs available currently. It has a reliable security system which prevents any security threats, including those mentioned earlier.
NordVPN uses high-level encryption to protect the data you send across the net. No one can break the codes used in this encryption.
NordVPN uses CyberSec technology that protects your system from ads, malware, and viruses.
For Privacy, NordVPN runs a strict No-logs policy. It means non of your online activities are saved on the VPN servers. It also uses an automatic kill switch that cuts your connection to the Internet whenever you lose connection with the VPN. It also has leak protection. 
Express VPN

Official website
www.expressvpn.com
Rating
  (Excellent – 4.8/5)
Available applications
 
Money-back guarantee
30-days
Price from
$6.67 (-49% deal)
Visit website
More information
ExpressVPN review
It is a high-speed VPN, just like NordVPN. And just like NordVPN, it has a very tight security system that keeps your data secure.
ExpressVPN encrypts your data using military-grade AES 256-bit encryption. It is the most stringent encryption to crack. So it means your data is shut away from even the best of hackers.
Your privacy is guaranteed using its tight No-logs policy. When you connect to any public Wi-Fi network, no one will be able to track your activities. You will be completely anonymous online.
ExpressVPN also prevents your data from leaking. This is made possible by the DNS and IP leak protection.
Other great VPNs you can use include;
Surfshark
CyberGhost
Private Internet Access
PrivateVPN
Protect yourself while using a public WI-FI networks
Using public Wi-Fi can come with many challenges as I have shown you in this article. However, there are measures you can take to ensure that your files are protected whenever you connect to any public Wi-Fi network.
Using a VPN is the best way to avoid the dangers of using public Wi-Fi. There are many VPNs you can use. I have briefly talked about two of the best VPNs. You can subscribe to any of their available plans and enjoy full protection as you surf the net, stream online content, or make purchases online.
About the author