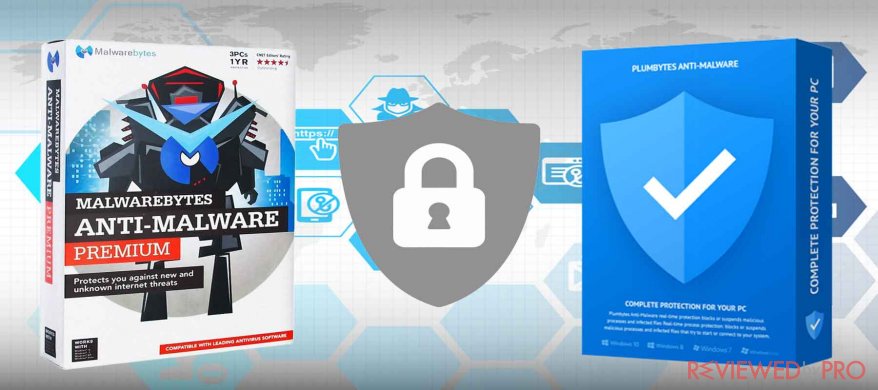 Two modern Internet security packages Malwarebytes and Plumbytes Anti-Malware are compared in this article. Both security solutions are well rated and detect even the smallest threats very quickly. However, if you are looking for the best software to purchase, you have to read this article!
Malwarebytes Anti-Malware
Powerful and modern anti-malware application Malwarebytes was developed by Malwarebytes Corporation. It offers security for Microsoft Windows, macOS, and Android devices. The first appearance of Malwarebytes Anti-Malware software was made in January 2006.[1]
The company offers security software for home, businesses, and technicians.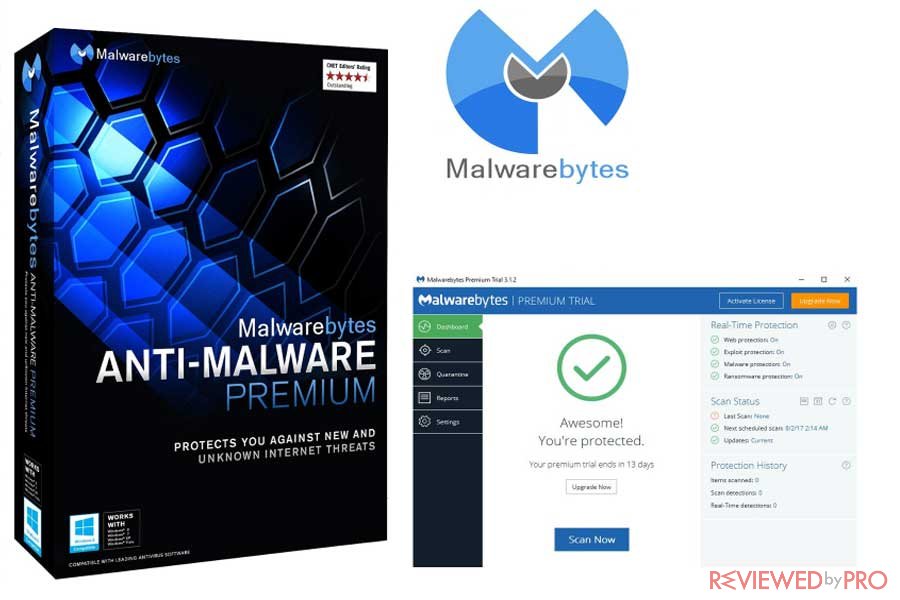 The software is not a very lightweight, but installation won't take long. You can get a free version of the software that complements antivirus, as well as full version of the software for a home that replaces antivirus and is available either for 1 to 10 devices or Malwarebytes Premium for teams that can protect small offices, teams, and startups.
Researchers at Reviewed by Pro[2] installed the software and used it for approximately a month. According to them, Malwarebytes Anti-Malware is a stable and reliable program.
Pros
Experienced and trusted software that provides its customers
Malwarebytes recognizes and quarantines various types of malware quickly and accurately. It is worth to mention, that this software offers one of the biggest databases in the marker, constantly providing a stream of detection event data.
If you want to scan your devices very quickly, Malwarebytes offers you hyper scan that takes only about 30 seconds
Cons
It is not possible to estimate the end of the scan due to the missing scan process bar.
Pop-ups can get annoying.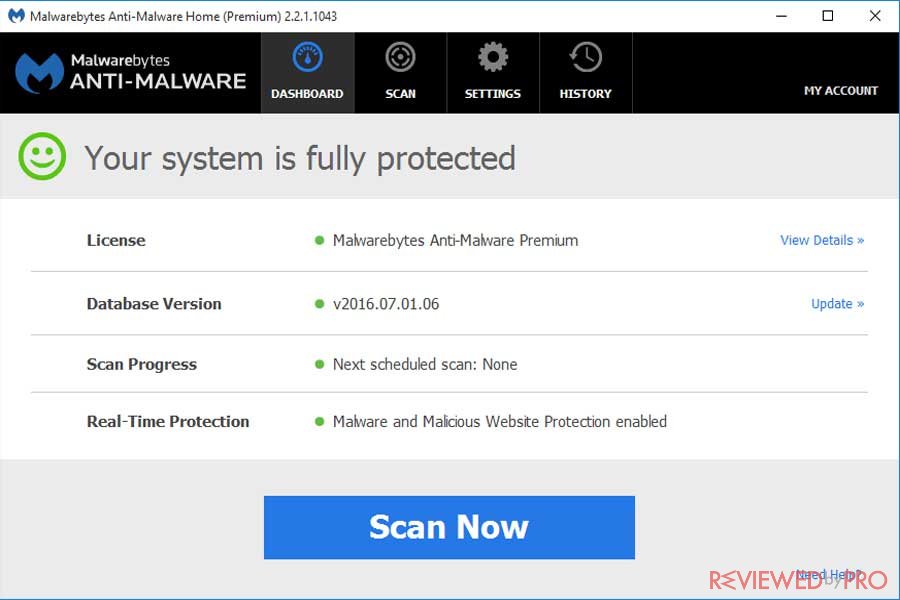 The Verdict
Researchers at Reviewed by Pro were impressed with the software performance and functionality.
Malwarebytes Anti-Malware is created for every user – whether you are a businessman, a CEO of a large company or an individual user. This application will protect your computer not only from the usual malware, but from ransomware, infected sites, and various small threats. Malwarebytes is a great anti-malware software and worth its price after all if you need a real and reliable protection against the latest threats on the Internet.
Plumbytes Anti-Malware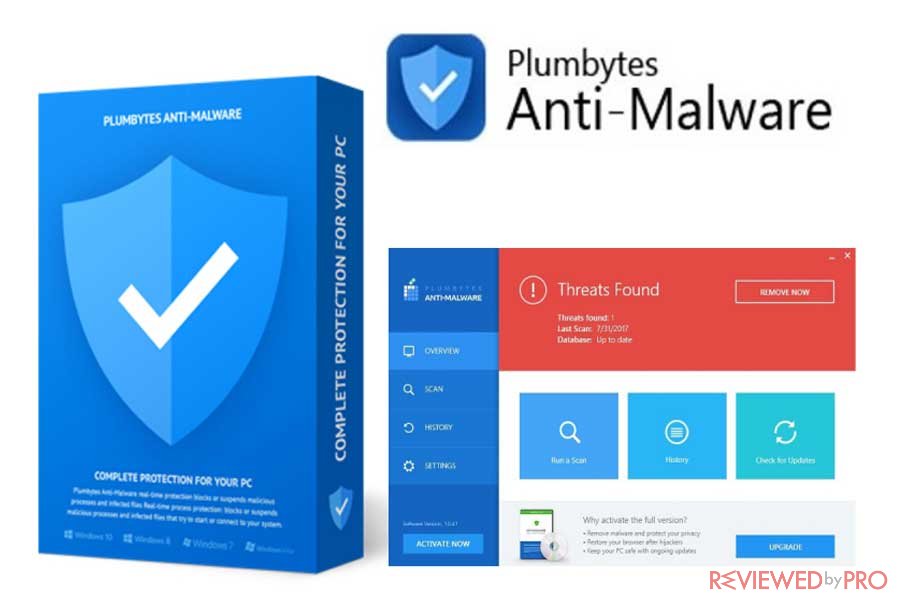 Plumbytes Anti-Malware is a security software developed Plumbytes LTD. The software was established to detect different types of malware and viruses, including Trojans, spyware, adware, worms, and other types of malicious and unwanted programs that can threaten your privacy and data. Plumbytes also is capable to restore your hijacked browser, search engine, and home page. It also monitors your computer's security.[3]
The software offers you a free version that scans the computer and checks it from any malicious programs. Only paid version of the software will remove infected files. 
Researchers at Reviewed by Pro[4] installed the software and used it for a month on a highly infected device.
Pros
Convenient for a quick computer scan. The standard scan takes only 20 minutes. In total, the software offers users three scan types, including quick, smart and full scan.
The software is lightweight and easy to operate. It also correlates with other antivirus applications.
Effective virus removal that will clean your computer immediately after you purchase the software.
Live technical service is available 24/7. So if you have an emerging issue, experts at Plumbytes will help you to remove any kind of threat.
Cons
There is no function to select files that you do not want to remove. That could be a bit annoying if you do not want to delete a certain program.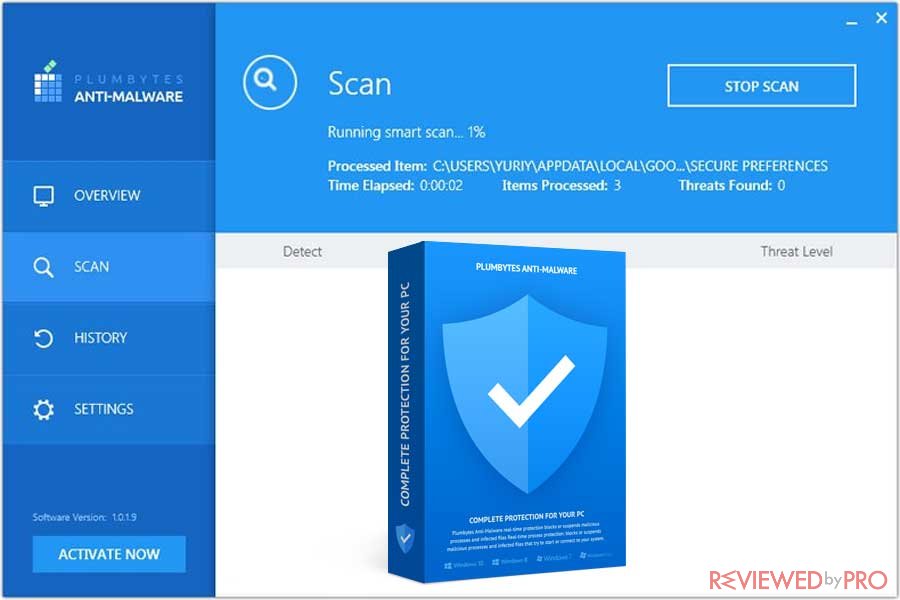 The Verdict
After a detailed test of the software, researchers provided the final verdict:
This is a great tool for removing infected files. The app does not require large computer resources, and it is also inexpensive and reliable. We recommend this software if you feel that your computer may be infected.
To summarize
Plumbytes is a great anti-malware tool for everyday uses, especially if you have infected computer. Relatively, the software is not expensive and lightweight, it will remove most of the malicious files. However, it won't be as functional as the full version of Malwarebytes Anti-Malware.
If you are looking for a stable and reliable software, that satisfies millions of consumers every day and offers you one of the biggest malware databases, Malwarebytes is the security package you are looking for. It offers you useful functions that will ensure the complete protection of your device. Malwarebytes is also suitable for more advanced users and small businesses
About the author
References