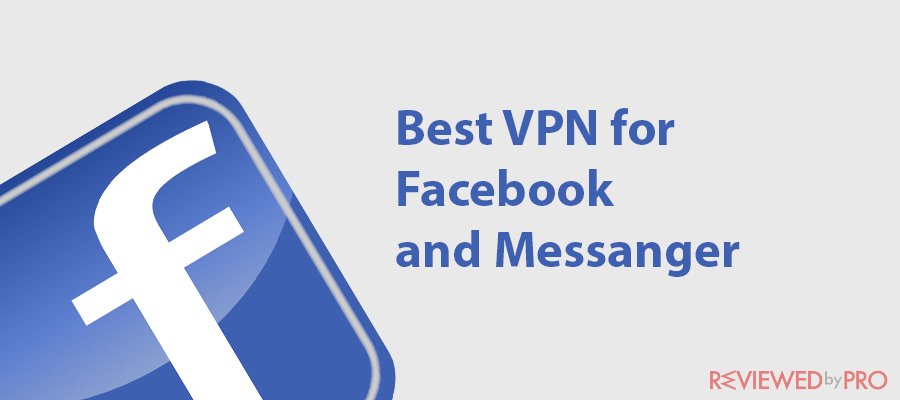 best VPN for Facebook and messanger?
If you are a user of Facebook and Messenger apps, you probably know that your location is no secret. The Facebook app is one easy way to track online users' IP (Internet Protocol) addresses and, consequently, their areas. That is not a palatable thought for many users. Many schools and workplaces place a block on Facebook and Messenger for those within the environment. The reason is that someone can trace their locations to a limited area of access. That has led users of the apps to seek their locations to be hidden through VPN use (Virtual Private Network).
Furthermore, VPN helps you hide your location so that you can gain access to Facebook and Messenger without being blocked via geo-blocking. You can also make use of any Wi-Fi network without the network administrator knowing it. Once they cannot see your location, they will have no idea what you are up to.
That is why you need a guide on the best VPNs you can use to encrypt your online traffic and freely surf through Facebook and Messenger apps. In this article, you will get a comprehensive list of recommended VPNs to use, their pros and cons, all of which will guide you on the right choice of VPN to make.
What is a VPN?
VPN stands for Virtual Private Network, as stated above. It is a tool that hides your location online. It does this by encrypting all the online traffic that goes out from and comes into your device, channeling them through a server that acts as an intermediary, and masks your true location. VPN is useful for you if you want to unblock Facebook and Facebook Messenger as the network administrators will not track you online or see what you are doing.
With VPN, you get to "pretend" you are in a different country or region altogether. It is possible as the VPN will put off your IP address (which is ordinarily used to track your precise location) and replace it with one managed by the VPN. Thus, VPN can be considered a form of proxy server, but better.
Criteria for the Best VPN for Facebook and Messenger
For any VPN to be recommended for the list of best VPNs for Facebook and Messenger, it must meet specific criteria:
Ability to Unblock Websites: The first criteria are to consider if the VPN can be relied upon to do what it was designed to do, encrypting online traffic and unblock Facebook and other websites. 
Reliable Security: For a VPN to be included in the "best VPNs: list, it has to be able to provide complete privacy for its users. It also has to be a secure tool that users will not be worried about their online presence being exposed or threatened.
Many and Fast Servers: The servers of such a VPN must be fast. Also, the more the servers, the better, as this would mean that users have a broader range to choose from. Speed is non-negotiable for a VPN to be on the best VPNs list.
Ability to Support Different Platforms: Such a VPN must support apps compatible with major platforms, devices, and operating systems. This way, a user can connect to different devices using one account and simultaneously use the tool.
Easy-to-Use: The VPN must be easy to use to be on the best VPNs list. It is one of the criteria that have been looked into to compile the list for you.
The above are significant features that have been considered before, including the VPNs in the list below. You should note that apart from the general characteristics, each VPN is unique hence the need to evaluate each VPN.
Our list of thw Best VPNs for Facebook and Messenger
If your Facebook has been blocked by your school, your workplace, or even your government, the following VPNs will do a great job in hiding your online presence so that you can gain access to Facebook without getting blocked:
NordVPN
Official website
www.nordvpn.com
Our Rating
(Excellent – 4.9/5)
Available applications
 
Money-back guarantee
30-days
Price from
$3.49/month (-70% deal)

Visit website
More information
NordVPN review
NordVPN is a VPN you can rely on to unblock Facebook and its Messenger app. Its features work together to ensure this is achieved. This tool's servers are spread across 59 countries, providing a vast base so you can go undetected. Also, these servers are well-known for their incredible speed. That comes in handy when you need to watch videos online. Other features include auto-connect, DNS leak protection, cloaking or stealth mode, and a kill switch. 
You should note that NordVPN, with its fantastic speed, may not be as fast as others on this list. However, it is comparably cheaper than the others ($3.71-$11.95) to be understood. NordVPN unblocks iPlayer, Netflix, Amazon Prime, and Hulu, among other major sites. It works on major systems such as Windows, Linux, Android, macOS, and iOS. That is commendable.
Beginners in VPNs find NordVPN quite useful as it provides live chat support that handles any tech question the user may have.
Pros
Cons

It can easily bypass blockages placed by geo-blocking on major online platforms
The live chat support is available 24/7
Its no-log policy is strictly adhered to; an ideal for very private customers.

It takes a while to get used to the desktop version.
ExpressVPN
Official website
www.expressvpn.com
Rating
  (Excellent – 4.8/5)
Available applications
 
Money-back guarantee
30-days
Price from
$6.67 (-49% deal)
Visit website
More information
ExpressVPN review
This is the best VPN for Facebook as it provides a secure and reliable service with its wide coverage of 94 countries. The servers of ExpressVPN are fast, stealth, and spread across these 94 countries. With a VPN like ExpressVPN, you are assured of privacy for your internet activities. Furthermore, it is an easy-to-use app; hence even the most basic Facebook user can use it according to their needs.
ExpressVPN is available for macOS, Linux devices, Windows Operating System, Android, and iOS. Apart from Facebook and Messenger, ExpresVPN can unblock popular sites such as Netflix, Hulu, iPlayer, Amazon Prime, etc. If you are in a country where Facebook access is banned, you can rely on the strong encryption feature, stealth technology, and DNS leak protection features that ExpressVPN provides. These would enable you to unblock your favorite app and use it freely.
A tool that provides such a premium service is no surprise; it has a price tag of $6.67 to $12.95. Customer service works round the clock to provide support to customers when the need arises. It also has a 30-day guarantee that they will return your money to you if you are not impressed by the services provided. However, as most customers find, there will be no need to use this return policy.
Pros
Cons

Great speed that can be relied upon.
Its servers are over 3000, spread across 94 countries.
It can unblock not just Facebook but also a vast range of sites and services that have been geo-blocked.

It is on the pricey side when compared to other VPNs.
CyberGhost VPN
Official website
www.cyberghostvpn.com
Rating
  (Great – 4.5/5)
Available applications
 
Money-back guarantee
45-days
Price from
$2.75 (-80% deal)

Visit website
More information
CyberGhost review
CyberGhost VPN is another VPN that is highly recommended for unblocking Facebook. However, what makes it unique is that it is the most recommended when it comes to unblocking Facebook Messenger on your mobile device. For beginners, CyberGhost is most popular as it has very easy-to-use versions on Android and mobile iOS. More so, its pricing begins on the cheap side from $2.81 to $13.47. This tool has many servers spread across as many as 112 countries of the word, which is quite impressive compared to other VPNs on this list.
Although CyberGhost sees more use on mobile platforms, you can also use it on Windows, iOS, Android, macOS, and Linux devices.
This VPN provider is high-profiled and based in Romania. That is important to point out as the location puts it outside the jurisdiction of the "spying alliance." Users can have confidence in this VPN as it does not keep logs of users' online activities because of its "no data logs" policy.
However, for users in countries with in-depth surveillance and censorship, CyberGhost may not be the ideal VPN to use as it does not have an adequate stealth technology like other VPNs on the list. If you are a monthly subscriber, you are guaranteed 14 days to get your money's refund if the tool doesn't deliver on its promises. This window is up to 45 days for those who subscribe to the 6-month and above plans.
Pros
Cons

It is quite cheap, and its apps are beginner-friendly
It can be used on seven devices at the same time.
It has a no-data log policy.

 It cannot be used in a country like China.
Private Internet Access VPN
Rating
   (Great – 4.3/5)
Available applications
 
Money-back guarantee
30-Days Money Back Guarantee
Price from
$2.99/month
More information
PIA PVN review
When it comes to online security, Private Internet Access has the edge over other best VPNs. Time and time again, it has proven that its zero data log policy can be relied upon. Also, even if you are in an institution or a country where Facebook has been blocked, you can unblock it with this VPN. This tool's price range is $2.69 to $9.95, which is still on the fair side. Its servers are located in 74 countries, and its stealth (obfuscation) technology can be relied upon. These servers are extremely secure as they make use of AES-256 encryption. 
Again, PIA is the recommended VPN for households that make use of technology on the heavy side. That is because, with one PIA account, you can connect up to 10 devices at the same time. It has an auto-connect feature. More so, it ensures that information does not leak out in unforeseen eventualities through the activation of the kill switch mode. It also has a money-back policy for the first 30 days of subscription if you are displeased with its services for any reason.
Pros
Cons:

It is one of the VPNs on the cheap side of this list.
You can use it on as many as ten devices, all at the same time.
Its kill switch mode is heavily reliable.

It doesn't offer split-tunneling. That means that you can only channel through the VPN and not have private and public networks run simultaneously.
SurfsharkVPN
Rating
   (Good – 4.1/5)
Available applications
 
Money-back guarantee
30-days
Price from
$1.99/month
More information
Surfshark review
This is the cheapest best VPN you can get for Facebook and Messenger on this list, its price range beginning from $2.49 to $12.95. Like other great VPNs, Surfshark has obfuscated or stealth servers, which are very key to unblocking Facebook and Messenger. Even with its low price, the SurfsharkVPN is compatible with major platforms such as Linux, Windows, macOS, iOS, and Android-based devices. It can also unblock Hulu, Amazon Prime, Netflix, iPlayer so that you can stream your favorite shows online. Its stealth servers are found across 63 countries; this is a fair deal indeed.
With its whitelisting, Surfshark lets you access local content and content from different countries simultaneously. This means that you can enable split-tunneling, so you don't have to choose one or the other. You can also simultaneously connect different devices to your Surfshark account, an unlimited number for one subscription. So for tech-enthusiasts and huge families, this is the ideal VPN to hop on. 
Pros
Cons

It is one VPN you can connect as many devices on as you wish. It is unlimited.
The live chat support works round the clock, so you can access it from any part of the world and at any time you are available to do so.
Provides a great deal of online privacy and security.

Its network is not as wide as other VPNs on this list. 
Conclusion
Most learning institutions and workplaces block Facebook so that people within that environment can concentrate on the task at hand and not be distracted by social media. Some countries of the world also place a blockage on Facebook and Messenger for different reasons. If you are located in any of these places, you can still access Facebook using the best VPNs suggested in this article.
About the author