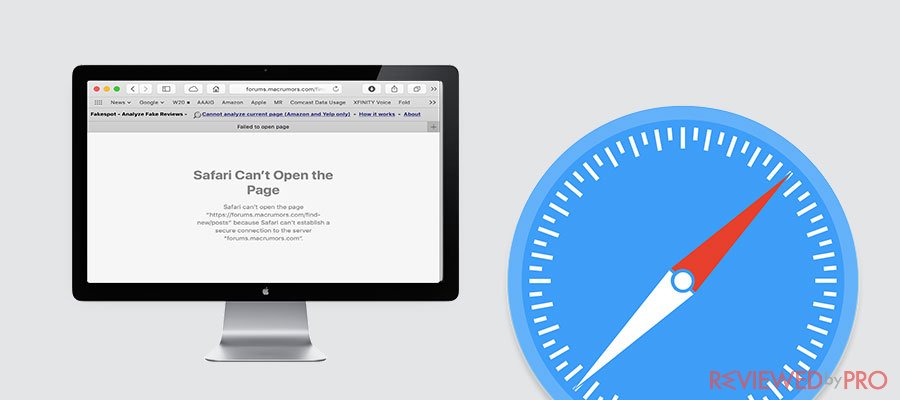 Safari Can't Establish a Secure Connection
Safari has been specifically designed to protect your privacy and prevent malware infection. While undeniably helpful, its security measures can stand in the way of a seamless browsing experience. A case in point is when Safari can't establish a secure connection.
The article explains why Safari can't open some pages and how to fix it.
Why can't Safari establish a secure connection?
Your browser displays the "Safari can't establish a secure connection" error when a website you try to visit doesn't offer encryption.
Without encryption, your data can be intercepted by cybercriminals for a number of nefarious purposes: from stealing your data to spreading malware infection. Therefore, ensure that the website in question is trustworthy before trying to bypass Safari's security safeguards. If you have misgivings about a website you just visited, follow this Mac malware removal guide to protect yourself from potential cyber threats.
How to fix the "Safari can't establish a secure connection" error
Safari automatically checks all connections to ensure none of them poses a cyber threat. Unfortunately, the browser's security algorithms are not infallible, which is why it can struggle to establish a secure connection even to trustworthy websites. Here's how to fix it.
Check the URL
Are you trying to open nytimes.com or nylimes.com? Cybercriminals can be extremely devious in their attempt to make you click a malicious link or trick you into entering your login details.
Carefully examine the URL you are trying to open. A fake URL can contain numbers or Cyrillic letters looking like English letters. Using the same technique, cybercriminals have spoofed multiple Department of Motor Vehicles (DMV) websites to collect sensitive data of unsuspecting victims.
If you are certain that the website you are trying to open is harmless, try the following tricks to bypass the unsafe connection error.
Set date and time automatically
If you regularly travel, you might prefer setting the date and time manually. Although manual time adjustments offer you more flexibility, it might interfere with Safari's security settings. No matter how counterintuitive it seems, automatic date and time settings can fix the "Safari can't establish a secure connection" issue.
To set date and time automatically, do the following:
Go to System Preferences and click Date & Time
Click the padlock icon and enter your admin password
Check the box next to the Set date and time automatically option.
Refresh the Safari page
Change the website certificate permissions
An SSL or trust certificate is a file used for verification of website ownership. Safari checks the trust certificate to protect you from website spoofing.
It's not uncommon for a legitimate website to operate with an expired trust certificate, thereby triggering the "Safari can't establish a secure connection" error. Here's how to fix it:
Enter the website's address in the Safari address bar and hit Enter
In the address bar, click the padlock icon and click Show Certificate
Copy the certificate's name
Hit Cmd +Space and enter Keychain Access into the search bar and hit Enter
In the System Roots section, click the Certificates tab
Use the search bar at the top of the window to find the certificate
In the Trust section of the certificate, set the When using this certificate to Always Trust
Enter admin password and refresh the Safari page
Update Safari
Keeping your Safari up to date helps to resolve a number of browsing experience issues, not the least of which is the failure to establish a secure connection. Since Safari is a part of macOS, it's updated along with it.
Follow these steps to update macOS and Safari, which is bundled with it:
In the Apple menu, click System Preferences
In the Software Update section, click Update Now or Upgrade Now
Wait for the update or upgrade to install
Open Safari and visit the page in question
Wrapping up
When a secure connection can't be established, Safari warns you about a potentially dangerous website. Most of the time, it's better to heed its advice and steer clear of sketchy parts of the web. If, however, you are certain that a website can be trusted, our advice should help you visit it. Browse safe!
About the author