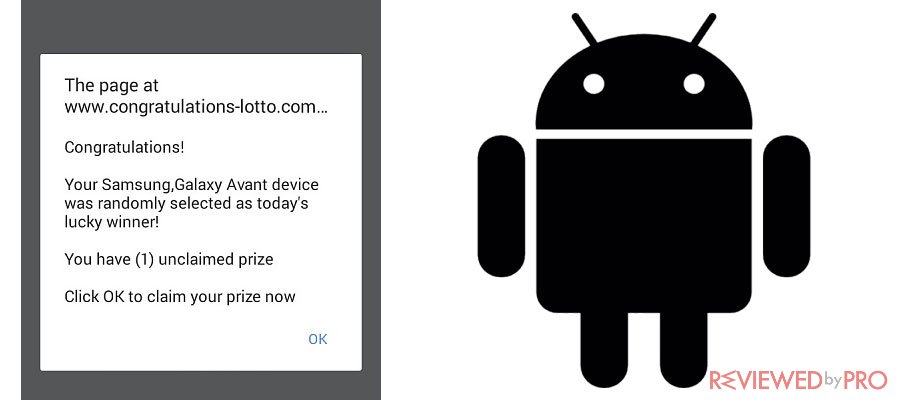 Have you ever noticed a pop-up window saying Congratulations You Won on your Android smartphone?If yes, continue reading this article, because your device might be infected with virus[1]. 
Congratulations You Won and You are today's lucky visitor, Congratulations
A pop-up windows displaying the message Congratulations You Won or You are today's lucky visitor Congratulations are nothing but scam[2].  According to security researchers at Symantec[3][4], these pop-ups usually occurs on Android screen while browsing the web and visiting questionable websites. Congratulations You Won tries to trick users into clicking on these pop-ups by scamming false information, such as making you think that you won all-expenses-paid vacation, or money prize, etc.
You won scammers use localization to zero in on their targets. The malware (Android.Fakeyouwon) discovered on our users' devices identifies device location/region using the device's IP. Once the region is discerned, scammers can tailor different scam campaigns accordingly. These may range from generic ad library revenue generation to fake coupons or rewards programs from well-known local shopping outlets.
Once you click on these pop-ups, you have to answer some simple question to claim your price. Scammers behind the attack try to reinforce the legitimacy of the content presented, for example they attempt to make a reference that the large number of other people participate or use spoofed pages of well-trusted and popular platforms. However, this method is used by attackers to finish their surveys without too much giving. Many visitors do not understand that this is a scan and answer the questions on these suspicious pop-ups, benefitting attackers behind these pop-ups and possibly harming the devices by allowing malware and other viruses inject to the devices.
Warning Your browser is hijacked
If you noticed your browser acting suspicious, you are experiencing slowdowns and interruptions, the language of your browser is changed automatically, you experiencing redirects to unknown pages, your device might be infected with browser hijacker or other threats. Browser Hijackers[5] are capable of replacing exciting home page, error page or search engine with its own.
The developers of browser hijackers might make income by driving traffic to the particular site and promoting it, and/or display fake pop-ups asking to install software updates, and/or redirect to questionable websites. In addition, it might also notify users about detected malware, viruses, and other malicious threats and offering users to clean them by installing questionable software.
Protect your device against scammers
These simple tricks will help you to protect your device against scammers and other threats targeting Android devices.
Always keep software on your device up to date.
Do not download apps from third-party and unknown sites, make sure to only install apps from trusted sources, such as the official Google Play app store[5].
Pay attention to the permissions requested by apps.
Create backups of important information and data.
Use a reliable security app for your Android device.
Remove Congratulations You Won on Android device
The easiest way to remove 'Congratulations you won' from your system is to use a reliable antivirus application We highly recommend you reliable and trusted Zemana AntiMalware or Malwarebytes for your Android devices.
If you prefer manually removal, please follow the steps below:
In order to remove Congratulations You Won browser hijacker from your Android device follow these simple steps: Step 1: Uninstall software or application downloaded on the device In order to do so:
Go to Settings and then click the Apps tab.
Select the Downloaded section and locate Congratulations You Won file. Select this malicious file and uninstall from your Android device.
In addition, you can also go to Settings, select Security and navigate to Device Administrator. Before using the Device Administrator option, make sure to uncheck the box of Unknown Sources under Device Administration section.
Step 2: Clear browser data and cookies from the device The second thing to do is to force stop and clear browser data and cookies. To do so, take the following actions:
Go to Settings and then click the Apps tab.
Select the Downloaded section and navigate Chrome.
Click on Chrome and then click on the Force Stop tab
Select the Clear Data option.
Repeat this process for all the browsers installed n the device, including Firefox, Internet, UC Browser and others.
Step 3: Restart the device Once you are done with all of the steps mentioned above, make sure to restart your Android device. The Congratulations You Won scam should be removed now.
About the author
References