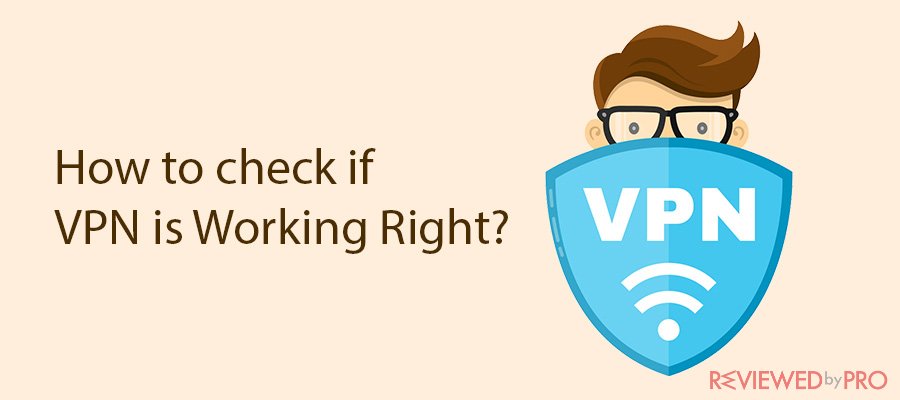 How to check if VPN is Working Right?
Your privacy as an internet user is fundamental in protecting you from being identified on the web. The problem though, is that each time you use the Internet, your ISP will assign a unique IP address. In other words, if someone intends to find you, they can easily track our IP address and follow your internet activities. This puts you at risk and also possibly compromises your security online. Well, how do you protect yourself while surfing the web or transacting on an unsecured WiFi network? How do you avoid the possibility of exposing your private information and browsing habits? The simple answer is to mask your IP address with a Virtual Private Network (VPN) tool.
Now, a VPN essentially creates a secure data tunnel between your local network and an exit node in another location, which could be thousands of miles away. But there is another little-known problem! Your VPN can also fail you and expose your data. That's why you need to understand how you check if your VPN is working to protect your privacy. This article explains more on VPNs and how you can check if you are protected.
What does VPN hide?
For starters, you need to find out why a VPN is essential to understand why a leak can be detrimental to your online safety. The following information is what the VPN hides:
Your browsing history: The sites you visit online are not a secret only known to you. It is very easy for your internet service provider and your web browser to track your activities online. The web browsers can track your search history and tie that information to your IP address, tracking your location. For example, you may be sick, and you search for treatment options on the web. If you do not have a VPN, your information may be accessed, and you could be receiving those annoying targeted ads. Your internet service provider might as well sell your browsing data to third parties.
Your IP address and location: with your IP address exposed, anyone can access what you have been searching on the Internet. With such data, they can find out where you were located while browsing. A VPN will allow you to use an IP address that is not your own. You will maintain your online privacy and search the web anonymously.
Location for streaming: Do you know that you can access sites restricted based on location using a VPN? Now you guessed it right. Say, you have subscribed for a video channel that is only available in your home country. If you move out of the country, you can hide your current location and use a VPN to bypass the geo-restrictions.
Hide your devices: A VPN will help protect your devices, including mobile phones, tablets, and laptops, from surveillance. For example, cybercriminals can target your devices as you access the Internet. With a VPN, you will protect the traffic to and from your device from agencies and malicious third parties.
Your web activity: You cannot take chances when it comes to internet freedom. Since you don't know whether or not the government authorities are spying on you, VPN will ensure that you are protected.
It is all good that you have a VPN. That means you have taken the first step into protecting your internet privacy. However, you need to be aware that there are VPN leaks, and hence, you need to know about the leaks and how to test them.
Types of possible VPN Leaks
Browser IP Leaks: a browser vulnerability that uses WebRTC is a common cause for IP leaks. A WebRTC will allow your web applications to run without using and plugins. If you are using the Chrome browser, which supports WebRTC and utilizes Session Traversal Utilities for NAT (STUN), for example, you will have both your real IP and VPN IP exposed. A website intending to get your IP will make UDP requests to the STUN and acquire your IP address.
Tip: To prevent WebRTC from exposing your IP address, set up firewalls that block requests made outside your set VPN connection. Alternatively, you can disable WebRTC if the browser you are using is supported.
IP address leaking from VPN: Your privacy could be exposed if you rely on the DNS server that is provided by your internet service provider.
Tip: Try using public DNS, such as the ones provided by Google. Also, you can use a VPN that offers a dedicated DNS server and built-in DNS leak protection.
DNS Leaking from the operating system: This is bound to happen if your request to a web browser is redirected to your ISP's server, something that might leave your privacy exposed.
Now that you are aware of the possible leaks, it is crucial to understand if your VPN is working tight.  Here is how you can test:
Testing for VPN Leaks
There are many available websites and services online that you can use to quickly test whether your system is leaking your DNS traffic or IP address. You can do the following:
Note down your current IP address before connecting to the available VPN server. You can get the IP address by conducting a simple Google search. Remember, it is advisable to check and not both your public IP and DNS server address displayed.
Then, connect to the VP server and check the IP address that is displayed. The IP address displayed should be different from the initial address you noted before connecting. If that is the result, then your VPN is just working properly as intended. Otherwise, it is leaking your private information and exposing your data.
You can take an additional step and run a DNS leak test to see where your web requests are being redirected to. If your VPN is not working as intended, your DNS requests will be redirected to your ISP servers, and that will expose your privacy, as your ISP can see all the sites you are visiting.
Tip: If your VPN tool is leaking, then it is time to swap it for another tool. Ensure you pick a top VPN with a solid no-log policy to avoid relaying your data to a third party.
Wrap up
Your online privacy is vital in a world where the internet space is getting darker. It would be best to use a VPN to hide your location, protect your browsing history, and prevent hackers or government agencies from tracking and accessing your devices. Remember, your VPN might fail and expose your privacy to your ISP or other unauthorized entities. So, as a rule of thumb, you will need to run regular tests to find out if your VPN is working as intended.
Recommended VPN
Official website
www.nordvpn.com
Our Rating
(Excellent – 4.9/5)
Available applications
 
Money-back guarantee
30-days
Price from
$3.49/month (-70% deal)

Visit website
More information
NordVPN review
About the author