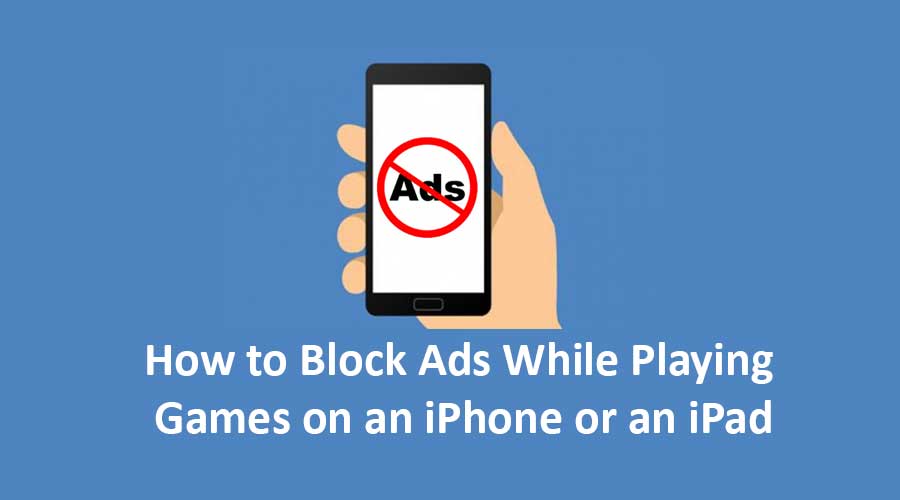 How to Block Ads While Playing Games on an iPhone or an iPad
Dealing with intrusive salespeople might involve closing the door, while changing the TV channel can help avoid unwanted advertisements. Similarly, while immersed in iPhone gaming, the inevitability of annoying ads can be akin to navigating through a crowded room filled with unwanted noise. This scenario can be exasperating, but there's no need to despair.
You're not the only one grappling with this issue. Countless individuals share your frustration with disruptive ads. Fortunately, there's a solution at hand. This article is here to guide you on utilizing ad blockers for iPhone games, enabling you to reclaim command over your device and game experience.
Blocking Ads on iOS Devices: A Feasible Solution
Curbing the intrusion of ads on iOS devices is indeed possible. Several approaches are available to achieve this, including the utilization of third-party ad blocker apps such as AdGuard and 1Blocker, as well as VPNs with ad-blocking capabilities. You don't need to be tech-savvy to successfully block ads on your iPhone – these three methods make it conveniently achievable.
Effective Methods to Block Ads on iPhone
Is an ad-free gaming experience on your iPhone within reach? Let's explore the most effective strategies to block ads on this platform.
Switch Off WiFi and Cellular Mode:

Disruptive ads frequently stem from internet connections. A pragmatic way to thwart iPhone ads involves disabling WiFi and cellular modes.

Access your iPhone's Settings.
Navigate to WiFi and Cellular, then deactivate the toggles.

Utilize an iPhone Ad Blocker:

Numerous ad blockers tailored for iPhone games are available on the App Store, promising to neutralize ads across apps and games. To ensure a reliable solution, consider using Luna VPN to effectively block ads in iPhone games.

Launch Safari on your iOS device, click on a specific link.
Confirm your birth year and select Ad Blocking VPN Profile.
Proceed to your iPhone's Settings, access More, then choose Profile Downloaded.
Initiate the installation process, providing your device password when prompted.
After a warning, choose Install and Done.
Navigate back to Settings, select About, and then Certificate Trust Settings. Enable the Adblock Extension Root Certification.

Deactivate Cellular for Select iPhone Games:

iOS devices offer the flexibility to individually manage apps' access to cellular data. Use this feature to selectively disable cellular for specific iPhone games, effectively blocking disruptive ads during gameplay.

Access Settings on your iOS device.
Navigate to Mobile/Cellular.
Locate and deactivate cellular access for the desired game.

Activate Airplane Mode:

An instantaneous approach to thwart ads involves enabling Airplane Mode. This straightforward technique stands as an efficient ad blocker for iPhone games.

Swipe down from the top of your iPhone screen to access the Control Center.
Select the Airplane Icon to activate Airplane Mode.

Deactivate Extra Extensions:

Eliminate ads on iPhone by turning off additional extensions:

Access iPhone Settings.
Choose Safari.
Navigate to Extensions and disable extra extensions.

Embrace Brave Browser:

Brave Browser, a free web browser, effectively blocks ads on iPhones.

Download and open Brave Browser.
Click on the three dots at the lower right corner.
Access Settings, then Brave Shields and Privacy.
Enable the Block Cross-Site Trackers feature.
Enjoy uninterrupted online gaming on your iPhone.
Incorporating these methods can significantly enhance your iPhone gaming experience by reducing or eliminating the annoyance of intrusive ads.
Advantages of Ad Blocking on iPhone and iPad
The prevalence of ads on your iPhone or iPad might be commonplace, but have you considered the compelling reasons for blocking them? Here are a few noteworthy benefits:
Time Efficiency: Ads, particularly when encountered repeatedly before starting a video, can consume valuable time. Blocking ads facilitates quicker access to your desired content on your iPhone.

Battery and Data Conservation: Ads can contribute to battery drain and data usage. Ad blocking preserves your battery life and data allowance, enabling prolonged use of your iPhone.

Malware Protection: Certain ads harbor malicious content like malware. By blocking ads, you shield your iPhone from potential malware infections.

Privacy Enhancement: Ad trackers monitor your online actions, utilizing your data for targeted advertising. Ad blocking serves as a safeguard to preserve your online privacy.
By incorporating ad blocking, you can elevate your iPhone experience substantially. With numerous ad-blocking options available, finding one that aligns with your requirements is seamless.
Unraveling the Prevalence of Ads in iPhone Games
Have you ever pondered the prevalence of ads within iPhone games? Here's a glimpse into the rationale behind this phenomenon. App developers are essentially artists, meticulously crafting their creations pixel by pixel, investing hours into every facet. However, even the most aesthetically pleasing app is only effective if it generates revenue, which is where ads enter the picture. They serve as a means for developers to monetize their efforts.
Yet, the intricacies of ads must be navigated skillfully. An excess of ads can lead to user annoyance, potentially driving users away from the app. So, how do app developers strike the right equilibrium?
Some developers strategically position ads in less disruptive locations. Others present premium versions of their apps devoid of ads. Alternatively, employing an ad blocker for iPhone games emerges as an effective approach to circumvent ads altogether.
VPN: A Seamless Ad-Blocking Solution for iPhone Games
Embracing VPN's content filtering capabilities empowers you with efficient control over your data and online activities. The flexibility to select ads of interest or entirely block them is at your fingertips. Here's how content filtering within VPN operates:
Log in to your VPN account via the app.
Access the settings icon in the app's upper right corner.
Choose "Content Filtering."
Activate the filter corresponding to the content type you wish to block – whether it's Adult Content, Gambling, Social Networking, sales, or more.
Tailor the option to block specific websites.
Once your selections are made, click "Apply" to save your preferences.
With VPN's streamlined content filtering, you can effortlessly tailor your ad-blocking preferences, enhancing your iPhone gaming experience while maintaining control over your digital interactions.
Official website
www.nordvpn.com
Our Rating
(Excellent – 4.9/5)
Available applications
 
Money-back guarantee
30-days
Price from
$3.49/month (-70% deal)

Visit website
More information
NordVPN review
About the author