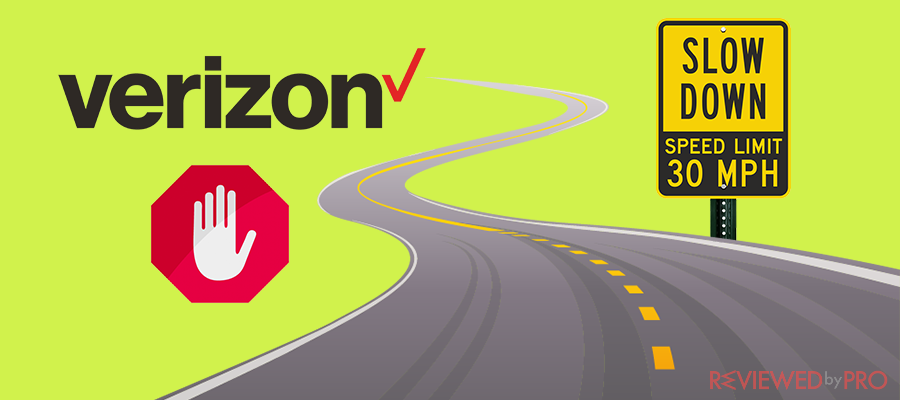 In this article, we are going to teach you how to know if Verizon throttles the internet and how to stop it. Before reading the article, we would like to introduce you to some facts from the past. Verizon[1] is an American Telecommunication company which was established in the 2000 year. Today it is considered to be one of the biggest internet service provider in the United States. Some years ago, there were many complaints from Verizon users about slow internet connection while streaming online videos. In 2017 years it was officially caught throttling internet [2]. After obvious evidence, Verizon admitted throttling the internet for Netflix[3] and YouTube[4] traffic. In apparent, the company has violated the neutrality of the net[5]. In fact, Verizon did admin that they have throttled the speed for heavy internet users and promised not to do it anymore. So what is the situation today? Does Verizon still throttle the internet? Keep reading and uncover the truth.
Does Verizon throttle your internet?
The customers of Verizon might feel the slow performance of YouTube and Netflix applications. Also torrenting might be downloading and uploading very slowly. It is the first signs that your internet connection might be throttled. Of course, there might be other issues related to your in-house technical equipment, but here is the way how you can check it. Internet service providers can save much money on the network equipment by throttling the internet speed. In such a way they do compensate network overloads. Heavy internet users who like streaming online videos, downloading and seeding torrents are overloading the network were perfect candidates for throttled internet.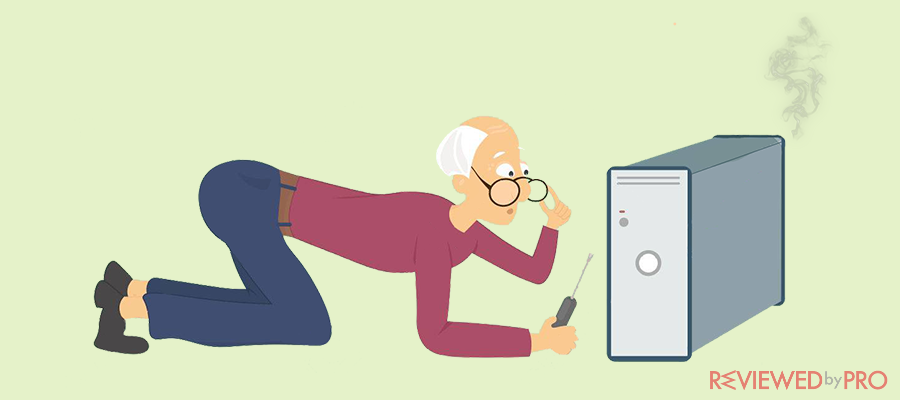 You should do some internet tests and see what it says. The first one internet connection test is http://fast.com. This tool was developed by Netflix. It is quite good for checking is you ISP throttle your internet. In the case of throttling, the test will show slow internet connection while streaming Netflix, YouTube or torrenting.
Another great tool for testing your internet connection is developed by http://internethealthtest.org/. This test helps you to identify does your ISP throttle internet. The test takes 5 steps which will help to identify your internet connection health.
Note: If you run this test, your VPN or Proxy should be turned off. Otherwise, it won't work.
And the last, but not the worst internet speed test is speedtest.net. The process of testing is very easy and similar to the other ones. Open Netflix in your browser, play the movie and run the test at the same time. Or start the torrent software with active download/upload tasks. If you will notice that internet connection is much slower than usually is, that it means that your internet connection might be throttled.
So know you know how to test your internet connection and find out does Verizon throttle your internet. But what to do next if you want to stop your ISP from internet throttle?
The best way to stop internet throttle is VPN
If you want to stop that internet throttle game with Verizon, you should use a VPN (a virtual private network). For those who still don't know what VPN is, we will explain it briefly. It is a service which encrypts your internet traffic and changes your IP. It is used by people around the world in many ways. VPN gives you the freedom on the internet, because of your data encryption and anonymity. Nobody can see what websites you are visiting, how many time do you spend there and what symbols you are typing in.

Even your internet service provider cannot see what websites you are visiting, because of an encrypted data package which comes out from your devices to the VPN server and back. Also, it makes your connection secure from hackers and government. It very important in those countries where internet censorship is at the top level. As it was mentioned before, VPN encrypts your browsing data and Verizon cannot see what websites you are visiting. If they cannot see what websites you are visiting, they cannot throttle the internet. Otherwise, they should throttle all your traffic, but it would be out of your internet agreement with Verizon. So, data encryption helps in this way.
How choose the best VPN for stopping Verizon from internet throttling?
There are thousands of VPN service providers around the world and only a small part of them are trustworthy. We are testing VPN every day, and we have seen so many examples of what untruthful VPN service is. We have picked only three VPN service providers from the huge list which is worth your attention.
Our list of best VPN evaluation was done according to these criteria:
Internet connection speed – a reliable VPN service should be fast, otherwise, it will slow down your internet speed more than Verizon throttle. As you might already know, VPN can slow down internet connection due to their encryption processes. If the VPN server is overloaded, or equipment is outdated, you cannot expect fast internet connection, because of the slow execution of encryption algorithms.
Security features – if you like torrenting, you should choose the VPN service which can offer "kill-switch" function. This function closes the direct connection to Verizon if your connection to VPN server was lost. If you like shopping online, you should choose a VPN which offers AEN-256bit encryption mode, it will keep you safe from hackers. If you like to visiting adult websites, you should look for a function "DNS leak" which will prevent Verizon from seeing what websites you were visiting, if some DNS requests would not be encrypted. Altogether, why not to choose the service with all mentioned functions in one packet, right?
Support – Sometimes it looks like the support is not so important, because we do not use it so often. But trust me, when you are experiencing some difficulties with the slow internet connection or logging, it is nice when support works 24/7 and solves the problems in minutes.
Price – may be the price is not the most important factor while choosing a VPN, but why not to save some money, right? We have picked for you only the best VPN for the best money and quality ratio.
Stop Verizon from throttling internet with the best a VPNs
Verizon says, that they do not throttle the internet anymore but many users still are experiencing slow internet connection.
Stop ISP from internet throttling with ExpressVPN
Website
www.ExpressVPN.com
Rating
Available applications
Money-back guarantee
30-days
Price from
$6.67 (-49% deal)
Oder VPN with a discount
More information
ExpressVPN review
If you feel that Verizon might be throttling your internet, try ExpressVPN. If it is true, you will notice the difference at the same moment. It isn't very easy for Verizon to identify the usage of ExpressVPN because it works in a different way comparing to other VPNs. It can bypass the blockade of the US Netflix from abroad. So overall, it is a very powerful tool and for stopping any ISP for internet throttling.
This VPN vendor is located in the British Virgin Islands and operates 3000 servers in 160 locations. There are also many servers available in the US, so it is the right choice for stopping American internet service providers from slowing down your internet speed.
Your ISP will not be able to see what pages you are visiting because of the high encrypted data which is routed over the different servers. So Verizon only can notice that you did connect to a VPN server, and that's all. The AES 256-BIT data encryption algorithm encrypts all the traffic, and it makes your military privacy grade.
How to get a free VPN for 30 days?

If you are not sure will VPN help you to stop ISP from internet throttling, you can take a free shot. ExpressVPN offers a free VPN service for 30 days. Of course, you will need to pay for the first month, but at the end of the month, you can ask for a money refund. Due to their 30-days money-back guarantee, you will return your money without any questioning. Check this deal >>>
You can install ExpressVPN on your Windows PC, macOS, or any other devices. Since it supports almost every operating system, there is no issue at all about the system compatibility. You can cover up to 5 devices with this application or even set up it on your home router. In that case, the number of secured devices will be unlimited.
We also like this VPN vendor because it does not limit data bandwidth, so it is suitable for streaming videos online, torrenting, or gaming. Ultra-fast servers are capable of processing the encryption tasks without dropping down your internet speed.
In there are any technical issues, you can always ask a question at the live 24/7 support chat. Additionally, ExpressVPN has developed an extensive knowledge base with text and video manuals and tutorials on how to use their products in various situations.
The price is average compared with similar level services in the market. There are three plans available to choose from, and if you are not sure, will it help to stop ISP from internet throttling, try a one month plan with 30-days money-back guarantee. In that case, if the VPN will not meet your expectations, your money will be returned without asking a question. There is the regular price list, but it always worth checking for the exclusive deals or promotional sales.
1 Year Plan for the cost of $8.32 per month;
6-months offer for just $9.99/month;
A monthly package for $12.95 each month;
| | |
| --- | --- |
| PROS | CONS |
| Compatible with many devices and platforms | High price |
| High level of security | Configuration limits |
| 24/7 customer service | No ad blocker |
Speed up your internet connection with NordVPN
O

fficial

website
www.NordVPN.com
Rating
Available applications
Money-back guarantee
30-days
Price from
$3.49 (-70% deal)

Oder VPN with a discount
More information
NordVPN review
The second great VPN for fighting ISP internet throttling is NordVPN. It is considered of being one of the best VPN in the market in any way. If you read some additional reviews about this product on other similar websites like ours, you would notice that NordVPN is a highly-rated service, and you will hardly found some negative feedback about it. It is because of the powerful and wide spread 5500+ servers in 62 countries. Moreover, it has more than an ultra-fast 1000 servers in the United States of America. That's why it is so beloved by US citizens. Many NordVPN users already stopped internet throttling with this service, and you should also try to give a shot.
The speed and performance of NordVPN are excellent, and it suits perfectly for streaming online videos, gaming, torrenting, or online shopping. Moreover, it can unblock US Netflix from abroad while you are on vacation. It is nice to know that you can travel wherever you want and watch your favorite tv show in a hotel room.
NordVPN is also an excellent selection for those people who are interested in their online privacy. Your data can be encrypted twice because of the double AES 256-BIT VPN technology and additionally routed via the Tor browser. It is also a popular tool among hackers, so you can imagine how secure it is.
The application can be installed on your Mac, Windows, Android, and many other devices. You can secure up to 6 devices. Also, it can be used with a router so it can secure even more devices under the WI-FI network coverage. It a fast, reliable, and robust VPN for family use or small business companies.
If you have any questions about the staff of NordVPN, you can contact them via live 24/7 chat on their website. The guys from NordVPN are amiable and experienced. During our attempt to reach them out, we were always pleasantly surprised about their fast reaction and the quality of the support.
What considers the price, so we can say that NordVPN can offer handsome packages for long term use. If you want to acquire it just for a month, it is quite expensive. We would recommend you to try a free month and see if it helps you to stop throttle your internet. The prices are listed below:
3-year plan for $3.49/month;
2-year offer at $4.99/month;
A yearly package at $6.99/month;
| | |
| --- | --- |
| PROS | CONS |
| Wide geographical reaches | Performance hits and drop connections |
| Double VPN for twice the encryption | A monthly plan might seem expensive |
| User-friendly and pleasant interface | Not clear ownership |
Try to bypass internet speed throttle with CyberGhostVPN
O

fficial

website
www.CyberGhostVPN.com
Rating
Available applications
Money-back guarantee
45-days
Price from
$2.75 (-80% deal)

Oder VPN with a discount
More information

CyberGhost review
CyberGhostVPN is also a well-known brand in the VPN fields. It is because of its high-quality service, extensive server network, and speed. We picked this VPN as a solution for stopping ISP from internet throttling because of its high speeds and a waste number of servers located in the USA. Despite that, that CyberGhostVPN is located in Romania, it has more than 5000 servers in 92 countries.
The comprehensive VPN server network coverage allows you to bypass various internet restrictions and use it while traveling. As it was already mentioned before, it can deliver a fast and stable internet connection speed without any dropdowns. Due to this reason, it is also the right choice for streaming videos on Netflix, Torrenting, Gaming, or using it public wi-fi networks.
For the privacy and security geeks, we can say that Cyber can encrypt your data and hide from prying eyes with the AES 256-BIT data encryption algorithms. For those who don't know what it is, we can say it shortly: Today, it considered being one of the most secure and fastest data encryption models on the market.
The great news is that CyberGhostVPN can offer you the application for AndroidTV. So if you like to stream videos on Netflix, Hulu, HBO GO, CBS all access, BBC iPlayer, and other platforms with your Sony Bravia or another android tv, CyberGhostVPN is a perfect choice. Also, who wants to use it with Windows, Macs, and various smartphones, it is also compatible. Moreover, this service can be installed and run on seven devices simultaneously. Fits great for families or share with your friends.
The customer support is a high level, and we cannot say a bad word. Maybe the only thing we did not like was a slow 24/7 live chat responses to our questions. Of course, it might depend on what operator works online, and it doesn't mean that it will be the next time.
The price is also very attractive and low comparing to the previously mentioned services. But this rule is valid only for long-term subscriptions. A monthly plan is not attractive at all. It is usual in this field because every VPN provider wants to make a long relationship with its customers. The last time we did check the prices, it was as follows:
2-years plan for $3.69 per month;
1-year offer for a mere price of $5.99 per month;
A monthly package by paying $12.99 per month;
Overall it is also an excellent service for trying to stop your internet service provider for throttling your connection.
| | |
| --- | --- |
| PROS | CONS |
| Offering one of the widest geographical reaches | Performance hits and slowdowns |
| A very informative user interface | Not many personalized options |
| Easy setup and quick to start | Rough reviews by third-parties |
Avoid Free VPN for stopping internet throttling?
There are no free things on this earth. Every time you are taking a free thing or service, you pay in a different way, not in money. The same situation is with a free VPN service. We have tested and analyzed more than 20 free VPN service and we were very disappointed. In most of the cases, you need to install the application on your computer which turns it into the botnet. It means, that your computer will start to serves to other users as VPN servers do.
Moreover, free VPN service in most of the cases do not encrypt data and makes it even more accessible to hackers.
Finally, almost every free VPN service providers collect all your browsing data and sell it to the third party companies like marketing agencies, data traders or spammers. Free cheese is only for the mousses, so better avoid free VPN services.
| | | |
| --- | --- | --- |
| Options | free VPN | paid VPN |
| Changes your IP | | |
| Unlimited bandwidth | | |
| Fast internet connection | | |
| No-logs, no tracking | | |
| No annoying ads | | |
| Millitary-grade encryption | | |
| Wide range of server selection | | |
| Customer support | | |
Conclusions
If you did the internet speed tests and noticed that Verizon might throttle your internet, you should act quickly and try a professional VPN service. VPN will encrypt your data and Verizon will not see what websites you are visiting. In this case, they can't throttle your internet.
As it was mentioned before, you should choose only the reliable VPN service provider for maximum performance, privacy and security. Our evaluation list of VPN services is tested and trustworthy. So you will not disappoint for poor quality service.
At the moment ExpressVPN offers 3-months of free service for an annual subscription. It is worth to think about it for the speciall deal. NordVPN and Cyberghost are also very valuable VPN vendors, but not that good as ExpressVPN. So it is up to you which one to choose.
| | | | |
| --- | --- | --- | --- |
|   | | | |
| Download Speed | 65.76 Mbps | 65.29 Mbps | 65.99 Mbps |
| Upload Speed | 29.44 Mbps | 28.41 Mbps | 31.22 Mbps |
| Server locations | 160 | 59 | 62 |
| Encryption protocols | OpenVPN, SSTP, IPSec, L2TP | OpenVPN, SSTP, IPSec, L2TP | OpenVPN, SSTP, IPSec, L2TP |
| All security features | | | |
| Customer support | 10 | 9 | 8 |
| Price from | $6.67 + 3 months free | $6.99 | $2.75 |
| Visit website | | | |
About the author
References