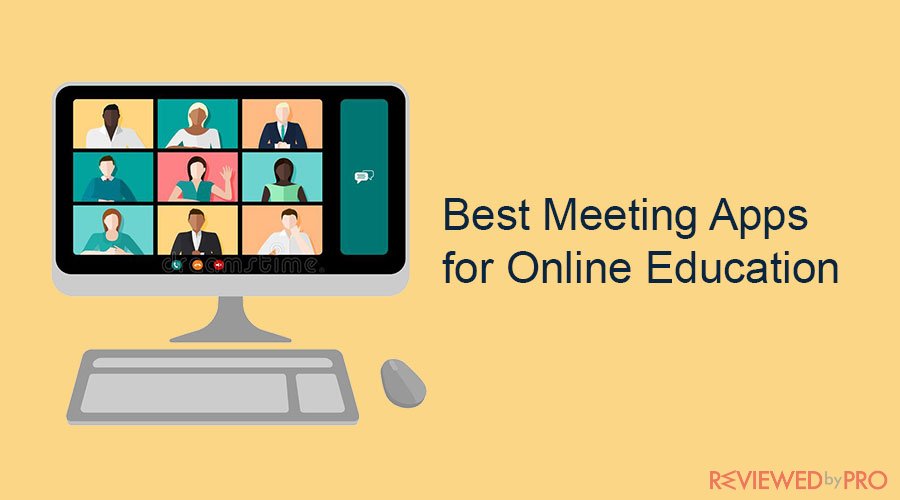 Although "the best" is always subjective when it comes to our personal tastes and preferences, online education is a special case where students and educators have similar expectations. It might be a bit challenging to choose an app that would be ideal for a meeting because most of us are forced to use at least one LMS platform. Nevertheless, the pandemic isolation has forced most educators to use Google Meet, Zoom, or Skype. All of these options have their pros and cons! Remember that some limitations may be encountered depending on the technical requirements and the number of students attending.
Best Meeting APPS for online education
Google Meet
It might be less popular than Skype or Zoom, yet it offers a much better level of safety and confidentiality when it comes to school education. As an app, it offers excellent video conferencing features, advanced screen-sharing options, video captions, live chat, and more. You can use Google Meet without downloading anything, which is another great option for international projects. It also supports Google Translate built-in, yet it's much better to use online document translation services instead for clarity and good quality. Using Google Meet, it's free if your meeting is up to 100 students. Going beyond one hundred will require $3 per year for each student added beyond 100. The presence of import/export options also makes it a great choice if you plan to integrate Google's educational apps.
Zoom
It's considered the industry standard in the field of education for students of all ages. At least, this is the app that most of us have observed during the pandemic period. There are features for guest lectures and the usual video conferencing. You can share files and collaborate in real time, which makes it excellent for group projects. If you need urgent help as a student, consider the Writing Universe a great option. While at it, one can even take virtual field trips and use interactive features like cloud storage and hybrid learning. The Meetings feature for 300 participants would be $1,800 per year, which is steep yet worth it!
Blackboard Collaborate
Another versatile video meeting app for virtual learning that also includes polls, surveys, a live chat, and the famous "raise your hand" feature to keep the lessons disciplined. It will cost you about $300 a year for a classroom education package, yet it's recommended to discuss custom packages to make things more affordable.
Microsoft Teams
 You might not have heard about this app used for video meetings in education, as it's standard for business meetings and enterprises. The best part about it is the presence of a free version for schools where you can host up to 300 participants. It's great for video classes and has an amazing integration with Microsoft Office, Excel, PowerPoint presentations, and more. There are also tools for special education classes, exchange students, as you can see page related to that, tools for immersive reading, and the amazing "raise your hand" feature button that can help reach the teacher without creating the usual classroom chaos! It allows tracking of assignments and implements a progressive grading system that helps educators stay in control during a virtual meeting.
Organizing Things Matters Way More
 All the meeting apps you may choose for online education are just tools that won't make the lesson work instead of you! It means that you won't have much luck, even with the best of them, as an educator without preparing lesson notes first. The same works for students who must take notes as well and learn how things work before starting a Zoom session or wishing to add attachments to Microsoft Teams. When you know the technology well and learn how to avoid the most common delays, things become much easier as you learn. The golden rule is to know your app, read the reviews, and compare before making the final decision! Don'f forget about your cybersecurity while being online.
About the author