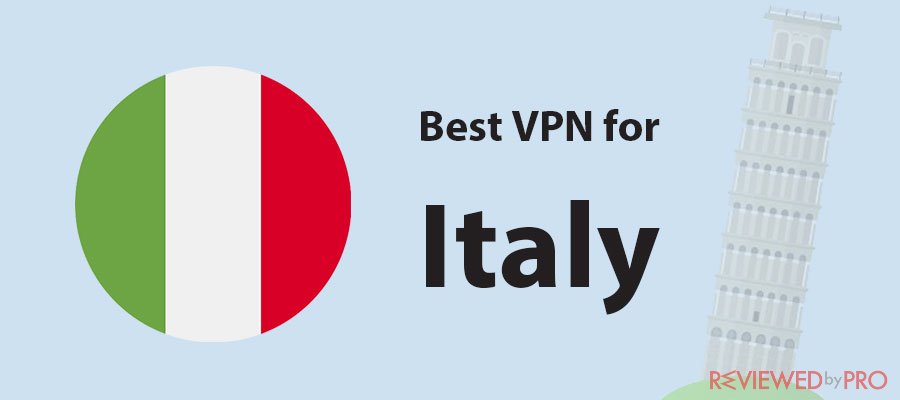 Best VPN for Italy in 2022
If you are in Italy (as a citizen or a visitor) and you need the best VPN to encrypt your online traffic, then this article is for you. This article will give you a list of highly recommended VPNs as they provide you with a wide range of benefits.
The best VPNs for Italy offer such benefits as:
Changing your IP address and diverting attention to an intermediary IP location.
Hiding your browsing data, identity, as well as online downloads from the prying eyes of the authorities or even the nosy guy next door.
Protecting your internet connection when you make use of public Wi-Fi.
Preventing speed throttling from the Internet Service Providers (ISPs) of Italy.
What is VPN?
Let's not assume you have a comprehensive knowledge of VPN and what it means. VPN is an acronym that means Virtual Private Network. VPNs have been designed to encrypt the internet traffic of the devices in which they are installed. They do this by routing the traffic through another server that poses the users' locations, thereby shielding the original locations.
Therefore, if you are in a public place such as a hotel or a café and use their Wi-Fi, you can secure your online traffic using a VPN. That is because there are connection hackers everywhere online, snooping to find a vulnerable user to prey on. As a user, this is not the only interference VPNs protect you from. You do not have to worry about authorities like the European Union doing mass surveillance that will implicate you and invade your privacy.
More so, if you are interested in content that is only available on TVs and sites outside your country, you can unblock such sites using s good VPN. If you are moving out of Italy and do not want to miss your favorite shows, a good VPN will come in handy in the same vein. For instance, if you don't want to miss your favorite RaiTV shows, you can use a VPN to unblock the RaiPlay for only Italy.
At this point, you know how useful VPNs are to your hidden online presence. Some VPNs are free to use online, and others require you to spend little or much money to acquire. Now, when selecting the best VPN to use, not all VPNs are worth your time, especially the free ones. That is just the fact. In all honesty, no VPN service provider will give you the full package at its best for free. Also, even when you have decided to spend on a quality VPN, you need a guide on which VPN is the best to use for Italy.
This article will give you just the right guidance you need.
Features of the Best VPN for Italy
The best VPNs for Italy have been chosen based on the following features or criteria:
The VPN must have servers that are operational in Italy.
The best VPN must provide reliable connections. Also, these connections must have high speed to make for smooth web surf.
It must be able to unblock any content that has been geo-blocked in locations outside Italy.
The security provided by the VPN must be strong. The VPN provider must also have a no-logs policy to ensure that the user's online data is not open for accessibility and compromise.
An additional bonus would be for the site to have the Italian language as its website language.
The Best VPN for Italy are:
A list of the best VPN for Italy has been compiled for you. Each VPN will be discussed in line with its features, unique services, and the pros and cons of using it. All these will be discussed in comparison with other VPNs on the list.
The following are the best VPNs for Italy:
Surfshark VPN
Rating
   (Good – 4.1/5)
Available applications
 
Money-back guarantee
30-days
Price from
from $2.39/month
More information
Surfshark review
Get SurfShark

Budget-wise, Surfshark VPN is the best VPN for you. It provides premium service at a minimal cost when compared with other high-profiled VPNs. Besides, Surfshark lets you connect all your devices to one account at the same time. This means that you can protect all your family members' location and privacy due to the unlimited device support it provides.
Surfshark VPN focuses on user privacy, and it gives high speed with a very stable network connection. The Surfshark apps are available for major platforms such as Mac, PC (Windows OS), Linux systems, iOS, and Android. It also has a thirty-day money-back policy, which guarantees you a refund of your money if the VPN doesn't come through in providing the services required.
Surfshark has 3200 servers spread across 65 countries, including Italy. This servers' network ensures that you can unblock and stream platforms such as Netflix with all its stubbornness. With the NoBorders mode, this VPN lets you bypass even the regions with the strictest restrictions. Surfshark cannot reveal your online traffic information to anyone under any circumstances as it has a zero-logs policy. It is designed with a DNS and IPv6 leak protection, 256-bit encryption, and a kill switch. If you are having difficulties using the tool, you can contact their support staff through live chat, any time, any day.
      Pros:
Its unblocking abilities are impressive,
You can secure all the devices you own on a single account.
It has a wide range of features that aim at providing you with utmost security.
Cons:
Sometimes, the speed can be slower than the normal fast level.
ExpressVPN
Official website
www.expressvpn.com
Rating
  (Excellent – 4.8/5)
Available applications
 
Money-back guarantee
30-days
Price from
$6.67 (-49% deal)
Visit website
More information
ExpressVPN review
ExpressVPN is another great VPN on this list of best VPNs for Italy. That is a worldwide highly recommended tool you cannot afford not to have on your device. It does not matter the device you use; ExpressVPN can make it work. For users of PC, Linux, Mac, Android, and iOS, you can use ExpresVPN to secure your online traffic and change locations. If you are not pleased with what you get (which won't be the case), you can unsubscribe and get back your money. It only lasts for thirty days from when you subscribe to the platform.
ExpressVPN has over 3000 servers spread across 94 countries. These locations include two major places in Italy: Cosenza and Milan. Both servers are well and truly capable of unblocking the RaiPlay TV. Hence, the tool fits right into this list of best VPNs for Italy. More so, this tool can unblock Netflix in Canada, the UK, and the US. However, you will need to find out the exact locations to connect to from their customer service. This applies to the Netflix app on both Android and iOS, as well as in your web browser. Other sites ExpressVPN unblocks are HBO, Hulu, BBC iPlayer, Prime Video, and so much more.
You can download large video files and stream live videos using ExpressVPN without any interruption. This is because all the ExpressVPN servers have been optimized to give maximum speed. ExpressVPN gives you the best security standard you can wish for in a VPN using the features outlined below:
256-bit AES encryption.
DNS leak protection.
Perfect forward secrecy you can trust.
A kill switch automatically stops your online activities when your internet connection goes off, even for a minute.
ExpressVPN does not log metadata that will lead to the identification of the user. It does not record traffic contents or real IP addresses.
Pros:
Great for online streaming of shows in Italy, especially Milan and Cosenza.
It is quite hard to surpass ExpressVPN when it comes to security and privacy.
It can play HD videos without interruption and at a fast pace.
It works well with all the major online content platforms like Amazon Prime Video, Netflix, and many others.
Cons:
You cannot control the advanced functions from your end as a user.
It is more costly than other VPNs.
IPVanish VPN
Rating
   (Average – 3.4/5)
Available applications
 
Money-back guarantee
7-days
Price from
$ 6.49/month
More information
IPVanishVPN review
This is yet another great VPN that operates over 1,100 servers in 60 countries. This tool is unique in that it doesn't rent but owns its server farms. That makes it have total control over the online traffic that goes through its server network. Furthermore, it can control who has access to the network. Unfortunately, you cannot unblock your Netflix and Hulu accounts using IPVanish VPN. For anything else, you can rely on this VPN to provide the service; this includes unblocking RaiPlay, an Italian channel. For Kodi users, IPVanish VPN is a favorite as it also works with all Kodi add-ons so far.
IPVanish's security standard is future-proof as the VPN does not keep logs of users' online activities, metadata that can be identified, or any log of usage. It is also at par with other best VPNs in perfect forward secrecy and 256-bit AES encryption. Most of the servers support hours of fast streaming without interruption, even with HD videos. With one subscription plan of IPVanish, you can connect up to five devices at the same time.
IPVanish VPN apps are available for Windows OS, iOS, macOS, and Android.
Pros:
In Milan alone, IPVanish operates over 12 fast servers. This makes it an ideal VPN for Italy.
This VPN is a good recommendation for remote control users as it works well with the Kodi add-ons that have been tried so far.
It can unblock RaiPlay in addition to other major streaming websites.
Cons:
There is no live customer support for new users who may have difficulties in one VPN aspect.
The IPVanish VPN apps are not functional in China.
PrivateVPN
Rating
   (Average – 2.4/5)
Available applications
 
Money-back guarantee
30-Days Money Back Guarantee
Price from
$1.89/month (-70% deal)
More information
PrivateVPN review
PrivateVPN is one of the more recent VPNs on the market. Although this is a young VPN, it still stands tall among the older VPNs, hence why it is on this list of best VPN for Italy. This VPN gives the user extremely fast browsing speed even with its smaller network of servers. More so, it has an extensive unblocking ability so you can gain access to your favorite sites that may have been blocked due to your location or other reasons. Such streaming sites include BBC iPlayer, RaiPlay, HBO, American and Italian Netflix catalogs, Prime TV, and Hulu. You can watch these sites in the app version or on your web browser. 
PrivateVPN gives you utmost security and privacy. These are possible through the company's no-logs policy, perfect forward secrecy, and an encryption system that cannot be cracked. You can connect five different devices on a single account for protection. PrivateVPN is accessible on popular platforms such as Android, iOS, macOS, and Windows systems. It also has a money-back guarantee for thirty days, just like most VPNs on this list.
Pros:
It has servers in Milan and Arezzo, both of which are cities in Italy. These servers are capable of streaming from your favorites sites.
The app version can be easily installed and used via the easy wizard for installation.
You can stream high-quality content with the good speed provided by its servers.
Cons:
Some advanced features are lacking on the apps, even though these are popular among the best VPNs.
PrivateVPN provides lesser options of server, unlike other VPNs.
The support staffs only operate during business hours in Europe even though they provide good services. Thus, they are not available 24/7.
CyberGhost VPN
Official website
www.cyberghostvpn.com
Rating
  (Great – 4.5/5)
Available applications
 
Money-back guarantee
45-days
Price from
$2.75 (-80% deal)

Visit website
More information
CyberGhost review
CyberGhost VPN is software that gives you simple, smart, high-quality, and secures VPN service across major devices and systems. This VPN is budget-friendly, unlike the more expensive tools on this list. This VPN has been in the game of data encryption since 2011; thus, it has the experience you can rely on, which is great!
CyberGhost VPN has 6000 servers and still counting, spread across 89 countries. These servers are in strategic locations worldwide, locations where you can access your favorite TV shows. Also, it adds some extra features to its whole security package, which is unique.
Any web content that has the potential of tracking your online traffic, CyberGhost VPN will automatically remove them. This way, your online data cannot be collected to give to the highest bidder in the future. Another feature it uses is the Ad Blocker to keep at bay ads that may infiltrate your online data. The Virus and Website protection feature is also there to ensure you are protected from any malware online.
Pros:
It is affordable even with all the great services and security it provides. 
The tool is great for video streamers, Torrent fans, and geo-location hoppers.
Cons:
Some of its servers are quite slow, and this affects surfing the web and online streaming.
The payment system is limited to only Credit Card, BitPay or PayPal. These are options that can easily expose a user's details.
Conclusion
The best VPN for Italy must have a wide range of servers to give users more options to choose from; the VPN must have fast servers reliable enough for HD video streaming. Also, privacy, data encryption, and security are all criteria that were considered before the VPNs in this article were compiled and suggested to you. It is left for you to pick which one suits your preferences and go ahead in unblocking your favorite shows on your favorite Italian sites.
About the author