AVG Free Antivirus for Mac user manual
This short user manual will provide you with the information how to download and install AVG AntiVirus for Mac. It will also introduce you to the antivirus application and provide you with short guidelines how to use AVG AntiVirus for Mac.
Installation
In order to install the AVG AntiVirus for Mac application, take the following steps:
Firstly, you have to download the AVG AntiVirus for Mac installer. You can download it from the official webpage.

Open the downloaded file and double-click the Install AVG AntiVirus icon.
Then, press the Continue button, in order to continue.
When the Introduction window appears, click Continue.
Then again, click Continue. When the Terms and Conditions window appears, click Agree to continue.
Click Install.
Finally, the following window will ask you to type your administrator credentials, type the credentials and then click Install Software.

Once the installation is completed, AVG AntiVirus for Mac launches automatically.
Congratulations! If all the steps are done correctly, you should have AVG AntiVirus for Mac installed on your system successfully.
How to use AVG AntiVirus for Mac
AVG AntiVirus for Mac provides users with Real-Time Protection and File Scanner features. This short user manual will introduce you to these features and provide you with the basic information how to use them in order to keep your Mac safe and protected.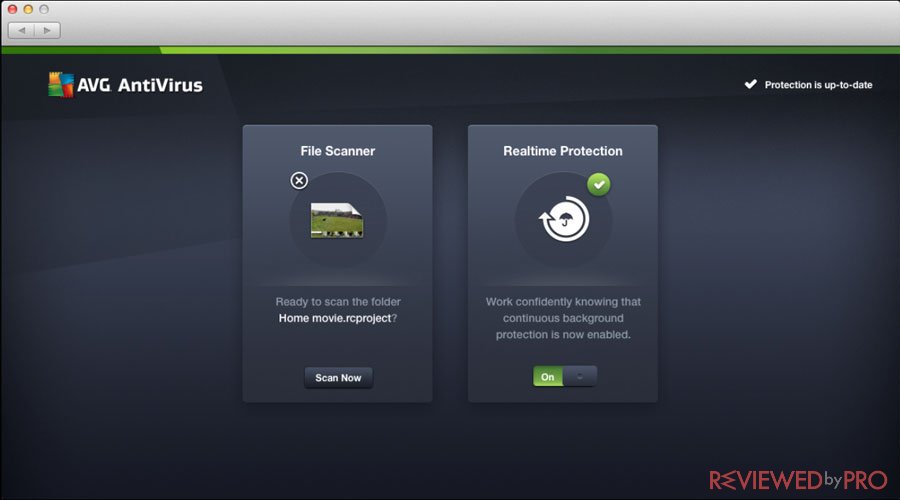 Real-Time Protection
Once the installation of AVG AntiVirus for Mac is completed, the Real-time Protection feature is automatically enabled. In addition, all accessed files and icons are checked for malicious code.
If the antivirus application detects a threat, it blocks the malicious file and provides a user with an option to keep or delete the threat. If you choose to keep the malicious file, it will be blocked to prevent any potential damage but will remain in its' original location.
Disabling Real-Time Protection
If you want to disable the Real-Time Protection, take the following steps:
Firstly, you have to click the switch at the bottom of the application window.

Then, enter your administrator password in order to confirm the action.
File Scanner
File Scanner is developed in order to check your files for threats. If you want to check any specific files for malicious codes, you have to simply drop them on the Drop here circle and click the Scan Mac button.
Preferences
If you want to access the Preferences window, you have to click AVG AntiVirus in the main menu bar and select Preferences. 
You can enable and disable scanning of shared folders, external files or archives; and enable or disable AVG Antivirus icon in the taskbar. 
We hope that this information helps you to install and use the antivirus application correctly!