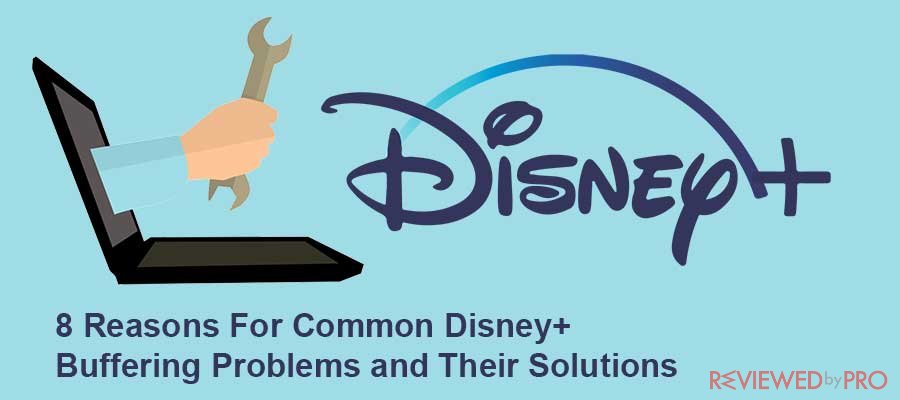 8 Reasons For Common Disney+ Buffering Problems and Their Solutions
Disney+ is a superb, family-friendly streaming option. There's something for everyone on this platform, and it only makes sense that it's an absolute family favorite. However, like many other streaming platforms, Disney+ also buffers and hangs up, which some users may find disappointing.
Some of the major reasons behind buffering issues include too many connected devices, distant wireless router, poor internet speed, infected software, insufficient RAM, low bandwidth and others.
There are some simple ways to fix these issues. Even though, you can cancel your Disney+ subscription anytime if the problem persists or if you continue facing these problems.
However, once you cancel your subscription, you will still be able to view the content library till the end of your billing cycle.
And if you like to continue with your subscription, here are some easy fixes to get rid of buffering issues.
Determine whether Disney+ is down or not
You will need to make sure that the service isn't down. It may be possible that the platform might be undergoing routine maintenance or is down, which means it will affect many users.
Observe your internet speed
It's imperative to look at your internet speed since Disney+ suggest that your internet connection should be at least 5Mbps and above to stream HD content.
If you discover that your speeds are not enough, there are ways you can improve your internet connection.
Make sure there aren't any apps running in the background that might be draining your internet connection.
If you are using your mobile data, switch to Wi-Fi.
Reset your device
Though you might roll your eyes when someone tells you to "turn it off and on again," it works. This can help resolve your buffering issues. Make sure you power down correctly, wait for a minute and then turn everything on again.
Clear your cache
The cache is temporary data that is stored on your device as well as website cookies. This data can, at times, become corrupted, leading to lag and buffer issues. Usually, this happens when your cache has not been cleared in a while. You can check out the official support page for instructions on clearing the cache.
You can follow the steps below:
Launch the browser.
Navigate to options/preferences or settings.
Browse through to History or Privacy and look for the option to clear your browsing data.
Clear your recent history, data, and cache.
Take a minute to update your Disney+ App.
Though you can set up updates to occur automatically, you should always manually check-in to set everything in place once in a while. While using your phone, you can head over to the Play Store/App Store to see if there are any updates. It's preferred to keep your data updated. Many essential software upgrades and bugs are fixed with these updates.
Check your firewall settings
If you do use a firewall, it might be interfering with Disney+. This does inhibit your access to the service which may also add to buffering issues you might be facing. If you are using a closed network like your workplace, you might need to consult a system administrator who can help you resolve this issue.
A fairly common occurrence is that your ISP tends to throttle your connection due to data caps or network congestion. If you find that your connection is being throttled, you can also consider using a VPN to circumvent this.
Try install Disney+ again
You can always try to reinstall the Disney+ app on your device again. This fresh re-installation allows you to get rid of any persistent problems. Depending on the device you're using, you can always refer to the instruction manual or contact the support tech team to help you uninstall the app.
For example, if you are using your Smart TV, you can go to the TV's app store, choose the Disney+ app and then uninstall the app. If the app was preinstalled, you might face some trouble removing it from the TV.
Contact the support team
As a last resort, you can contact the Disney+ customer support team, which is available for 24/7 support over live chat or phone. There might be a technical issue that only you are facing, so it might be worth a shot speaking to an official Disney+ representative.
Frequently Asked Questions
Let's take a look at the most recurring queries about Disney+ buffering problems:
My internet connection isn't excellent, what can I do?
You may be located in an area that doesn't have a great network. If you try streaming Disney+ content, you might not be able to enjoy watching your favorite shows. One way around this is to utilize the download option where you can watch the content offline later.
This is an excellent feature since it allows you to download the content on your mobile device or other devices. First, tap on the download icon (which looks like an arrow with a line underneath it). Once downloaded, you can stream the content whenever you want.
It still keeps buffering; what should I do?
If you've checked all of your devices properly, it might be an issue at the backend. You can visit the Disney+ website and choose to send them an email to let them know about the issue. At times, a little patience goes a long way. Disney+ is a relatively new streaming service, and at times, it may get overloaded. The backlog of users can clog the system, which may take some time to resolve.
Conclusion
We hope the techniques shared above have resolved your buffering issues while using Disney+. These multiple solutions will generally work for you, and in the off case they don't, you can always contact a Disney+ customer service representative.
Let us know in the comments below which solution worked for you!
About the author